RECRUITING: Maumelle talented, tougher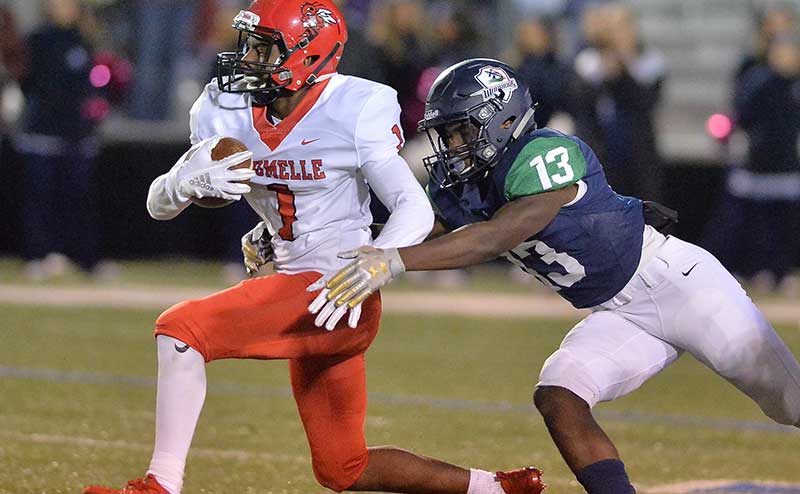 By BARRY GROOMES
This isn't uncharted territory for Class 5A No. 11 Maumelle (3-0).
The Hornets started last season 3-0 before a monsoon hit Week 4. Maumelle lost its starting quarterback with a concussion, attempted one pass the remainder the game and lost 23-16. The Hornets won once (over Little Rock Fair 47-18) the rest of the year, missing the playoffs for the fourth straight season.
Third-year coach Kirk Horton taught overcoming obstacles from the first day of off-season when players turned in equipment.
"You have to expect to win and work each week to reach that goal," the coach says. "Last year, we were rolling and got ahead of ourselves. We didn't respond when adversity hit."
Horton demanded more in the off-season, pushing players in the weight room. He scheduled summer team camps with Class 7A Conway and North Little Rock to toughen his Hornets.
"We don't know if it's worked or not because we haven't faced adversity yet," Horton says. "We haven't trailed in a game this year. We wanted to challenge our guys and had games at Pea Ridge (won 33-12) and Vilonia (won 49-19) where good things happened and we jumped in front early."
Maumelle expects things to get tougher in the 5A Central, starting this week at White Hall, but the high-flying Hornets don't lack for talent.
Do-it-all senior Zyon Slade (5-11, 155) owns 4.4 speed and scholarship offers from Illinois State and Tennessee-Martin. Louisiana Tech and other Division I schools inquired about him in the summer.
The shifty Slade (in Jimmy Jones photo above) has caught 13 passes this season for 188 yards and four touchdowns, and he averages 18 yards per carry. The senior also returned a kickoff 60 yards to set up a TD. "He's our Swiss Army knife," Horton says. "He does everything for us. Defenses are keying to stop him, and that has opened up other guys."
Senior Demetress Williams (5-10, 175) has benefited from the extra attention opponents devote to Slade. Williams, a defensive specialist the past two years, emerged last spring at receiver and produced big plays in the summer. His torrid pace has continued three weeks into the season with staggering statistics: 20 receptions for 607 yards and nine TDs.
Williams (600-pound deadlift) started the past two seasons at safety, where he likely plays in college with natural instincts. Although he owns no scholarship offers, Horton expects most in-state Division 2 schools to offer.
"He does a lot of little things that coaches notice, but the average fan doesn't," the coach says. "He's putting up big numbers this year on offense, but he doesn't mind blocking or being a decoy. On defense, he gets in on every play. He doesn't back down from contact."
The coach believes Slade and Williams' emergence at receiver will open up Maumelle's running game. "Teams can't cover us one-on-one," Horton says. "You can't double-team both of them."
Junior Jonathan Reyes (6-0, 180), who moved from Texas in the off-season, alternated at quarterback the opening three games this fall but will start against White Hall "because he's separated himself and earned the opportunity," Horton says.
Reyes has completed 31 of 46 passes (67 percent) for 819 yards and 12 TDs with one interception. Horton believes Reyes will develop into a recruitable prospect this season.
Sophomore offensive tackle Andrew Chamblee (6-7, 290) is Maumelle's top prospect. Virginia Tech offered him a scholarship on Sept. 15, and Arkansas followed with an offer six days later. Chamblee dead lifts almost 600 pounds. "He's long and strong," the coach says. "He could be one of the best linemen in the country."