HOGS top A&M, go to 4-0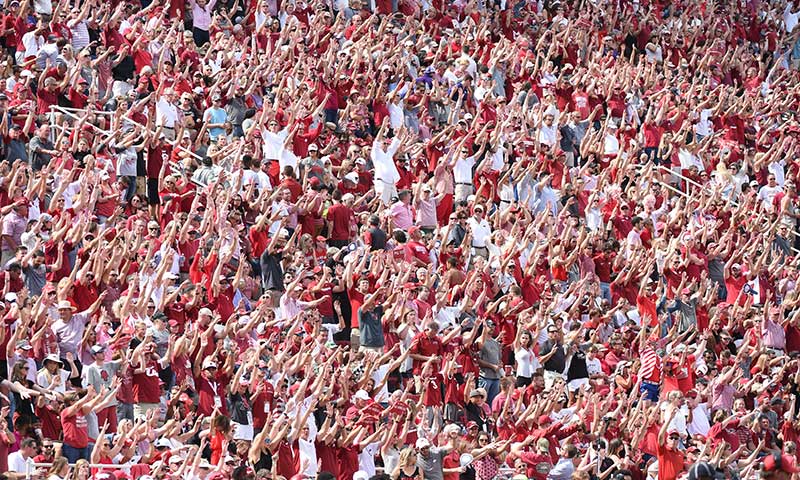 Like the previous nine Arkansas vs. Texas A&M  games, the Razorbacks seized momentum Saturday then lost it.
This time they seized it back.
Even as key injuries sidelined starting quarterback KJ Jefferson  and star receiver Treylon Burks (six catches for 167 yards including an 85-yard touchdown) and a 17-0 Arkansas lead slipped to 17-10, the No. 16 resurgent Razorbacks rescued a 20-10 SEC upset over the No. 7 Aggies at the Dallas Cowboys' AT&T Stadium.
It marked both teams' SEC opener.
Second-year Arkansas coach Sam Pittman's Razorbacks are 4-0 overall (1-0 in the SEC), heading into next Saturday's 11 a.m. ESPN televised SEC game with No. 2 Georgia (4-0, 2-0 in the SEC East). 
"So many people had something to do with this win," Pittman said.  "I honestly thought we could do what we did, but our kids had to believe it and that's what they did.
Arkansas snapped a nine-game losing streak to the Aggies. The Razorbacks brought home the annual game's Southwest Classic Trophy for the first time since beating A&M from 2009-2011 when the old Southwest Conference rivals renewed their rivalry non-conference. A&M was in the Big 12 before joining the SEC in 2012.
"Arkansas has needed this for a long time," Pittman said of beating the Aggies and starting 4-0. "The bubble might burst one of these days, but while it's not, it's a lot of fun."
Coach Jimbo Fisher's Aggies arrived Saturday riding an 11-game winning streak, dating back to their 9-1 2020 season, Defensively this fall, A&M (3-1) had pitched seven shutout quarters. It plays host to SEC West rival Mississippi State this week.
From sixth-year senior linebacker Grant Morgan of Greenwood (nine tackles, three QB hurries and a PBU) to recently arrived via University of Missouri defensive end Tre Williams (two sacks among his four tackles Saturday and three QB hurries) Saturday's success seemed equally significant.
"It was like a dream come true," Morgan, one of 11 bonus seniors who are playing an extra NCAA-granted post-covid season.  "Like a perfect ending for this storm for Texas A&M. Wins like this (and over then No. 15 rival Texas on Sept. 11) are why you come back. It's a good day to be a Razorback."
Williams, a powerful force pressuring A&M QB Zach Calzada while the Razorbacks mostly rushed just three, said Pittman (Arkansas' offensive line coach from 2013-2015) drove home to players this game's importance to the state of Arkansas.
"I had a great understanding of this game learning the history," Williams said. "Knowing we could break that streak, knowing we could take the trophy back home, it means a lot. We prepared for this game like it was everything. To be here celebrating with my guys, it's just electric."
Good as Williams and Morgan were, cornerback Montaric Brown of Ashdown made THE defensive play of the game to seize momentum a last time. 
Arkansas was up 17-0 Saturday when UA running back Trelon Smith (17 carries for 82 yards) was stopped for no gain on fourth and 1 at the A&M 22 with 2:29 left in the half.
The stop infused life into the lifeless Aggies. Helped by one of 10 Arkansas penalties, Calzada (20 of 36 for 151 yards) drove the Aggies to the Arkansas 32 setting up Seth Small's 49-yard field goal with 21 seconds left before intermission.
Isaiah Spiller, A&M's powerful 'back with track speed who had just 28 yards for his other 11 carries Saturday, broke a 67-yard TD up the middle to cut it to 17-10 at 7:51 of the third quarter.
Things got shakier the next series. Jefferson (seven of 15 passing for 212 yards and two TDs of 85 yards to Burks and 48 to running back AJ Green) was injured on the next series.
Arkansas' offense was rendered one dimensional with speedy freshman QB Malik Hornsby, a 16-yard run his first carry, not showing a passing threat upon replacing Jefferson.
A&M responded accordingly.
"Defense kept us in the game," Pittman said of the punting exchanges after A&M's TD and Jefferson's injury.
But Calzada, the backup starting since A&M starter Haynes King broke his leg two games ago, had just completed as 23-yard pass to Ainias Smith to the A&M 33. Calzada's next pass first bounced off A&M center Bradedon Kobza's helmet, was tipped by Arkansas linebacker Bumper Pool and snagged at the A&M 48 by a flying  Brown who caught it without the ball hitting the turf.
Following Dominique Johnson's 16-yard run, Hornsby hit a key 7-yard pass to Burks. Burks would add 14 yards rushing on a counter from which he left injured though reported postgame by Pittman to be OK for Georgia. Hornsby quarterbacked Arkansas to the 6. After an offsides cost Arkansas third and one, the Hogs settled for Cam Little's 24-yard field, but the 20-10 lead sufficed.
Arkansas' defense forced a three and out.
Jefferson returned to play keep away the rest of the way.
"When Mo (Brown) picked that pass and we went up 10 the clock was on our side," Pittman said. "I was really proud how we ended the game offensively."
After forcing an A&M punt following a game-opening seven plays, Arkansas netted 43 yards from three Trelon Smith runs followed by Jefferson' 23-yard pass to Burks. 
A false start bogged the drive down, but Little salvaged a 3-0 lead with a 46-yard field goal.
Burks, a 91-yard TD off a screen pass in last week's 45-10 victory over Georgia Southern, beat A&M defensive back Myles Jones for his 85-yard TD bomb from Jefferson on Arkansas' next series.
"I just saw it was man-to-man," Jefferson said. "Safety was kind of in the middle of the field. So I know if I held just a little second I would be able to get the ball to Treylon as quick as possible. He just made a great play on the ball."
Burks saw the setup as did offensive coordinator Kendal Briles.
"When they went man I kind of looked at coach, and he called the play," Burks said. "I knew it was going to be open."
Jefferson and freshman running 'back Green, who got a friendly push from one Aggie defender, ran 48 yards for a TD and the 17-0 lead at 13:55 of the second quarter.
"We knew we were going to take advantage of AJ's speed on a linebacker," Jefferson said.
The Green TD drive started with a trick play, a 27-yard catch by Burks off a pass by fellow receiver Warren Thompson.
Burks and Helena native Tyson Morris each caught 21-yard passes on the late second quarter drive stopped on the fourth and 1.
"Before anybody asks me, I would have gone for that fourth and one again," Pittman said. "I thought we could get ahead 24-0 at half. I thought we could deflate them. So I was wrong, but I'd do it again."