Class 3A Week 5 Rankings, Notes & Picks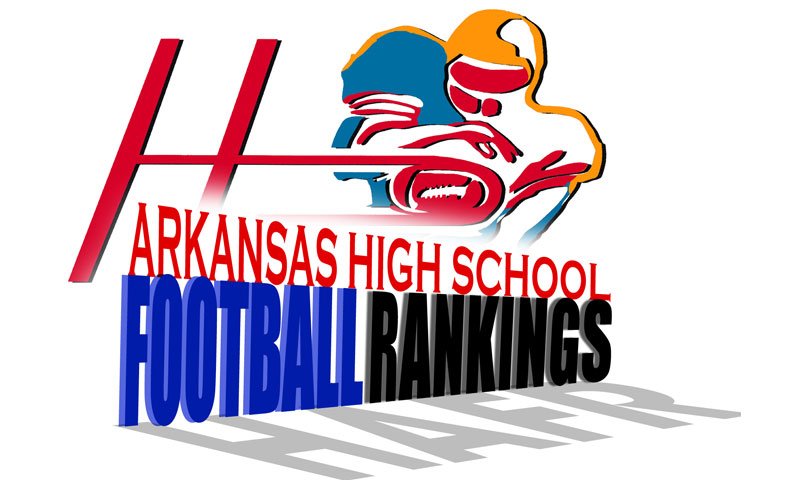 Class 3A, Week 5, 2021
Copyright Hooten Publishing, Inc.
1. Prescott (4-0)
2. McGehee (4-0)
3. Booneville (4-0)
4. Harding Academy (3-1)
5. Osceola (2-1)
6. Centerpoint (4-0)
7. Charleston (4-0)
8. Paris (4-0)
9. Hoxie (4-0)
10. Camden Harmony Grove (2-2)
11. Rison (3-1)
12. Newport (3-2)
13. Melbourne (3-2)
14. Mountain View (4-1)
15. Glen Rose (2-1)
16. Bismarck (4-0)
17. Perryville (3-1)
18. Riverview (4-1)
19. Hackett (4-0)
20. Genoa Central (2-2)
21. Atkins (3-1)
22. Cedarville (4-0)
23. Salem (3-1)
24. Baptist Prep (3-1)
25. Horatio (3-1)
26. Barton (0-3)
27. Greenland (1-2)
28. Lavaca (2-2)
29. Manila (3-1)
30. Walnut Ridge (2-2)
31. Harrisburg (1-3)
32. Dollarway (1-2)
33. Jessieville (1-2)
34. Mansfield (1-2)
35. Smackover (2-2)
36. Lake Village (1-3)
37. Fouke (1-3)
38. West Fork (1-3) 
39. Piggott (0-4)
40. Corning (1-3)
41. Danville (0-3)
42. Mayflower (0-4)
43. Drew Central (0-4)
44. Lincoln (0-4)
45. Palestine-Wheatley (0-3)
46. Two Rivers (0-4)
GAME OF THE WEEK
No. 7 Charleston at Cedarville
Charleston outgained Greenland last week 517 to 58 in a 51-0 victory. Junior QB Brandon Scott completed 14 of 17 passes for 320 yards and four TDs. He also ran 39 yards for a TD. Junior WR Bryton Ketter caught two passes for 108 yards, including a 75-yard TD. Junior WR Sebastian Gaona pulled in four receptions for 84 yards and a TD. Gaona contributed an interception on defense. Cedarville survived a challenge from Lavaca 38-36. All-state senior RB Darryl Kattick rushed for 206 yards and four TDs on 27 carries. Senior TE/RB Hayden Partain ran for 113 yards on 17 carries. Senior QB Cody Dickens completed five of eight passes for 117 yards and a TD. Senior WR Bradley Perkins contributed a 63-yard TD reception. A year ago, Charleston got past Cedarville 36-34. Watch extended highlights of Cedarville's win two weeks ago at Mansfield HERE. 
LAST WEEK
Hootens.com correctly picked 19 of 24 games (79 percent) involving 3A teams. It is 120 of 149 (80 percent) for the season.
WEEK 5 PREDICTIONS (favored team in CAPS followed by point spread)
1-3A
CHARLESTON (9) at Cedarville: See 3A Game of the Week.
Mansfield at GREENLAND (7): Sophomore WR/DB Tyler Turnipseed caught nine passes last week for 146 yards and two TDs in Mansfield's 47-26 loss to West Fork. He also piled up 129 yards in kickoff returns, along with six tackles on defense. Junior QB/WR/LB Fisher Willsey gained 47 yards and a TD, completed his only pass for 14 yards and a TD, while returning a fumble for six points.  Senior DE J.J. Hollingsworth led Greenland's defense with six tackles in 51-0 setback to Charleston. A year ago, Greenland beat Mansfield 47-16. Watch extended highlights of Mansfield's 42-14 loss to Cedarville HERE.
Lincoln at WEST FORK (6): Lincoln sophomore QB Drew Moore passed for 400 yards and four TDs last week in 68-47 loss to Hackett. He also scored twice running. Senior WR A.J. Garner gained 160 yards via the air and scored once. Senior WR Kyler Calvin and sophomore WR Kellar Price each caught a TD pass. West Fork outscored Mansfield for its first win of 2021, 47-26. West Fork junior CB Colby Smith returned two interceptions for TDs. Lincoln beat West Fork last season 21-14. 
Lavaca at HACKETT (6): Lavaca dropped a 38-36 heart-breaker last week to Cedarville. Junior QB Maddox Noel and senior WR Cory Arredondo played well for Lavaca. Hackett senior QB Ethan Slavens completed 28 of 37 passes for 522 yards and six TDs with one interception in 68-47 shootout with Lincoln. Sophomore WR Cole Ketchum caught six passes for 149 yards and a TD. Senior WR/LB Peyton Hester hauled in 12 receptions for 121 yards and three TDs. Hester led the defense with six solos, four assists and an interception. Hackett won last year's encounter with Lavaca 40-13. 
2-3A
Mountain View at HARDING ACADEMY (14): Mountain View senior QB Elijah Carlton rushed for a team-high 156 yards a TD last week in a 34-14 win over Class 2A Poyen. He was three of three passing for 61 yards and a TD. Junior RB Trampas Stubbs returned a kickoff 61 yards for a TD. Briarcrest (Tenn.) Christian of Memphis proved too much for Harding for the second straight year 42-27. Harding junior QB Kade Smith passed for 311 yards and two TDs with one interception. Senior WR Jackson Fox caught seven passes for 105 yards and a TD. Senior safety Aaron Chism led the HA defense with 11 tackles. Junior kicker Kyle Ferrie booted four field goals.
Riverview at NEWPORT (3): Sophomore WR/CB Oquojeah Earl caught three passes last week for 102 yards, including 72-yard TD, in Riverview's 35-7 victory over Salem. He also returned interception 36 yards for TD. Senior LB Tyler Hill delivered a 58-yard pick-6. Newport junior LB Brendon Curry, senior WR/QB Eli Acorn, and junior OT Jeremiah Godair played well last week in a 21-20 win over Melbourne. Newport routed Riverview 41-0 last season. Watch extended highlights of Newport's season-opening loss to Prescott HERE.
MELBOURNE (18) at Salem: Touchdowns last week by senior RB Holden Hutchins and junior WR Carter Bray pushed Melbourne to a  12-7 halftime lead, but Newport rallied to win 21-20. For the game, Newport outgained Melbourne 468 to 202. Melbourne junior QB Trey Wren completed seven of 14 passes for 138 yards and a TD. Salem defense held Riverview to 170 total yards. Turnovers and penalties doomed Salem in a 35-7 loss to Riverview. Senior DE Tyler Siddons led Salem with nine tackles, three TFL. DE Lucas Foster credited with eight tackles, and senior LB Lewis Allman contributed seven stops. Melbourne beat Salem last season 41-22.
3-3A
OSCEOLA (35) at Piggott: Osceola won last week by forfeit over Corning. Piggott senior QB Bryon Poole passed for 116 yards in a 60-20 loss to Manila. Junior LB Jackson Howell collected seven tackles. Senior WR Hayden Emerson ran for 67 yards and two TDS on just five carries. Senior WR Ethan Ralph returned a kickoff 65 yards for six points.
HOXIE (42) at Palestine-Wheatley: P-W forfeits. Hoxie senior QB Cade Forrester completed nine of 12 passes last week for 212 yards and four TDs in a 56-14 win over Harrisburg. He also rushed for 112 yards on 10 carries. Sophomore WR Kayden Glenn caught four passes for 157 yards and three TDs. He also intercepted two passes, including a 25-yard pick-6. Senior MLB Jace Benesch was credited with 14 tackles and an interception. Walnut Ridge crushed Palestine-Wheatley 54-0.
HARRISBURG (1) at Walnut Ridge: Harrisburg junior WR Noah Brooks caught seven passes for 80 yards in last week's 56-14 loss to Hoxie. Senior LB Colby Summers played well with improved play from the defensive line. Five Harrisburg turnovers proved costly in the loss. Walnut Ridge junior RB Walker Ward rushed for 190 yards and contributed an interception in a 54-0 win over Palestiine-Wheatley. Junior QB Kai Watson rushed for 161 yards. Harrisburg won last year's game over Walnut Ridge 33-8.
Corning at MANILA (6): Corning forfeited to Osceola last week because of covid quarantines and injuries. Manila rushed for a season-best 402 yards in a 60-20 rout of Piggott. Senior RB Dustin Clark ran for 105 yards and two TDs. He also caught two passes for 51 yards and a TD. Junior MLB Mason Mullen intercepted a pass and senior CB Billy Morris blocked a punt. Corning defeated Manila 44-18 in 2020.
4-3A
Booneville at TIMPSON, TEXAS (2): Booneville, which receives a forfeit win this week from Danville, travels to Texas to get in a game. A week ago, Booneville senior QB Randon Ray carried the ball twice for 106 yards in a 49-6 rout of Two Rivers. Booneville's defense held Two Rivers to 12 total yards. Timpson (3-0), which averages 55 ppg, reached the Texas Class 2A Division I semifinals in 2020.
PARIS (40) at Two Rivers: Paris senior QB Chase Watts completed seven of seven passes last week for 188 yards and three TDs in a 48-7 win over Mayflower. Senior RB Duke Walker rushed for 132 yards, and six Eagles scored touchdowns. Senior RB/S Blake Martines contributed a pick-6 on defense. Two Rivers managed just 12 total yards in a 49-6 loss to Booneville. Two Rivers junior RB Dominic Dailey ran for 50 yards on seven carries, while senior QB Riley Dunman ran for a TD.
Perryville at ATKINS (7): Perryville junior QB Tyler Givens completed 10 of 14 passes last week for 215 yards and four TDs in 48-12 win over Danville. He added 78 yards on the ground with a TD. Senior WR Mason Roland contributed three receptions for 77 yards and two TDs. Junior OLB Easton Walker paced the defense with 10 tackles, a sack and two TFL. Atkins senior RB Wyatt Coffman rushed for 130 yards on 23 carries in a 24-23 win over Baptist Prep. Senior WR Devin Roberts caught six passes for 110 yards and two TDs. Atkins popped Perryville 52-44 a year ago.
Mayflower at BAPTIST PREP (6): Mayflower senior RB/S Gabe Morris played well on both sides of the ball in 48-7 loss to Paris. Morris rushed for 49 yards and a TD. Mayflower has been mercy-ruled three times and lost its four games by an average score of 43-15. Baptist Prep wasn't lacking stars in its first loss of 2021, a 24-23 decision to Atkins. Senior WR/CB Jeff Brown caught 50 yards in passes, one for a TD. Brown contributed four pass breakups on defense. Senior QB Tyler Hesley completed 74 percent of his passes for 201 yards and three TDs. Senior WR Davis Rusher added 84 yards receiving and two TDs. Senior MLB Owen Throneberry led the defense with 15 tackles and a forced fumble. Mayflower won this matchup 31-22 in 2020.

5-3A
Fouke at PRESCOTT (40): Fouke lost at home last week to unbeaten Centerpoint 52-14. Fouke junior WR/S Ethan Thornton collected 10 tackles and caught three passes for 40 yards and a TD. Twin brother CB Ethan Thornton tallied six tackles. No. 1 Prescott won by forfeit over Horatio last week because of covid. Watch extended highlights of Prescott's season-opening win over Newport HERE. 
GLEN ROSE (17) at Genoa Central: Glen Rose routed Genoa Central last season 42-0. Last week, GR senior WR Conner Taylor caught two TD passes, rushed for one TD, and returned a punt for six points in 46-24 win over Jessieville. Senior RB Dalton Taylor added 150 yards and a TD. Genoa Central senior QB Trent Bearden ran for more than 100 yards and passed for more than 100 yards and two TDs in a 26-20 loss to Bismarck. Senior RB Ryan Braden ran for 128 yards and a TD. Senior DL Dalton Moore and junior DL Hilton Hackney combined for several tackles.
Horatio at CENTERPOINT (38): Horatio forfeited to Prescott last week after several players were quarantined due to covid. Monday was the last day of the 10-day quarantine. Centerpoint coach Cary Rogers was elated with his team after piling up 535 yards offense in a 52-14 win over Fluke. Senior LB Dathan Vaught led a strong defensive effort. Senior QB Josh Lawson completed 11 of 20 passes for 263 yards and four TDS. Junior Jace Clark rushed for 192 yards on 10 carries. Senior WR C.J. Fox caught five passes for 110 yards, and senior tight end Hayden Rogers hauled in three passes for 84 yards and two scores.
BISMARCK (5) at Jessieville: Bismarck junior QB Ian Smith passed for 246 yards and four TDs last week in 26-20 win over Genoa Central. Senior WR Braden Efird caught passes for 100 yards and two TDs. Junior WR Bo Bates caught seven passes for 84 yards and a TD, and sophomore receiver Tony Weeks added 50 yards and a TD. Senior LB Barrett Schultz led the defense with 12 tackles. Bismarck missing two of its better players this week due to injuries. Jessieville senior QB Carson Hair passed for 272 yards and two TDs in last week's 46-24 loss at Glen Rose. Junior WR Brentenn Johnson caught passes for 108 yards and a TD. Jessieville won last year's matchup 56-29.
6-3A
Lake Village at MCGEHEE (35): Lake Village coach Chris Williams calls McGehee a championship team. Lake Village senior RB Ederian Sykes rushed for 100 yards and two TDs last week in a 40-0 rout of Smackover. Senior WR Delonte Armour caught a 60-yard TD pass. Junior Sedarian Webb contributed 10 tackles. McGehee cruised past Drew Central 42-0 with senior RB Jody Easter running for 131 yards and two TDs on two carries. McGehee whipped Lake Village 46-13 a year ago. 
RISON (18) at Dollarway: Rison coach Clay Totty praised the play of junior LB Avery Hopson, junior DT Roger Boswell and senior LB Dalton Riggins in last week's 46-30 win over improved Barton. Hopson logged six tackles, two sacks, five pressures and a 20-yard kickoff return. Boswell finished with two tackles, one for a loss, two QB pressures, and he graded highest on the offensive line. Riggins registered six tackles, a sack and five knockdown blocks. Junior RB Bradyn Dupuy rushed for 151 yards and three TDs on 26 carries. Dollarway senior LB Kenyon Carr led the defense with eight tackles in a 45-0 loss to Camden Harmony Grove. Senior DB Eddie Collins finished with six stops, and senior QB Briveon Sample gained 45 yards on five carries.
C. HARMONY GROVE (21) at Smackover: Senior MLB Tobias Hicks led the CHG defense last week with seven tackles, and senior OLB Jeremiah Morgan returned a fumble 40 yards for a TD in a 45-0 blanking of Dollarway. Lake Village shut out Smackover 45-0. Watch extended highlights of C. Harmony Grove's 22-20 loss at Fordyce two weeks ago HERE.
BARTON (7) at Drew Central: Much-improved Barton could end its 18-game losing skid this week at DC after losing last Friday at Rison 46-30. Barton's 32-man roster features four seniors and 15 sophomores. Barton trailed Rison 28-6 early but rallied to take a 30-28 lead in the fourth quarter. Sophomore QB Conner Willis completed 11 of 18 passes 310 yards and two TDs to fellow sophomore Ne'Taveus Johnson. Johnson finished with seven catches for 265 yards. Drew Central junior QB Kade Bodiford passed for 114 yards and ran for 47 in last week's 42-0 loss to McGehee. Senior OLB Messiah Davis contributed eight tackles and forced two fumbles that Drew Central recovered. Drew Central walloped Barton last year, 60-18.