HOGS honored after axing A&M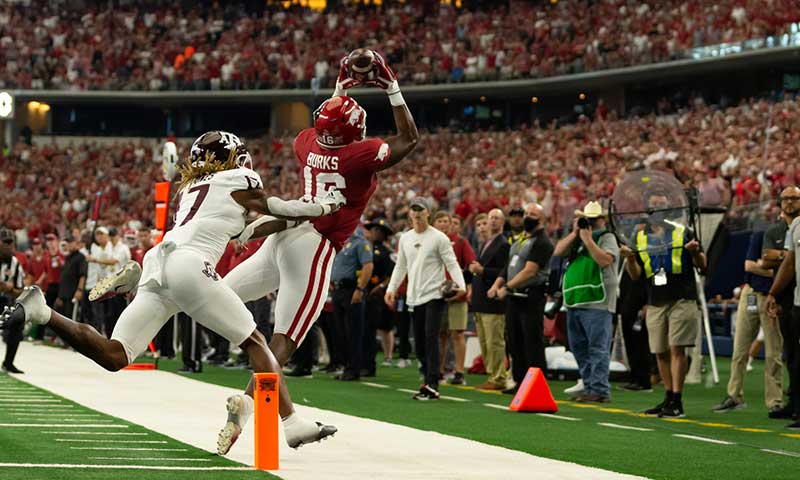 FAYETTEVILLE - For wreaking defensive havoc Saturday in Arkansas' 20-10 win over then-No. 7 Texas A&M, and standing out offensively in a defensive game, Arkansas senior defensive end Tre Williams and Arkansas junior wide receiver Treylon Burks, respectively, were named the SEC's Defensive Lineman of the Week and Co-Offensive Player of the Week.
Williams and Burks (in Tommy Land photo above) played key roles in the Hogs defeating the Aggies and advancing 4-0, 1-0 (in the SEC) to No. 8 in the AP poll.
Arkansas travels to No. 2 Georgia for an 11 a.m. kickoff Saturday at UGA's Sanford Stadium in Athens, Ga. ESPN plans to televise the SEC game nationally.
Williams, a graduate transfer via the University of Missouri, sacked A&M quarterback Zach Calzada twice and three times hurried Calzada into incompletions.
Burks, a two-year letterman from Warren and a 2021 preseason All-American, recorded season highs with six catches for 167 yards, including an 85-yard touchdown from quarterback KJ Jefferson. A week earlier, Burks took a Jefferson screen pass 91 yards for a TD in a 45-10 victory over Georgia Southern.
JEFFERSON, BURKS OK
Burks on a 14-yard run, and Jefferson, also on a run, were injured against A&M. Jefferson returned to finish the game.
Both said afterwards they would be fine to play against Georgia. Arkansas coach Sam Pittman said the same Monday before the Razorbacks practiced.
"He (Burks) is sore," Pittman said. "Treylon's sore. We've played some good football teams and physical games. I think both of them will be fine. They may or may not be able to go full speed today, but I don't think it will be a problem for the game."
HOGS VS. REBELS ON TV
The Razorbacks learned Monday they are in a six-day TV window for telecasting their Oct. 9 SEC game at No. 12 Ole Miss. The Arkansas vs. Ole Miss game in Oxford, Miss. will kick off at 2:30 p.m. on CBS or at 11 a.m. on ESPN.
CBS, which gets first choice, awaits this week's results before deciding on Arkansas at Ole Miss or Georgia at No. 22 Auburn.
Ole Miss plays at No. 1 Alabama this Saturday afternoon on CBS. Auburn on Saturday night visits LSU on ESPN.
FIRST ROAD GAME
Pittman was asked Monday after three consecutive home games at Reynolds Razorback Saturday if Saturday's half Arkansas and half Aggies crowd in Arlington at least semi prepare the Razorbacks for the Georgia crowd expected to at 92,000 plus.
"Number one, I think us traveling last week to Dallas helped us because we've gone through the process," Pittman said. "(Freshman running back) AJ Green had never flown before. So, we went through the process of how we travel. That's one thing you can't do. I think we went almost a week (during the August preseason) where we practiced in the morning so we could be ready for an 11 o'clock game, 12 o'clock kick over there in Georgia. Those things I think we're prepared for."
But the Georgia crowd?
"The crowd is going to be incredible there," Pittman said. "I mean, it's CollegeGame Day (ESPN's pregame morning show). So, I think last week helped us a little bit because half the crowd was against us. We know we'll get 93,000 folks there at Georgia. They support the program big time. So, we know it's going to be extremely loud, but I think last week prepared us a little bit for that. Of course, it's going to be louder than what it was last week, but we did a pretty good job with that besides down on the goal line on that third-and-one."
An Arkansas offensive lineman jumped offsides compelling  the Hogs to settle for a field goal.