HOGS, Pittman know what's up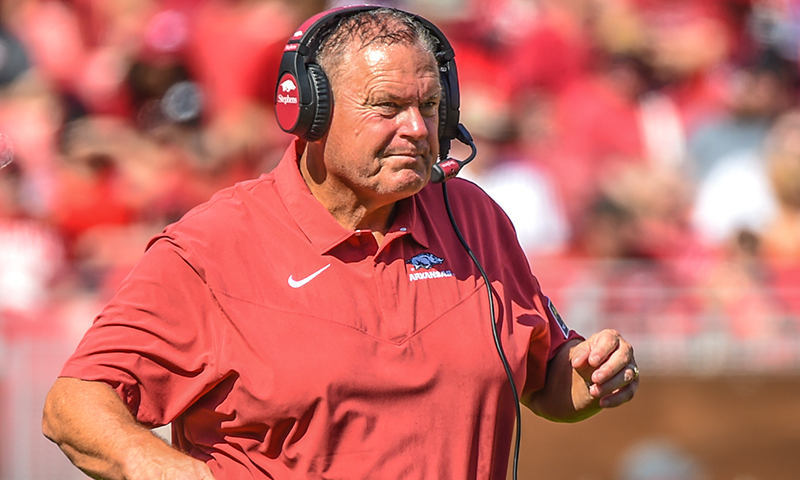 FAYETTEVILLE — There is no time for the Arkansas Razorbacks to sulk in the aftermath of last Saturday's crushing 23-21 loss to Texas A&M at AT&T Stadium in Arlington, Texas.
Not with the second-ranked Alabama Crimson Tide coming to town for a 2:30 p.m. Saturday matchup at Reynolds Razorback Stadium.
Alabama (4-0, 1-0 SEC) has regained its footing after its 20-19 escape against Texas on Sept. 10 in Austin.
The Crimson Tide have defeated Louisiana-Monroe (63-7) and Vanderbilt (55-3) in back-to-back weeks, and head into Fayetteville led by quarterback Bryce Young, last season's Heisman Trophy winner and linebacker Will Anderson, the Bronko Nagurski winner as the nation's top defensive player.
Arkansas Coach Sam Pittman said Monday he is well aware of Young and Anderson.
 "They have a great team with the best player in college football on defense [Will Anderson] and the best college football player on offense [Bryce Young]," Pittman said. "But we're going to be very excited to get back in our stadium and be able to play them on a national CBS game."
Saturday's game will mark Arkansas' third matchup when both teams came into kickoff both ranked in the AP Top 25.
Arkansas, which has dropped to No. 20, is the lower ranked team for the first time after ranking ahead of Cincinnati and Texas A&M.
There is also the matter of Arkansas having lost its past 14 meeting with Alabama, last winning 24-23 in double-overtime in 2006.
And there is the presence of Alabama Coach Nick Saban (263-67-1) on the opposing sideline. Saban is 182-25 at Alabama, with 6 SEC titles and 6 national championships. His seven national championship wins, with one coming from his time at LSU, are the most by any major-college football head coach.
"He's been so kind and so good to me," Pittman of Saban, who nearly hired Pittman as Alabama's offensive line coach in 2013. "I sit right next to him in the SEC head coaches meetings and I ask him questions and he has been kind enough to answer them. I have nothing but wonderful things to say about him. He's the greatest coach of all time in college football."
Pittman and Saban have squared off twice as head coaches, with Saban having won both those matchups — 52-3 in 2020 and 42-35 victory in 2021.
TALKING KJ, BALL SECURITY
Razorbacks quarterback KJ Jefferson has been a constant threat to opposing defenses throughout the 2022 season, whether it be through passing or running the ball. Jefferson has completed 67 of 97 passes for 941 yards for 8 touchdowns and has rushed for 274 and 4 TDs. Jefferson is one of only three QBs in the FBS to pass for more than 900 yards and run for more 200 yards.
As good as his numbers are, Jefferson has fumbled the ball four times in four games, including last Saturday when he lost the ball when trying to extend toward the goal line in first half of Arkansas's 23-21 loss to A&M.
The fumble became a game-turning 97-yard touchdown return for the Aggies, effectively a 13-point play.
Pittman said he knows that Jefferson was doing everything he could to secure a victory for the Razorbacks.
"His ball security hasn't been as good as it was a year ago," Pittman said. "I think he just gets caught up in the moment. But he is trying everything he can do to win the game for us."
Jefferson will have his work cut out for him protecting the ball against the Crimson Tide defense that has forced five fumbles through their first four games.
FORCING MORE TURNOVERS
Arkansas' pass defense still ranks last in the SEC (302.5 yards per game) despite an improved performance against A&M, and while Arkansas leads the SEC with 21 sacks, the defense has not created a turnover the past two weeks.
Pittman said he knows that this is an issue that needs to be fixed if the Hogs want to compete against an Alabama team that is ranked in the top-10 nationally in total offense (517.5 yards per game).
"We work on strip tackling every day in practice but for whatever reason, we just haven't got the ball out," Pittman said. "Part of that is we have to get better at tackling. Obviously, when you tackle them, you have a chance to strip it a little bit better and tackling has a lot to do within the box."