Class 3A Week 5 Rankings, Notes & Picks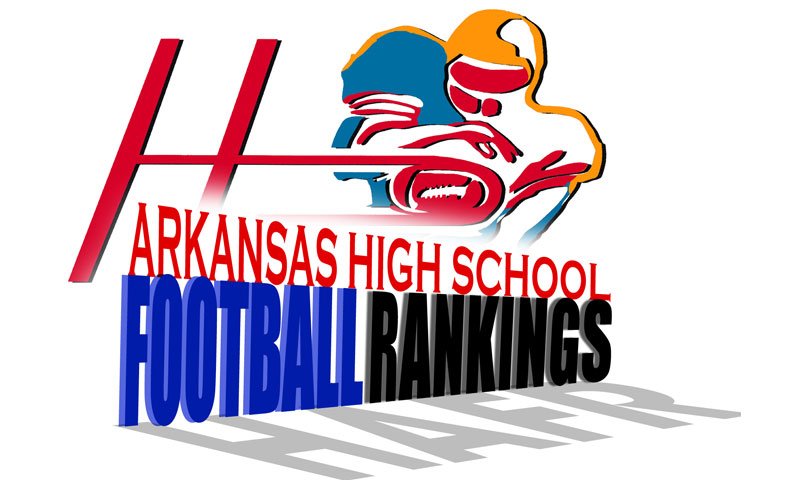 Hootens.com Rankings
Class 3A, Week 5, 2020
Copyright Hooten Publishing, Inc.

1. Harding Academy (3-1)
2. Prescott (2-0)
3. Rison (2-1)
4. Hoxie (4-0)
5. Booneville (4-0)
6. McGehee (3-0)
7. Newport (5-0)
8. Osceola (1-2)
9. Glen Rose (3-1)
10. C. Harmony Grove (2-2)
11. Cedarville (4-0)
12. Melbourne (3-1)
13. Centerpoint (3-1)
14. Atkins (3-1)
15. Charleston (2-2)
16. Harrisburg (1-2)
17. Dollarway (0-3)
18. Salem (3-1)
19. Perryville (3-1)
20. Greenland (2-2)
21. Jessieville (2-2)
22. Paris (4-0)
23. Walnut Ridge (1-2)
24. Mountain View (4-1)
25. Hackett (2-0)
26. Genoa Central (3-1)
27. Piggott (3-1)
28. Lincoln (2-2)
29. West Fork (3-1)
30. Corning (2-2)
31. Baptist Prep (2-2)
32. Palestine-Wheatley (2-2)
33. Drew Central (0-3)
34. Bismarck (1-3)
35. Lake Village (1-3)
36. Mayflower (0-4)
37. Mansfield (1-3)
38. Danville (0-3)
39. Riverview (0-3)
40. Smackover (0-2)
41. Fouke (0-1)
42. Barton (0-4)
43. Manila (1-2)
44. Lavaca (0-2)
45. Two Rivers (0-4)
46. Horatio (0-3)

HOOTENS.COM GAME OF THE WEEK
No. 11 Cedarville at No. 15 Charleston
Cedarville last beat Charleston in 1985 and the Pirates have not won a conference title since 1999. Cedarville looks to improve to 5-0 for the first time in school history. Charleston has won 15 league titles since 2000 but none since 2017.
Charleston forced three turnovers a week ago in a 48-18 victory at Greenland. Greenland led 12-6 in the first quarter, but Charleston pulled away by scoring on all its second-half drives. Charleston senior quarterback Brandon Scott completed eight of 13 passes for 121 yards and two touchdowns. The dual-threat added 115 yards rushing and a score. Ransom Merechka and Nathan Zimmer racked up seven tackles apiece for Charleston.
Cedarville rolled up more than 500 yards offense in last week's 46-14 win against Lavaca, including junior running back Darry Kattich's 148 rushing yards and three TDs. Hayden Partain rushed for 53 yards with a score and Hayden Morton darted for 51 yards with a TD. Eight Pirates combined to rush for more than 400 yards against Lavaca. Center Landon Hopewell, right guard Taylor Humble and left guard Max McGill anchor the Cedarville offensive line. Linebackers Partain, Kattich and Bruce Turney and safety Tommy Metcalf spark a defense that allows only 11.5 points per game.

LAST WEEK
Hootens.com correctly predicted 15 of 19 games (79 percent) of games involving Class 3A schools. For the season, hootens.com correctly predicted 108 of 138 games (79 percent) of games involving Class 3A schools.

WEEK 5 PREDICTIONS (favored team in CAPS followed by point spread)
1-3A
CEDARVILLE (6) at Charleston: See Hootens.com Game of the Week.
GREENLAND (10) at Mansfield: Mansfield committed three turnovers and managed just 241 yards in last week's 46-14 defeat at West Fork. The Red Tigers rushed for 196 yards (4.8 YPC) and two TDs, paced by senior Codi Chick's 77 yards and a TD. Senior Randall Claude racked up 11 tackles while junior Shawn Brown wrapped up five tackles. Greenland racked up 334 yards in last week's 48-18 loss to Charleston. Senior tailback Jett Dennis bolted for 196 yards (7.5 YPC) and a TD and senior QB Gabe Wilson totaled 119 yards and a TD. Sophomore Seth Center stacked seven stops and intercepted a pass for Greenland while junior J.J. Hollingsworth, an Arkansas commit, logged five stops and a tackle for loss.
HACKETT (14) at Lavaca: Lavaca trailed Cedarville 46-8 in last week's 46-14 loss. Opponents outscore the young Golden Arrows (eight sophomores seeing major snaps) by a combined 77-26 this season, but Lavaca's opponents are a combined 8-0 in 2020 (Paris and Cedarville). Sophomore Maddox Noel sparks the Lavaca offense. Hackett has not played the past two weeks and has not been able to do any football activities.
WEST FORK (1) at Lincoln: Lincoln pounded Class 2A Johnson County Westside two weeks ago. The Wolves led 49-8 at halftime. Daytin Davis (four TD grabs this season) delivers big plays at receiver. West Fork is 3-1 for the first time since 2014, when the Tigers won nine games and the first of two 1-3A league titles. The Tigers mauled Mansfield 46-14 a week ago behind senior playmaker Wyatt Kutz's 138 rushing yards and three TDs on six carries (23 yards per carry). Kutz plays football this fall for the first time in high school after focusing on baseball and basketball previously.

2-3A
HARDING ACADEMY (28) at Mountain View: Mountain View rolled Class 2A Cutter Morning Star 46-16 a week ago, rushing for more than 250 yards and forcing three turnovers. Toby Philyaw ran for a TD and returned a fumble for a score at Cutter. Briarcrest Christian snapped Harding Academy's 18-game winning streak last week with a 63-28 victory. The Wildcats rolled up 462 yards, but only 69 on the ground (3.3 yards per carry).
Salem at MELBOURNE (17): Salem allowed just 94 yards in last week's 34-8 victory at Riverview. The Greyhounds recorded 263 yards on offense and converted three of six fourth-down attempts. Salem senior QB Gavin Guiltner fired a pair of TD passes. Melbourne trailed just 7-0 last week at halftime at Newport in a 21-14 defeat. Melbourne recovered a fourth-quarter onside kick with a chance to tie the game but committed a turnover. Riley Gray ran for a TD at Newport and Ryan Worsham returned a kickoff 72 yards inside the Newport 10-yard line in the fourth quarter.
NEWPORT (30) at Riverview: Riverview forced three turnovers in last week's 34-6 loss to Salem, but the Raiders were just three of 14 on third and fourth downs. Newport is 5-0 for the first time since 2007. Newport senior running back Tharon Davis scored three TDs in last week's 21-14 victory over Melbourne. Davis scored from 54, 1 and 18 yards. Davis has run 81 times this season for 479 yards and 12 TDs and he's caught 16 passes for 190 yards and a score.

3-3A
Manila at CORNING (8): Manila allowed 449 yards in last week's 60-6 loss at Piggott. The Lions trailed 60-0 in the fourth quarter. Corning ran 45 plays in last week's 48-12 loss against Osceola but converted only three of 11 third downs. Corning averages more than 25 points per game behind QB Jake Gutierrez, running backs Landon Lucas, Nikota Amiker and Gary Comstock and linemen Fisher Francis and Blayne Ray.
Walnut Ridge at HARRISBURG (6): Palestine-Wheatley whipped Walnut Ridge 28-0 last Friday, when two starting Walnut Ridge offensive linemen, leading receiver and all-state performer Cole Manning did not play. Three of the four players who missed the PW game are expected to return this week. Harrisburg managed just 113 yards in last week's 46-6 loss to Hoxie. Harrisburg tied Hoxie 6-6 in the first quarter before surrendering the final 40 points.
Palestine-Wheatley at HOXIE (29): Palestine-Wheatley won its first conference game since 2018 last week in a 28-0 win at Walnut Ridge. The Patriots led 21-0 at halftime. Cornelius Cohen scored two TDs and Kyle Wright caught a TD pass from Jacob Hobson. Hoxie used an array of big plays to win 46-6 last week at Harrisburg. Hoxie senior running back ShunDerrick Powell rushed for five TDs, including sprints of 54, 43 and 27 yards.
Piggott at OSCEOLA (21): Piggott mauled Manila 60-6 a week ago behind senior QB Tanner Dixon's four TDs. Senior running back Michael Parker ran for three scores. Osceola scored TDs on the ground, through the air and on a punt return in last week's 48-12 win over Corning. The Seminoles racked up 241 yards against Corning and converted five of six times on third downs.

4-3A
ATKINS (6) at Perryville: Atkins has won seven straight in this series since Perryville topped Atkins 12-8 in 2010. Perryville rolled up 344 yards in last week's 35-0 Homecoming win over Danville. The Mustangs are 3-1 for the first time since 2017. Sophomore QB Tyler Givens completed 12 of 17 passes for 217 yards and two TDs against Danville while junior Crete Tippen ran for a team-high 83 yards and two scores. Junior Mason Roland collected three passes for 102 yards and a TD. Perryville shifted all-conference linebacker Blake Kennedy to end two weeks ago and Easton Walker shifts from safety to linebacker. Safety Daryn Hubbard started his first career game against Danville last week, when he returned a punt for a TD.
Atkins racked up 381 yards and forced five turnovers in last week's 36-14 victory over Baptist Prep. Senior Donovan Nooner ran for 234 yards against Baptist Prep. Atkins junior Reese Bixler logged six tackles and intercepted a pass while classmate Noah Spradlin added five stops. Atkins first-year QB Zach Berkemeyer has passed for nine TDs this season with no interceptions.
Baptist Prep at MAYFLOWER (1): Teams have split the past two meetings with Baptist Prep winning 50-20 last fall. Mayflower has lost 13 of its past 15 games dating to 2018 and opponents outscore the Eagles 133-41 this season. Baptist Prep surrendered 312 rushing yards in last week's 36-14 loss to Atkins. BP trailed 16-6 after the first quarter and 28-6 in the fourth quarter.
BOONEVILLE (7) at Warren: Star City canceled the 8-4A conference matchup with Warren, and the Lumberjacks secured a non-conference game Thursday afternoon with Class 3A No. 5 Booneville, which lost its 4-3A game with cancelling Danville. Warren enters Week 5 winless for the first time in more than 30 years. Warren's Week 4 game with Crossett was also canceled, allowing the Lumberjacks to physically heal. Warren expects three starters who missed the Week 3 loss to Texarkana to return Friday night, but junior QB Riley Cornish and senior RB/LB Treylon Marshall are still out. Booneville scored TDs on the ground, through the air and on defense in last week's 41-0 win at Two Rivers. Booneville junior QB Randon Ray completed his first pass of the season, a 15-yard TD toss, to Jacob Herrera and Ray returned a fumble 36 yards for a TD. Twelve Bearcats combined for 308 rushing yards. 
Hector at PARIS (10): Two Rivers canceled on Paris, while Conway Christian canceled on Hector. This game was agreed to at noon Friday. Paris led Mayflower 28-0 at halftime of last week's 35-7 win over Mayflower. Paris leans on its big offensive line (five starters average more than 270 pounds) weekly. Junior QB Chase Watts threatens defenses via the run and the pass. Class 2A Hector's lone loss came Week 2 to Class 3A Mountain View 46-27. A week ago, seniors Ty Day, Gunner Garrison and Jacob Casto and junior Mason Reid combined for 251 rushing yards and five TDs in a 43-6 win over Yellville-Summit. 

5-3A
JESSIEVILLE (17) at Bismarck: Bismarck sophomore QB Ian Smith spreads timely passes to receivers and makes good decisions. Jessieville trailed Glen Rose just 14-7 at halftime last week, when it lost 43-13. Junior QB Carson Hair connected with senior Charlie Davis for a 51-yard TD pass. Jessieville was just two of 11 on third downs but the Lions did force four turnovers and scored a TD on defense.
PRESCOTT (33) at Fouke: Fouke has played just one game this season, a 36-7 Week 0 loss at Mountain View. Fouke trailed just 12-7 in the second quarter at Mountain View, but MV outgained Fouke 410-171. Prescott returns to action after two weeks away due to COVID-19. The Curley Wolves average 47 points per game behind senior four-year starter Justin Wilson (6-5, 272), an all-state tackle.
Genoa Central at GLEN ROSE (24): Genoa outscored Bismarck 40-33 a week ago in a key game for playoff positioning. Glen Rose limited Jessieville to 165 yards and forced three turnovers in last week's 43-13 win. Glen Rose senior QB Wesley Launius accounted for three TDs and Dalton Taylor scored twice.
CENTERPOINT (30) at Horatio: Horatio has lost 16 consecutive games dating to 2018 and the Lions have not scored this season (outscored 114-0). Centerpoint thrashed Class 5A De Queen 42-7 two weeks ago when it allowed just 130 total yards and forced five turnovers.

6-3A
Drew Central at BARTON (1): Opponents outscore Drew Central 122-12 this season. Class 4A Hamburg allowed just 185 yards two weeks ago to Drew Central. The Pirates' game last week against McGehee was canceled due to COVID-19. Barton senior Ethan Ward ran 22 yards for a TD in last week's 36-6 loss to Rison. Ward rushed for 71 yards while senior QB Hykeem Hancock added 28 yards.
Smackover at C. HARMONY GROVE (28): Smackover surrendered 306 rushing yards in last week's 24-8 loss against Lake Village. Smackover forced five turnovers. That spells trouble against run-heavy Harmony Grove, which ran for 354 yards (10.7 YPC) and five TDs in last week's 40-20 win at Dollarway. HG senior QB Jeremie Edwards ran for 235 yards and two scores while senior Mecca Arnold bolted for 96 yards and three TDs. Sophomore Logan McCann paced the defense with 13 tackles while Arnold and junior Daniel Hill wrapped up 12 stops apiece.
Dollarway at RISON (17): Dollarway managed just 183 yards in last week's 40-20 loss to Camden Harmony Grove. Senior Prince Okojie paced the Dollarway defense with 33 tackles and two sacks. Rison surrendered just 85 yards and forced two turnovers in last week's 36-6 victory at Barton. The Wildcats logged 335 yards behind junior Shaquan Reeves' 94 yards rushing, two receptions for 44 yards and two interceptions on defense. Rison senior QB Cole Keese completed four of 10 passes for 89 yards and a 16-yard TD pass to sophomore Isaac Gray. Branden Barnett rushed for 53 yards and a score while senior Reggie Roshell added a TD run.
Lake Village at MCGEHEE (35): Lake Village scored 16 fourth-quarter points in last Friday's 24-8 win at Smackover. Senior Kevorris Campbell ran for 103 yards and a TD while senior Hezekiah Gooley added 96 yards and a score. Lake Village forced five turnovers and recorded three sacks at Smackover. McGehee's game last week against Drew Central was canceled. The Owls's first-team defense has yet to allow an offensive TD this season and have surrendered less than 180 yards to Class 4A programs DeWitt, Dumas and Blytheville. Senior Marcus Rose and junior Jody Easter anchor the McGehee defense as versatile secondary players.