Class 4A Week 5 Rankings, Notes & Picks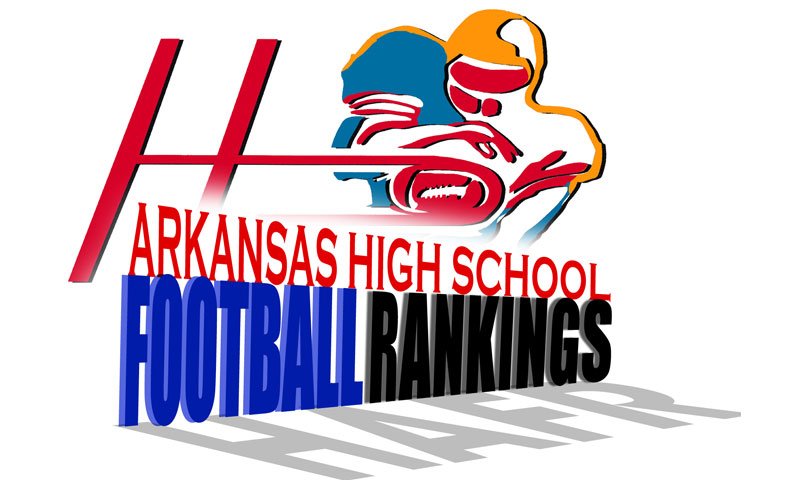 Hootens.com Rankings
Class 4A, Week 5, 2020
Copyright Hooten Publishing, Inc. 
1. Joe T. Robinson (3-1)
2. Shiloh Christian (3-1)
3. Ozark (2-2)
4. Nashville (2-1)
5. Arkadelphia (3-0)
6. Stuttgart (3-0)
7. Rivercrest (4-0)
8. Crossett (1-1)
9. Dardanelle (2-1)
10. Pocahontas (3-1)
11. Lonoke (3-1)
12. Ashdown (4-0)
13. Warren (0-3)
14. CAC (4-0)
15. Hamburg (2-2)
16. Prairie Grove (4-0)
17. Elkins (4-0)
18. Mena (2-3)
19. Gosnell (1-2)
20. Jonesboro Westside (2-2)
21. Monticello (3-1)
22. Malvern (2-2)
23. Star City (2-2)
24. Waldron (3-1)
25. Blytheville (1-2)
26. Trumann (2-2)
27. Dumas (2-2)
28. Bald Knob (3-1)
20. Southside Batesville (1-3)
30. Gentry (2-2)
31. Fountain Lake (2-1)
32. Bauxite (1-3)
33. Gravette (1-3)
34. Lamar (3-1)
35. Pottsville (2-3)
36. Mills (1-3)
37. Huntsville (2-2)
38. Clinton (0-4)
39. Cave City (1-2)
40. DeWitt (1-1)
41. Heber Springs (1-3)
42. Highland (1-3)
43. H. Grove Haskell (0-4)
44. Helena (0-3)
45. Berryville (0-3)
46. Green Forest (0-4)
47. Dover (0-4)

HOOTENS.COM GAME OF THE WEEK
No. 21 Monticello at No. 15 Hamburg
Monticello has three wins this fall after winning just two games over the past two seasons. It's only only loss this season was by one point at Class 2A No. 1 Fordyce. The Billies blasted of Star City 30-13 as week ago. Junior QB Stran Smith completed 10 of 18 passes for 219 yards and two TDs. Junior Doerian Allen hauled in five passes for 107 yards and two TDs and senior Jalin Green caught two passes for 83 yards. Senior end Christian Wimbley paced Monticello's defense with 12 tackles and a sack. Watch extended highlights of Monticello's win over Bauxite HERE and its 23-22 loss at Fordyce HERE.
Hamburg has won eight straight over Monticello by a combined 242-62. The Lions strength has been the secondary. Senior safety Bruin Barnes (6-2, 195) "has turned himself into a college prospect," Coach Cecil Ray Cossey says. Senior cornerback Jamal Brewer (5-10, 175) has three interceptions this fall, and allowed only two completions. Senior running back Armodd Taylor paces the rushing attack. Hamburg has two wins this fall over El Dorado's junior varsity and Drew Central. 

LAST WEEK
Hootens.com correctly predicted 15 of 19 games (79 percent) last week. For the season, hootens.com has correctly predicted 121 of 146 games (83 percent).

WEEK 5 PREDICTIONS (favored team in ALL CAPS)
1-4A
GENTRY (16) at Berryville: Gentry senior QB Zach Jarnagan threw three TD passes and ran for two more in last week's 12-point win over Huntsville. Berryville has given up 113 points the past two weeks, and the Bobcats trailed Shiloh Christian 63-7 in the first half last week.
ELKINS (21) at Huntsville: Undefeated Elkins led Gravette 46-12 at halftime last week. Senior QB Kain Johnson accounted for five TDs against Gravette. Huntsville senior Slayter Watkins ran for a pair of TDs at Gentry.
PRAIRIE GROVE (17) at Gravette: Prairie Grove has won eight straight over Gravette, including the past three by a combined 107 points. Prairie Grove senior QB Knox Laird "is playing as well as anyone," Coach Danny Abshier says. Laird, son of defensive coordinator Craig Laird, ran for a pair of TDs and threw a TD pass in last week's 41-point win over Green Forest. Senior running backs Foster Layman and Cade Grant have played well on offense, while middle linebacker Knox Laird and senior lineman Gunnar Caudle pace the defense. Gravette senior QB Cy Hilger passed for 114 yards and ran for a TD in last week's 39-point loss at Elkins. 
SHILOH CHRISTIAN (42) at Green Forest: Shiloh Christian scored on all nine of its first half possessions last week against Berryville. Sophomore QB Eli Wisdom passed for 98 yards in a little more than one quarter of action. Green Forest surrendered almost 500 yards last week to Prairie Grove.
2-4A
Mills at CAC (10): This is the third meeting between these schools. Undefeated CAC led Clinton by 18 points in the fourth quarter and held on for a 47-35 point triumph. Senior QB Palmer Gilbrech has completed 72 percent of his passes (47 of 65) this year for 675 yards and four TDs, while senior Tyler Williams has ran for 12 TDs. Senior linebacker Ethan DeMarco has 45 tackles and two sacks. Mills' past two losses (Jacksonville and Bald Knob) are by a combined 16 points. Mills sophomore QB Q.J. King threw a TD pass Jalon Davis in last week's 14-8 setback to Bald Knob. Davis also intercepted a pass in the end zone.
CLINTON (1) at Southside Batesville: Southside has lost its past two games by a combined 69-0. Clinton continues improving. Yellowjacket sophomore QB Harley Tobin completed 22 of 30 passes last week against CAC, while junior Nathan Witt, a converted safety, racked up 12 tackles on the defensive line.
STUTTGART (23) at Heber Springs: Stuttgart has won 10 of the past 14 over the Panthers, but Heber Springs won last year 28-27. Stuttgart junior QB Pate Kleinbeck threw a pair of first-half TDs in last week's 42-0 win over Southside, while Deontray Starks returned a fumble for a TD and Kameron Harper blocked and recovered a punt for a TD. Improved Heber Springs jumped on Lonoke 12-0 in the first quarter before losing 47-31. 
LONOKE (10) at Bald Knob: Lonoke has won seven of the past 10 over Bald Knob, including last year by two points. Lonoke freshman QB Bradon Allen, filling in for quarantined QB Spencer Pepper, ran 21 times for 71 yards and three TDs and passed for 127 yards in last week's 16-point win over Heber Springs. Pepper is scheduled to return this week. Senior Ja'coree Womack ran for 115 yards and a pair of TDs, while senior Anthony Parks paced the D with a 101-yard interception return. Bald Knob junior QB Leason Pierce played well in last week's six-point win at Mills, throwing the winning TD pass in the fourth quarter.

3-4A
JONESBORO WESTSIDE (2) at Blytheville: Blytheville had two games canceled last week (Cave City and Junction City). Jonesboro Westside played its best game of the year last week, jumping on Trumann 28-0 in the second quarter and easing to a 42-7 triumph. Senior QB River Engle ran six times for 67 yards and a TD and completed four passes for 88 yards and two TDs. Senior Tyler Ray ran for 115 yards and a TD and paced the D in tackles.
Cave City at RIVERCREST (26): Cave City plays its first game in three weeks (bye week and two weeks in quarantine). Undefeated Rivercrest averages 46 ppg. The Colts trailed Pocahontas 19-14 in the third quarter last week before winning 46-26. Senior QB Kam Turner passed for 177 yards and three TDs and ran for 206 yards and two TDs at Pocahontas, and he racked up four tackles and forced a fumble at safety. 
POCAHONTAS (3) at Gosnell: Pocahontas played well in the first half last week against Rivercrest. Senior QB Dawson Chester threw a pair of TD passes against Rivercrest. Sophomore QB running back Connor Baker (knee injury) didn't play against Rivercrest and is "week to week," Coach Charles Baty says. Gosnell senior receiver Drew Reynolds generated 103 yards and two TDs at Highland, while QB Floyd Williams passed for 109 yards and two TDs and ran for 137 yards and two TDs. Senior QB Cooper Pieri returns this week from quarantine.
Highland at TRUMANN (10): Trumann had trouble slowing Jonesboro Westside's running attack last week. Senior end Austin Pruitt paced the Wildcats with 11 tackles. Highland junior QB Wyatt Goodman played well in last week's 24-point loss to Gosnell.
4-4A
DARDANELLE (8) at Lamar: Dardanelle returns from Covid quarantine (minus a few starters who can return next week). The Sand Lizards played Clinton two weeks ago with multiple players out and "that helps us this week," Coach Phil Vega says. Senior QB Trace Gentry threw three TD passes against Clinton, while sophomore Drew Vega ran for 105 yards and caught three TD passes. Senior Martez Jackson caught five passes for 105 yards and a TD. Lamar senior Brady James has rushed for 400 yards and nine TDs this fall. Senior cornerback Justin Dillard returned an interception 80 yards in the fourth quarter for the clinching TD last week against Pottsville. 
OZARK (35) at Dover: Ozark lost at Harrison last week by 27 points after its game with Dardanelle was canceled. Senior QB Harper Faulkenberry averages 7 yards per carry in 2020. Watch extended highlights of Ozark's win over rival Charleston HERE. Dover has been outscored this fall 208-28.
MENA (3) at Pottsville: Mena has never beaten Pottsville, including losses the past two years by double digits as the favorite. Mena senior Max Montgomery etched himself in Bearcat lore last week with a 45-yard winning TD heave on the final play at Waldron. Junior Caleb Peters intercepted two passes, returning one for a TD, while senior Cuay House paced Mena with 15 tackles. After a 2-0 start, Pottsville has lost three straight by a combined 52 points. The Apaches trailed Lamar last week 21-6 at halftime and didn't score in the second half. 
WALDRON is open.

7-4A
ASHDOWN (9) at Bauxite: Ashdown has won seven of the past 10 over Bauxite, but the Miners won last year by three points. Bauxite beat Riverview 42-0 in this year's opener, but has lost three straight games by a combined 102-50. The Miners trailed Malvern 35-0 at halftime last week. Watch extended highlight's of Bauxite 26-21 loss at Monticello HERE. Undefeated Ashdown surrenders 12 ppg. Junior middle linebacker Landon Rowe racked up 22 tackles, recovered a fumble and returned an interception 59 yards for a TD in last week's 28-point win over Haskell H.G.
NASHVILLE (21) at Fountain Lake: Nashville has only one loss to Fountain Lake in school history. Nashville's showdown with Arkadelphia was canceled last Thursday. Scrapper senior tackles Dalton Brown (6-5, 275) and Hayden Clay (6-3, 270) have played well this year, while senior cornerback L.D. Hendrix paces the D with three interceptions. Improved Fountain Lake let Joe T. Robinson 7-0 in the second quarter last week after executing a fake punt. Four plays later, QB Jack Wurz two TD passes, including a 38-yarder to Seth Hughes.
MALVERN (18) at Haskell H.G.: Malvern sophomore QB Cedric Simmons accounted for four TDs (three passing, one running) in the first half of last week's 35-7 win over Bauxite. Haskell trailed Ashdown 20-0 at halftime last week and didn't score until the fourth quarter.
Joe T. Robinson at TRINITY (TX) CHRISTIAN (7): Joe T. Robinson added this game late Tuesday after Arkadelphia canceled. Joe T puts up 354 yards per game; its defense has forced seven turnovers this fall. Trinity Christian has not played since losing two weeks ago at Bryant, 44-40.
8-4A
Monticello at HAMBURG (1): Hootens.com Class 4A Game of the Week.
CROSSETT (6) at Dumas: Crossett returns to the field for the first time in a month due to Covid-19 quarantine. The Eagles beat Osceola Week 0 and lost to Magnolia by 10 points Week 1. Senior receiver Carlos Williams paces the Eagles with five receptions for 100 yards, while junior Dewayne Ashford has seven catches for 85 yards. Dumas hasn't allowed a point in its three wins (lost to McGehee Week 2). The Bobcats led Helena 35-0 at halftime last week. Senior Kylin James ran 11 times for 175 yards and a TD and caught a 35-yard TD pass at Helena, while senior Shamarcus Heard returned a punt 55 yards for another TD.
DEWITT (3) at Helena: DeWitt returns from quarantine for its first game since beating Drew Central 46-6 Week 2. Winless Helena has two losses by a combined six points, but trailed Dumas last week by 35 points in the second quarter.
BOONEVILLE (7) at Warren: Star City canceled the conference matchup with Warren, and the Lumberjacks secured a non-conference game Thursday afternoon with Class 3A No. 5 Booneville, which lost its 4-3A game with cancelling Danville. Warren enters Week 5 winless for the first time in more than 30 years. Warren's Week 4 game with Crossett was also canceled, allowing the Lumberjacks to physically heal. Warren expects three starters, who missed the Week 3 loss to Texarkana, to return Friday night, but junior QB Riley Cornish and senior RB/LB Treylon Marshall are still out. Booneville scored TDs on the ground, through the air and on defense in last week's 41-0 win at Two Rivers. Booneville junior QB Randon Ray completed his first pass of the season, a 15-yard TD toss, to Jacob Herrera and Ray returned a fumble 36 yards for a TD. Twelve Bearcats combined for 308 rushing yards.  Watch extended highlights of Warren's 17-6 loss to Class 5A White Hall HERE.