Class 6A Week 5 Rankings, Notes, Picks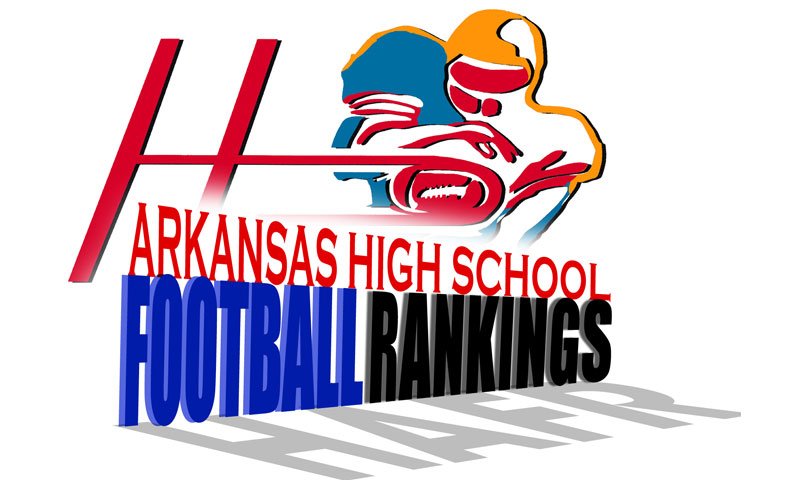 hootens.com Rankings
Class 6A, Week 5, 2020
Copyright Hooten Publishing, Inc.

1. Greenwood (4-0)
2. LR Parkview (3-0)
3. Lake Hamilton (4-0)
4. Benton (2-2)
5. Sylvan Hills (2-2)
6. Jonesboro (1-2)
7. Siloam Springs (3-1)
8. Van Buren (2-2)
9. Searcy (2-2)
10. West Memphis (2-2)
11. Marion (0-4)
12. Mountain Home (2-2)
13. Pine Bluff (1-2)
14. Russellville (1-3)
15. El Dorado (0-3)
16. Sheridan (1-3)

HOOTENS.COM GAME OF THE WEEK
No. 9 Searcy at No. 10 West Memphis
Searcy has won six of the last eight meetings, including 54-21 a season ago.
West Memphis scored the first 20 points of last week's 20-7 conquest at Marion. The Blue Devils rolled up 286 yards (216 rushing) and forced four turnovers. Jaylin Shepard returned an interception 76 yards for a TD late in the first half and Bryson Jenkins fired a 29-yard TD pass to Nathan Watson in the third quarter. West Memphis running back Dallas Dennis set up another score with an 85-yard run.
Searcy rolled up 457 yards in last week's 35-23 victory against Sheridan. Junior running back Daniel Perry rushed for 204 yards and four TDs against Sheridan and he also threw an 8-yard TD pass. Junior Reid Miles ran for 85 yards and caught five passes for 79 yards. Junior Braden Oliver paced the defense with 12 tackles.

LAST WEEK
hootens.com correctly predicted six of seven winners (86 percent) in games involving Class 6A teams. Hootens.com correctly predicted 43 of 53 winners (81 percent) in games involving 6A teams this season.

WEEK 5 PREDICTIONS (favored teams in CAPS followed by point spread)
6A EAST
SEARCY (2) at West Memphis: See Hootens.com Game of the Week.
SYLVAN HILLS (17) at Marion: Marion has won two of the past three games in this series, but Sylvan Hills won a 2018 playoff game at Marion en route to the state semifinals. Marion is 0-4 for the first time since 2014 and opponents outscore the Patriots 151-50 in 2020. Marion managed just 195 yards and committed four turnovers in last week's 20-7 loss to Crittenden County rival West Memphis. Marion senior QB Daedrick Cail connected with Tajiri Ellis for a 68-yard fourth-quarter TD. Sylvan Hills amassed 401 yards in last Thursday's 35-0 win at Pine Bluff. The Bears ran for 362 yards and five TDs.
JONESBORO (24) at Sheridan: Sheridan trailed Searcy 21-9 last week after three quarters in a 35-23 loss. The Yellowjackets did not allow a sack at Searcy and just one QB hurry. Sheridan junior QB Konner Canterbury totaled 216 yards and three TDs against Searcy. Sheridan senior running back Peyton Edwards likely misses this game. Jonesboro has not played in two weeks after last week's game at El Dorado was canceled due to COVID-19. Jonesboro junior QB Rykar Acebo fired a 59-yard TD pass to Will Barre and a 53-yard scoring strike to Kavon Pointer Week 2 in a 49-28 loss at Class 7A Conway. Conway outgained Jonesboro 540-503.
El Dorado at Pine Bluff: CANCELED.

6A WEST
Siloam Springs at BENTON (1): Benton allowed just 10 rushing yards in last week's 47-40 win at Russellville. The Panthers scored three TDs in the fourth quarter to open up a 47-33 lead but surrendered a blocked punt and recovered a Russellville onside kick to preserve the victory. Senior QB Garrett Brown threw and caught TD passes at Russellville while all-conference tailback Casey Johnson ran 17 yards for a score. Watch extended highlights of Benton's losses to Class 7A members Bryant (HERE) and LR Catholic (HERE). Siloam Springs led Van Buren by 21 points last week in the second quarter before holding on to win 43-32 in overtime. Siloam junior QB Hunter Talley threw two TD passes and ran 3 yards for the game-winning two-point conversion. Camden Collins ran 10 yards for a score in overtime. Siloam Springs forced four Van Buren turnovers.
Russellville at VAN BUREN (10): Russellville senior QB Brayden Whitford completed 25 of 51 passes a week ago for 376 yards and four TDs in a 47-40 loss to Benton. Senior Brady Burnett collected 12 passes for 120 yards and a TD and junior Gavin Graham snagged six passes for 213 yards and three scores. Senior Tre Potter paced the defense with 12 tackles while juniors Carson Smith and Shane Bucher added eight apiece. Russellville forced four Benton turnovers. Van Buren rolled up 413 yards in last week's 43-42 overtime loss at Siloam Springs. The Pointers erased a 21-0 second-quarter deficit by scoring 21 straight points in the fourth quarter and overtime. Senior QB Gary Phillips completed 18 of 32 passes for 274 yards and two TDs and he ran for 46 yards and another score. Senior receiver Jaiden Henry snagged nine passes for 179 and two scores at Siloam Springs.
GREENWOOD (24) at Mountain Home: Mountain Home was tied 14-14 last week in a 28-14 loss at Lake Hamilton. Bomber senior QB Bryce McKay ran for a 1-yard TD and completed a 31-yard TD pass to Logen Walker. Greenwood notched its third win over a Class 7A team in last week's 35-28 win over Bentonville West. The Bulldogs amassed 514 yards of offense and led 28-14 at halftime and it was 35-14 early in the third period. Senior QB L.D. Richmond completed 30 of 37 passes against West for 356 yards with two TDs while classmate Hunter Wilkinson ran for 110 yards and two scores. Greenwood senior linebacker Jordan Hanna paces a defense that allows 10.7 points per game.
Lake Hamilton at LR Parkview: CANCELED.