HOGS: Scouting No. 2 Georgia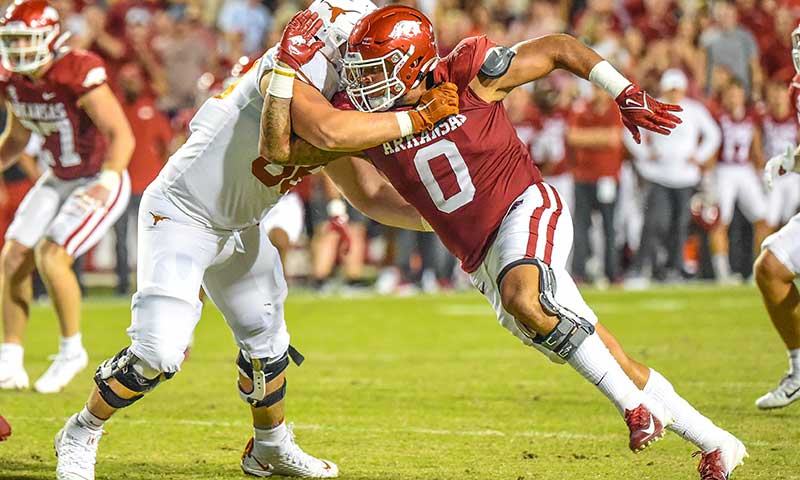 FAYETTEVILLE - This time last week the Arkansas Razorbacks praised a Texas A&M defense that had compiled seven straight shutout quarters.
Off last Saturday's 20-10 victory over the Aggies, the No. 8 Razorbacks (4-0, 1-0) face an even more touted defense.
The Georgia Bulldogs (4-0, 2-0), ranked No. 2 in the AP and Coaches polls and No. 1 in defense for yielding fewest points (23 total) and yards per game (181), await in Saturday's 11 a.m. ESPN-televised game at 93,000-seat Sanford Stadium in Athens, Ga.
Sam Pittman, Arkansas' second-year head coach and 2016-2019 offensive line coach for Georgia, compared the Georgia and A&M defenses.
"Well, the similarities are they're both really big, and they both run to the ball," Pittman said. "They both play really hard. I don't know what the difference would be. I know the kids at Georgia better than I did the ones at A&M. I'd say Georgia has a tremendous amount of depth, so they can just roll players and roll players. A&M had good depth as well, but I think Georgia just has more depth. And they're a little scarier because I'm familiar with what they're going to do to us and what we have to do to stop them."
UGA IMPROVES
Georgia lost seven starters from its 2020 defense. Three now toil in the NFL. Yet, the 2021 Bulldogs play even better for head coach Kirby Smart and defensive coordinator Dan Lanning.
"Not surprised at all," Pittman said. "I think they've been one or two in the nation in recruiting for a long time. I know they've been Top 5 for a long time. They know how to get it done in recruiting. Kirby understands it's a line of scrimmage league. They have so many good players, but they're really good on the defensive and offensive line, and that's where it starts."
That's where it has started for Pittman. In the trenches, he started turning around a program that went 2-10, 2-10 overall and 0-8, 0-8 in the SEC during the preceding Chad Morris regime in 2018 and 2019. A year ago, Pittman's Hogs went 3-7 in an all-SEC schedule with close losses to LSU, Auburn and Missouri. This year the Hogs are 4-0 with upsets over then-No. 15 Texas and then-No. 7 Texas A&M.
SMART KNOWS PITTMAN
Knowing Pittman, Smart isn't surprised. 
"I've got a lot of respect for Sam and his staff," Smart said.  "They've done a tremendous job creating a new culture and energy there at Arkansas. We wouldn't expect anything less from him."
Smart says Pittman has seized advantage of the transfer portal. Pittman and his staff secured Florida graduate transfer/current Atlanta Falcons reserve quarterback Feleipe Franks to quarterback last season. Franks' presence helped groom KJ Jefferson to become the 2021 effective dual threat starter this season. A three-man defensive front features  University of Missouri transfers Tre Williams and Markell Utsey flanking noseguard John Ridgeway via Illinois State.
"With the portal and the transfer situation and recruiting the way it is, you can turn over a little quicker than maybe having to build it from the ground up." Smart said. "Feleipe helped last year. He had a quarterback that had SEC experience. Then he is able to play KJ who got experience. A lot of our league is based on quarterback play and how you grow those guys, and they've done a really good job of doing that."
Smart has done well with the transfer portal, via University of Southern California transfer QB JT Daniels getting healthy from a preseason injury in 2020, and traditional high school senior signees recruiting.
UGA FRESHMAN FLASH
One of Smart's precocious freshmen, tight end Brock Bowers of Napa, Calif., leads UGA in receiving with 18 catches for 272 yards and four TDs. He also ran for 12 yards in last week's 62-0 SEC vanquishing of Vanderbilt.
"Anytime you use a young freshman as much as Georgia uses Bowers, you know they have unbelievable confidence in him," Pittman said. "He's certainly earned that respect from their coaching staff with how much they use him because they use him in a lot of different ways. I just think he's a really quality football player because he is playing well."
UNDERRATED CORNERS
Arkansas D-linemen Williams and Ridgeway, linebackers Grant Morgan, Hayden Henry and Bumper Pool and safeties Jalen Catalon and Joe Foucha and shutdown corner Montaric Brown of Ashdown have merited such state and even national attention, that the contributions of alternating corners LaDarrius Bishop, also of Ashdown, and Hudson Clark get overlooked.
Clark became last year's starting corne, but Bishop played a lot, too.
This year Bishop has started, but Clark plays plenty
"As long as they're both playing well, you're keeping the fresher guy out there," Pittman said. "As long as they're both playing well, I've become a 'more the merrier' type guy. The better off your camaraderie on your team is. Certainly the better off your depth becomes. The two kids seem to handle it well. So at this point, I like how it's going out there."