No. 8 HOGS respect No. 2 UGA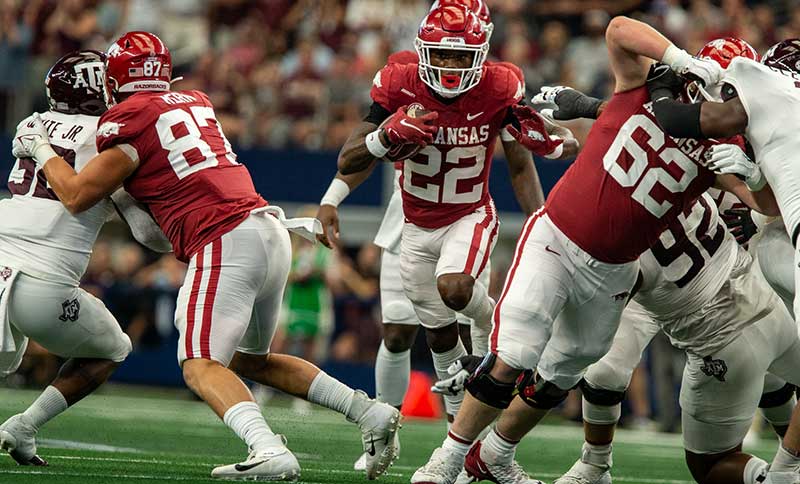 FAYETTEVILLE - Georgia's nationally top-ranked defense might take Arkansas running back Trelon Smith's assessment as a compliment.
Georgia's defense has yielded 13 total points through four games.
"Georgia's defense, it kind of reminds me of our defense," said Smith (in Tommy Land photo above). "They run to the ball. They hit. They've got a lot of size up front."
No. 2 Georgia (4-0, 2-0 in the SEC) plays host to No. 8 Arkansas (4-0, 1-0) at 11 a.m. Saturday in Athens, Ga. on ESPN.
MUTUAL RESPECT
While not up to Georgia's defensive stats, including the Bulldogs' 10-3 victory over Clemson, Arkansas' defense played well enough in 40-21 and 20-10 triumphs over then No. 15 Texas and then No. 7 Texas A&M to earn Georgia's respect.
"First off, (Arkansas DC) Barry (Odom) does a very good job," Georgia coach Kirby Smart said. "He's innovative. He goes and looks and studies what other people are doing. He forces your hand to maybe play left-handed. You can't do some of the things you want to do. He's really good at it. Not only that, he has some really good players doing it. Make no mistake about it, this is not the Arkansas we played last year."
IMPROVED FRONT
Returning Razorbacks like safeties Jalen Catalon and Joe Foucha and linebackers Grant Morgan, Bumper Pool and Hayden Henry are playing even better than they did last year.
Pittman's Hogs stand 4-0 because not only have returnees improved but the through the transfer portal that provided starting three defensive linemen: Tre Williams and Markell Utsey via the University of Missouri, and John Ridgeway via Illinois State.
"He's got three transfers," Smart said. "They are extremely physical and create an immense amount of problems for the people they play. They will not be taken lightly by this group because they are doing an incredible job of creating problems for offenses. Just look at what they've done with the two big games everyone knows about (Texas and Texas A&M), but really they've done it in every game."
Trelon Smith praised the Georgia defense, while outlining what Arkansas must do to score Saturday at the Bulldogs' fabled 92,000-plus Sanford Stadium "Between the Hedges."
"We've got to execute on all cylinders," Smith said. "The O-line has got to be physical, real physical this week.  We've got to create a run game. We've got to get first downs. We know what Georgia's defense looks like. We know what they bring to the table."
Arkansas played then-No. 4 Georgia surprisingly tough into the third quarter of last year's SEC opener before falling 37-10.
TOUGHER OFFENSE
The UA offense has toughened considerably since then.
"They are not the same Arkansas team we faced last year," Georgia linebacker Nakobe Dean said. "They are way more physical. This is the kind of game we here at Georgia look for, a game we can be physical. We pride ourselves on our toughness and physicality.
NO. 8 VS. NO 2
Originally a running back at Arizona State before transferring to Arkansas and redshirting under those 2019 transfer rules, Trelon Smith led the Hogs in rushing in 2020. Smith (298 yards in 2021) has never played in a Top 10 matchup like No. 8 Arkansas (nationally ranked eighth for the first time since 2012) at No. 2 UGA. 
"I'm very excited," Smith said. "I've never been to Georgia. From what I'm hearing, I know it's going to be a heck of an environment. They're undefeated and ranked No. 2, so the opportunity is definitely there for us to showcase what we can do and beat them."