HOGS brace for big, bad Alabama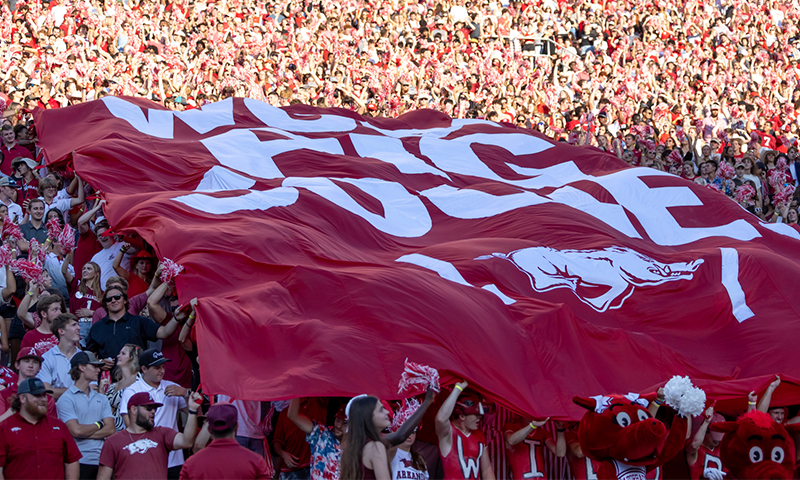 FAYETTEVILLE — Arkansas' 23-21 loss to Texas A&M last week has turned what would have been a matchup of top 10 teams into simply a Top 25 matchup, as Arkansas fell from No. 10 to No. 20 in this week's Associated Press poll.
But there will still be plenty of excitement when kickoff arrives at 2:30 p.m. Saturday at Reynolds Razorback Stadium.

The game is a sellout, and Arkansas Coach Sam Pittman said he expects the fans to bring a difficult environment for the second-ranked Crimson Tide.

Arkansas (3-1, 1-0 SEC)  has not defeated Alabama since 2006.

"Knowing the state of Arkansas and their passion for the Razorbacks, I expect this to be the best crowd since I got here," Pittman said. "I've already been hearing of people lining up for parking spaces. Everyone is excited, and hopefully we can put on a show for the fans."

Alabama (4-0,1-0) opened SEC play last Saturday with a 55-3 win over Vanderbilt in Tuscaloosa, but Alabama Coach Nick Saban said he knows his team will have to play well to beat the Razorbacks.

Alabama won last season's meeting 42-35, with Heisman Trophy winner Bryce Young throwing for 559 yards 5 TD passes. 
"This is a very dangerous team we're playing in Arkansas," Alabama Coach Nick Saban said. "They play make a lot of explosive plays and play with a lot of toughness. It's going to take great preparation on our part to go on the road and be able to play the way we need to play against a very good SEC team."
Alabama only previous road experience  this season came three weeks ago in Austin, Texas, where the Crimson Tide escaped with a 20-19 win.

"Obviously, we'll be able to see where we are as a team," Saban said. "But psychologically, I think everybody has to know this is our toughest challenge of the year."

Saban said the Crimson Tide practices with noise blaring before heading into road games.

"We did it twice before we played at Texas," Saban said. "This isn't the first time we've had to play on the road with a lot of noise."

More crowd noise, Saban said the Crimson Tide must be prepared for a physical Arkansas team that is rushing for 243.8 yards per game.

It all starts with the Razorbacks' offensive line.

"Those guys are tough, man," Saban said. "They do what they do very well. I think that's a reflection of Sam's personality. That's how their whole team is. They've got good players, but they've got great mental and physical toughness."

One way to confront physical toughness is to counter with even more toughness, Alabama linebacker Will Anderson Jr. said.

"I think the message this week is we want people to leave their own stadiums early," Anderson said. "Make sure fans are leaving by halftime or at least by the end of the third quarter."

THROWING PUNCHES BACK

Arkansas' 7-point loss last season was its closest margin of defeat since a 14-13 loss in 2014, but the Razorbacks were playing from behind throughout.
"We're going to have to score some points to stay in the game and we were able to respond last year," Pittman said. "The problem is for most of that game we were down two to three scores. So we need to strike fast against them and hopefully we are able to do that."

PITTMAN HIGH ON DUBINION

The Razorbacks offense has rushed for 975 yards, with the Raheim Sanders (508 yards, 3 TDs) and quarterback KJ Jefferson (274 yards, 4 TDs) leading the way. Running back AJ Green (99 yards, 1 TD) has also done his part for the rush game.
One new face in the backfield has been true freshman Rashod Dubinion (5-10, 211), rushing 14 times for 54 yards and 1 TD in limited snaps.

Dubinion followed his high school head coach Jimmy Smith to Arkansas after Smith was hired in 2020 to be the running back coach for the Razorbacks.

"I think he's done a great job so far," said Pittman on Dubinion. "He's a tough kid who's never late for class, never on any discipline list, just a wonderful addition to the team. That's the one right there that I would like to see get more carries in a game."

That might be difficult, especially with Dominque Johnson's return to action last Saturday against the Aggies. Johnson (5 carries, 32 yards) played for the first time since suffering a knee injury in the Outback Bowl against Penn State..

"We're still trying to figure out who the second and third back will be," Pittman said. "The only way I know how to do that is to give them some carries. But when you have four good backs, it's just hard to give a guy a lot of reps."

PREPPING FOR PUNT RETURN THREAT

The Razorbacks held Texas A&M return man Ainias Smith to zero return yardage, and Arkansas' punt coverage will face another difficult task trying to contain Alabama's Kool-Aid McKinstry.
McKinstry is coming off a five return, 91-yard performance against Vanderbilt last Saturday. He leads the country in total punt return yards with 244, while also earning 17.4 yards per punt return.

Pittman said Arkansas' gunners, along with the work of freshman punter Max Fletcher, were vital in stopping Smith last week.

"But we're well aware of him [McKinstry] back there returning punts," Pittman said. "So we need to do exactly what we did last week by making sure we punt it in the right zone and making sure we can get down there and cover him."