Class 5A Week 5 Rankings, Notes & Picks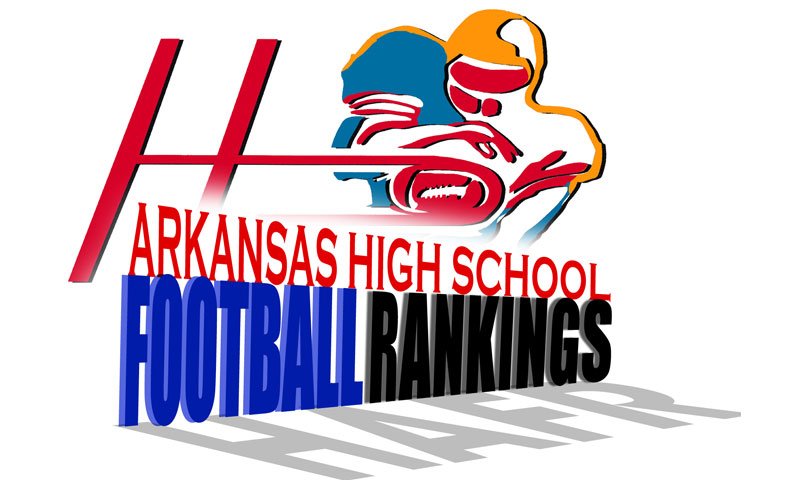 Hootens.com Rankings
Class 5A, Week 5, 2019
Copyright Hooten Publishing, Inc. 

1. Pulaski Academy (3-1)
2. Harrison (4-0)
3. LR Christian (4-0)
4. Morrilton (2-2)
5. Wynne (3-1)
6. LR Parkview (3-1)
7. Greenbrier (3-1)
8. Texarkana (2-1)
9. Maumelle (4-0)
10. Camden Fairview (2-2)
11. Valley View (4-0)
12. Hot Springs (2-2)
13. Vilonia (2-2)
14. White Hall (2-2)
15. Batesville (1-3)
16. LR McClellan (2-2)
17. Farmington (4-0)
18. Nettleton (3-1)
19. HS Lakeside (2-2)
20. Watson Chapel (2-2)
21. Clarksville (3-1)
22. Forrest City (3-1)
23. Magnolia (2-2)
24. Alma (0-4)
25. Blytheville (0-4)
26. Beebe (1-3)
27. Greene County Tech (1-3)
28. Hope (1-3)
29. Paragould (0-4)
30. Huntsville (1-3)
31. De Queen (0-4)
32. LR Fair (0-4)

HOOTENS.COM GAME OF THE WEEK
No. 1 Pulaski Academy at No. 3 LR Christian
Like last season, this likely determines the league title and these two could meet up again in the state title game. Pulaski Academy pounded Little Rock Christian 56-14 Week 5, 2018. But LR Christian won 53-38 in the state title game, by forcing five turnovers. It was PA's first loss to an in-state team since 2013. The Bruins have beaten LR Christian in the regular season the past two years by a combined 72 points.
Pulaski Academy's only loss this season was at nationally ranked Brentwood (Ravenwood), Tenn., 61-47 Week 2. The Bruins trailed by just two points early in the fourth quarter. PA averages 55 points per game this season. Senior QB Brandon Bratcher, who threw four interceptions in last year's state title game, has completed 85 of 130 passes (65 percent) this season for 1,436 yards and 15 touchdowns with three interceptions. Eight Bruins average at least 25 yards receiving per game, including sophomore Joseph Himon (19 catches, 403 yards and two TDs) and senior Mason Kolb (21 catches, 323 yards and three TDs). Undersized junior linebacker Futa Shinkawa (5-9, 140) has 31 tackles this season. 
Undefeated LR Christian outscores opponents an average of 40-14. The Warriors play junior Colin Cooper and senior Akeem Gilmore at QB, with Gilmore separating himself the past two weeks. Gilmore completed 11 of 13 passes in last week's 49-7 win over Watson Chapel, for 20 yards and ran nine times for 75 yards and two TDs. The Warriors forced four turnovers at Watson Chapel. Watch highlights of LR Christian's 42-7 win Week 3 at Greenbrier HERE.

LAST WEEK
Hootens.com correctly predicted 13 of 16 games (81 percent) last week. Hootens.com has picked 84 of 102  games (82 percent) this season.

WEEK 5 PREDICTIONS (favored team in ALL CAPS)
5A CENTRAL
PULASKI ACADEMY (2) at LR Christian: Hootens.com Class 5A Game of the Week. 
LR PARKVIEW (4) at Maumelle: These teams are a combined 7-1 this season. LR Parkview held Beebe to 179 yards in last week's 46-point triumph. Parkview junior QB Landon Rogers passed for 199 yards and four TDs against Beebe, while tight end Erin Outley hauled in six passes for 170 and two TDs. Sophomore RB James Jointer (Arkansas offer) is out the rest of the season after tearing his ACL, and freshman D.B. Bennett also will miss the rest of the season after hurting his knee. LR Parkview starts 12 sophomores, including four offensive linemen. Undefeated Maumelle rallied past White Hall 29-21 last week, kicking a field goal late in the third quarter before junior Jonathan Reyes' hit senior Demetress Williams with the winning TD.
Beebe at WATSON CHAPEL (17): QB Cade Longing ran for Beebe's lone TD in last week's 56-10 loss to LR Parkview. Watson Chapel puts up 31 ppg. Senior QB Devin Curry has passed for 403 yards and five TDs, and rushed for 268 yards and four TDs. Senior receiver Kevin Compton paces the Wildcats, averaging 29 ypc. 
LR Fair at WHITE HALL (30): White Hall has dropped consecutive games since starting 2-0, including last week's eight-point loss to Maumelle. The Bulldogs were tied with Maumelle 14-14 at halftime last week. Senior Donte Buckner ran for three TDs against Maumelle, while the defense forced two turnovers. LR Fair has forced five turnovers this year.

5A EAST
Forrest City at VALLEY VIEW (13): Valley View has won two straight over Forrest City by a combined 40 points. The Blazers allow 7.5 ppg. Junior QB Zak Stracener threw a pair of TDs in last week's 21-7 win at Paragould, and he's tossed seven TDs this fall. Forrest City averages 41 ppg and beat GCT 53-43 a week ago. The Mustangs gave up 435 yards to GCT.
Paragould at BATESVILLE (17): Batesville hasn't lost to the Rams since 1994, when the school was known as Ridgecrest. After being outscored 149-70 in three non conference games, the Pioneers jumped on Nettleton early last week and won 56-47. Paragould averages 10.5 ppg. Junior Nick Ashby paces the Ram running attack with 58 carries for 382 yards and a pair of TDs.
WYNNE (24) at Greene County Tech: Wynne has won 7 straight over GCT by a combined 309-77. The Yellowjackets blasted Blytheville 42-21 a week ago, with junior Marterius Ross running for three TDs. GCT senior Cody Miller has taken over at QB since Storm Harris' injury two weeks ago, throwing for 279 yards and three TDs.
NETTLETON (2) at Blytheville: Blytheville is the best winless team in Class 5A. The Chickasaws led Class 6A Marion and West Memphis by double digits in the first half but lost both games. Blytheville trailed Wynne 21-0 in the first quarter last week and couldn't recover, losing 42-21. Nettleton senior Nathan Young has rushed for more than 400 yards this season.

5A SOUTH
LR MCCLELLAN (18) at De Queen: LR McClellan jumped on Hot Springs 14-0 last week, but lost 27-22 when unable to stop Hot Springs' drives in the fourth quarter. Joshua Brown ran for a late TD last week. De Queen allows 42 ppg. Senior Michael Ester has rushed for more than 400 yards and five TDs this season.
Hope at HOT SPRINGS (10): Hope has won six of the past 10 over Hot Springs. Hope's 38-35 triumph last week over De Queen was its first since beating Hot Springs 26-20 in Week 5, 2018. Hot Springs sophomore QB Isaac Shelor has four TD passes this season, including a 71-yarder last week in the third quarter to Trent Gordon to swing momentum in a four-point win at LR McClellan.
Texarkana at CAMDEN FAIRVIEW (1): It's homecoming at Camden and the Cardinals believe this could determine the league title. Camden Fairview led HS Lakeside 20-7 in the second quarter a week ago, and held on for a five-point win when QB Logan Robertson threw a 59-yard TD pass to Javien Clemmer in the fourth quarter. Texarkana has won five of the past eight in this rivalry, including last season 27-12. Texarkana's Louis Blackwell returned a kickoff 90 yards for a TD in last week's 30-22 win over Magnolia. Junior QB Braylon Bishop offers a dual threat (ran for a TD against Magnolia).
HS LAKESIDE (2) at Magnolia: HS Lakeside has won eight of the past 15 in the series, including four in a row (71-48 a year ago). The Rams average almost 30 points weekly. Junior QB Will Ross has passed for 873 yards and 10 TDs this season, while senior Dealand Lewis has rushed for four TDs. Magnolia surrenders almost 30 ppg. The Panthers trailed Texarkana 9-7 at halftime last week before losing 30-22. Magnolia rushes for 321 yards weekly, including 369 yards against Texarkana.

5A WEST
Greenbrier at MORRILTON (8): Morrilton must regroup after last week's 39-34 loss at Harrison (watch extended highlights HERE). Senior QB Jacolby Criswell completed 19 of 27 passes for 371 yards and three TDs and ran for 114 yards. Morrilton junior Jackson Moll (313 yards, seven TDs in 2019) broke his wrist at Harrison and could miss the rest of the season. Xavier Clemons, an all-state RB in 2018, focused on defense this year but came in the second half at Harrison and ran 12 times for 70 yards and a pair of TDs. Greenbrier shutout Huntsville last week 52-0. The Panthers held Huntsville to 38 yards. The Panthers rely on the run more this season, with senior Peyton Long running for 496 yards and nine TDs.
VILONIA (24) at Huntsville: Upstart Vilonia has won seven straight over Huntsville, including last year by 29 points. Vilonia ambushed winless Alma 36-8 last week, with sophomore QB Austin Myers taking advantage of Alma overloading the box to stuff the run, and hitting senior Tyler Moran on a pair of 35-yard TD passes in the first quarter. Senior Draven Smith ran for a pair of TDs, including 70-yarder in the second quarter. Huntsville scores 11.5 ppg and the Eagles had just 38 yards last week against Greenbrier.
HARRISON (18) at Clarksville: Undefeated Harrison puts up 373 yards and 39 ppg. Senior QB Ben Johnson, who alternated at QB the first three games, took most of the snaps last week, running 17 times for 170 yards and two TDs. Senior Gabe Huskey ran 13 times for 125 yards and four TDs. The Goblins didn't complete a pass. Watch extended highlights and postgame of Harrison's 39-34 win last week over Morrilton HERE. Clarksville led Farmington by nine points in the fourth quarter last week, but lost 22-21. 
FARMINGTON (1) at Alma: Alma has won three straight over Farmington, including 35-28 last season. But Farmington is undefeated this fall, putting up 332 yards weekly. Senior Drew Sturgeon has emerged as one of the state's top playmakers. He has six carries this year for 106 yards (18 ypc) and two TDs, 18 catches for 285 yards and five TDs, and he kicked the winning 42-yard field goal in the final minutes last week against Clarksville. Winless Alma averages 16 ppg. The Airedales trailed Vilonia 22-0 at halftime last week and lost 36-8. Senior QB Landon Blair has thrown seven TDs this fall (five passing, two rushing).