Class 3A Week 6 Rankings, Notes & Picks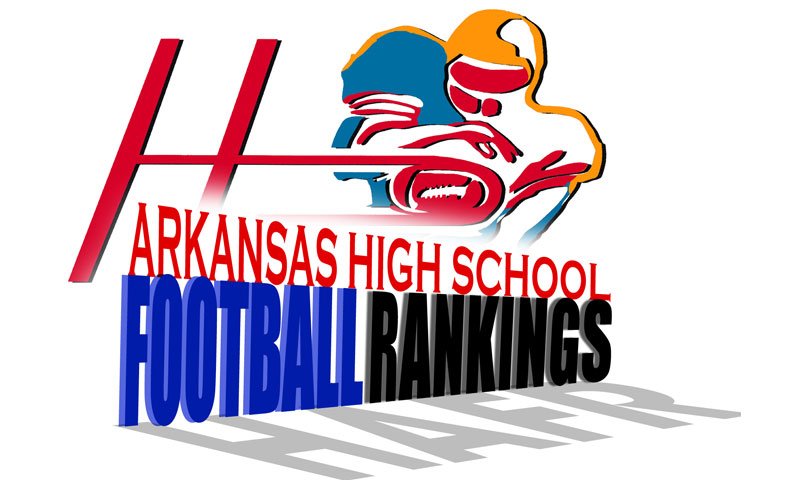 Hootens.com Rankings
Class 3A, Week 6, 2018
Copyright Hooten Publishing, Inc.
1. Booneville (5-0)
2. Prescott (5-0)
3. Clinton (5-0)
4. Smackover (4-1)
5. Glen Rose (4-1)
6. Newport (4-1)
7. Osceola (3-2)
8. Mayflower (4-1)
9. Rison (5-0)
10. Atkins (5-0)
11. Harding Academy (3-2)
12. C. Harmony Grove (4-1) 
13. Charleston (3-2)
14. Lamar (5-0)
15. Hoxie (2-3) 
16. Mansfield (5-0)
17. McGehee (2-3)
18. Danville (3-2)
19. Melbourne (3-2) 
20. Piggott (4-1)
21. Walnut Ridge (3-2)
22. Barton (3-1) 
23. Harrisburg (3-2)
24. Greenland (3-2)
25. Palestine-Wheatley (3-1) 
26. Centerpoint (3-2) 
27. Jessieville (3-2)
28. Fouke (1-4)
29. Baptist Prep (2-2-1)
30. Horatio (2-3)
31. Manila (2-3)
32. Perryville (1-4)
33. Dollarway (1-4)
34. Cedarville (1-4)
35. Lake Village (2-3)
36. Mountain View (1-3)
37. Yellville-Summit (1-4)
38. Marshall (1-4)
39. Bismarck (1-4)
40. Drew Central (0-4) 
41. Cedar Ridge (1-4)
42. Genoa Central (1-4)
43. West Fork (0-5) 
44. Paris (0-5)
45. Corning (0-5)
46. Two Rivers (0-5)
47. Rose Bud (0-3)

HOOTENS.COM GAME OF THE WEEK
No. 4 Smackover at No. 2 Prescott
Winner likely claims the 5-3A league title, a first-round playoff bye and home-field advantage through the playoffs. Teams have not met since 2013, a 29-21 Smackover win.
Prescott has forced 11 turnovers this year and allowed just 114 yards last week at Bismarck. The Curley Wolves rolled up a season-high 566 yards and led Bismarck 50-0 at halftime. Prescott senior QB Ryan Johnson completes 60 percent of his passes for 939 yards with 10 touchdowns and an interception. Promising sophomore running back Alex George paces Prescott with 357 rushing yards (10.2 yards per carry) and nine TDs. Junior Derriun Thompson runs shifty routes out of the backfield (five catches for 60 yards) to compliment his 337 rushing yards and six scores. Senior receiver, and Landers Super Teamer, Cameron Cox has 22 catches for 388 yards and three TDs. Cox has eclipsed 100 yards receiving the past two weeks. Senior Jordan Glass (6-3, 180) is a red-zone target (four TD catches).
Smackover stormed to a 42-0 first-quarter led last week in a 56-0 win over Horatio. It was the Buckaroos' first shutout since 2016. Senior QB Roshard Boone, with improved passing mechanics, triggers a Buckaroo offense scoring 50.3 points weekly. Junior Dettravon Crockett (115 yards and a TD against Horatio) leads Smackover in rushing and senior Ja'Von Modica makes plays in the backfield and at receiver. Senior two-way lineman Max Gathright missed the Horatio game but is expected to return this week. Junior Alex Savage stands out at guard and defensive tackle. 

TV LAND
Hooten's Arkansas Football airs 10:30 a.m. Saturdays on KATV (ABC Little Rock) Channel 7, covering the Razorbacks, high school teams and players to watch.

MISSING IN ACTION
6-3A member Episcopal plays 8-man club football this fall, while 2-3A schools Cedar Ridge and Rose Bud finish 2018 playing junior varsity schedules.

LAST WEEK
Hootens.com correctly predicted 19 of 22 winners (86 percent) of games involving Class 3A schools. Hootens.com has correctly picked 135 of 160 winners (84 percent) of games involving Class 3A schools for the season.

WEEK 6 PREDICTIONS (favored team in CAPS followed by point spread)
1-3A
BOONEVILLE (10) at Greenland: First meeting since 2003 (49-21 Booneville). Greenland trailed by 14 in the fourth quarter last week at Mansfield, but scored a TD then held Mansfield before driving inside the 10-yard line in a 36-29 loss. Booneville leans on its defense since losing senior QB Brandon Ulmer to injury Week 0. Booneville fashioned a 42-7 halftime lead last week with four interceptions and 182 against West Fork. Senior Carson Ray carried seven times for 59 yards and a score. Evan Schlinker completed both of his passes, including a TD. Ethan Dobbs caught the TD, a two-point conversion and returned an interception for a TD. Booneville owns a plus-13 turnover margin this year.
Charleston at MANSFIELD (2): The biggest Charleston-Mansfield game in recent memory. Charleston has won conference titles six of the past seven years but a loss this week makes another league title unlikely this season. Mansfield is 2-0 in league play for the first time since 2010 when it last won a conference title. Mansfield beat Greenland last week with a stop on downs at the Mansfield 7-yard-line in the final seconds. "Our kids don't dwell on the good (5-0 start) or bad," Mansfield coach Craig Bentley says. Mansfield junior playmakers Layton Howard, Tyler Holmes and Jaicy Griffin run crisp routes and catch passes from junior QB Ethan Stovall, who delivered five TD passes against Greenland. Senior running back Zac Woolbright bruises defenders and rips off timely runs. Versatile junior Isaac Cothren is a leader on the offensive line and at linebacker.
Charleston lost to Greenland 25-12 two weeks ago but bounced back to beat Cedarville 21-6 last week despite committing three turnovers. Charleston rushed for a season-high 131 yards rushing (6.2 YPC) vs. Cedarville. 
CEDARVILLE (10) at Paris: Paris continues to struggle on both sides of the ball. Paris allowed five rushing TDs in last week's 41-14 loss to Lamar. Cedarville recovered two fumbles last week in a 15-point loss to Charleston. Cedarville rushes for 305 yards per week behind senior fullback Tate LaRue (490 rushing yards and four TDs), impressive sophomore Kelin Mitchell (407 yards and four scores) and Isaiah Lawson (372 yards).
LAMAR (17) at West Fork: West Fork forced two turnovers in last week's 44-14 loss at Booneville. The 14 points are West Fork's second-most of the year. Lamar amassed 503 yards, 344 rushing (7.2 yards per carry), in a 41-14 win over Paris.

2-3A
Cedar Ridge at CLINTON (31): Cedar Ridge forfeits this game, as well as the rest of its 2018 varsity schedule, due to low numbers. Clinton has an open date in two weeks, when it was scheduled to play Rose Bud. 
Clinton allowed a season-high 353 yards passing last week, but out-rushed Melbourne 293-60 to survive a potential trap game. It was Clinton's second straight win against a top challenger in the 2-3A. Clinton will be favored the final five weeks of the regular season and likely in the first round of the playoffs. Cedar Ridge committed two turnovers last week and allowed Marshall a season-high 322 yards in a 21-point loss.
HARDING ACADEMY (24) at Mountain View: Harding Academy rolled up 511 yards last week in a 56-20 win at Yellville-Summit. Junior Stone Sheffield rushed for 255 yards and four TDs while sophomore dual-threat Carter Sipe caught four passes for 98 yards and a TD and got reps at QB. Mountain View was idle last week after Rose Bud cancelled its varsity football season. The Yellowjackets routed Cedar Ridge 44-8 two weeks ago.
MELBOURNE (22) at Marshall: Melbourne pushed No. 3 Clinton last week in a nine-point loss, out-gaining Clinton 413-393 yards. Junior QB Gabe Lawrence passed for 353 yards and three scores. Hunter Jennings (57 yards), Alex Bray (10 yards) and Noah McSpadden (77 yards) caught Lawrence's TD passes. McSpadden added 79 yards rushing. Marshall snapped a 22-game losing streak last week with a 28-7 win at Cedar Ridge. Marshall junior QB Isaac Ragland totaled 215 yards and three TDs and junior Hayden Blair rushed for 70 yards and a score. Junior Tyler Horton snagged two passes for 85 yards and a TD. Junior Brandon McCollum and sophomore Colton Moore logged nine tackles apiece. 
Yellville-Summit at RECTOR (6): Rector managed 124 yards (23 yards in penalties) in last week's 26-point loss to No. 10 Salem. Yellville-Summit lost to Salem 52-6 Week 2.

3-3A
HOXIE (18) at Corning: Corning rushed for 229 yards and led Manila 30-27 in the fourth quarter last week but lost 34-30 in a game that featured seven lead changes. Hoxie led Newport by 11 points last week but was outscored by 21 in the fourth quarter.
Harrisburg at NEWPORT (14): Harrisburg led Piggott 20-16 in the fourth quarter last week before allowing a 70-yard TD pass. Harrisburg QB Jett Jackson ran for a 4-yard TD and passed to Ross Heeb for another while sophomore playmaker Drew Wright zipped 15 yards for a score. Newport totaled 416 balanced yards (209 passing, 207 rushing) and erased an 11-point fourth-quarter deficit last week in a 35-25 win at Hoxie. Newport now owns wins over league contenders Hoxie and Walnut Ridge. 
OSCEOLA (17) at Manila: Manila rallied last week for a four-point win at Corning. The Lions rolled up 401 yards and tallied 24 first downs by converting four of eight third downs. Osceola jumped out to a 42-7 lead last week against Walnut Ridge and won by 35. Osceola junior J.D. Winda rushed for 76 yards and two TDs while sophomore QB Kam Turner ran for a 9-yard TD and threw an 8-yard scoring strike to senior Marlon Vance. Vance added a 14-yard rushing TD. 
PIGGOTT (1) at Walnut Ridge: Walnut Ridge led Osceola 7-0 early last week but lost 49-14. Walnut Ridge junior Andrew Brewer fired a pair of TD passes at Osceola. Piggott senior QB Trey Gossett connected with classmate Luke Boyd for a 70-yard TD pass late in the fourth quarter last week for a 24-20 win at Harrisburg. Piggott is 2-0 in league play for the second time in three years. Piggott whipped Walnut Ridge 44-0 last season.

4-3A
Jessieville at ATKINS (14): Atkins, 5-0 for the first time since 2012, chases its first league title since 2004. Junior first-year QB Eli Roberson has emerged as a playmaker while senior skill players Trey Davis and Gage Rehm are two-way standouts. Jessieville rallied for an 8-7 late in the fourth-quarter last week against Baptist Prep before giving up a TD with 2 minutes remaining and losing 14-8. Jessieville was forced into five, three-and-outs and totaled just 46 yards passing against Baptist Prep until the game's final minute. Jessieville recorded three sacks and forced two turnovers in the loss.
BAPTIST PREP (4) at Perryville: Perryville has lost four straight games for the first time since 2015. Atkins pounded Perryville last week with seven plays of 27 yards or more in a 44-7 defeat. Baptist Prep (2-2-1) is off to its best start since 2011, earning a key 14-8 victory last Friday at Jessieville. It was Baptist Prep's first conference win since 2015. Baptist Prep's defense forced five, three-and-outs and allowed 229 yards to Jessieville, the second-fewest this year for Jessieville. Baptist Prep likely qualifies for the playoffs with two more league wins.
Danville at GLEN ROSE (10): Glen Rose must move past last week's impressive 40-14 win over Mayflower. Glen Rose dominated the second half, outscoring Mayflower 23-0 after the break. Glen Rose also blocked a punt while junior Colby Steed booted three second-half field goals (34, 37 and 48) and landed a punt at the 1-yard-line. Glen Rose's, disciplined defense and game-changing special teams provide an edge against Danville. Danville shut out Two Rivers last week for the second straight season 60-0. Danville senior QB Preston Donnell completed 10-of-17 passes for 158 yards and two TDs. Evan Lane caught an 80-yard scoring pass and Zach Stanley collected a 26-yard pass.
Two Rivers at MAYFLOWER (30): Mayflower trailed by 17 points early last week at league-leading Glen Rose before cutting it to 17-14 at halftime. Yet, Mayflower couldn't score in the second half and lost 30-14. Mayflower seniors Deon and Keon Simmons scored on TD runs of 51 yards and 1 yard, respectively. Mayflower regains its swagger this week against a Two Rivers team that has not scored in three straight games and has totaled 12 points this season. The Gators have lost 31 straight and not qualified for the playoffs since 2013.

5-3A
Smackover at PRESCOTT (6): See Hootens.com Game of the Week.
Bismarck at FOUKE (3): Loser likely misses playoffs. Bismarck owns the worst scoring defense in 3A (48.2 points per game). Bismarck scored 20 points last week against Prescott, the most points Prescott has allowed this year. Fouke has lost four straight, totaling just 12 points, but the Panthers recorded 229 yards last week (second-most this year). 
C. HARMONY GROVE (10) at Horatio: Horatio likely needs a win to remain in playoff contention. Horatio has absorbed two shutouts this year and their two wins are against teams with a combined 1-9 record. Camden Harmony Grove has won four straight since a 52-50 overtime loss at Class 2A Junction City Week 0. The Hornets downed Genoa Central 56-0 last week, their first shutout since Week 10 2017. 
CENTERPOINT (13) at Genoa Central: Loser likely misses playoffs. Genoa Central has not qualified for the postseason in eight years of varsity football. Centerpoint allowed 133 rushing yards (3.2 YPC) in last week's 14-8 win over Fouke. It was the fewest points Fouke has allowed since Week 9 last season.

6-3A
MCGEHEE (6) at Dollarway: Dollarway improves weekly and last week snapped an 18-game losing streak with a 20-14 overtime win against Lake Village. McGehee trailed Rison 22-14 at halftime last week but ran just 18 plays after halftime, including eight rushes for eight yards. McGehee finished with 154 yards against Rison (107 rushing and 47 passing). 
LAKE VILLAGE (2) at Drew Central: Drew Central, open last week, goes behind senior playmaker Travarus "T-Man" Shead and sophomore QB Cole Harris. Harding and UA-Monticello have evaluated Shead. Harris "improves every week," Drew Central coach Matt Gonzales says. Junior linebacker Eli Trantham anchors Drew Central's defense. Lake Village started 2-0 but opponents have outscored the Beavers 115-50 the past three weeks.
Palestine-Wheatley at RISON (14): This is the first meeting since Rison beat Palestine-Wheatley 50-30 in the 2004 quarterfinals, en route to a 2A state title. This fall Rison is 5-0 for the second straight year but just the third time since 2007. Rison has won 28 of its past 29 home games. Rison mauled McGehee last week 30-14, recording 327 total yards and displaying a stout defensive effort. Palestine-Wheatley surrendered almost 500 yards rushing last week in a 52-point loss at Barton after allowing only 19 points in a 3-0 non-conference start.
FORDYCE (3) at Barton (non-conference): This game was scheduled when Episcopal and Woodlawn elected to play 8-man football this fall. Barton pounded Palestine-Wheatley last week behind fullback Kavein Davis' 345 rushing yards and seven TDs, tied for fourth-most in a game in state history.