Class 4A Week 6 Rankings, Notes & Picks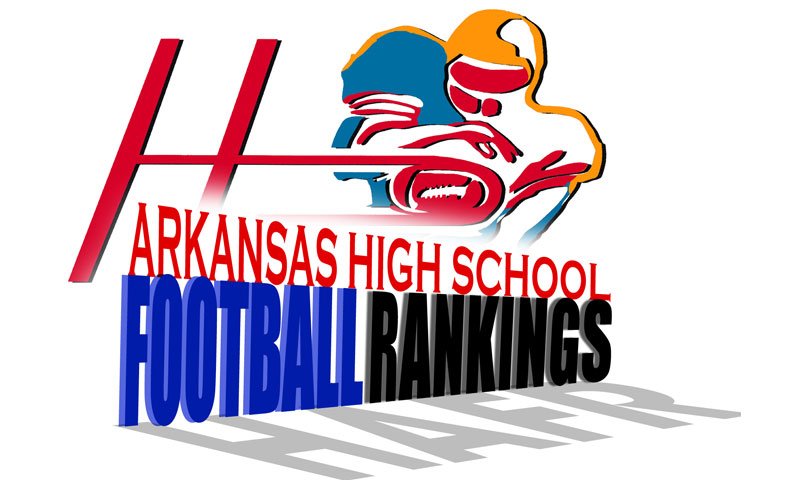 Hootens.com Rankings
Class 4A, Week 6, 2018
Copyright Hooten Publishing, Inc. 
1. Warren (4-0)
2. Joe T. Robinson (4-1)
3. Nashville (5-0)
4. Rivercrest (5-0)
5. Shiloh Christian (4-1)
6. Dardanelle (5-0)
7. Hamburg (4-1)
8. Dumas (5-0)
9. Ozark (3-2)
10. Arkadelphia (0-5)
11. Stuttgart (3-1)
12. Southside Batesville (3-2)
13. Pea Ridge (3-2)
14. Prairie Grove (3-2)
15. Bauxite (5-0)
16. Haskell Harmony Grove (4-1)
17. Gosnell (2-3)
18. Jonesboro Westside (4-1)
19. Elkins (5-0)
20. Helena (4-1)
21. Lincoln (4-1)
22. Pottsville (2-3)
23. CAC (3-2)
24. Heber Springs (1-4)
25. Lonoke (2-3)
26. DeWitt (3-2)
27. Mena (2-3)
28. Pocahontas (2-3)
29. Bald Knob (3-2)
30. Fountain Lake (3-2)
31. Star City (2-3)
32. Trumann (2-3)
33. Ashdown (2-3)
34. Mills (0-5)
35. Crossett (0-4)
36. Monticello (0-5)
37. Cave City (1-4)
38. Highland (1-4)
39. Gentry (1-4)
40. Berryville (2-3)
41. Riverview (1-4)
42. Malvern (0-5)
43. Dover (1-4)
44. Gravette (0-5)
45. Waldron (1-4)
46. Brookland (0-5)
47. Green Forest (1-4)
48. Subiaco Academy (1-4)

HOOTENS.COM GAME OF THE WEEK
No. 2 Joe T. Robinson at No. 3 Nashville
It's homecoming in Nashville and the 7-4A title is on the line. Undefeated Nashville pounds opponents with a diverse offense (405 yards and 48 points per game). But the Scrapper surprise this fall is a smother defense that has gathered 18 turnovers and sacked opposing quarterback's 11 times. Junior linebacker Devonte Witherspoon didn't play last season but paces the Scrappers with 45 tackles and three sacks, while sophomore linebacker Ty Gordon has 19 stops and one fumble recovery. Senior safety Jordan White has 22 stops, one interceptions, one forced fumble and one fumble recovery. The Scrappers held Fountain Lake to 17 yards rushing last week and 0-10 on third down. They limited De Queen to minus-4 yards rushing Week 2 and Hope to minus-1 yard rushing Week 1. Opponents convert less than 10 percent of their third downs. "We are aggressive and play excited," Nashville coach Mike Volarvich says. The Scrappers alternate seniors Tristin Jamison and Jake Moorer at QB, where the duo completes 55 percent of their passes this season for 720 yards and seven touchdowns. 
Joe T. Robinson has won four straight after dropping the opener at Class 7A Springdale. The Senators outscore opponents this year by a 2-1 ratio. Senior QB Greyson Tackett has passed for 516 yards and seven TDs this fall, while senior Tyler Jones has rushed for 405 yards and seven TDs. Senior Zaytron Waits hasn't played the past two weeks with a knee injury. Senior Mekel Kentel lines up in multiple spots, rushing for 331 yards and two TDs this year while catching 18 passes for 306 yards and four TDs. "Kentel is a home run hitter on any play," Nashville coach Mike Volarvich says.

TV SHOW
Hooten's Arkansas Football airs 10:30 a.m. Saturdays on KATV (ABC Little Rock) Channel 7, covering the Razorbacks, high school teams and players to watch.

LAST WEEK
Hootens.com correctly predicted 22 of 24 games last week (92 percent). Hootens.com has predicted 112 of 132 games this year (85 percent).

WEEK 6 PREDICTIONS (favored team in CAPS followed by point spread)
1-4A
Green Forest at GENTRY (7): Gentry's 14-point win over Berryville last week was its first of the year. Pioneer junior QB Brandon Atwood has passed for 756 yards and five TDs this season. Green Forest has lost its opening two conference games by a combined 121-0.
Prairie Grove at SHILOH CHRISTIAN (1): This may decide the conference title. These teams have split the past eight meetings, with Prairie Grove winning three straight (62-33 in 2015, 45-15 in 2016 and 35-21 last year). After starting 0-2, Prairie Grove has won three straight games by a total of 124-0. Shiloh Christian has won its past four games, and the Saints outscored Berryville and Green Forest in 94-0 the past two weeks. Versatile senior Jaret Russ has rushed for 216 yards and three TDs this year, and caught eight passes for 99 yards and two TDs.
PEA RIDGE (21) at Gravette: Pea Ridge has won two of the past three over the Tigers. Pea Ridge trailed Lincoln 7-0 late in the first half last week before executing a fake punt to spark a 10-point win. Junior QB Tate Busey converted the fake punt for a first down, then ran for a TD and passed for two more. Gravette hasn't scored more than a TD in any game this year.
Berryville at LINCOLN (17): Lincoln led Pea Ridge in the second quarter last week before losing 24-14. Senior Sterling Morphis caught five passes for 48 yards and a TD. Berryville gives up less than 20 points per game.

2-4A
HEBER SPRINGS (1) at CAC: Heber Springs has shared consecutive league titles, downing CAC in double overtime two years ago and by three points last season. Heber Springs' Blaze Nelson ran for a pair of TDs in last week's three-point loss to Stuttgart. Nelson has rushed for 639 yards this season. CAC led Mills 35-6 at halftime a last week. Mustang sophomore QB Palmer Gilbrech threw four TD passes against Mills and has passed for 895 yards and 11 TDs this fall.
Bald Knob at STUTTGART (17): Stuttgart led Heber Springs by 10 points at halftime last week and held on for a three-point triumph. Bald Knob threw an incomplete pass to the end zone on the final play of last week's seven-point setback to Lonoke, Bald Knob's D surrenders 25 points per game.
SOUTHSIDE BATESVILLE (10) at Lonoke: Southside Batesville likely ends up favored in its final five games of the season after last week's 34-point win over Riverview. The Southerners put up 340 yards weekly. Senior Brayden Duncan ran for a pair of first half TDs at Riverview. Lonoke's 28-21 win at Bald Knob last week was its first victory in three years over a team with a winning record. Junior Davonta Adams ran 20 times for 154 yards, while Braidon Bryant ran for 150 yards. Bryant intercepted Bald Knob's Hail Mary on the final play.
Riverview at MILLS (3): These teams have never played and are a combined 1-9 this year. Riverview's Bailey Dillin ran 6 yards for a TD last week at Southside Batesville. Winless Mills gets outscored 34-12 weekly. Comet QB Braelon Adams ran for three TDs last week at CAC.

3-4A
Highland at RIVERCREST (26): Highland still shocked at last week's 13-point loss at previously winless Cave City. The Rebels led 14-13 at halftime but failed to score after intermission. Senior QB Tristan Hudson passed for 78 yards and a TD but threw three interceptions as the Rebels managed just 162 yards. Undefeated Rivercrest runs for 280 yards weekly. Senior Kentavious Robinson has 101 carries this year for 969 yards and 11 TDs, while senior QB Demilon Brown has 239 yards and four TDs. Junior Easton Elder paces the Colts with 39 tackles, including 10 tackles for loss.
Trumann at GOSNELL (9): Gosnell needs held to share its third straight conference title after losing last week at Rivercrest. Pirate junior JyDarian Young paces a strong running attack, scoring seven TDs this fall and averaging 11.8 yards per carry. Trumann has won two of its past three games, including last week at Brookland 27-10. 
Brookland at JONESBORO WESTSIDE (10): Jonesboro Westside beat Brookland by three points a year ago. The Warriors put up 45 points weekly. The Warriors led Pocahontas 36-13 at halftime last week. QB Dawson Chester keyed the first half surge with a 55-yard TD sprint. 
Cave City at POCAHONTAS (23): Cave City's win last week over Highland was the Caveman's first since 2016. Pocahontas has won five of the past six over Cave City. Senior receiver Devon Adams presents a matchup problem with 4.3 speed. 

4-4A
POTTSVILLE (20) at Waldron: Waldron's one-point win over Pottsville in 2016 was its only victory in the series. Pottsville rushes for 181 a game. The Apaches led Mena 32-7 in the third quarter last week, rolling up 559 yards.  Junior QB Ben Jones and senior Spencer Bradley each ran for more than 120 yards.
Subiaco Academy at ELKINS (27): Elkins averages 410 yards and 45 points per game. Junior QB Quin McClain has passed for 953 yards and 12 TDs this season, and rushed for 521 yards and nine TDs. Subiaco Academy senior QB Luke Hertlein has thrown six TDs and ran for another in 2018.
Dover at MENA (22): Mena's D returned an interception for a TD last week at Pottsville, but the Bearcats struggled to stop the physical Apache running attack (gave up 559 yards). Dover averages seven ppg.
Dardanelle at OZARK (2): Ozark has won six of the past 11 over the Sand Lizards. The Hillbilly first-team D hasn't allowed a TD the past two weeks. Senior QB Dawson Dietz has thrown for 862 yards and nine TDs and rushed for 277 yards and three TDs this fall. "They spread you out and let Dietz exploit any weakness," Dardanelle coach Phil Vega says. Dardanelle has given up just six points in two conference games. The Sand Lizards returned two interceptions for TDs last week against Waldron.

7-4A
JOE T. ROBINSON (2) at Nashville: Hootens.com Class 4A Game of the Week.
ARKADELPHIA (7) at Fountain Lake: Arkadelphia has won five of the past nine in the series. But the Badgers are 0-5 this season and struggling to pass the ball on offense. But the Badger D still plays at a high level. They trailed Joe T. Robinson 13-7 at halftime last week. Fountain Lake's diverse D lines up in multiple formations and often blitzes. The Cobra's get plays from senior running back Andrew Roberson (73 carries, 412 yards and three TDs in 2018) and receiver Ahman Johnson (19 catches, 338 yards and three TDs).
ASHDOWN (4) at Malvern: They've split the past 10 meetings. Ashdown's starting QB transferred last week, but the Panthers still managed 21 points at Bauxite. Freshman QB Jaxson Jester threw a 55-yard TD pass at Bauxite. Malvern scores seven points per game and the Leopards lost the past two weeks to Bauxite and Haskell Harmony Grove by a combined 64-10.
BAUXITE (12) at H. Grove Haskell: Class 4A's version of the Salt Bowl features a pair of Saline County teams who are undefeated in the 7-4A. Former Haskell coach Paul Calley is now Bauxite's OL coach, while former Miner assistant Mike Guthrie is 4-1 in his first year at Haskell. Bauxite rushes for 293 yards weekly, but the Miners can throw the ball, too. Senior QB Hunter Davis threw two TD passes to senior Elijah Cruz in last week's 38-point win over Ashdown. Davis has fiver TD passes this season, while senior running QB Seth McDowell has thrown a pair of TD pass and averages 7 yards per carry. Haskell rushes for 324 yards weekly, paced by senior Jake Brooks' 450 yards and eight TDs.

8-4A
Dumas at WARREN (17): Warren has won seven straight over Dumas since falling 36-25 in 2010. Dumas will try to run the ball and control the clock. The Bobcats average 305 yards per game on the ground this fall. Senior QB Chris Harris has passed for 433 yards and six TDs and rushed for 675 yards and 10 TDs. Warren whipped Star City last week by 42 points. Senior Treylon Burks had five TDs (three TD catches, one TD pass and one punt return), while junior kicker Jesus Tinoco made three TD-saving tackles on kickoffs and recovered a fumble.
DEWITT (3) at Crossett: Winless Crossett has scored a TD or less in three  of its four games this year. Junior QB Justin Stokes passes for 134 yards weekly. DeWitt has lost consecutive games after starting the year 3-0. The Dragons led Helena 2-0 at halftime last week but lost 24-2. 
HELENA (14) at Monticello: Helena gives up 16 points per game and Monticello averages 218 yards and less than 10 points per game. The Billies gain just 3.3 yards per carry. Senior QB Armonie Calhoun has more than 700 yards and seven TDs this season, while the Cougar D has relies on senior linebackers Yarvarious Frazier and Deamonte Oliver.
HAMBURG (7) at Star City: Hamburg's improved D gives up just 17 points per game, and the physical Lions control opponents with physical offensive tackles Jared Laughlin (6-5, 310) and Alex Culp (5-8, 235). Star City's aggressive running attack averages 181 yards per game. But Bulldogs have scored one TD in two of the past three games.