Class 5A Week 6 Rankings, Notes & Picks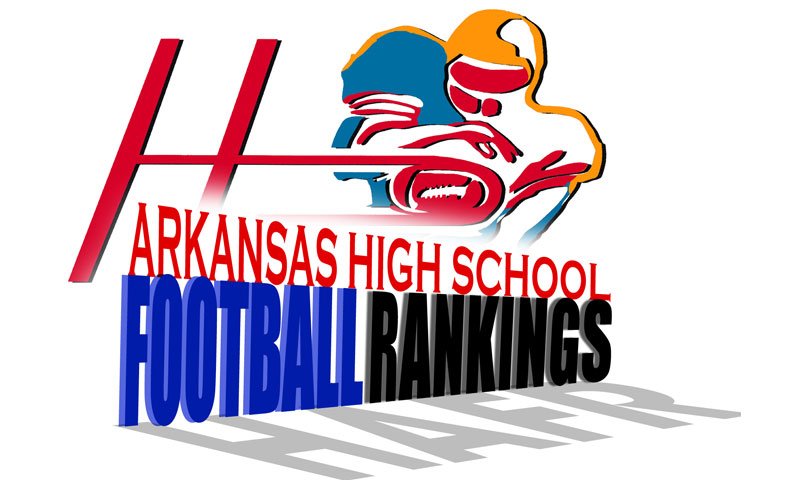 Hootens.com Rankings
Class 5A, Week 6, 2018
Copyright Hooten Publishing, Inc. 
1. Pulaski Academy (4-1)
2. LR Christian (4-1)
3. Texarkana (4-1)
4. LR McClellan (5-0)
5. Harrison (5-0)
6. Morrilton (2-3)
7. Blytheville (3-2)
8. Nettleton (4-1)
9. LR Parkview (2-3)
10. Valley View (4-1)
11. Greenbrier (3-2)
12. Alma (2-3)
13. White Hall (3-1)
14. Camden Fairview (2-3)
15. HS Lakeside (2-3)
16. Wynne (2-3)
17. Forrest City (2-3)
18. Farmington (3-2)
19. Vilonia (2-3)
20. Beebe (2-3)
21. Batesville (1-4)
22. Maumelle (3-2)
23. Magnolia (3-2)
24. Watson Chapel (1-2-1)
25. Greene Co. Tech (2-3)
26. Huntsville (2-3)
27. De Queen (1-4)
28. Hope (1-4)
29. Paragould (0-5)
30. Hot Springs (0-5)
31. Clarksville (1-4)
32. LR Fair (1-4)

HOOTENS.COM GAME OF THE WEEK
No. 12 Alma at No. 6 Morrilton
Morrilton has won two straight over Alma by a combined five points. The Devil Dogs had 11 starters miss at least one game with injuries this year. "But we are evolving as they return," Coach Cody McNabb says. Senior QB Dylan White was injured in the first half of the opener at Searcy, but returned last week at Greenbrier with a pair of TD passes, while junior lineman Gustavo Santos (5-10, 260) returned up front last week. White has five TD passes in just six quarters this fall, while senior Xavier Clemons has rushed for 395 yards and five TDs. "Our identity is running the ball and defense," McNabb says.  Alma has won two straight this season after a disastrous 0-2 start. The Airedales have beaten Vilonia and Farmington the past two weeks and a showdown with Harrison looms Week 8. Alma senior Tanner Shelton and junior Landon Blair split snaps at quarterback, while senior Keegan Rosebeary has rushed for 305 yards this season after topping the 100-yard mark the past two weeks. Senior left tackle Zac Henson and right tackle Levi Prestidge anchor the line "and the that's our strength," Coach Doug Loughridge says. Senior safety Coltin Bowerman paces Alma with 55 tackles. Senior defensive end Bryson Treadway and defensive back Noble Skadden will miss the rest of the season with injuries.

TV SHOW
Hooten's Arkansas Football airs 10:30 a.m. Saturdays on KATV (ABC Little Rock) Channel 7, covering the Razorbacks, high school teams and players to watch.

LAST WEEK
Hootens.com correctly predicted 12 of 16 games (75 percent) last week. For the season, Hootens.com has correctly predicted 94 of 116 games (81 percent).

WEEK 6 PREDICTIONS (favored team in ALL CAPS)
5A CENTRAL
LR PARKVIEW (1) at Watson Chapel: These teams have split the past two meetings. LR Parkview has won consecutive games after starting 0-3, including last week's 12-point decision over Maumelle. Patriot senior Geary Allmon ran for 202 yards and two TDs against Maumelle. Watson Chapel has lost consecutive league games by a combined 43 points. The Wildcats led Beebe 22-14 at halftime a week ago, but failed to score in the second half. Junior QB Devin Curry completed nine of 22 passes for 160 yards and three TDs, and ran 18 times for 162 yards.
LR Fair at LR CHRISTIAN (35): LR Christian has beaten LR Fair the past two years by a combined 98 points. LR Christian trailed PA by seven points at halftime last week but failed to score in the second half while committing three turnovers. LR Fair has failed to score in three straight games.
Beebe at WHITE HALL (2): Beebe now thinking playoffs after last week's nine-point come-from-behind win over Watson Chapel. Senior Taylor Boyce ran 34 times for 247 yards and three TDs and caught a 33-yard pass a week ago, while senior Gage House paced the defense with nine tackles. White Hall's D scored a pair of TDs in last week's 50-point route at LR Fair. 
PULASKI ACADEMY (21) at Maumelle: The Bruins pick up their 58th straight conference victory, and look poised to win their fifth straight state championship. Junior QB Braden Bratcher has passed for 1,414 yards and 15 TDs this season. Senior John David White caught seven passes for 74 yards and two TDs against LR Christian. Maumelle trailed LR Parkview 14-7 at halftime last week. Junior Zyon Slade caught an 80-yard TD pass against Parkview. 

5A EAST
Paragould at NETTLETON (17): Nettleton led Blytheville 13-7 at halftime last week but failed to score in the second half. The Raiders surrendered just 16 points in their opening four games before giving up 30 at Blytheville. Senior Jarquavious Cain caught a 73-yard TD pass. Paragould sophomore David Williams has 88 carries this year for 608 yards and four TDs.
Wynne at VALLEY VIEW (3): Wynne has never lost to Valley View (4-0 all-time). The Yellowjackets returned the opening kickoff 98 yards for a TD in last week's 18-point triumph over Greene County Tech. 
BLYTHEVILLE (21) at Greene County Tech: Blytheville's D held Nettleton scoreless and to just 52 yards in the second half of last week's 17-point decision, returning an interception for a TD to seal the game. GCT puts up 350 yards weekly, including 258 rushing. 
Forrest City at BATESVILLE (1): Forrest City hasn't beaten Batesville since 2009. The Mustangs average 360 yards per game this season. They trailed Valley View 21-8 at halftime a week ago, but failed to score in the second half. Batesville scored 48 points last week at Paragould after scoring just 35 points in the opening month.

5A SOUTH
Hot Springs at DE QUEEN (6): These teams have split the past six meetings, with De Queen winning last year by 20 points. De Queen gained just 113 yards in last week's 42-point loss at LR McClellan. Hot Springs averages seven points weekly.
Hope at LR MCCLELLAN (28): LR McClellan plays its second straight home game (after going two years without one). The Lions shutout De Queen 42-0 a week ago. Senior QB Xavion Morgan ran five times for 126 yards and a TD and completed two of four passes for 57 yards and a TD against De Queen. Hope won its first game since 2015 last week, downing Hot Springs 26-20.
TEXARKANA (7) at HS Lakeside: These teams have never played. Texarkana winning games with D and special teams. The Razorbacks kicked two field goals, intercepted two passes and returned a fumble for a TD in last week's 17-point win over Camden Fairview. Hot Springs Lakeside scored 71 points last week against Magnolia, when the Rams moved sophomore Will Perrigo (5-10, 185) from receiver to running back. Perrigo ran 12 times for 85 yards and a five TDs. Ram senior QB Taylor Gillham has passed for 1,092 yards and six TDs this season. 
CAMDEN FAIRVIEW (2) at Magnolia: Camden Fairview has beaten its heated rival eight of the past 13 years. Cardinal senior QB Keith Johnson threw a pair of TD passes in last week's 17-point setback at Texarkana. Magnolia rushed for more than 400 yards (including senior Kadyn Roach's 243 yards, four TDs) but surrendered a school modern-era record 71 points last week at HS Lakeside. 

5A WEST
Alma at MORRILTON (1): Hootens.com Class 5A Game of the Week.
Huntsville at CLARKSVILLE (2): Clarksville has won seven of the past 10 in the series. The Eagles surrender 31 points per game this year. Juniors Colby Burkett (8.9 yards per carry), Nicholas Buckner (366 yards) and Jamie White (270 yards, two TDs) pace the Panther Single Wing rushing attack. Huntsville has lost three straight games (by an average of 44-21) after starting 2-0. The Eagles trailed Vilonia 21-10 at halftime last week but gave up a kickoff for a TD in a 29-point setback.
GREENBRIER (3) at Farmington: The winner likely gets a playoff spot. Greenbrier trailed Morrilton 21-0 at halftime last week. Senior QB Andrew Johnson has passed for more than 900 yards this year. Farmington senior QB Eric Hill has eight TD passes in 2018, including five to junior playmaker Drew Sturgeon (22 catches for 258 yards). 
Vilonia at HARRISON (21): Undefeated Harrison seeks its first outright conference title since 2003, with a salty D that gives up less than nine points per game. Junior QB Ben Johnson has passed for 798 yards and 11 TDs this fall, with only one interception. The Goblins play three of their final four games on the road. Vilonia special teams accounted for 10 points in last week's triumph over Huntsville. Junior Draven Smith has averages 9.6 yards per carry (six TDs) this year, while four players have multiple TD grabs.