Class 6A Week 6 Rankings, Notes & Picks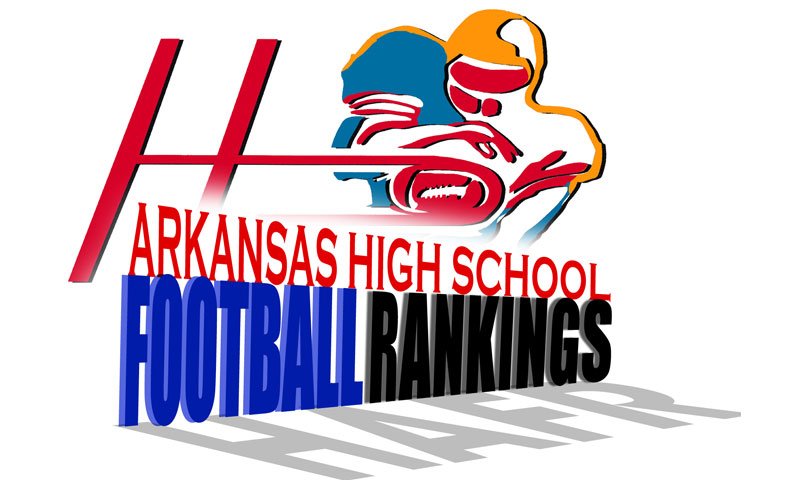 Hootens.com Rankings
Class 6A, Week 6, 2018
Copyright Hooten Publishing, Inc.
1. Greenwood (4-1)
2. Benton (4-1)
3. West Memphis (5-0)
4. Pine Bluff (2-2-1)
5. El Dorado (2-3) 
6. Searcy (4-1)
7. Russellville (3-2)
8. Marion (4-1)
9. Jonesboro (3-2)
10. Lake Hamilton (4-1)
11. Siloam Springs (3-2)
12. Sylvan Hills (1-4)
13. Sheridan (1-4)
14. Jacksonville (2-3)
15. LR Hall (1-4)
16. Mountain Home (0-5)

HOOTENS.COM GAME OF THE WEEK
No. 4 Pine Bluff at No. 9 Jonesboro
Winner remains in the hunt for the league title, a first-round playoff bye and home-field advantage throughout the Class 6A postseason. Jonesboro beat Pine Bluff two years ago for the first time in school history but Pine Bluff beat Jonesboro last year by 14 points.  Jonesboro blasted Jacksonville last week 40-0, its first shutout since 2014. Sophomore Albert George, who has emerged in the backfield, ran for two scores at Jacksonville. Classmate Cross Jumper completes 55 percent of his passes for 953 yards with 11 touchdowns and six interceptions. Jumper, who is a Tennessee baseball commit, did not throw an interception last week for the first time this year. Jumper's top target has been senior Tate Lutes, who has caught 22 passes for 498 yards and five scores. Junior Jamarcius Wright paces the stingy Jonesboro defense (allows 18.2 points per game) with 46 tackles.  Pine Bluff junior QB Shauwan Howell completed 13 of 15 passes for 220 yards and five TDS last week in a 35-9 win over Mountain Home. Howell was playing in relief of classmate Tyler Foots, whose status is unknown at this time. Pine Bluff wideout Berkarion Black (6-4, 175), who collected six passes for 133 yards and three first-half TD catches last week, creates mismatches on the outside. Senior running back Braylon Moody eclipsed 100 yards against Mountain Home. The Zebras have won league titles the past three years, including two straight in the 6A East.

TV LAND
Hooten's Arkansas Football airs 10:30 a.m. Saturdays on KATV (ABC Little Rock) Channel 7, covering the Razorbacks, high school teams and players to watch.

LAST WEEK
Hootens.com correctly predicted seven of eight winners (88 percent) of games involving Class 6A schools. Hootens.com has correctly picked 49 of 59 winners (83 percent) of games involving Class 6A schools for the season.

WEEK 6 PREDICTIONS (favored teams in CAPS followed by point spread)
6A EAST
PINE BLUFF (4) at Jonesboro: See Hootens.com Game of the Week.
JACKSONVILLE (1) at Mountain Home: Jacksonville's 14-10 win last year vaulted the Titans into the playoffs. These are the two lowest-scoring teams in Class 6A and the loser likely misses the playoffs. Jacksonville has not scored in eight quarters and Mountain Home trailed Pine Bluff 35-0 at halftime last week in a 35-9 defeat. The Bombers likely start their fourth QB this season, sophomore Lawson Stockton, after classmate Dawson Tabor missed the Pine Bluff game with a concussion.
Marion at SEARCY (3): West Memphis topped Marion 22-20 two weeks ago and Searcy last week 56-21. Marion sophomore QB Daedrick Cail fired three TD passes last week in a 26-7 win over Sylvan Hills and passed for a career-high 241 yards. Senior receiver Joyrion Chase caught nine passes for 160 yards and two scores. Searcy surrendered eight TDs and trailed 21-0 in the first quarter at West Memphis. The Lions rushed for just 36 yards (1.8 yards per carry).
WEST MEMPHIS (17) at Sylvan Hills: First meeting of schools since 2007 (34-0 West Memphis). Sylvan Hills trailed at Marion last week just 6-0 at halftime of a 26-7 defeat. QB Emil McCoy darted 5 yards for the Bears' score in the loss. West Memphis intercepted five Searcy passes, including a 75-yard TD return by Tyquerrious Barbee, who finished with two interceptions. Senior tight end Marcus Whitaker, who recently re-opened his recruitment, caught two TD passes against Searcy. West Memphis' defense is too much for Sylvan Hills here. 

6A WEST
Lake Hamilton at RUSSELLVILLE (3): Lake Hamilton rolled up 512 yards last week in a 42-6 win at LR Hall, highlighted by a season-best 437 rushing yards (9.7 YPC). Junior Malik Brewer paces Lake Hamilton with 545 yards (10.3 YPC) and seven TDs. Russellville recorded its second shutout of the season last week in a 21-point victory over Sheridan. Russellville allowed 119 rushing yards to Sheridan (2.6 YPC). The Cyclone defense has forced 13 turnovers this year and recorded 11 sacks.
BENTON (27) at LR Hall: Hall has lost 52 consecutive conference games. Benton has outscored opponents 193-72 since a season-opening loss to Class 7A Bryant. Benton led Siloam Springs 28-0 in the first quarter of a 55-14 conquest last week. Five Panthers scored TDs, including three from Zak Wallace (869 rushing yards and 12 scores in five weeks).
Sheridan at EL DORADO (21): Russellville sank Sheridan 21-0 a week ago, the second scoreless game for Sheridan this year. Sheridan averages 12 points a game this year against Class 6A opponents. El Dorado surrendered 435 yards and several third-down conversions last week in a 44-27 home loss to Greenwood. El Dorado linebacker Quentin Frazier racked up 10 tackles (six solos). 
GREENWOOD (28) at Siloam Springs: Greenwood shut Siloam out 38-0 a year ago. Siloam Springs allowed 525 yards last week to Benton in a 41-point loss, but the Panthers tallied 276 yards of their own. Siloam was successful on seven of 15 third-down attempts. Greenwood's rushing totals have climbed three straight weeks behind the one-two punch of senior Marc Jones (128 rushing yards and three TDs) and sophomore Hunter Wilkinson (255 yards and eight scores). Junior Logan Workman leads Greenwood with 47 tackles, followed by senior Travis Cox (43 stops). Greenwood senior kicker Grant Ennis is now Arkansas' all-time career kick points record (226).