No. 8 HOGS at No. 2 UGA preview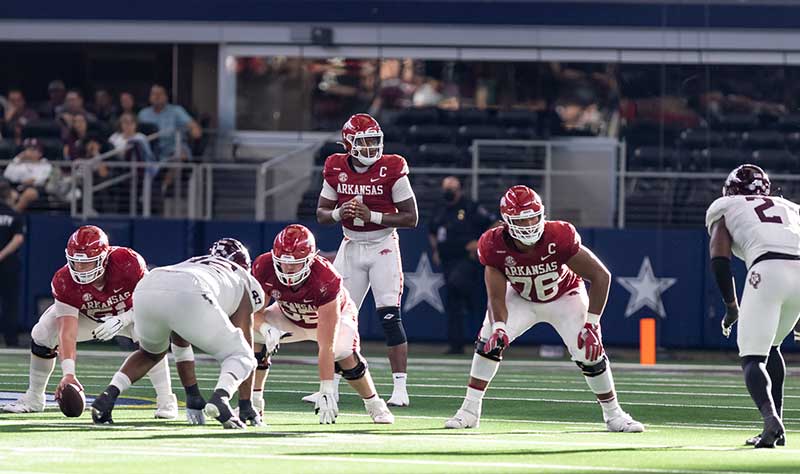 FAYETTEVILLE - For the second consecutive week, these Arkansas Razorbacks engage in a matchup of nationally ranked teams, and this time both are in the Top 10.
At 11 a.m. (CDT) Saturday on ESPN at Sanford Stadium in Athens, Ga., the No. 8  Razorbacks (4-0, 1-0 in the SEC)  take on No. 2 Georgia (4-0, 2-0).
Arkansas was unranked when it defeated then No. 15 Texas, 40-21 in this season's second game at Reynolds Razorback Stadium. The Razorbacks were ranked 16th last week when  second-year coach Sam Pittman's Hogs beat then-No. 7 Texas A&M 20-10.
Successful as Arkansas' 2013-2015 offensive line coach for Bret Bielema become the successful 2016-2019 Georgia offensive line coach for head coach Kirby Smart, longtime line coach Pittman came full circle head coaching his first college game last season. 
It came against then No. 4 ranked Georgia.
Pittman inherited an Arkansas program that in the SEC went 1-7 in 2017 under Bielema and 0-8 and 0-8 in the SEC under the Chad Morris regime.
Last year's Arkansas vs. Georgia final score was what you would expect: Georgia 37-10.
But surprising Arkansas led 10-5 early in the third quarter and already exhibited a spirited culture change leading into a 3-7 entirely SEC season.
Pittman and his staff built on that, just as Smart expected.
Smart describes his head coaching ideal as a coach sufficiently humble, yet confident to hire assistants with greater specific expertise than himself while inspiring  players and staff to believe in what they aspire.
"Sam fits all of that," Smart said. "He's a tremendous leader of men. Those men in that locker room believe in Sam Pittman and what he tells them. They believe it and go out and play like it."
Pittman also praises Smart and his Bulldogs, ranked No. 2 nationally primarily because their defense ranks No. 1 in fewest points and fewest total offense yards allowed.
"Kirby, I had a lot of good memories about him and the way he treated me and the staff," Pittman said. "They've got an outstanding football team. Very physical. You don't find many teams playing extremely hard that don't have high respect for the head coach. And they do. "
The Bulldogs are talent full of five-star signees this fall, especially on defense.
Georgia beat since 2015 annual College Playoff qualifier and two-time national champion Clemson 10-3, routed respected Alabama-Birmingham 56-7, and thumped SEC East members South Carolina 40-13 and Vanderbilt 62-0.
Georgia didn't show a single defensive weakness against any, Pittman said.
"You're trying to find one, and there's not a weakness," Pittman said. "There's not a guy you're going, 'We're going to pick on this guy. So what you do is 'You know what, let's do what we do best."
What Arkansas (in Tommy Land photo above) does best offensively is very good, Smart said. Smarts cites a physically pounding running game augmented by running quarterback KJ Jefferson connecting for deep passes with receivers Treylon Burks of Warren (19 catches for 373 yards and two touchdowns) and Helena native/Fayetteville High grad Tyson Morris (seven catches, for 169 yard's and two TDs.)
Smart claims, and remember Georgia's season started with then-No. 3 Clemson, that Georgia's defense hasn't faced an offense this potent.
"We're going to play better people than we've played," Smart said. "Because we're facing a really good team and a really good offense Saturday."
And a Barry Odom coordinated Arkansas defense that thwarted  the respected offenses of Texas and Texas A&M.
It's a better, deeper defense allowing Odom to do better with multiple schemes, Smart said.
"He forces your hand to maybe play left-handed," Smart said.  "You can't do some of the things you want to do. He's really good at it. Not only that, he has some really good players doing it."
For the Georgia offense, freshman tight end Brock Bowers (18 catches for 272 yards and four TDs) already rates among the league's best tight ends as Georgia's leading receiver.
Georgia running backs Zamir White and James Cook each average 5.6 per carry. Quarterbacks JT Daniels and Stetson Bennett have completed a combined 76 of 101 passes with 11 TDs vs. four interceptions.
Daniels has been dogged by injuries. But off the bench last year, Bennett beat Arkansas with Daniels out injured, and D'Wan Mathis (transferred to Temple) struggling as the UGA starter.
Jefferson and Burks closed last week's Texas A&M game with injuries but have practiced this week.