HOGS can't climb out of 28-point hole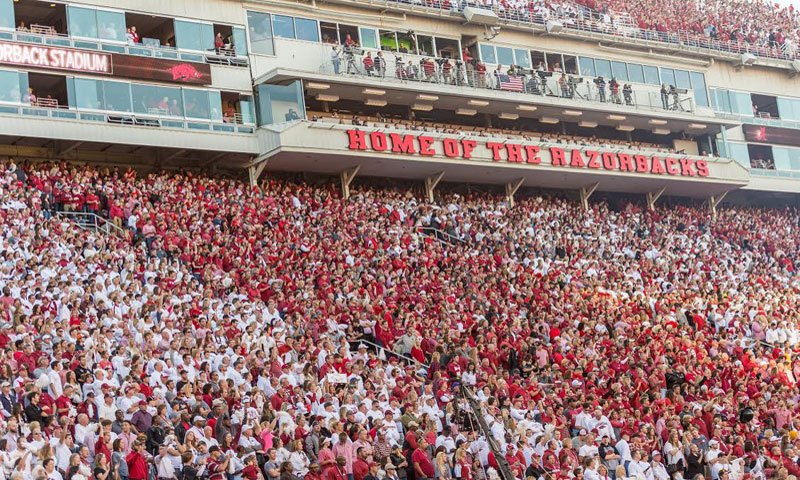 FAYETTEVILLE — The Arkansas Razorbacks burst back into Saturday's SEC showdown against second-ranked Alabama by outscoring the Crimson Tide 16-0 in the third quarter.
It brought the announced crowd of 75,579 to their feet at Reynolds Razorback Stadium, but only briefly.
Alabama's 28-0 first-half lead dwindled to 28-23 after three quarters, but the Crimson Tide asserted their superiority in the final 15 minutes, outscoring Arkansas 21-3 in the fourth quarter to pull away to a 49-26 victory in game televised nationally by CBS.
It was Alabama's 16th consecutive victory over Arkansas, which last beat the Crimson Tide in 2006, the year before Nick Saban took over as head coach.
"We knew going into the game how good Alabama was," Arkansas Coach Sam Pittman said. "We gave up too many big plays and didn't have enough for us. We have to do better, we have to play better, and we have to regroup."
Arkansas (3-2, 0-2 SEC) played well for about 18 minutes – the final 2:31 of the first half and through all 15 minutes of the third quarter — outscoring Alabama 23-0 to enter the fourth quarter trailing 28-23.
Not only did Arkansas have the momentum, but Alabama was playing without Heisman Trophy-winning QB Bryce Young, who left the game with a shoulder injury early in the second quarter.
Freshman Jalen Milroe (4-9 passing, 65 yards, 1 TD; 6-91 rushing, 1 TD) came off the bench to lead two Alabama scoring drives in the second quarter, but his most important play came after Arkansas pulled within five points and Alabama faced third-and-15 at the Alabama 20 early in the fourth quarter.
Milroe broke free from the Arkansas pass rush, cut to his right and ran 77 yards before being knocked out at the Arkansas 3. The Crimson Tide scored three plays later to go up 35-23 and were never threatened again.
"It stopped the bleeding for sure because it was a third-and-long in bad field position," Alabama Coach Nick Saban said. "That was a huge momentum swing in the game in my opinion."
Milroe said he was just trying to keep the chains moving.
"It came down to the offense as a whole, all 11 guys stepping up and allowing that play to happen," Milroe said.
Alabama broke two long touchdown runs by Georgia Tech transfer Jahmyr Gibbs (18-206 rushing, 2 TDs; 2-20 receiving) — one  for 72 yards at the 12:17 mark of the fourth quarter and a 76-yard run at 6:55 to make it a 23-point final margin.
"I thought we did a great job of bottling him [Gibbs] up for most of the game,"  Arkansas linebacker Bumper Pool said. "But going against a team like Alabama you know they can break a run on you and take it to the house. We'll have to watch the tape and figure out where to improve the most and continue to move on."
Alabama outgained Arkansas 555-377, holding a 317-187 edge in rushing and outpassing the Hogs 238-190.
Young completed 7 of 13 for 173 yards and 1 TD before leaving in the second quarter with what Saban is calling an AC shoulder sprain.
"We'll take it day-to-day," Saban said. "I think he's OK. He doesn't have a serious injury."
Arkansas' defense stopped Alabama on its first possession after cornerback Dwight McGlothern intercepted a Young pass, but the Hogs were dominated after that. Alabama outgained Arkansas 217-52 and held the ball for 8:14 of the first 15 minutes.
Milroe led Alabama to back-to-back touchdown possessions for the Tide in the quarter — a 3-yard touchdown run by Milroe followed by a 22-yard passing touchdown to JoJo Earle —making the score 28-0 with 2:51 left in the quarter.
The Razorbacks needed a nine-play, 75-yard drive to end the half, with KJ Jefferson (13-24 passing, 155, 1 TD; 17-38 rushing) hitting Ketron Jackson Jr. with a  6-yard pass before halftime.
Arkansas scored on the third quarter's second possession on a 13-yard run by AJ Green with 7:47 to play.
The Razorbacks then stunned Alabama as kicker Jacob Bates recovered his own onside kick giving Arkansas another opportunity to capitalize on the swinging momentum. Arkansas would settle for a field goal later in the possession to make it 28-17 with 1:38 remaining in the third.
 "After seeing it on tape this week we felt like it was there," Pittman said. "It just seemed like the right time to use it and it worked."
The Razorbacks got a big break after holding Alabama on downs on its next possession, when an Alabama punt-game mishap gifted Arkansas the ball at the Alabama 2.
Raheim Sanders (22-101 rushing, 1 TD) pushed in from the 3, but the Hogs missed a two-point conversion, making it 28-23 heading into the fourth quarter.
Arkansas outgained Alabama 141-1 in the third quarter, but the domination could not continue.
"Right now, we're one-dimensional," Pittman said. "We've got to be able to throw and catch and protect. We can't just turn around and hand the ball off and beat really good teams."
Jackson Jr. (4-48 receiving, 1 TD) led the Arkansas receivers. Jadon Haselwood (6-37 receiving), Matt Landers (2 catches, 31 yards), Sanders (2 catches, 19 yards), and Trey Knox (1 catch, 36 yards) all contributed.
Backup running backs Green (5 carries, 18 yards, 1 TD), Dominque Johnson (2 carries, 11 yards), and Rashod Dubinion (4 carries, 10 yards, 1 fumble) all saw action at various points.
Linebacker Drew Sanders (12 tackles, 1 sack) stood out against his former team. Pool was the only other Razorback with double-digit tackles with 10. Safety Simeon Blair (9 tackles) and defensive end Zach Williams (4 tackles) also put together solid performances.
"That third quarter coming out of halftime, we did our job, and, for the most part, shut them down on defense and offense moved the ball great," Sanders said. "That onside kick was huge and there was just a lot of momentum on our side in that third quarter. It was good to see us battle back."
Alabama All-America linebacker Will Anderson Jr. said the Crimson Tide tried to stay calm during the Razorbacks' comeback.
"We can't lose focus on what we have to do," Anderson said. "We can't let any external factors like the crowd or the time or the scoreboard affect us. Coach Saban harps about that a lot. We have to keep playing no matter what the score is or what the outcome is … just keep playing until you get off the field."
Anderson said stopping Arkansas' two-point attempt was a critical moment.
 "It was really big," he said. "It just goes back to everyone being locked in and everyone being on the same page. Everyone getting the call and executing the call and the goal to get us in."
The Razorbacks (3-2, 1-2) must now focus their attention on next Saturday's game as they go on the road to take on the Mississippi State Bulldogs in Starkville. The Bulldogs (4-1,1-1) are coming off a 42-24 win against the 17th ranked Texas A&M Aggies. Kickoff is set for 11 a.m.