UGA whips sloppy Hogs 37-0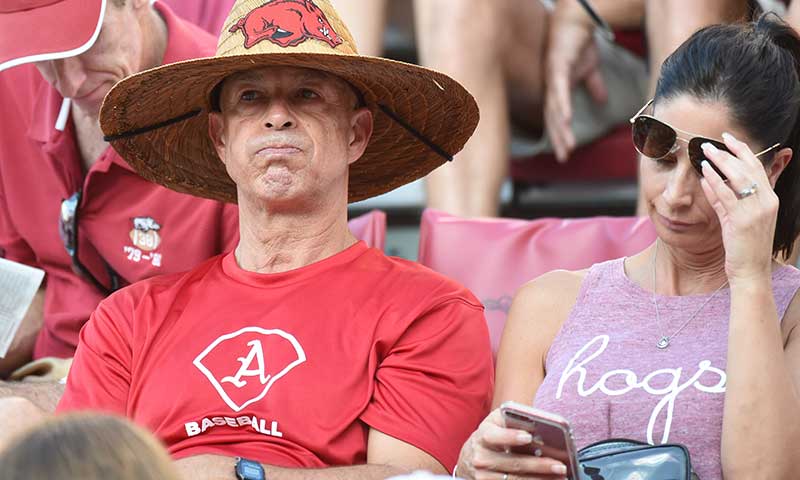 FAYETTEVILLE -  The nationally No. 2 Georgia Bulldogs didn't need Arkansas' help to beat the Razorbacks.
They got it anyway while routing the Razorbacks, 37-0 in Saturday's SEC game at the Bulldogs' 93,000 seat capacity filled Sanford Stadium in Athens, Ga.
Arkansas dug itself an insurmountable  hole committing 13 penalties  gifting Georgia 100 yards, some in crucial situations, plus committed two  devastating special teams miscues.
Georgia did the rest. The Bulldogs' offensive line bullied Arkansas' defense  while their  nationally No. 1 defense pitched a shutout.
Arkansas was an 18-point underdog against Coach Kirby Smart's now 5-0, overall, 3-0 in the SEC East Bulldogs.
 But a 37-0 whipping certainly had  not seemed in the cards for Coach Sam Pittman's  nationally No. 8 Hogs, now 4-1 overall, 1-1 in the SEC West going into next Saturday's SEC game at Ole Miss. 
The Hogs arrived in Athens nationally touted coming off victories Sept. 11 over then No. 15 Texas and Sept. 25 in the SEC over then No. 7 Texas A&M with a renowned defense of its own expected to keep Arkansas in the game.
However, from the third and nine pass interference penalty keeping alive Georgia's game-opening touchdown drive, to its offense consecutively jumping offsides  the first two plays of its first possession precipitating a punt and soon to be 14-0 Georgia lead, the Hogs never gave themselves a chance.
By game's end Arkansas suffered a blocked punt that Georgia recovered for a touchdown and missed its only scoring threat on Cameron Little (previously 8 for 8) kicking wide right on a 37-yard field attempt.
Fumbling an intended kickoff fair catch they had to recover at their own seven instead brought to the 25 didn't help either with the Hogs  already physically overmatched.
"I just want to start out by congratulating Georgia," Pittman, Georgia's offensive line coach for Smart from 2016-2019 before becoming Arkansas' head coach, said.  "They have, to this point, by far the best football team we've played. They're big, they're physical. Kirby had his team ready and I didn't, that's the bottom line. A lot of mistakes in the game, but the bottom line is we're just not where we need to be physically yet, because they dominated us on both sides of the ball."
From start to finish, especially the start.
"Our big deal the whole week was we need to start fast and punch a bully in the mouth and try to take the crowd out of it,." Pittman said. "And we did totally the opposite.  They punched us in the face and we just had early penalties. We had penalties throughout the day."
In their first true road game, the Hogs six times were penalized offensively for illegal procedure or offsides. Arkansas defense twice committed multiple penalties on the same play.
Late in the second quarter before taking a 24-0 halftime lead to it locker room  Georgia on the same play was presented to choose among three Arkansas penalty options.
""Had a guy offsides, had a guy hold somebody, and had pass interference all in the same play," Pittman said. "I don't know, guys. I mean, what's the answer? Don't jump offsides, don't hold a guy, and don't pass interference a guy. We're trying to fix it."
The loud Georgia crowd that Pittman tried to simulate with taped crowd noise in practice,  and Georgia's massive yet quick defensive line apparently caused Arkansas offensive jitters.
"Obviously the noise played a big factor in the first half," Arkansas senior right offensive tackle Dalton Wagner said. "We just made too many mistakes that shouldn't have happened. There is no excuse for it. It's on our backs to fix those mistakes.  As an O-line, that's not how we play."
Especially against the nationally best defense that "is as advertised," Pittman said. "It's the best defensive front seven that I have seen." 
Arkansas's mistakes created such poor Razorbacks' field position that the Hogs never remotely forced Georgia backup quarterback Stetson Bennett's hand.
Bennett had to do far more in last season's opener bounding off the bench to rescue Georgia from an early third-quarter 10-5 deficit to a 37-10 victory over Arkansas in Fayetteville than he did Saturday as a game-managing QB starting for injured renowned starter J.T. Daniels.
Bennett only attempted 11 passes, completing 7 for 72 yards.
Georgia used its superior field position and offensive line to run right at the Hogs, 57 carries for 273 yards mostly divvied among four running backs. James Cook led with 87 yards on 12 carries while  Zamir White netted three touchdowns, two  among his 68 yards on  16 carries including the game's first score,  and one recovering in the end zone the Reid Bauer punt that Dan Jackson blocked.
Running back Kendall Milton tallied a touchdown among his 13 carries for 48 yards.
Arkansas' defense staved off three Georgia scoring drives from TD finishes compelling Jack Podlesny field goals of 46, 30 and 37 yards.
Credit Bennett " a hell of a player" for capitalizing on the field position without a turnover, Arkansas senior linebacker Grant Morgan said.
And certainly credit Georgia's offensive line that Pittman had recruited for Smart's Bulldogs before coming to Arkansas.
"That was the best offensive line we've seen all year," Morgan said. "So yeah. Coach Pittman, he did a good job for them and he's doing a good job for us, too."
The Razorbacks had gone 0-8, 0-8 in the SEC the preceding two Chad Morris seasons before Pittman took them to 3-7 in the league last year and had surprised dominating favored Texas and Texas A&M in their first 4-0 start since 2003.
"We're going to bounce back because that's what we do," Morgan, a sixth-year senior captain said. "That's what good football teams do, and we're a good football team. Just because of how this game went today, that doesn't define us. It defines our game against Georgia. But that doesn't define who as a football team that we are."
Pittman, recalling last year's Hogs upset Mississippi State in Starkville, Miss. the week after losing to Georgia, expressed "no doubt" the Hogs will be ready for Ole Miss Saturday in Oxford.
"As long as we go back and fight and work this week, we'll field a good football team next week," Pittman said.  "And I believe that's what we'll do. We'll bounce back."