Class 6A Week 6 Rankings, Notes & Picks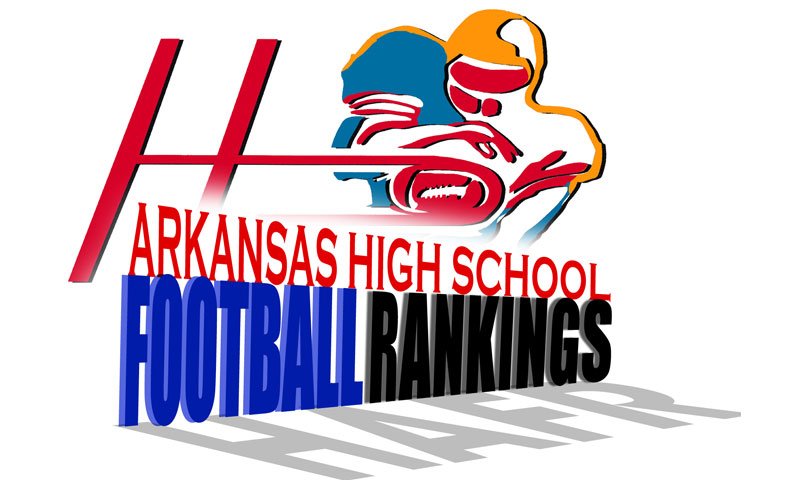 Hooten's Arkansas Football Rankings
Class 6A, Week 6, 2021
Copyright Hooten Publishing, Inc.

1. Lake Hamilton (5-0)
2. Benton (4-1)
3. LR Parkview (3-2)
4. Greenwood (3-2)
5. Jonesboro (3-2)
6. El Dorado (3-2)
7. Sylvan Hills (4-1)
8. Searcy (3-2)
9. Russellville (3-2)
10. Marion (2-3)
11. Van Buren (4-1)
12. Siloam Springs (1-4)
13. Mountain Home (1-4)
14. Pine Bluff (1-3)
15. West Memphis (1-4)
16. Sheridan (2-3)

GAME OF THE WEEK
No. 3 LR Parkview at No. 2 Benton.
All of Benton's games have been mercy-rule decisions, including lopsided conference wins over Russellville (49-10) and Siloam Springs (66-29) the past two weeks. Benton passes for 61 percent of its 468 yards weekly and averages 44.2 points despite being held to 3 in the season opener against three-time defending 7A champ Bryant. Senior receivers Cameron Harris (6-4, Texas A&M basketball offer and Middle Tenn. football offer) and Andre Lane (17 catches for 278 yards) and junior Donovan Pearson (20 catches for 267 yards) are senior QB Stran Smith's top targets. Smith completes 66 percent of his passes for 274 yards per game. Harris has 17 receptions for 335 yards (19.7 YPR) and six TDs the past three Fridays. LR Parkview converted on fourth-and-goal from the 12 and threw an 80-yard bomb late for its other score in last week's 24-14 loss at top-ranked Lake Hamilton. Parkview ran just 13 plays in the first half at Lake Hamilton. The Patriots gutted defending state champ Greenwood (48-28) eight days earlier. Opposing coaches rave about the depth of Parkview's roster, which also includes five with FBS college scholarship offers: senior RB James Jointer (Arkansas commit), senior QB/DB Jaylon White (Ole Miss commit), senior OT/NG Kyndall McKenzie (Memphis commit), senior S Trent Bennett (Colorado, Michigan State offers), junior RB Darien Bennett (Arkansas offer) and junior RB/WR/returner Willie Eackles (Memphis offer).
Key matchup: Parkview's defensive front against Benton's OL. Parkview's big, athletic and physical DL will challenge Benton's smaller linemen, especially off the edges as it tries to pressure QB Smith and prevent big pass plays.
Watch extended highlights of LR Parkview's 47-0 win over LR Southwest earlier this year. Watch extended highlights of LR Parkview's 48-28 win over Greenwood earlier this year.
Watch extended highlights of Bentons 66-29 win over Siloam Springs earlier this year.

LAST WEEK
hootens.com correctly predicted 6 of 8 winners (75 percent) in games involving Class 6A teams. For the season, hootens.com is 51-11 (82 percent) in Class 6A.

WEEK 6 PREDICTIONS (favored team in ALL CAPS)
6A EAST
EL DORADO (35) at Sheridan: Sheridan missed a dozen injured starters in last week's 43-6 loss at Jonesboro. El Dorado hung 70 points on Pine Bluff last week when QB Sharmon Rester passed for 431 yards and seven TDs. El Dorado lost at Sheridan 41-26 in 2019 but jumped the Jackets 44-13 last season.
Watch extended highlights of El Dorado's 40-36 win over Camden Fairview earlier this year.
JONESBORO (28) at Pine Bluff: Jonesboro senior QB Ryker Acebo completes 67 percent of his passes for 238 yards weekly with 13 TDs and four interceptions this season. Classmates Kavon Pointer (25 catches for 340 yards) and Jesse Washington (29 receptions for 368 yards) are top targets. Jonesboro won this matchup 34-33 last season. Pine Bluff has lost 15 of its last 24 games. 
Watch extended highlights of Jonesboro's 47-27 loss to Cabot earlier this year.
SEARCY (8) at Marion: Searcy has won eight of the past nine meetings, including 36-14 last fall. The Lions are averaging 45 points their past three outings, including a 44-7 win over West Memphis last week. Marion allowed four sacks, committed two turnovers and found the endzone just once last week at Sylvan Hills after beating rival West Memphis (33-3) for the first time the previous Friday. Watch extended highlights of Searcy vs. LR Christian. 
Watch extended highlights of Searcys 38-20 loss to LR Christian earlier this year.  
SYLVAN HILLS (35) at West Memphis: Defending conference champ Sylvan Hills flexed on Marion (24-10) last Friday, rushing for 280 yards while attempting just one pass. Sylvan Hills used 6:47 of the first half with a 20-play, 80-yard scoring drive. Bear senior Xavier Okafor rushed for 84 yards, including a game-clinching 5-yard TD with 2:01 left. West Memphis has lost 14 of its past 17 games. Watch extended highlights. 
Watch extended highlights of Sylvan Hills 31-21 loss to Maumelle earlier this year.

6A WEST
LR Parkview at BENTON (1): Game of the Week.
LAKE HAMILTON (35) at Russellville: Lake Hamilton held LR Parkview to two scores and 200 yards last week. Russellville rebounded from its mercy-rule loss at Benton with a 38-6 win over Van Buren.
Watch extended highlights of Lake Hamilton's 35-12 win over Malvern earlier this year. 
Siloam Springs at GREENWOOD (35): Defending champ Greenwood hopes to be healthy before its bigger games Oct. 22 at Benton and Nov. 5 vs. Lake Hamilton. Siloam Springs has allowed 46.5 points in its four losses, including last week's 66-29 loss to Benton. Watch extended highlights of Greenwood's 48-28 loss to LR Parkview earlier this year. Watch extended highlights of Siloam Springs 66-29 win over Benton earlier this year.
Mountain Home at VAN BUREN (1): Intriguing matchup. Mountain Home had a pick-6 called back by penalty but still only trailed defending state champ Greenwood by 17 points in the fourth quarter last week. Mountain Home also out-gained Greenwood 277-221 yards. The Bombers have lost three games in which they held opponents to less than 300 yards. Van Buren has given up 71 points over the past two weeks, losing its first game of the season last Friday at Russellville 38-6.