No. 13 HOGS evaluate, don't panic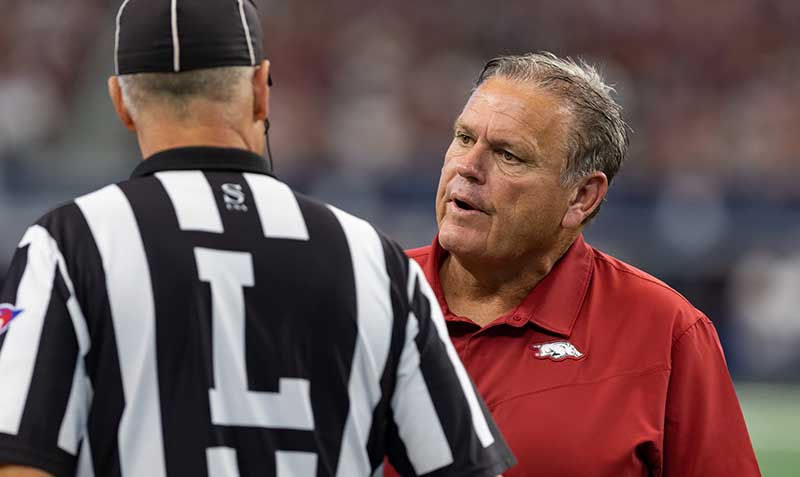 FAYETTEVILLE - Coming off Saturday's 37-0 shellacking at Georgia, Arkansas coach Sam Pittman ponders preparation changes before the Razorbacks visit Ole Miss.
No. 13 Arkansas plays at No. 17 Ole Miss at 11 a.m. Saturday on ESPN.
But don't expect too many changes. Recall where the Razorbacks were in the three years preceding Pittman's 2020 return to Arkansas as head coach after coaching Arkansas' offensive line from 2013-2015. The Hogs wallowed 4-8, 2-10, 2-10 overall and 1-7, 0-8, 0-8 in the SEC from 2017-2019.
Under Pittman, they went 3-7 in last year's entirely SEC schedule. This year at 4-1 overall and 1-1 in the SEC, they have upset then 15th-ranked Texas and then seventh-ranked Texas A&M. The latter broke a nine-year SEC West losing streak vs. the Aggies.
ABOUT THE POLLS
These Hogs zoomed this fall from unranked up to No. 8, and even after last week's slaughter, fell only to No. 13.
No. 2 Georgia (5-0) from the SEC East is deemed that good. So is No. 1 Alabama, which flooded Ole Miss 42-21 in Tuscaloosa, Ala.
Accordingly, 3-1 Ole Miss only dropped from No. 12 nationally to  No. 17.
"I think that says everybody has that much respect for Alabama and Georgia," Pittman said of Arkansas and Ole Miss staying in the Top 20. "I think that's what it says mostly. Both of us were on the road in very intimidating, hostile environments."
DO NOT PANIC
And it says major changes by Pittman or Ole Miss coach Lane Kiffin would seem unwise.
"Look, we've been underdogs in 14 of our 16 games, including Saturday," Pittman said of his Arkansas head coaching tenure.  "We've never been favored to win an SEC game. (And have won four). We're doing things right. We just have to do them better."
Changing radically doesn't correlate to getting better.
"We've got to correct the situation," Pittman said. "We've got to cut the penalties out. We've got to do better and we've got to coach better. But if I go totally off and start having meetings with the players and all this stuff, I think I'm sending a message that I'm panicking, and I'm not. Because we've got a good football team and we got our butt kicked by a really good football team. We don't like it, and we're not accepting it, but I'll be damned if Georgia's going to make us lose this Ole Miss game."
LOOKING LARGER
Pittman did say after Georgia physically overwhelmed Arkansas' offensive line that he'll give a closer look to his two heaviest linemen, Ty'Kieast Crawford (6-5, 350), a transfer via the University of Charlotte, and 6-5, 330 redshirt freshman Jalen St. John.
Both are listed as reserve tackles, but Pittman sees their heft better utilized inside as guards.
"We're going to get some guys to challenge inside at the guard spot, to see if we can't get a little heavier, a little more physical in there," Pittman said. "We'll give St. John and Crawford some chances to go in there and play a little bit. We're not firing people because of that game, but we're always looking to try to get better."
OLE MISS QB
Arkansas' defense gears up to play the SEC's, and possibly the nation's, best quarterback. Though Arkansas six times intercepted his passes last year when the Razorbacks won 33-21, Ole Miss QB Matt Corral was mostly outstanding last year.
He's been Heisman Trophy candidate sensational this year, accounting for 16 TDs, six rushing and 10 passing. He's completed 87 of 125 for 1,210 yards without an interception and directed a Rebels running game averaging 5.4 yards per carry.
"Of course, everyone knows about Matt Corral and all the wonderful things he's doing and all the respect he's getting," Pittman said.  "They have a really good group of running backs. They're rushing the ball about 250 per game. Great wide receivers. They have a veteran group on offense."
OLE MISS D
Ole Miss transformed with transfers its 2020 leaky defense into a tight one.
"On defense, the portal has been really good to Ole Miss," Pittman said. "(Safety) Otis Reese transferred in from Georgia, and (linebacker) Chance Campbell went from I believe Maryland. Both of those kids are their leading tacklers. And they brought in some nice pass rushers from a couple junior colleges. Their defense is playing extremely well, physical, runs to the ball."