HOGS: Starkville on the horizon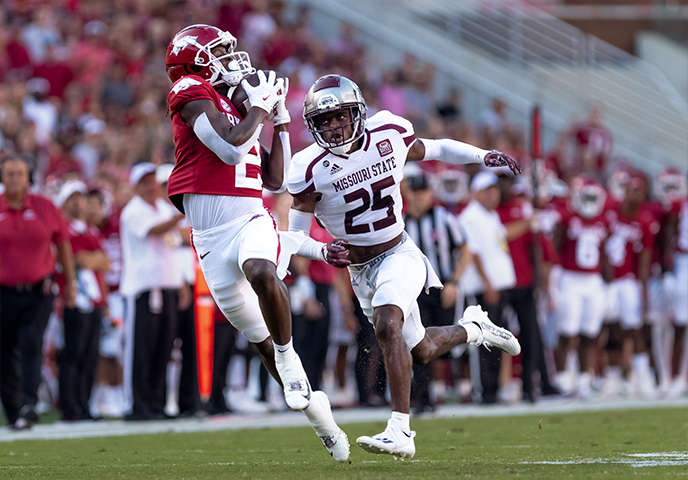 FAYETTEVILLE — The Arkansas Razorbacks, reeling after last Saturday's 49-26 loss to new AP No. 1 Alabama, have no time to sulk over a two-game losing streak and a quick drop from the Top 25.
Next is a trip to Starkville, Miss., to take on No. 17 Mississippi State, which is coming off a 42-24 win over then-No. 17 Texas A&M last week on its home field. 

The Bulldogs (4-1, 1-1) forced 4 Aggies turnovers with three of those coming in the red zone.

Last Saturday marked the 16th straight time the Hogs (3-2, 1-2)  have lost to Alabama.

Arkansas Coach Sam Pittman said Mississippi State is playing well.
"They have a special team's group that is as good as any I have seen this year and obviously have a really good quarterback with talented receivers," Pittman said. "There's a reason why they are ranked in the top-25, so we're really excited to go play them."

The Hogs are 2-0 against Mississippi State with Pittman as coach, winning 21-14 in 2020 and 31-28 last season in Fayetteville.

The victory in 2020 ended Arkansas' 20-game SEC losing streak. Both wins over Mississippi State came with the Bulldogs in the AP Top 25 and the Hogs outside of it, and the same will be true when the teams kick off at 11 a.m. Saturday.

KJ JEFFERSON UPDATE

A big question for the Razorbacks going into Saturday is the availability of star quarterback KJ Jefferson. Jefferson (13-24, 155 passing yards against Alabama) appeared to be shaken up following a hard hit on a sack from Alabama defensive lineman Jaheim Oatis in the fourth quarter. 
Jefferson sat out a play but finished the drive, but did not return for the final 6:55 after Alabama took a 23-point lead.

Pittman said Jefferson suffered mild concussion symptoms.

"Those are things our doctors look at," Pittman said. "Each kid is a little bit different with how they react. We've had guys back within 3 to 4 days and then had some out for 27 days. So, he's kind of a wait and see to be honest with you."

Jefferson's game status might be up in the air, as is the Razorbacks' backup QB situation.

Pittman said either redshirt senior Cade Fortin or redshirt sophomore Malik Hornsby will take over against the Bulldogs. Fortin (6-3, 218; Suwanee, Ga.) played for Jefferson late against Alabama.

Fortin, a transfer from South Florida, went 4 of 10 passing for 35 yards and had 1 rush for 9 yards.

"We're very confident with him [Fortin] in practice," Pittman said. "He's done really well in the 2-minute situations. He's a good quarterback who has previous experience."

Malik Hornsby (6-2,188; Missouri City, TX) backed up Jefferson last season, going 5 of 12 for 46 yards when Jefferson was unavailable. 
Hornsby has yet to see the field as a quarterback this season but has been used as a hybrid player on offense, lining up at wide receiver and running back. Hornby has rushed 5 times for 21 rushing yards with 2 catches for 8 yards, but Pittman said the experiment of using Hornsby as a hybrid player has not worked out.

"He's a quarterback," said Pittman on Hornsby. "The plan for him to play wide receiver hasn't been even what I thought it would be. But the plan for him is to play quarterback."

Pittman said he is confident that either of the backups will be able to step up for the Razorbacks.

"We still think we have two really good quarterbacks that can play," Pittman said. "They're certainly different, with Cade [Fortin] being more of a passer and Malik [Hornsby] being more of a runner. But I think both can do either."
PREPARING FOR WILL ROGERS

Mississippi State junior QB Will Rogers has thrown for 1,715 yards in 5 games, which not only leads the SEC but also ranks him third in all of the FBS. 
Mississippi State ranks second in the SEC averaging 346.6 yards a game through the air, and Pittman said he knows that containing Rogers will be one of the key components to a Razorback victory.

"He's on year three of playing and you can see it," said Pittman on Rogers. "You really have to disguise what you are doing in the secondary because if you don't he'll know whether you're in man or in quarters or in double cloud whatever it may be. He can exploit you, so we can't just let him sit back there."

The Razorbacks rank second in the FBS with 21 sacks, but they are coming off a season-low one-sack performance against Alabama, which passed for 238 yards.

The Hogs rank 12th in the SEC in pass defense (289.6 yards a game). 

"We just have to continue to work on it," Pittman said. "Man coverage has been a problem for us especially if we can't get to the quarterback. We have to be in position better and we have to limit the explosive plays. Our tackling and our secondary woes have to improve, so they are a big challenge for us."

HIGH ON KETRON

Sophomore wide receiver Ketron Jackson Jr. (Tommy Land photo) stepped up for the Razorbacks the past two weeks. Jackson Jr. (6-2, 203; Royse City, Texas) had a touchdown catch against A&M in the Southwest Classic, but had his best game of the season against Alabama, catching 4 passes for 48 yards with another touchdown.
His role could increase as Pittman said he wants the offense to be less one-dimensional,and said Jackson Jr. could play a key role in improving the Razorback pass attack that ranks 10th in the SEC (226.2 yards per game).

"Ketron [Jackson Jr.] is one of the most improved guys on our team," Pittman said. "He seems to be coming into his own, catching hard passes and getting open more. He's playing even better ball than what I thought he would at this point in time."
Jackson Jr. (7-151 receiving, 2 TDs) is sixth on the team in receptions.