Class 3A Week 6 Rankings, Notes & Picks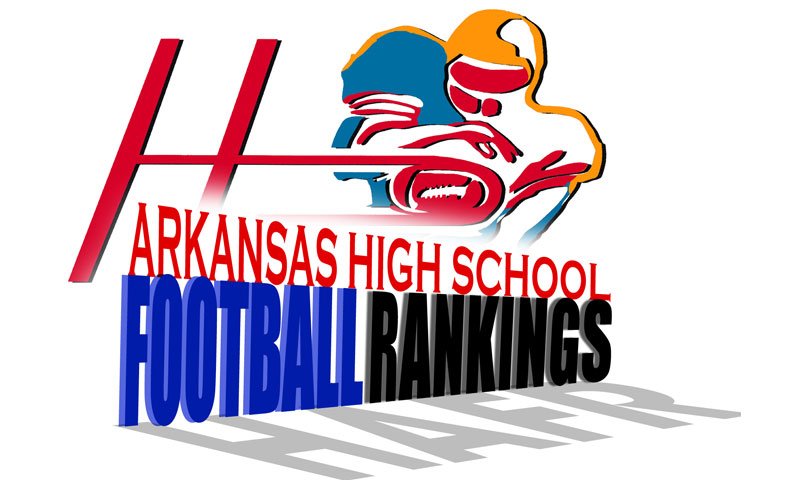 Hootens.com Rankings
Class 3A, Week 6, 2020
Copyright Hooten Publishing, Inc.

1. Harding Academy (4-1)
2. Prescott (3-0)
3. Rison (3-1)
4. Hoxie (5-0)
5. McGehee (4-0)
6. Booneville (4-1)
7. Newport (6-0)
8. Glen Rose (4-1)
9. C. Harmony Grove (3-2)
10. Osceola (2-2)
11. Melbourne (4-1)
12. Charleston (3-2)
13. Centerpoint (4-1)
14. Atkins (4-1)
15. Cedarville (4-1)
16. Harrisburg (2-2)
17. Paris (5-0)
18. Perryville (3-2)
19. Salem (3-2)
20. Greenland (3-2)
21. Jessieville (3-2)
22. Hackett (3-0)
23. Walnut Ridge (1-3) 
24. Mountain View (4-2)
25. Dollarway (0-4)
26. Piggott (3-2)
27. Lincoln (3-2)
28. Genoa Central (3-2)
29. West Fork (3-2)
30. Corning (3-2)
31. Mayflower (1-4)
32. Palestine-Wheatley (2-3)
33. Drew Central (1-3)
34. Bismarck (1-4)
35. Baptist Prep (2-3)
36. Lake Village (1-4)
37. Mansfield (1-4)
38. Danville (0-3)
39. Riverview (0-4)
40. Smackover (0-3)
41. Fouke (0-2)
42. Manila (1-3)
43. Barton (0-5)
44. Lavaca (0-3)
45. Two Rivers (0-4)
46. Horatio (0-4)

HOOTENS.COM GAME OF THE WEEK
No. 9 Camden Harmony Grove at No. 5 McGehee
Harmony Grove surrendered just 197 yards in last week's 31-6 victory over Smackover. Junior Daniel Hill ran for 125 yards and two TDs and he caught a 20-yard TD pass. Hill paced the defense with 15 tackles (three for losses). Harmony Grove rushed for 247 yards on 38 carries (6.5 YPC) and three scores against Smackover. The Harmony Grove defense recorded 17 TFL against Smackover, including five sacks (two by junior Grant Bearden).  
McGehee surrendered season-highs in yards (136) and points (13) in last week's 46-13 victory at Lake Village. The Owls surrender less than 80 yards and six points per week in 2020. Senior QB Jordan Owens triggers a McGehee offense that scores 38 points per game. Juniors Jody Easter and Channing  Woodson split carries as running backs. Senior Marcus Rose delivers plays at running back, receiver and safety, where he averages seven tackles a game.

LAST WEEK
Hootens.com correctly predicted 19 of 22 games (86 percent) of games involving Class 3A schools. For the season, hootens.com correctly predicted 127 of 160 games (80 percent) of games involving Class 3A schools.

WEEK 6 PREDICTIONS (favored team in CAPS followed by point spread)
1-3A
CEDARVILLE (6) at Hackett: Hackett returned to the field for the first time in two weeks last Friday night with a 40-13 victory at Lavaca. Hackett junior Ethan Slavens completed 16 of 27 passes for 328 yards and five TDs in his first varsity start at QB. Senior Weston Winters ran for 165 yards and a score while Peyton Hester snagged six passes for 136 yard and a TD. Hester and Winters paced the defense with nine tackles and a sack apiece on defense. Cedarville must recover emotionally after a 38-36 loss a week ago at Charleston. Charleston stuffed Cedarville's potential game-tying two-point conversion with 20 seconds left in the game. Junior running back Darryl Kattich ran for 196 yards and a TD at Charleston and Hayden Partain ran for 81 yards with two scores. Watch extended highlights of Cedarville's loss at Charleston HERE.
CHARLESTON (28) at Mansfield: Opponents outscore Mansfield by an average of 49-9 during the Tigers' four-game losing streak. Mansfield managed just 129 yards in last week's 47-16 loss to Greenland. Junior Zayne Dugan ran 4 yards for a TD. Charleston picked off 1-3A title contenders Greenland and Cedarville the past two weeks and appear to be headed for the first conference title since 2017. Charleston downed previously unbeaten Cedarville 36-34 a week ago after leading 28-14 in the fourth quarter. Sophomore QB Brandon Scott completed 11 of 15 passes for 113 yards and two TDs against Cedarville and he ran for 57 yards and and another score. Dalton Curtis caught three passes for 61 yards and two TDs. Watch extended highlights of Charleston's win over Cedarville HERE and its loss to rival Ozark HERE.
Lincoln at GREENLAND (7): Lincoln slipped West Fork 21-14 a week ago behind Levi Wright's 210 yards of offense, three TDs and 10 tackles. Matthew Sheridan ran for 140 yards and Kyler Calvin snagged a 71-yard TD pass. Greenland rolled up 397 yards in last week's 47-16 win at Mansfield, led by senior tailback Jett Dennis's 195 rushing yards and three TDs.
Lavaca at WEST FORK (10): West Fork committed three untimely turnovers and surrendered three TDs of 25 yards or longer in a 21-14 loss to Lincoln. Opponents outscore Lavaca by a combined 118-39 (39-13 weekly) this season. Lavaca surrendered almost 500 yards in last week's 40-13 loss to Hackett.

2-3A
EARLE (2) at Riverview: This game was scheduled Wednesday. Riverview was originally scheduled to play Harding Academy, while Class 2A Earle was set to play at Lafayette County. Opponents outscore winless Riverview by a combined 150-12 (average score of 38-3 weekly) this fall. Riverview's offensive line has improved the past two weeks. Earle lost 44-42 last week at Marked Tree despite returning two kickoffs for TDs and rushing for more than 200 yards.
Mountain View at NEWPORT (14): Mountain View led Harding Academy 16-14 in the second quarter of last week's 49-22 defeat. Junior QB Elijah Carlton connected with senior J'Air Jackson for two TDs against Harding. Newport led Riverview 28-0 last week at halftime en route to a 41-0 victory. Newport sophomore QB Dejai Marshall completed 15 of 19 passes for 190 yards and a TD and four Greyhounds ran for scores against Riverview.
E. POINSETT COUNTY (1) at Salem: Salem surrendered the first 21 points of last week's 41-22 loss at Melbourne. The Greyhounds did not record a first down on their first two drives and trailed 42-6 at halftime. Salem senior fullback Tristan Goodson is questionable for this game with a shoulder injury.
Riverview at Harding Academy CANCELED.
MELBOURNE is open.

3-3A
Corning at HOXIE (27): CANCELED. Corning racked up 368 yards in last week's 42-18 victory at Manila. The Bobcats rushed for 315 yards and five TDs. Corning led 22-6 at halftime. Hoxie averages 50 points per game after last week's 49-14 victory at Palestine-Wheatley. The Mustangs racked up 378 yards and led PW 42-0 at halftime. Hoxie senior QB Daylon Powell completed four of six passes for 130 yards and three TDs while classmate Stefan Coleman collected three passes for 122 yards and three scores.
HARRISBURG (21) at Manila: Manila managed just 217 yards with one third-down conversion (10 attempts) in last week's 42-18 loss to Corning. The Lions trimmed the Hornet lead to 22-12 in the third quarter before surrendering 20 unanswered points. Harrisburg fashioned an 18-0 halftime lead in last week's 33-8 win over Walnut Ridge. The Hornet offensive line played its best game this season, paving the way for 230 rushing yards. Harrisburg senior QB Drew Wright passed for 112 yards and a TD and he rushed for 153 yards and two scores. Darrin Wilson paced the defense with 11 tackles and two QB hurries.
OSCEOLA (20) at Palestine-Wheatley: Palestine-Wheatley managed 222 yards (all rushing) in last week's 35-point loss to Hoxie. The Patriots ran 22 more plays than the Mustangs, but committed two turnovers. Osceola scored all of its points in the fourth quarter of last week's 12-6 victory at Piggott. Osceola outgained Piggott 350-229 and converted on two of three fourth-down attempts.
Walnut Ridge at PIGGOTT (1): Piggott led Osceola 6-0 last week in the fourth quarter before absorbing a 12-6 defeat. The Mohawks forced three Seminole turnovers and recorded 229 balanced (115 passing and 114 rushing) yards. Walnut Ridge trailed at Harrisburg 27-0 last week in the third quarter of a 33-8 defeat. The Bobcats racked up 280 yards (87 passing).

4-3A
Danville at ATKINS (28): Danville's game last week with Booneville was canceled due to COVID-19 protocols. The Little Johns have just 19 players on their varsity roster. Atkins outlasted Perryville in last week's 52-44 road victory, amassing 441 yards and 18 first downs. The game featured seven lead changes. Atkins scored TDs at Perryville via the run, pass and kickoff return. Atkins junior QB Zach Berkemeyer threw for 279 yards and four TDs.
PARIS (24) at Baptist Prep: Baptist Prep led Mayflower 14-7 in the second quarter last week when it lost 31-22. BP surrendered just 4 passing yards and recovered a fumble against Mayflower. Baptist Prep's two victories are over Class 2A teams with a combined 1-8 record. Paris is 5-0 for the first time since 1969 after last week's 55-22 win against Class 2A Hector. Paris junior QB Chase Watts completes 58 percent of his passes for 496 yards this fall with nine TDs and one interception. Four Eagles have rushed for 220 yards or more this season, led by Watts' 294 yards with eight scores and Duke Walker's 280 yards and four TDs.
Mayflower at BOONEVILLE (30): Mayflower logged its first win last week (31-22 against Baptist Prep). The Eagles rolled up 320 yards (316 rushing) against Baptist Prep and converted eight of 13 third-down attempts. Mayflower led BP 31-14 in the fourth quarter. Booneville fashioned a 14-0 lead last week in the second quarter last week at Class 4A Warren, but lost 42-35. Booneville recorded an 89-yard, 20-play TD drive in the first half at Warren, capped by senior fullback Ethan Wooldridge's 3-yard scoring plunge.
PERRYVILLE (33) at Two Rivers: Two Rivers' game last week against Paris was canceled due to COVID-19 protocols. Perryville recorded 371 yards and forced three turnovers in last week's 52-44 loss against Atkins. The Mustangs scored 24 unanswered points in the second half for a 44-36 fourth-quarter lead before allowing the Red Devils to score the game's final 16 points. Perryville sophomore QB Tyler Givens completed 17 of 28 passes for 235 yards and two TDs against Atkins while junior Crete Tippen ran for 108 yards and three scores. Five Perryville receivers caught passes, led by junior Tyler Erwin's six receptions for 96 yards and a TD. Senior Mason Brundige and sophomore Easton Walker intercepted passes for Perryville. 

5-3A
Bismarck at GLEN ROSE (28): Bismarck recorded 290 yards in last week's 57-29 loss at Jessieville. Bismarck trailed just 42-29 in the third quarter before Jessieville scored the final 15 points. Bismarck sophomore QB Ian Smith tallied 143 total yards and three TDs. Glen Rose allowed Genoa Central just 76 yards and five first downs in last week's 42-0 victory. Glen Rose senior QB Wesley Launius completed 13 of 24 passes for 280 yards and three TDs against Genoa. Senior tailback Ethan Taylor rushed for 148 yards and score. All-state lineman Andrew Weatherford paced the defense with seven tackles (three TFL).
PRESCOTT (24) at Centerpoint: Centerpoint won its fourth consecutive game last week, downing Horatio 44-13. Centerpoint has beaten Horatio eight straight times. Prescott raced to a 53-0 halftime lead in last week's 61-6 victory at Fouke. The Curley Wolves rolled up 412  yards (218 rushing and 194 passing) and 18 first downs at Fouke. Prescott senior QB Jacobi Nolen completed 10 of 16 passes for 178 yards and three TDs while Jaylen Hopson rushed for 106 yards.
FOUKE (10) at Horatio: Winless Horatio scored its first points of the season in last week's 44-13 loss to Centerpoint. Dalton Dowell, Connor Barron and Nick Marsden fuel the Horatio attack. Opponents outscore Fouke by a combined 97-13 this season. Running backs Jordan Dell and Jayden Pittman spark the Fouke offense.
JESSIEVILLE (7) at Genoa Central: Genoa surrendered 457 yards in last week's 42-0 loss at Glen Rose. The Dragons rushed for 65 yards on 37 carries as a team (1.7 yards per carry). Jessieville amassed 621 yards and 25 first downs in last week's 57-29 win over Bismarck. The Lion defense forced three turnovers. Jessieville junior QB Carson Hair completed 10 of 15 passes for 253 yards and three TDs and he ran for 214 yards and four scores. Hair connected with senior Charlie Davis four times for 122 yards and two TDs. Hair made six tackles and intercepted a pass on defense.

6-3A
C. Harmony Grove at MCGEHEE (10): See Hootens.com Game of the Week.
Barton at DOLLARWAY (14): Opponents outscore winless Barton by a combined 232-72 this season (average of 46-14 weekly). Barton all-conference performer Hykeem Hancock delivers dynamic plays at receiver, QB and in the return game. Dollarway committed two penalties that wiped out TDs in last week's 42-0 loss to Rison. The Cardinals managed just four first downs.
Lake Village at DREW CENTRAL (6): CANCELED. Lake Village recorded four sacks in last week's 46-13 loss against McGehee. Lake Village junior QB Miguel Green passed for 90 yards and two TDs but the Beaver running attack mustered only 46 yards on 19 carries (2.4 YPC). Junior Marquavis Pride and sophomore Sederian Webb paced the Lake Village defense with 10 and 11 tackles, respectively. Drew Central battered Barton 60-18 a week ago, the most points the Pirates have scored since a 61-13 victory in 2017 over Hermitage. Drew Central ran for 381 yards and eight TDs against Barton, paced by Jaden Golden's 109 yards and two scores. Artayvius Jacob bolted for 101 yards and two TDs. Ethan Cruce racked up 10 tackles (two TFL) and a sack. Senior center Jacob Chapman anchors the Drew Central offense line.
RISON (27) at Smackover: Opponents outscore Smackover by a combined 96-20 during the Buckaroos' first 0-3 start since 2010. Smackover led Camden Harmony Grove 6-0 last week at halftime but allowed the last 31 points. Rison surrendered just 92 yards in last week's 42-0 win at Dollarway and led 28-0 at halftime. Junior Shaquan Reeves rushed for 135 yards, including a 50-yard TD dash on the fourth snap of the game. Senior Branden Barnett ran for a pair of TDs and classmate Darrian Jones also scored. Rison rolled up 349 yards (327 rushing, 22 passing) at Dollarway.