HOGS brace for noise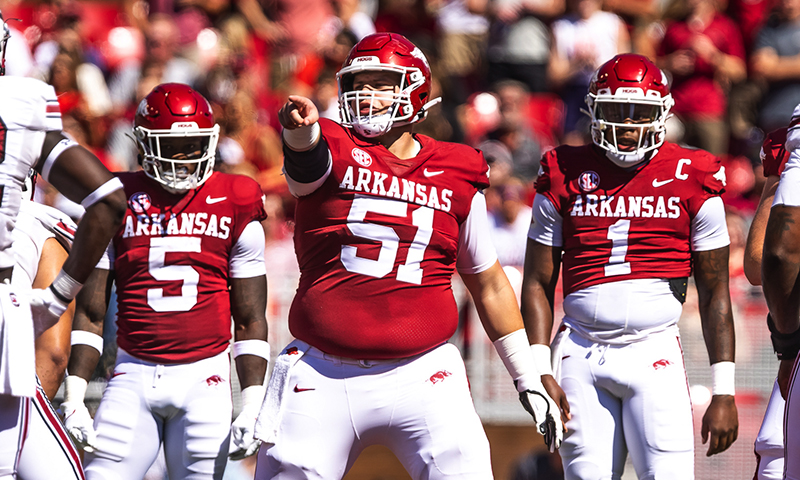 FAYETTEVILLE – The Arkansas Razorbacks have a winning record at Mississippi State's Davis Wade Stadium since joining the SEC in 1992.

That doesn't mean playing in Starkville, Miss, is a pleasant experience.
Yes, Arkansas has its Hog Call, Texas A&M has its Midnight Yell, Tennessee has Rocky Top, but Mississippi State has a tradition that is more annoying than any of them.
The clanging of cowbells at Davis Wade stadium during a Mississippi State home games has become an annoying distraction for visiting teams.
Arkansas Coach Sam Pittman will take in the full Cowbell experience for the first time on Saturday. The Hogs played the Bulldogs in 2020, but the crowd was limited because of the Covid-19 virus.
"I've talked to some people that have played them and they say it gets louder than loud," Pittman said.  "Luckily their fans have abided by the rule of once the center touches the ball that they can't do it anymore and they say they didn't ring them once that happened."
Legend has it during the early 1900s, a stray cow wandered onto the field and disrupted the game, but  Mississippi State won the game, and cowbells became a staple at Mississippi State home games.
Mississippi State lost its annoying tradition by 1974 when the SEC banned artificial noisemakers at games. This ban would last all the way until 2010, with the tradition returning to Starkville like it never left. The return of the cowbells didn't return without rules however, as fans are only allowed to ring the bells until the center touches the ball.
The combination of a big-game atmosphere and the clanging of thousands of cowbells creates an uncomfortable environment for rival teams.
The Arkansas Razorbacks (3-2, 1-2) will have to deal  with this tradition when they take on the 17th-ranked Mississippi State Bulldogs (4-1,1-1) this Saturday at 11 a.m.
Even with the cowbell rule in place, Pittman said he is taking no chances on trusting Mississippi State fans. He said on Monday he would prepare the team for the noise by playing cowbell sounds through speakers during practice.
 "That's certainly the plan, we're only going to do it in team settings," Pittman said. "We'll cut them some slack in seven-on-seven, but in team settings we certainly will."
The sound of jingly cowbells could be heard throughout most of the practice Tuesday, an attempt to prepare players for the unique sound.
"We have a noise maker outside that has the cowbell sound on there," said Arkansas center Ricky Stromberg , who will be paving the way for running back Raheim Sanders and QB KJ Jefferson (Tommy Land photo). "We heard it yesterday [Monday], we heard it today [Tuesday], and we'll hear it Wednesday and Thursday. We're definitely going to be prepared going into Starkville with those cowbells."
The cowbells usually don't ring as loud when the Bulldogs are on offense, but the Razorbacks' defense is preparing for the noise as well.
 "I thought that we were only going to have the cowbells playing for the offense, but the defense hears them every single second of the day," safety Simeon Blair said. "It's hard to even communicate out there and hear what everyone is saying. So, we're going to be prepared for them just as the offense will be."
RECALLING THE GOOD TIMES
The last time the Razorbacks played in Starkville was in 2020, and it was a good day for the Hogs. A 21-14 victory over the Bulldogs ended a 20-game SEC losing streak dating back to 2017. This was also the game where head coach Sam Pittman shouted the phrase "Turn that damn jukebox on" after the game. It has become one of the team's slogans during his tenure.
Some players who were a part of that 2020 victory have some fond memories of that day. Linebacker Bumper Pool, with 20 tackles,  is one of those players.
 "There's not many moments in life that you have that are that special," Pool said. "Being able to get that win, get those 20 tackles, it was not only a great moment for myself but for the entire team."
Offensive linemen Ricky Stromberg also has great memories of the game as he lined up as the starting center for the Razorbacks.
 "I was here for Chad Morris' last year, so getting that win was like a big relief," Stromberg said. "You know that was the start of something special so that moment will always stick to me."
The Razorbacks have won two in a row in the series, 21-14 in 2020, and a 41-38 victory last season.
PREPARING FOR RECEIVER THREAT
The  Mississippi State pass offense is rolling this season, placing in the top ten nationally in passing yards per game (346.6), an area Arkansas ranks near the last in the SEC.
Veteran  starting quarterback Will Rogers, who leads the SEC in passing yards with 1,715, wouldn't be able to get those numbers without the help of a strong receiver core. So far, Mississippi State already has four players with 20 or more receptions on the season: Dillon Johnson (25-150 receiving) and wide receivers Caleb Ducking (24-272 receiving, 6 TDs), Rufus Harvey (24-229 receiving, 2 TDs) and Rara Thomas (20-359 receiving, 3 TDs). Wide receiver Lideatrick Griffin (19-206, 1 TD) is only one catch away from the 20-catch mark.
Blair said he knows the defense will have to be firing on all cylinders to slow down the Bulldogs pass game.
With a slew of potential threats on offense for the Bulldogs and a Razorback defense that has struggled to defend the pass (289.6 yards per game), safety Simeon
 "We've been preparing for them and watching film,"  Blair said. "We need to make them make catches in front of us and not behind us. We need to make sure we get them in space so we can vise tackle them.
Linebacke  Pool knows the challenges of going up against an air raid offense as despite winning 41-38 last season, the Razorbacks gave up 417 yards through the air against the Bulldogs.
 "They run the same exact offense that [Mike] Leech has done for the past 20 years," Pool said. "So, if we can read what they're doing pre-snap, we'll have a lot of success. We just have to make sure we're staying in our zones and making sure we get our hands on them."