No. 13 HOGS, Rebs over beatdowns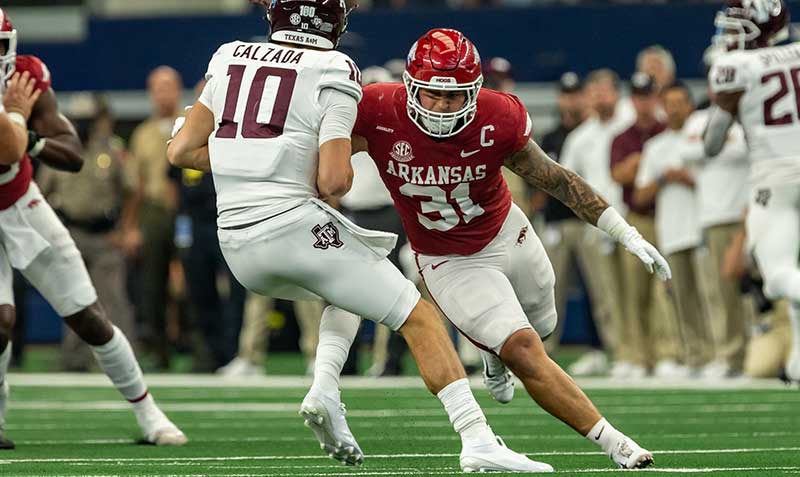 FAYETTEVILLE - At midweek, Arkansas coach Sam Pittman and Ole Miss coach Lane Kiffin say their teams are recovered from last week's beatdowns.
The 13th-ranked Razorbacks (4-1 overall, 1-1 in the SEC) and the 17th-ranked Rebels (3-1, 0-1) clash at 11 a.m. Saturday on ESPN from Vaught-Hemingway Stadium in Oxford.
Last Saturday in Tuscaloosa, Ala., No. 1 Alabama flooded Ole Miss  35-0 early before settling for a 42-21 triumph. Against No. 2 Georgia, the Razorbacks were routed 37-0, breaking their momentum from upsetting then seventh-ranked Texas A&M the week previous.
"We're good," Kiffin said Wednesday. "It took a day or two because I think there was disappointment because of so much buildup to that game. We're back to work."
Pittman's Hogs overcame a slow start in the opener to rout Rice 38-17, then trashed then-No. 15 Texas 40-21 to crack the Top 20. They gashed Georgia Southern 45-10 and zoomed to No. 8 after beating Texas A&M 20-10 before Georgia marched through them last week.
"When you get embarrassed as we did last week, the only thing that gets you over that is playing another football game," Pittman said. "So we're excited about all that.
"I think we've (responded) great. I think practice has been really good. The team has responded well."
Pittman reminded that losses aren't the only games you put in the past before launching into new game-week.
"Win or lose, we come in on Monday and put the game behind us," Pittman said. "We've had some awful big wins this year, and we had to flush it and get ready for the next opponent."
STILL PRETTY GOOD
Ole Miss and Arkansas aren't the 2021 Alabama Crimson Tide or Georgia Bulldogs, but they still rank 13th and 17th nationally, each only falling five places in the AP poll because voters know the prowess of who beat them.
"We have a great opponent we're playing this week," Pittman said.  "We have a lot of respect for them. I don't think that'll affect us one bit what happened last week, like it shouldn't when you win big games."
Ole Miss ranks No. 3 nationally in total offense and No. 4 in scoring offense, averaging 45 points per game. The Ole Miss defense has adopted the three-man front scheme of Arkansas coordinator Barry Odom but with mixed results. The Rebels rank No. 80 in scoring defense (26 ppg). Odom's Hogs allow just 19 ppg, which ranks 32nd in the nation. 
Kiffin commented of Arkansas: "Very big challenge for us. Preparing for an ultra physical football team that runs the ball extremely well and plays very, very physical and is second in the country in pass defense."
TOO MANY PENALTIES
Unintentionally but considerably aiding and abetting Georgia's dominance, the Hogs committed 13 penalties last week at UGA.
"We're pulling players off when we have penalties that we see or they call," Pittman said Wednesday. "We're doing some things as individuals with wide receiver blocking and so forth. A lot of watching the ball on the D-line. Just trying to emphasize that more in the individual work where you can learn more than team because you have your individual unit and can set up drills and try to get those things corrected."
Arkansas starting quarterback KJ Jefferson said the offensive line tried operating adjacent to blaring loudspeakers Tuesday in trying to simulate the crowd noise at Georgia that seemed to prompt jumping offsides.
ST. JOHN GETS AHEAD
While Pittman has experimented grooming 6-5, 350 sophomore Ty'Kieast Crawford and 6-5, 330 redshirt freshman Jalen St. John as massive alternatives to starting guards Brady Latham (6-5, 305) and Beaux Limmer (6-5, 300).
"I think St. John's maybe a little ahead of Ty'Kieast with assignment-sound football," Pittman said. "I just believe that we need a physical presence on our inside. We need some maulers is what we need. I know we've got 300 across there, but if it's 330, 350, that's even better if they can move."
LITTLE BIG FOOT
Eight for eight on field goals during Arkansas' four victories, Arkansas freshman place-kicker Cam Little missed wide on his 37-yard attempt last week that would have averted a shutout in Athens.
"A guy's going to miss every now and then," Pittman said. "He's really good. I'll tell you this: every single time I send him out there I believe we're going to make it."