HOGS: Rocky road to Starkville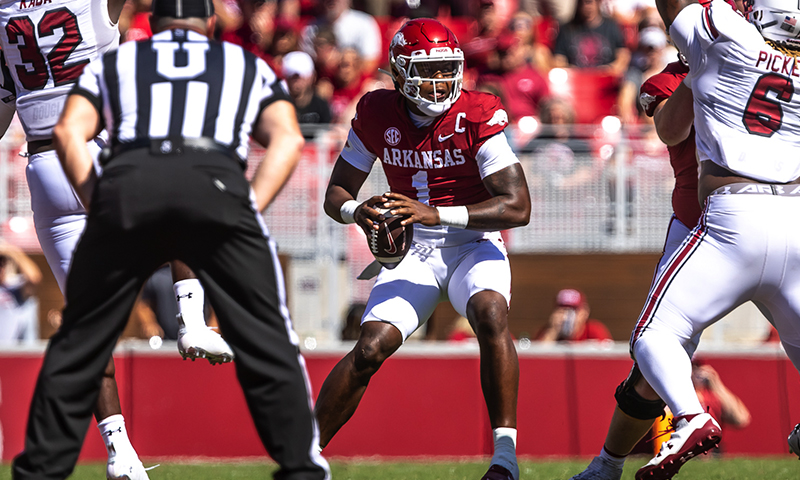 FAYETTEVILLE — Mississippi State head coach Mike Leech, one of the unique personalities in college football, will comment on just about anything.
Just ask SEC reporter Alyssa Lang, who in a post-game interview following a 42-24 Mississippi State win over Texas A&M, asked him for advice on planning a wedding.
"As soon as the season is over or even an off week, go elope," Leech said. "Trust me on that, go elope. Because basically, every female in the family is going to terrorize you guys until it's over. Once it's over, I mean, they'll be upset for a few days, but it'll be over and then you'll cruise along and have a happy marriage and a happy life."
Leech also has opinions on the unranked Arkansas Razorbacks, Saturday's 11 a.m. opponent for Mississippi State at Davis Wade Stadium in Starkville, Miss.
Even with Arkansas head coach Sam Pittman calling his offense one-dimensional and wanting to have more variety in the pass game, Leech feels that the Hogs will likely make little changes to the offense.
 "I don't think they're [Arkansas] going to change their whole offense," Leech said of Arkansas, which averages 251.4 rushing yards per game, second in the SEC. "It would be difficult to do in a week, no matter who they were playing. So, it'll be pretty similar to what they do already because you can't reteach everything."
Leech has the same opinion on the Razorbacks defense, which will have to try and slow down his SEC-leading passing attack. Leech says he doesn't believe defensive coordinator Barry Odom will change much.
"I don't think he [Odom] is going to reinvent something new because he's spent well over a decade developing this one," Leech said..
Mississippi State (4-1,1-1) is fresh off an 18-point win over a Texas A&M team that beat Arkansas two weeks ago.
JEFFERSON INJURY UPDATE
Razorback quarterback KJ Jefferson (1,096 pass yards, 312 rush yards, 13 TDs) participated in practice on Wednesday after sitting out Monday or Tuesday.
Arkansas Coach Sam Pittman said during his radio show at the Catfish Hole that Jefferson will be a game-time decision for Saturday's game.
"He still has a ways to go on that," Pittman said of Jefferson, who left last Saturday's 49-26 loss to Alabama after hitting his head in the fourth quarter. "We're certainly not going to play him unless he's capable and healthy and all of those things."
The exact nature of Jefferson's injury has not been detailed, and Pittman has not confirmed whether Jefferson (Tommy Land photo) is in concussion protocol.
"We're going to take him on the trip, whether he plays or not," Pittman said. "We've got a few more days to figure that out."
If Jefferson is unable to play, look for either Cade Fortin or Malik Hornsby to get the start. Fortin went 4 of 10 for 35 yards after taking over for Jefferson against Alabama.
Hornsby has yet to line up at quarterback but has been used as a hybrid player on offense.
INJURIES MEAN MOVING POSITIONS
The Razorbacks have already lost safety Jalen Catalon (shoulder) and cornerback Ladarrius Bishop (knee) for the year because of injuries suffered in the season-opener against Cincinnati. Safety Myles Slusher, who missed games against South Carolina and Missouri State, is questionable for Saturday after leaving the Alabama game.
The Razorbacks are experimenting with players in new positions. Cornerback Hudson Clark (9 tackles, 2 forced fumbles, 4 pass deflections) has been seen at practice lining up as a safety during this week's practices. Starting safety Simeon Blair said he is thankful for the potential reinforcements.
"We've crossed trained all spring ball and fall camp and Hud [Clark] is a very smart player," Blair said on Tuesday. "It was a very easy transition for him, and I feel like he can be a very big help to us back there."
Additionally, freshman wide receiver Sam Mbake, who has primarily served as a gunner on the punt team this season, has been seen lining up as a cornerback throughout practice this week.
Mbake (6-2, 202; Kennesaw,Ga.) has not played on defense since his sophomore year of high school.
"Barry [Odom] was in here looking at the board and said you're not getting this guy back or this guy back so who's are next option," Pittman said. "I mentioned Sam [Mbake] because he has been physical on special teams and has the range and size. So, I said let's ask him and he said he'd be more than happy to."
Pittman said he is unsure if this will be a permanent or temporary position change considering Mbake asked if he could return to wide receiver in the spring, but Pittman says he believes that Mbake can help the struggling secondary once he's accustomed to the change.
"Barry [Odom] thinks he [Mbake] is going to help them and from what I've seen he's not used to the drills just yet," Pittman said. "But just from watching him play football and from what I've seen he's going to be a fine one over there if he elects to stay over there."
PROPS TO BULLDOGS O-LINE
Mississippi State (38.2 points per game; 440 yards per game) has an array of offensive weapons, starting with QB Will Rogers and five receivers with 19 or more receptions
Rogers (171-234 passing, 1,715 yards, 19 TDs, 3 interceptions) spreads his throws to Rara Thomas (20-359-3), Caleb Ducking (24-272, 6), Rufus Harvey 24-229, 2), Lideatrick Griffin (19-206, 1), Dillon Johnson (25-150).
Pittman says he believes that an improved offensive line is the reason for the Bulldogs' overall offensive success.
"I think they're really good," Pittman said. "They're physical, they're running the ball better, and their splits are getting wider and wider this year. They've done a really good job in pass protection."
The Bulldogs' offensive line takes on an Arkansas defense that ranks second in all of the FBS in total sacks with 21.