Class 2A Week 6 Rankings, Notes & Picks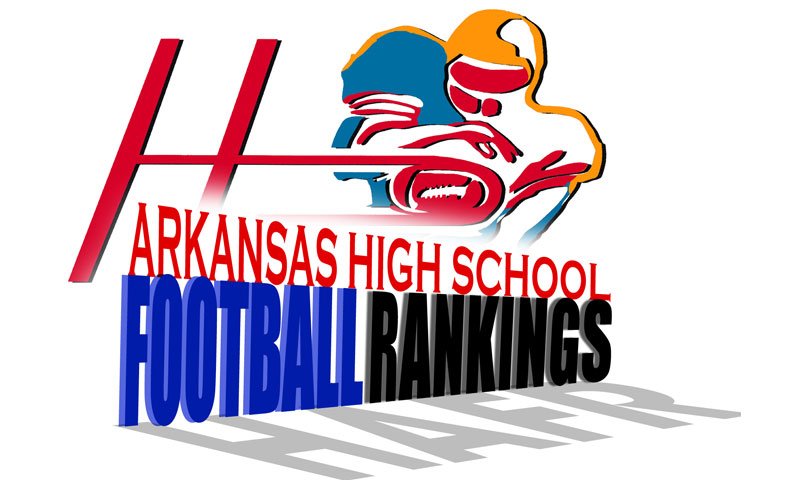 hootens.com Rankings
Class 2A, Week 6, 2019
Copyright Hooten Publishing, Inc.

1. Junction City (4-1)
2. Fordyce (5-0)
3. Hazen (4-0)
4. Foreman (5-0)
5. Earle (4-1)
6. Magnet Cove (4-1)
7. McCrory (4-1)
8. E. Poinsett County (4-1)
9. Des Arc (3-2)
10. Gurdon (3-2)
11. Parkers Chapel (4-1)
12. Salem (3-1)
13. Poyen (4-1)
14. Magazine (3-1)
15. Carlisle (3-3)
16. Mountainburg (3-2)
17. Dierks (2-3)
18. Mineral Springs (2-2)
19. Clarendon (1-3)
20. Hampton (1-4)
21. Hackett (3-2)
22. Hector (2-2)
23. England (2-3)
24. Murfreesboro (3-2)
25. Cutter M Star (3-2)
26. Rector (2-3)
27. Quitman (4-1)
28. Mountain Pine (2-3)
29. Marked Tree (1-4)
30. Conway Christian (1-4)
31. Bearden (1-4)
32. Lavaca (1-4)
33. Marvell (2-2)
34. Cross County (0-4)
35. Bigelow (0-5)
36. Mount Ida (0-5)
37. Marianna (0-5)
38. JC Westside (1-5)
39. Strong (0-5)
40. Lafayette County (1-4)
41. Spring Hill (0-5)
42. Midland (0-5)

GAME OF THE WEEK
No. 3 Hazen at No. 9 Des Arc
Just 17 miles separate these towns. It's the Battle of Prairie County and could decide the 6-2A title. Can Des Arc's run-oriented Eagles (highlights HERE) fly high two weeks in a row? Visiting Des Arc destroyed Carlisle 50-14 last week, limiting the Bison to 132 yards while piling up 505 yards (494 rushing). Des Arc senior slotback Cooper Roberts took off for 196 yards on just six carries. Des Arc (season) rushing leader Jackson Morton ran for 98 yards and a TD. Senior linebacker Will Kearby anchors a defense that held Carlisle to 41 rushing yards and intercepted a pass. Hazen was off last week after moving past Carlisle 32-14 Week 4 (highlights HERE). Hazen all-state senior running backs Tarrell Penn and Ay'Jon Green produced most of the Hornets' 200 rushing yards against Carlisle in the second half when their offensive line took over. Hazen tries to slow Des Arc's mix of Flexbone and Double Slot with its tackle leaders: junior linebacker Donavan Harris and noseguard D'Varie' Jemerson. The gap-shooting Jemerson averages four tackles for loss per game. 

LAST WEEK
Hootens.com correctly picked 16 of 18 (89 percent) games involving Class 2A teams. Hootens.com has picked 117 of 144 (81 percent) this season.

WEEK 6 PREDICTIONS (favored team in CAPS followed by point spread)
3-2A
Marked Tree at E. POINSETT COUNTY (18): EPC junior QB Preston Rains topped 1,000 passing yards for the season last week by completing nine of 18 for 214 yards and three TDs in a 62-22 blowout of Midland. Senior Rayshon Gates (556 rushing yards and five TDs) averages 8.3 YPC. MT junior Israel Malone (6-3, 185) and sophomore BJ Marshall (6-3, 230) turned 5-yard passes early last week into 80- and 77-yard TD receptions, respectively, but the Indians trailed McCrory 36-20 at halftime and lost 56-20.
SALEM (37) at Midland: Salem held Rector to 150 yards a week ago in a 34-0 win with senior LB Tommy Perkins (nine tackles), senior DT Levi Decker (eight tackles) and junior CB Brayden Mohlke (eight tackles) atop the Salem tackle chart. Midland, which led Class 3A Cedar Ridge 14-0 Week 3 but lost 16-14, trying to avoid its first winless season since 2016.
Cross County at MCCRORY (12): Cross County defeated McCrory 26-14 a year ago. Prior to that, the last meeting came in 2014 when then-6-2A member McCrory beat Cross County 26-22 in the playoff quarterfinals. A week ago. McCrory scored three TDs in the first seven minutes of the third quarter to pull away from Marked Tree and win 56-20. McCrory QB Cason Campbell passed for 138 yards and three TDs without an interception, while senior RB Daquan Hall rushed for 146 yards and four TDs. Watch highlights of McCrory's 20-16 win at Clarendon earlier this season HERE.
RECTOR (6) at Yellville-Summit: Rector senior RB Max Ford should find more room to run this week than he did last week at Salem. Rector managed 150 total yards in a 34-0 loss. Class 3A Yellville-Summitt in transition and winless under first-year HC Lucas Morris, running the Flexbone early and more Spread now. 

4-2A
MAGAZINE (9) at Hector: Winner stays atop the 4-2A standings with Mountainburg, which is a heavy favorite to win this week. A year ago, favored Hector lost at Magazine 39-21 but rebounded to claim a share of its fifth league title in the past six years. Magazine, idle last week, features All-4-2A FB Caleb Hyatt and junior QB Tatum Scott. After a 33-32 loss Week 3 to Cutter Morning Star, Magazine hammered Hackett 44-14 with Hyatt and Scott evenly combining for 289 rushing yards and six TDs. Hector missing multiple linemen with injuries but still amassed 507 yards last week on JC Westside in a 47-18 victory. Junior QB Gunner Garrison completed six of 10 passes for 144 yards and a TD.
J.C. Westside at MOUNTAINBURG (33): Mountainburg ran over Lavaca 40-19 last week with senior Malachi West averaging 10 yards per carry en route to 249 yards and four TDs. Dylan Coughran carried 13 times for 200 yards and two TDs. Juniors Jack Norgaar and Houston Morris recorded six solos tackles apiece. 
Rose Bud at HACKETT (13): Hackett sophomore Peyton Hester and junior Westin Winters racked up 13 and 12 solos tackles, respectively, two weeks ago in a 44-14 loss to Magazine. Class 3A Rose Bud defeated Marvell 40-22 Week 1 for its lone win. 
LAVACA is open.

5-2A
Cutter M Star at POYEN (10): Poyen cannot afford to linger on last week's 43-14 loss at Magnet Cove (highlights HERE) because Cutter Morning Star brims with confidence after beating 4-2A front-runner Magazine 33-32 Week 3 and crushing Quitman 34-7 (highlights HERE) last week. CMS junior safety Sam Moore intercepted three Quitman passes and returned one of them 101 yards for a TD. CMS junior Kaden Prather started the onslaught by returning an onside kick for a TD on the game's first play. Poyen's defense could not slow Magnet Cove junior RB Landon Stone, who averaged 13 yards per carry and accounted for 321 of MC's 412 rushing yards. Poyen (season) rushing leader Brandon Sanchez carried 18 times at MC for 58 yards and a TD. 
MAGNET COVE (22) at Quitman: No. 6 Magnet Cove jumped on Poyen (27-0) early last week with three short kickoffs that Poyen fumbled while attempting to fair catch two of them and return the other. MC junior LB Landon Stone and senior LB Logan Walker spearheaded the Panthers' best defensive performance of the year. This fall, MC fielding 15 Panthers who are playing meaningful varsity snaps for the first time. Watch highlights and postgame from Magnet Cove's win over Poyen HERE. Quitman tries to re-group after being ambushed by a Cutter Morning Star team that returned the opening onside kick for a TD and cruised to a 34-7 win (highlights HERE).
Conway Christian at ENGLAND (11): Conway Christian has won two straight in this series that used to help determine the league title. A week ago, England got past winless Bigelow 48-32 to stay in playoff contention. England senior QB Mason Brazil rushed for 99 yards and a TD and passed for 257 and three TDs. Senior Tamarous Dodson and junior Darren McClinton both topped 100 yards rushing. Conway Christian dropped to 1-4 after a 26-6 loss to Mountain Pine. CC rushed for 81 yards, threw four interceptions and lost a fumble.
Bigelow at MOUNTAIN PINE (8): MP moved past Conway Christian 26-6 last week to stay in contention for the 5-2A title by intercepting four passes and recovering a fumble. Juniors Josiah Walpole (49 tackles) and Hayden Barnes (39 tackles) pace the MP defense this season. 

6-2A
HAZEN (2) at Des Arc: See Game of the Week.
CLARENDON (35) at Marianna: Clarendon pushed McCrory in a 20-16 loss three weeks ago (highlights HERE) but got pushed around last week in a 35-6 loss to No. 5 Earle. Earle senior RBs Jaylon Coopwood and Carim Washington topped 100 rushing yards apiece.
Marvell at CARLISLE (12): Marvell, which snapped a 19-game losing streak Week 2, manhandled Marianna last week 48-8. That marked Marvell's most points scored since 2007 when it defeated the Drew Central JV 56-22. Carlisle tries to regroup after visiting Des Arc obliterated the Bison from start to finish last week, 50-14. Watch Carlisle highlights of Carlisle's Week 3 win at Baptist Prep HERE and Week 4 loss to Hazen HERE.
EARLE is open.

7-2A
FOREMAN (35) at Lafayette County: No. 4 Foreman big-played Dierks last week in a 28-20 win with senior QB Isaac Carver running 75 yards for a TD and completing a 70-yard TD pass to junior Keantae Oglesby. The Gators averaged 8.7 yards per carry and completed six passes for 100 yards. LC picked up its first win of the season, topping winless Spring Hill 42-12.
Mineral Springs at DIERKS (6): Dierks produced 278 yards last week in a 28-20 loss to fourth-ranked Foreman but lost three of three fumbles and completed just three of 13 passes. Leading rusher, sophomore Konnor Shelton, also returned two kicks for a total of 64 yards. Mineral Springs managed 202 yards last week in a 49-14 loss to Gurdon.
GURDON (21) at Murfreesboro: No. 10 Gurdon coming off its most complete game of the season with senior RB Jameson Threadgill rushing 19 times for 161 yards and four TDs behind an improving line. In the 49-14 win, Gurdon's first-team defense held Mineral Springs to 87 yards. Murfreesboro faces its stiffest test since Week 3, a 34-12 loss to Poyen. Last week, MHS freshman QB Sloan Perrin completed nine of 11 passes to four different receivers for 312 yards and four TDs in a 52-34 win over Mont Ida.
MOUNT IDA (17) at Spring Hill: Mount Ida should end a six-game losing skid, dating to the 2018 state semifinals. Mount Ida rushed for 260 yards and converted six of 10 times on third down last week in a 52-24 loss to Murfreesboro. MI scored two TDs in the first half. Spring Hill has scored 18 points this season.   

8-2A
JUNCTION CITY (45) at Farmersville (La.) D'Arbonne Woods: Top-ranked Junction City's swarming defense held Hampton to less than 100 yards last week in a 64-6 win. Defensive ends Jamie Carroll and Tate Barnett, DTs Jamarco Singleton and Kyle Kidwell, LBs Tanner Barnett and Chase Fennell and S Jakiron Cook share the tackles for a first-team defense that has not allowed a point since the second quarter of Week 2.
HAMPTON (12) at Strong: Hampton should end three-game losing skid at Strong, which features senior ATH Derrion Davis. Hampton gave up 519 balanced yards last week to Junction City in a 64-6 loss.
Bearden at PARKERS CHAPEL (18): Both teams were idle last week. PC has won two in a row since a 30-14 loss to No. 4 Foreman (highlights HERE). PC senior QB Caleb Jacobs triggers an offense that has averaged 50 points in its four victories.
Barton at FORDYCE (28): All 29 Redbugs played last week for No. 2 Fordyce in a 44-0 win over Strong. A Week 8 (Oct. 25) showdown at No. 1 Junction City looms. For Class 3A No. 28 Barton, junior QB Hykeem Hancock and slotback Harley Wright run behind a large line.