Class 3A Week 6 Rankings, Notes & Picks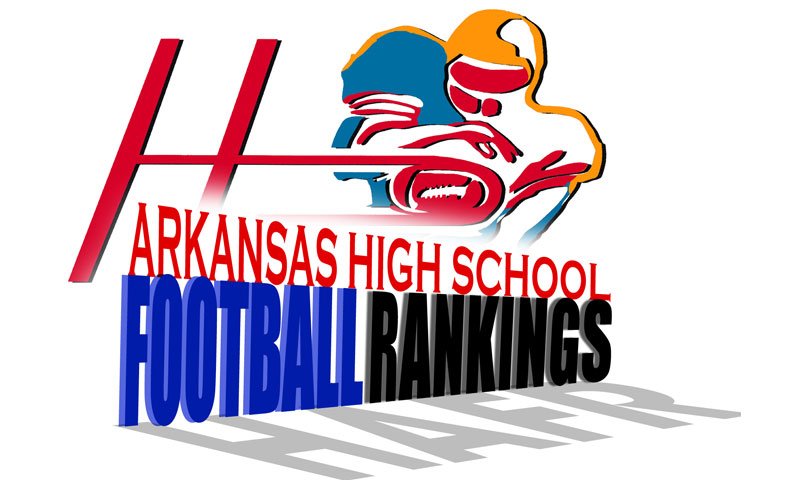 Hootens.com Rankings
Class 3A, Week 6, 2019
Copyright Hooten Publishing, Inc.

1. C. Harmony Grove (4-1)
2. Rison (4-1)
3. Prescott (3-2)
4. Osceola (4-1)
5. Harding Academy (5-0)
6. Booneville (3-2)
7. Newport (4-1)
8. McGehee (4-1)
9. Clinton (4-1)
10. Harrisburg (5-0)
11. Centerpoint (5-0)
12. Smackover (2-3)
13. Jessieville (5-0)
14. Hoxie (3-2)
15. Glen Rose (3-2)
16. Mansfield (4-1)
17. Melbourne (4-1)
18. Walnut Ridge (3-2)
19. Cedarville (4-1)
20. Atkins (4-1)
21. Lamar (4-1)
22. Danville (4-1)
23. Charleston (2-3)
24. Lake Village (2-3)
25. Greenland (3-2)
26. Mountain View (3-2)
27. Bismarck (2-3)
28. Barton (3-2)
29. Perryville (2-3)
30. Fouke (2-3)
31. Mayflower (1-4)
32. Baptist Prep (0-5)
33. Genoa Central (3-2)
34. Corning (2-3)
35. Drew Central (3-2)
36. Piggott (1-4)
37. Dollarway (2-3)
38. Paris (2-3)
39. Marshall (2-2)
40. Manila (2-3)
41. Two Rivers (1-4)
42. Yellville-Summit (0-5)
43. Palestine-Wheatley (0-4)
44. West Fork (0-5)
45. Rose Bud (1-4)
46. Cedar Ridge (1-4)
47. Horatio (0-5)

HOOTENS.COM GAME OF THE WEEK
No. 7 Newport at No. 10 Harrisburg
Newport won this game 63-28 last year. This is the first game on Harrisburg's new turf field. Unbeaten Harrisburg chases its first playoff appearance since 2011 and its first league title since 2008. Harrisburg last week outlasted Piggott 22-8, allowing just 3.5 yards per carry and intercepting two passes. The sophomores at Harrisburg fuel the Hornet attack, led by QB Samuel Moore (289 passing yards and three touchdowns in 2019). Jacob Wallace paces Harrisburg in rushing (564 yards with four TDs) and James Pender has run for eight scores. All-conference senior performer Ross Heeb has racked up more than 500 tandem yards with five TDs. The resurgent Harrisburg defense allows just seven points per game. Senior linebacker Ray Michael Jones rallies the unit with a team-high 48 tackles, while sophomore Colby Summers (38 tackles) and senior Mason Summers (34 stops and a team-high six sacks) deliver big plays. Senior Jaden Gipson has intercepted two passes this season. 
Newport rolled up 601 yards of offense in last week's 52-35 win against Hoxie. Newport senior Monquell Cox ran for 120 yards and a TD, made five tackles and intercepted a pass against Hoxie. Sophomore QB Eli Alcorn (67 percent completion percentage for 1,034 yards and 12 TDs with three interceptions) directs an explosive Newport offense that scores 49 points per game, second in Class 3A football. Cox has rushed for a team-high 496 yards and three TDs, followed by Alcorn's 355 rushing yards and team-high seven scores. Sophomore Jadarius Reed has run for 212 yards and three TDs. Junior playmaker Tharon Davis threatens defenses in the backfield (156 rushing yards and three TDs) and at receiver (19 receptions for 476 yards and seven scores, all team-highs). Juniors Tyler Johnson (22 tackles) and Chris Reynolds (12 stops) and sophomore middle linebacker Jakeyvin Davis (35 tackles) anchor the Newport defense.

LAST WEEK
Hootens.com correctly predicted 20 of 24 (83 percent) games involving Class 3A schools a week ago. For the season, Hootens.com has correctly predicted 138 of 177 (79 percent) of games involving Class 3A schools.

WEEK 6 PREDICTIONS (favored team in CAPS followed by point spread)
1-3A
Greenland at BOONEVILLE (20): Booneville downed Greenland 62-34 in 2018, the most points surrendered by the Bearcats on their way to the state title. Greenland downed Mansfield 21-18 last week, limiting the red Tigers to 16 rushing yards (1.1 YPC). Four Booneville running backs ran for 50 yards and a TD in last week's 42-0 win at West Fork. 
Paris at CEDARVLLE (14): Paris allowed 533 yards and committed two turnovers in last week's 48-12 loss to Lamar. Cedarville committed four turnovers (three interceptions) in last week's 27-18 loss to Charleston. The Pirates rushed for 338 yards and three TDs, led by Kelin Mitchell's 174 yards. 
Mansfield at CHARLESTON (2): Mansfield surrendered 222 rushing yards and three TDs in last week's 21-18 loss at Greenland. The Pirates recorded three sacks and forced two turnovers. Charleston is 2-0 in the 1-3A following a mild 27-18 upset last week over Cedarville. The Tigers rolled up 316 balanced yards (160 passing and 156 rushing) against Cedarville. 
West Fork at LAMAR (27): Lamar whipped West Fork 41-6 last season. West Fork committed five turnovers in last week's 42-0 loss to Booneville. Lamar junior running back Brady James ran for 191 yards and a TD in last week's 48-12 win at Paris. The Warriors passed for 76 yards at Paris, their second-best production this season. 

2-3A
CLINTON (36) at Cedar Ridge: Opponents outscore Cedar Ridge 214-38 weekly this season. Clinton intercepted four Melbourne passes in last week's 41-28 victory, and the Yellow Jackets led 35-14 midway through the fourth quarter. Clinton boasts a plus-8 turnover differential in 2019. Watch extended highlights of Clinton's Week 2 win at Conway Christian HERE and Week 3 win over Class 4A CAC HERE.
Mountain View at HARDING ACADEMY (28): Mountain View is 2-0 in league play, outscoring its opponents 90-14. The Yellowjackets last week limited Rose Bud to 158 yards in a 46-6 victory. Harding Academy scored 49 first-quarter points in last week's 52-18 win over Yellville-Summit. Junior QB Caden Sipe completed all six pass attempts for 98 yards and two TDs. 
Marshall at MELBOURNE (33): Marshall's three wins are its most since winning four times in 2010. Melbourne racked up 459 yards, and surrendered a 76-yard kickoff return for a TD in last week's 41-28 loss at Clinton. Senior receiver Hunter Jennings has emerged as a big-play receiver for Melbourne. 
Rose Bud at HACKETT (13): A non-conference game at Hackett of the 4-2A. Rose Bud junior QB Steven Cox passes for 148 yards and a TD in last week's 46-6 loss at Mountain View. 
RECTOR (6) at Yellville-Summit: Class 2A Rector downed Yellville 41-20 a season ago. Yellville QB Eli Cagle and receiver Kyle Dobbs showcase good chemistry in the passing game.  

3-3A
NEWPORT (6) at Harrisburg: See Hootens.com Game of the Week. 
Corning at HOXIE (30): Hoxie won last year at Corning 51-20. Corning won last week at Manila 36-0, the Bobcats' first conference win since 2014. It was Corning's first shutout since 2013. Hoxie allowed three Newport Greyhounds to run for 100 yards or more in last week's 52-35 loss. Hoxie surrendered three sacks and threw an interception. 
Manila at OSCEOLA (35): Conference opponents outscore Manila 80-14 in an 0-2 start. Osceola allowed just 128 yards to Walnut Ridge in last week's 54-6 victory. 
WALNUT RIDGE (33) at Piggott: Piggott pushed unbeaten Harrisburg a week ago, trailing 14-8 in the fourth quarter of a 22-8 defeat. Junior Michael Parker ran for 49 yards and a TD. Walnut Ridge trailed Osceola just 7-6 at halftime last week, but the Seminoles scored the final 47 points in a 54-6 victory. 

4-3A
ATKINS (1) at Jessieville Atkins battered Jessieville 44-7 last fall. Atkins blitzed Perryville a week ago, charging to a 42-7 halftime lead. Atkins senior QB Eli Roberson passed for 357 yards and four TDs, including five completions to junior Kreed Stubbs for 240 yards and three scores. Jessieville outlasted Baptist Prep last week in a 37-28 victory. Junior Charlie Davis collected four passes for 102 yards and a TD at Baptist Prep. Sophomore QB Carson Hair covered 241 yards and four TDs last week. 
GLEN ROSE (7) at Danville: 2-0 teams battle for first place in the 4-3A. Danville outscores its opponents 149-78 this year, including 87-22 so far in league play. Glen Rose led Mayflower 35-6 in a 42-6 victory last week. Glen Rose junior QB Wesley Launius completed nine of 12 passes for 181 and four TDs last week. 
MAYFLOWER (14) at Two Rivers: Loser likely misses playoffs. Opponents outscore Two Rivers 188-84 this year, and the Gators have not won a conference game since 2015. Mayflower surrendered 336 yards in last week's 42-6 loss to Glen Rose, but just 3.8 YPC. 
Perryville at BAPTIST PREP (1): Both 0-2 in league play and loser likely misses the playoffs. Jessieville beat Perryville 26-21 two weeks ago and Jessieville won 37-28 last week at Baptist Prep. Perryville rushed for just 50 yards in last week's 42-16 loss at Atkins. Winless Baptist Prep has lost seven straight games, and nine of its past 10, dating to last season. The Eagles won last season at Perryville 13-6.

5-3A
FOUKE (1) at Bismarck: Loser likely misses playoffs. Fouke battered Bismarck 34-14 in 2018. Fouke rolled up 437 yards in last week's 27-26 loss to unbeaten Centerpoint. Fouke senior QB Hunter Lansdell passed for 283 yards and two TDs and classmate Braden Larey ran for 128 yards. Bismarck ran for 118 yards in last week's 56-7 loss at Prescott. The Lions likely play this game without their top two-way lineman. 
Horatio at C. HARMONY GROVE (35): Horatio looks to avoid its first winless season since 2014. Harmony Grove will likely be 6-1 and 5-0 in league play ahead of a Week 9 game at Prescott which could decide the 5-3A title. Harmony Grove allowed just 160 yards and forced four turnovers in last week's 60-21 win at Genoa Central. Watch highlights of Harmony Grove's win Week 0 over Class 2A No. 1 Junction City HERE and Week 4 win at Bismarck HERE.
Genoa Central at CENTERPOINT (10): Centerpoint downed Genoa Central 14-0 last fall. Genoa forced three turnovers in last week's 60-21 loss to Camden Harmony Grove. Sophomore Ethan Cowart scored two TDs. Unbeaten Centerpoint pursues its first league title since Glenwood High won the 1978 7A-North.
PRESCOTT (7) at Smackover: Smackover likely needs a win here to have a chance to retain its 5-3A league title. Smackover slipped Prescott 21-20 a year ago. Smackover senior playmaker Jaqueze Modica returned three punts last week for TDs (53, 82 and 37 yards) and caught a 35-yard TD pass. Senior Dexter Crockett ran for three scores. Prescott led Bismarck 49-0 of a 56-7 win last week. Junior QB Jacobi Nolen completed seven of 10 passes for 200 yards and four TDs against Bismarck. Senior playmaker Derriun Thompson ran 51 yards for a TD and caught a 49-yard TD pass. 

6-3A
Barton at FORDYCE (28): Class 2A Fordyce slipped Barton 15-14 last season. Fordyce already owns wins over Class 3A outfits Camden Harmony Grove and Rison this season. Four Barton Bears ran for 95 yards or more in last week's 60-24 victory over Palestine-Wheatley. Jonathan Sanders and Ethan Ward combined for 225 yards rushing and three TDs. 
Drew Central at LAKE VILLAGE (1): Lake Village downed Drew Central 39-22 a year ago. Drew Central's three wins tie the 2008 and 2009 teams for the most since the program returned in 2007. The Pirates last week bounced Beekman Charter, La. 19-8, rushing for 214 yards (11.3 YPC) and two TDs. Senior QB Davian Mayo is one of the better playmakers in Class 3A football. Lake Village counters with athletic senior receiver/defensive back Malakai Armour, who has caught 14 passes this year for 312 yards and five TDs. 
Dollarway at MCGEHEE (14): McGehee downed Dollarway 36-14 last fall. Dollarway earned a 36-14 win last week at Lake Village, taking a big step towards securing a playoff berth. McGehee must recover following a 30-0 loss last Friday at No. 2-ranked Rison (watch the highlights HERE). The Owls managed just 92 yards and three first downs and suffered a shutout for the first time since a 26-0 loss in the 2018 quarterfinals at Prescott.
RISON (36) at Palestine-Wheatley: Rison pounded Palestine-Wheatley 54-0 in 2018. PW surrendered 717 yards (530 rushing) in last week's 60-24 loss at Barton. Rison orchestrated a sterling defensive scheme in last week's 30-0 victory over McGehee (extended highlights HERE), dominating time of possession 28:50-19:10 and allowing the Owls to run just 36 plays. Senior QB Jaylon Henry fired a 28-yard TD pass to junior Cole Keese and junior running back Jamerien Frye ran for 176 yards and three TDs.