Class 4A Week 6 Rankings, Notes & Picks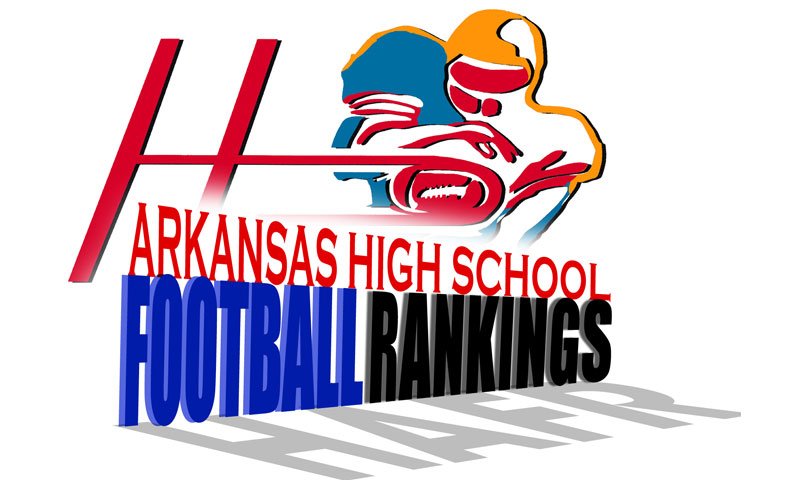 Hootens.com Rankings
Class 4A, Week 6, 2019
Copyright Hooten Publishing, Inc. 

1. Nashville (5-0)
2. Arkadelphia (4-1)
3. Shiloh Christian (5-0)
4. Joe T. Robinson (4-1)
5. Ozark (4-1)
6. Dardanelle (5-0)
7. Helena (5-0)
8. Warren (4-1)
9. Pea Ridge (2-3)
10. Bauxite (4-1)
11. Crossett (2-3)
12. DeWitt (4-1)
13. Riverview (4-1)
14. Southside Batesville (3-2)
15. Mena (3-2)
16. Lonoke (3-2)
17. Elkins (4-1)
18. Hamburg (3-2)
19. Pocahontas (3-2)
20. Jonesboro Westside (3-2)
21. Star City (3-2)
22. Prairie Grove (2-3)
23. Gosnell (2-3)
24. Rivercrest (3-2)
25. Pottsville (3-2)
26. Gentry (3-2)
27. Heber Springs (1-4)
28. Trumann (2-3)
29. Malvern (2-3)
30. H. Grove Haskell (3-2)
31. Brookland (2-3)
32. Mills (2-3)
33. Gravette (2-3)
34. CAC (2-3)
35. Lincoln (3-2)
36. Ashdown (2-3)
37. Stuttgart (0-5)
38. Bald Knob (1-4)
39. Dumas (1-4)
40. Berryville (2-3)
41. Fountain Lake (1-4)
42. Subiaco Academy (2-3)
43. Highland (1-4)
44. Green Forest (2-3)
45. Monticello (0-5)
46. Waldron (0-5)
47. Dover (0-5)
48. Cave City (0-5)

HOOTENS.COM GAME OF THE WEEK
No. 1 Nashville at No. 4 Joe T. Robinson
Nashville has beaten Joe T. Robinson four of the past seven meetings, with Joe T. Robinson winning last season 39-25 and 34-10 in 2017. Robinson beat Class 7A Springdale and Rogers earlier in the season, but lost last week to Arkadelphia 28-27, when the Badgers blocked an extra-point late in the fourth quarter. 
Robinson averages 456 yards weekly (236 rushing, 220 passing). Senator junior quarterback Buddy Gaston has passed for 1,067 yards and 13 touchdowns this year, while junior Hunter Smith has 77 carries for 769 yards and seven TDs. "They are athletic and have a bunch of skill players," Nashville coach Mike Volarvich says. Defensively, the Senators held two opponents to two TDs each. Senior linebacker Chandler McIntosh has 66 tackles, including 15 tackles for loss. "In two games, I've seen them use 30 different players on defense," Volarvich says. "They rotate a lot of guys."
Nashville beat Arkadelphia 22-21 two weeks ago (watch extended highlights and postgame HERE) when senior Jhonny Pioquinto kicked the winning field goal with 21 seconds left. The Scrappers rotate junior Ty Gordon and Keyshawn Stewart at QB. Gordon has passed for 251 yards and two TDs this year, while Stewart has passed for 289 yards and four TDs and rushed for 467 yards and seven TDs. Three-year starters Ryan Brown (center) and Kendrix Holcomb (guard) anchor the line. Senior inside linebacker Davont'e Witherspoon paces the Scrappers with 41 tackles, while classmate Lance Easter has 30 stops. "We have to limit our mistakes and make tackles," Volarvich says.

LAST WEEK
Hootens.com correctly predicted 19 of 24 games last week (79 percent). Hootens.com has picked 144 of 178 games (81 percent) this season.

WEEK 6 PREDICTIONS (favored team in ALL CAPS)
1-4A
GENTRY (21) at Green Forest: Gentry took a step toward its third straight playoff berth with last week's dominating 40-14 win over Berryville. Senior QB Brandon Atwood paces the Pioneers, passing for 905 yards and 11 TDs and rushing for 472 yards and seven TDs. Green Forest trailed Shiloh Christian last week 44-0 at halftime.
Gravette at PEA RIDGE (25): Upstart Gravette (two wins in opening four games this year) trailed Prairie Grove 24-7 at halftime last week but failed to score in the second half. The Lions ran for just 47 yards. Gravette senior Mason Dagley has 26 catches this fall for 351 yards. Pea Ridge has won three of the past four over Gravette. Pea Ridge pounded Lincoln last week 55-21, limiting Lincoln to 204 yards. Senior Samuel Beard has rushed for 461 yards and seven TDs this fall. 
SHILOH CHRISTIAN (14) at Prairie Grove: Shiloh Christian has won five of the past nine meetings, and last year's 56-14 triumph broke a three-game losing streak in the series (PG won 62-33 in 2015, 45-15 in 2016 and 35-21 in 2015). Undefeated Shiloh Christian averages 53 ppg this fall. The Saints stomped Green Forest last week 58-0, jumping to a 44-0 halftime advantage. Prairie Grove rolled up 457 yards and seven TDs in last week's 41-point win over Gravette.
LINCOLN (8) at Berryville: The winner takes a step toward the playoffs. Lincoln has lost consecutive conference games after starting the season 3-0. The Wolves trailed Pea Ridge 28-7 in the first quarter last week and gave up almost 500 yards. Berryville has lost its two conference games by a combined 96-14.

2-4A
CAC at HEBER SPRINGS (4): CAC gave up two late TDs in last week's 38-35 loss to Mills. The Mustangs average 399 yards weekly, but they've struggled on D the past month, giving up at least five TDs three times. CAC had four sacks and forced one turnover against Mills. Senior linebacker Nathan Velek paced the Mustangs a week ago with 11 tackles and one sack. Heber Springs beat Stuttgart last week 28-27, with senior QB Adam Martin passing for 167 yards and one TD. Martin has thrown for 745 yards and five TDs this year, and rushed for 537 yards and four TDs. Senior Julio Rubio has 94 carries for 519 yards and nine TDs.
LONOKE (6) at Southside Batesville: Lonoke has won three straight games after starting the season 0-2 (highlights of Week 0 loss at Class 2A Carlisle HERE). The improved Jackrabbits adjusted on the fly last week after Bald Knob changed offenses (went from Flexbone to Spread), holding on for a 38-36 triumph. Sophomore QB Spencer Pepper ran 17 times for 146 yards and 115 yards, while Anthony Parks ran 19 times for 84 yards. Southside Batesville lost last week at Riverview 35-7. Seniors Payton Walls and Zach Howell each collected 14 tackles, but the offense committed four turnovers.
Mills at RIVERVIEW (7): Riverview forced four turnovers and stuck Southside Batesville 35-7 a week ago. The Raiders ran for 300 yards Senior QB Logan Miller ran for 127 yards and three TDs against Southside Batesville, and he has 748 yards and 11 TDs this year. Linebacker Santos Gutierrez paces the D with 41 tackles and 1.5 sacks. Mills rallied past CAC last week 38-35 with a pair of fourth-quarter TDs. 
STUTTGART (1) at Bald Knob: Bald Knob ditched the Flexbone for the Spread last week, and came within two points of Lonoke. Senior QB Johnson Capps thrived with the change, throwing a 51-yard TD pass to senior Tyrese Dinwiddie. Capps' 28-yard pass to the end zone on the final play was batted down. Stuttgart outgained Heber Springs by nine yards last week (346-337) but lost by one point. Sophomore linebacker Bryer West collected 18 tackles, including three TFL, while junior Tyrek Avery played his best game of the season at offensive tackle. Winless Stuttgart has three losses by a total of five points.

3-4A
JONESBORO WESTSIDE (6) at Brookland: Jonesboro Westside ran for 349 yards in last week's 28-25 setback at Pocahontas. Junior Tyler Ray paced the attack with 22 carries for 133 yards and a pair of TDs. Ray has 103 carries this fall for 540 yards and nine TDs. Brookland beat Pocahontas 35-26 two weeks ago, but lost at Trumann last week by 20 points when committing three turnovers. Senior Kaden Strode ran 10 times for 82 yards and a TD, while senior inside linebacker Nathan Stephens paced the D with 16 tackles, including two TFL's.
GOSNELL (1) at Trumann: The winner takes command of the conference. Trumann lost at Rivercrest by seven points two weeks ago and blasted Brookland last week 34-14. The Wildcats ran for 208 yards and four TDs against Brookland and forced three turnovers. Gosnell rallied from a 14-0 first quarter deficit last week against Rivercrest, winning 24-17. The Pirates have won two straight games, coinciding with senior Jydarian Young's return to full strength. Young has rushed for more than 500 yards and seven TDs the past three games. He ran for two TDs and returned a fumble for another last week.
POCAHONTAS (33) at Cave City: Pocahontas led Jonesboro Westside last week 20-9 at halftime and won by three points. Redskin junior QB Dawson Chester has passed for 915 yards and 10 TDs this fall, while rushing for 425 yards and six TDs. Cave City will miss junior lineman Mike Rhoades, who broke his ankle in the first quarter of last week's 40-point loss to Highland.
RIVERCREST (13) at Highland: Highland led Cave City 54-14 in the third quarter a week ago when the game was called after junior DB Brandon Dennis returned an interception to the 1-yard line but was unresponsive and taken from the field via ambulance. Dennis had bleeding on the brain but stabilized over the weekend and should return home soon, Coach Adam Carter says. Highland gets big plays from seniors Joel Hoppe (six catches, 130 yards and a one TD; 3.4 yards per carry), Colby Hopkins (nine catches, 136 yards) and Jesse Taylor (4.0 ypc). Rivercrest jumped on Gosnell 14-0 in the first quarter last week but lost 24-17. QB Kam Turner has accounted for more than 600 yards and seven TDs.. 

4-4A
ELKINS (24) at Subiaco Academy: Even with its coach serving a one-game suspension last week, Elkins dominated Dover 55-0. The Elks led 41-0 at halftime, scoring on every first half possession. Junior QB Kain Johnson has more than 1,300 yards this season. Subiaco Academy has scored one TD in each of its three losses this season. The Trojans trailed Ozark 41-6 at halftime last week's before losing 54-6. They tallied just two first downs while giving up 545 yards.
Waldron at POTTSVILLE (18): Waldron's one-point win over Pottsville in 2016 was its only victory in the series. Winless Waldron lost its opening three games by a total of 13 points, but has league losses to Elkins (35-16) and Pottsville (52-16). Pottsville's running attack starting to gain traction (ran for 219 yards and four TDs at Mena). Senior fullback Drew Rust has rushed for 600 yards and seven TDs this fall.
OZARK (3) at Dardanelle: This is likely for the conference championship. Ozark has beaten Dardanelle by eight points each of the past two years. Ozark's stingy defense has given up a TD or less in four games this season, while the offense goes for 350 yards weekly. Junior QB Harper Faulkenberry has passed for 397 yards and rushed for 500 yards this season. Junior Tyler Sanders ran for a pair of TDs last week against Subiaco Academy and he averages 18 yards per catch. Undefeated Dardanelle disposed of Waldron 52-16 a week ago. Senior QB/linebacker Jordan Metcalf making plays and serving as a team leader on both sides of the ball. Metcalf ran for 64 yards and a TD and passed for 140 yards and a pair of TDs against Waldron. Senior Blake Chambers paces the Sand Lizards with 77 carries this year for 755 yards and 10 TDs. Senior tackle Christian Lomeli (6-1, 320) and right tackle Cole Walter (6-3, 245) are playing well up front.
MENA (31) at Dover: Mena's aggressive, blitzing defense can force big plays. The reshuffled offense moved the ball well last week against Pottsville (more than 300 yards, 16 first downs), trailed 14-10 at halftime, but couldn't muster muchin the second half. Dover, down to 20 players, gets outscored 47-11 weekly.

7-4A
NASHVILLE (2) at Joe T. Robinson: Hootens.com Class 5A Game of the Week.
Fountain Lake at ARKADELPHIA (28): Arkadelphia has won six of the past 10 in the series. The high-flying Badgers knocked off previously unbeaten Joe T. Robinson last week 28-27, blocking a PAT late in the fourth quarter to preserve the win. Badger senior QB Cannon Turner, who has beenthe state title game MVP the past two years, injured ligaments in shoulder late in the first half and may miss the rest of the season. Turner completed four of eight passes for 104 yards and two TDs before his injury. But his biggest contributions are on defense, where he intercepted two passes, returning one 47 yards for a TD, against Joe T. Robinson. Junior Buster Thomas takes over at QB. He ran for a pair of second-half TDs last week. Fountain Lake has been outscored the past two weeks 102-26. Watch highlights of Arkadelphia's Week 0 win at Class 6A Sylvan Hills HERE, Week 1 win at Class 6A Benton HERE and Week 4 loss to Nashville HERE.
Ashdown at MALVERN (5): Ashdown has won six of the past 11 over the Leopards. The Panthers have lost to H.G. Haskell and Bauxite the past two weeks by a combined 61-24. They led Bauxite 6-0 at halftime last week before falling 27-24. Malvern handled H.G. Haskell a week ago 29-24, breaking up a pass in the end zone on the final play. Malvern freshman Cedric Simmons has passed for 226 yards and a TD and rushed for 426 yards and six TDs. Simmons logged 125 total yards (passed for 70 and ran for 55) against Haskell.
Harmony Grove Haskell at BAUXITE (1): Bauxite rallied past Ashdown last week 27-24, after trailing 6-0 at halftime. Bauxite junior QB Connor Stacy ran in four second-half TDs. Stacy has 313 yards and seven TDs this fall. H.G. Haskell must shake last week's seven-point setback at Malvern, when the Cardinals led in the second half and were throwing for the end zone on the final play. They run for 209 yards weekly, paced by senior Jayce Harrison (52 carries, 203 yards and two TDs).

8-4A
Monticello at HELENA (21): Monticello has been tied at halftime the past two weeks (14-14 with Star City in Week 4 and 7-7 against Hamburg last week) but outscored 48-21 in the second half. Undefeated Helena gives up 12 ppg. Cougar senior fullback John Oliver, who owns a preferred walk-on opportunity from the University of Arkansas, has 54 carries for 311 yards and six TDs, six receptions for 66 yards and a TD and 12 tackles on defense. Helena stacked the box last week, forcing DeWitt to pass the ball.
STAR CITY (7) at Hamburg: Star City hung with Warren before losing last week by 14 points. Senior Elijah McDonald and Jacob Allbright have emerged as running threats for the Bulldogs. Hamburg junior QB Brett Rice passed for 124 yards and a TD and ran for another TD in last week's 13-point win at Monticello. Senior Dalton Howard and junior Bruin Barnes each recorded 10 tackles.
WARREN (21) at Dumas: Warren has won eight straight over Dumas since falling 36-25 in 2010. Sophomore QB Riley Cornish threw five TDs in last week's 35-21 win at Star City, including two to senior Vincent Steppes (50 and 47 yards). Dumas dressed 26 players in last week's mercy-rule loss at Crossett after several key starters left the team. The Bobcats were tied 8-8 in the first quarter but trailed by 31 points at halftime. 
CROSSETT (3) at DeWitt: Crossett has won two straight games and could be headed for a league title showdown against Helena in a month. Opposing coaches call Crossett the fastest team in league. DeWitt must bounce back from last week's 16-point loss to unbeaten Helena. The Dragons put up 412 yards and 34 ppg. Senior Seth Courtney has passed for 1,153 yards and 11 TDs this fall, while Josh Dabner has rushed for 367 yards and six TDs. Eagle senior QB Justin Stokes has passed for 973 yards and 13 TDs with three interceptions this fall, while senior Willie Taylor has rushed for 379 yards and six TDs.