Class 5A Week 6 Rankings, Notes & Picks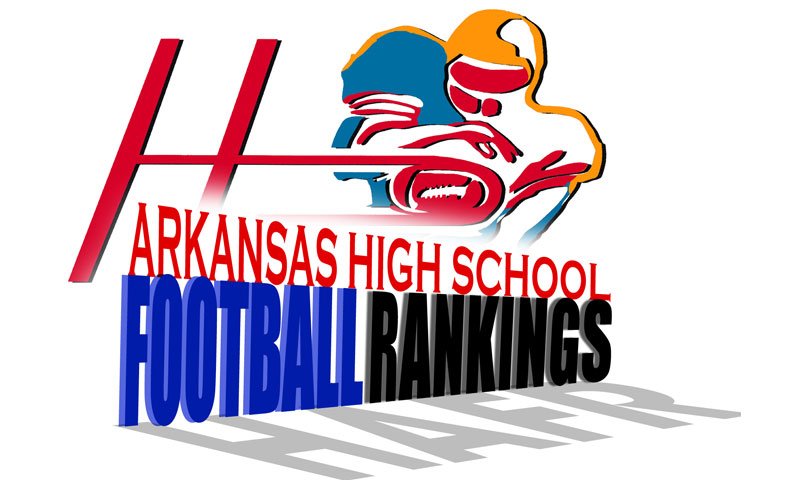 Hootens.com Rankings
Class 5A, Week 6, 2019
Copyright Hooten Publishing, Inc. 

1. LR Christian (5-0)
2. Harrison (5-0)
3. Pulaski Academy (3-2)
4. Morrilton (3-2)
5. Wynne (4-1)
6. Maumelle (5-0)
7. Texarkana (3-1)
8. LR Parkview (3-2)
9. Greenbrier (3-2)
10. Camden Fairview (2-3)
11. Valley View (5-0)
12. Hot Springs (3-2)
13. Vilonia (3-2)
14. White Hall (3-2)
15. Batesville (2-3)
16. LR McClellan (3-2)
17. Farmington (5-0)
18. HS Lakeside (3-2)
19. Watson Chapel (3-2)
20. Blytheville (1-4)
21. Nettleton (3-2)
22. Clarksville (3-2
23. Forrest City (3-2)
24. Magnolia (2-3)
25. Alma (0-5)
26. Beebe (1-4)
27. Greene County Tech (1-4)
28. Hope (1-4)
29. Paragould (0-5)
30. Huntsville (1-4)
31. De Queen (0-5)
32. LR Fair (0-5)

HOOTENS.COM GAME OF THE WEEK
No. 6 Maumelle at No. 3 Pulaski Academy
Pulaski Academy must regroup after last week's 63-61 loss at Little Rock Christian (extended highlights and postgame reaction HERE), its first in-state regular-season loss since 2009. With a 3-2 record, its the first time the Bruins have lost two regular season games since 2012. The Bruins intimidate opponents with onside kicks and quick scores. They recovered a pair of onside kicks against LR Christian, but turned the ball over four times. Senior quarterback Braden Bratcher has passed for 2,055 yards and 18 touchdowns this year, while sophomore Joseph Himon has rushed for 410 yards and four TDs.
Maumelle counters with an offense that puts up 421 yards weekly. Senior Brian Worsham ran 19 times for 206 yards and four TDs in last week's 35-28 win over Little Rock Parkview, when the Hornets scored twice in the final 4:07. Maumelle must adjust schemes this week after playing run-heavy LR Parkview and White Hall the past two games. "It's been a collective effort," Coach Kirk Horton says. "It's 180-degrees different than last week. Parkview plays big-boy football and runs right at you. Pulaski Academy does it all. You have to be prepared for everything."

LAST WEEK
Hootens.com correctly predicted 13 of 16 games (81 percent) last week, nailing the spread of Morrilton by eight points over Greenbrier. Hootens.com has picked 97 of  118 games (82 percent) this season.

WEEK 6 PREDICTIONS (favored team in ALL CAPS)
5A CENTRAL
Watson Chapel at LR PARKVIEW (8) (Thurs.): LR Parkview has won two of the past three in the series, including 49-22 a year ago. The Patriots allowed two late TDs in last week's 35-28 setback at Maumelle. Senior Thomas McCauley ran 25 times for 181 yards and a TD, while junior QB Landon Rogers passed for 227 yards and a pair of TDs. Watson Chapel trailed Beebe 23-0 last week before rallying in the final three quarters for a 47-23 triumph. Senior Ricky Farver ran 13 times for 182 yards and three TDs, while QB Devin Curry ran for 120 yards and two TDs and threw a TD pass. 
WHITE HALL (14) at Beebe: White Hall led LR Fair 14-0 at halftime last week before pulling away 42-0. Senior Kam Robinson tallied three TDs against LR Fair. Improved Beebe led Watson Chapel 23-0 in the second quarter a week ago. Beebe junior Hayden Howard caught three passes for 67 yards at Watson Chapel, while sophomore QB Gannon Roberts completed 17 of 29 passes for 180 yards.
LR CHRISTIAN (40) at LR Fair: LR Christian has beaten LR Fair the past three years by a combined 154 points. The Warriors outlasted Pulaski Academy last week 63-61, when junior Isaiah Hankins kicked the winning 38-yard field goal with four seconds left. Junior Corey Platt recovered the onside kick to set up the winning field goal. LR Christian senior QB Akeem Gilmore passed for 275 yards and four TDs with four interceptions. Watch highlights of LR Christian's Week 3 win at Greenbrier HERE and extended highlights plus postgame reaction of LR Christian's win over Pulaski Academy HERE. LR Fair gets big plays in the passing game from junior Zaylan Robinson (three TD passes).
Maumelle at PULASKI ACADEMY (15): Hootens.com Class 5A Game of the Week.

5A EAST
BATESVILLE (7) at Forrest City: Forrest City's eight-point win last year over Batesville was its first in the series since 2009. Forrest City lost at Valley View last week by 29 points when it held the Blazers to 224 yards. Batesville has won consecutive games after starting the season 0-3. Batesville trailed Paragould 13-0 in the first quarter last week before scoring five straight TDs in a 34-21 victory. Junior QB Eli Livingston threw a pair of first half TDs, including a 99-yarder to senior Karson Douglas to put the Pioneers up 14-13.
NETTLETON (11) at Paragould: Nettleton must regroup after last week's 22-point loss to Blytheville when the Raiders surrendered big plays and committed five turnovers. Senior QB Cade Carter passed for 174 yards and a TD but threw two interceptions. Paragould led Batesville 13-0 in the first quarter last week, but the Rams didn't score again until the fourth quarter and lost by 13 points. Junior Brayden Hines paces the Rams with 96 carries for 542 yards and five TDs.
Valley View at WYNNE (8): Wynne is 5-0 all-time against Valley View, including last year's 21-point triumph. Valley View gained just 224 yards last week but beat Forrest City 35-6. Senior Connor Watson paces the Blazers with 14 catches for 376 yards and four TDs, while senior safety Carter Winters has 62 tackles, one fumble recovery and one blocked punt. Wynne forced three turnovers in last week's 28-point victory at Greene County Tech. 
Greene County Tech at BLYTHEVILLE (10): GCT allows 51 points per league game. Eagle sophomore Christian Barber and senior Cody Miller split snaps at QB. Miller has passed for 356 yards and four TDs this year, and rushed for 348 yards and six TDs. Blytheville junior Kylen Wells caught a 55-yard TD pass at the end of the first half and returned the second half kickoff 63 yards for a TD in last week's 50-28 win over Nettleton.

5A SOUTH
LR MCCLELLAN (32) at Hope: Hope trailed Hot Springs 33-7 at halftime last week before losing 51-7. The Bobcats get big plays from senior QB Hunter Hellums (19-yard TD pass at Hot Springs). LR McClellan lost a heartbreaker to Hot Springs two weeks ago and dumped De Queen last week by 53 points. LR McClellan senior playmaker Kenneth McCardell caught a 61-yard TD pass and returned a punt 80 yards for another TD at De Queen.
De Queen at HOT SPRINGS (35): Hot Springs has won four of the past seven over the Leopards, including 22-10 a year ago. Hot Springs winning with D (held Hope to 76 yards in first half last week). Junior Carlos Brewer ran 21 times for 211 yards and two TDs against Hope, while his brother Malik Brewer caught six passes for 112 yards and a pair of TDs. Sophomore QB Isaac Shelor passed for 219 yards and two TDs.
Magnolia at CAMDEN FAIRVIEW (11): This is a rivalry game, and Camden Fairview has won 12 of the past 19 years. Camden Fairview trailed Texarkana 20-6 at halftime last week, but gave up a long TD pass in the final two minutes of a 27-26 setback. Seven Cardinals have ran for TDs this year, including junior Erik Hall (758 yards, four TDs). Hall ran 43 times for 255 yards against Texarkana. Magnolia played Texarkana within eight points two weeks ago, but was blown out by HS Lakeside 42-21 last week, trailing 35-7 at halftime. Magnolia rushes for 286 yards weekly, led by senior QB Braelyn Beasley (64 carries, 306 yards and two TDs).
Hot Springs Lakeside at TEXARKANA (7): HS Lakeside jumped on Magnolia last week (led by 28 points in the second quarter) before easing to a 42-21 win. Junior QB Will Ross has passed for 1,085 yards and 14 TDs this year. Junior basketball player Logan White (27 catches, 395 yards and three TDs) and sophomore Chase Cross (16 catches, 450 yards and seven TDs) form one of the top receiver tandems in the state. Texarkana counters junior QB Braylon Bishop (three TD passes at Camden Fairview). Junior Torie Blair returned a punt 80 yards for a TD and set up the winning TD in the final minutes with a 54-yard grab.

5A WEST
Farmington at GREENBRIER (6): Farmington's improved D, under new coordinator Jay Harper, gives up 16 ppg. Senior receiver Drew Sturgeon has 25 receptions for 368 yards and six TDs, while sophomore Caiden Elsik has 68 carries for 372 yards and a pair of TDs. Balanced Greenbrier averages 327 yards weekly (164 passing, 163 rushing). Senior Peyton Long has rushed for 512 yards and nine TDs, while senior Bryce Morehart has 15 receptions for 218 yards and two TDs.
HARRISON (16) at Vilonia: This is as big of a game that Vilonia has played in a decade. The Eagles are 3-0 since opening the season with blowout losses to LR Christian and Maumelle (combined 10-0 record). The Eagles led Huntsville 29-6 at halftime last week before easing to a mercy-rule win. Senior Draven Smith has 87 carries for 1,030 yards and 14 TDs this year, while sophomore Austin Myers has passed for 621 yards and five TDs. Harrison didn't complete a pass two weeks ago against Morrilton (extended highlights and postgame reaction HERE), but passed for 171 yards and three TDs in last week's mercy-rule win at Clarksville. 
MORRILTON (10) at Alma: Expect a close one. Morrilton beat Alma by a combined five points in 2016-2017, and Alma won 23-22 a year ago. Morrilton slipped past Greenbrier 28-20 a week ago with senior QB Jacolby Criswell throwing for 230 yards and a TD and running for 75 yards and a pair of TDs. Watch extended highlights of Morrilton's Week 4 loss at Harrison (39-34) HERE. Winless Alma led Farmington 13-10 at halftime last week but lost 31-25. Senior QB Landon Blair passed for 296 yards a week ago.
CLARKSVILLE (20) at Huntsville: Clarksville has won eight of the past 11 in the series. The Panthers have lost consecutive games to Farmington and Harrison (a combined 10-0 record) the past two weeks. Clarksville senior linebacker Eduardo Almaraz paces the D with 39 tackles, while sophomore Bryce Buckner has 35 stops. Huntsville gets outscored 36-11 weekly and has given up 95 points in two conference games.