Class 6A Week 6 Rankings, Notes & Picks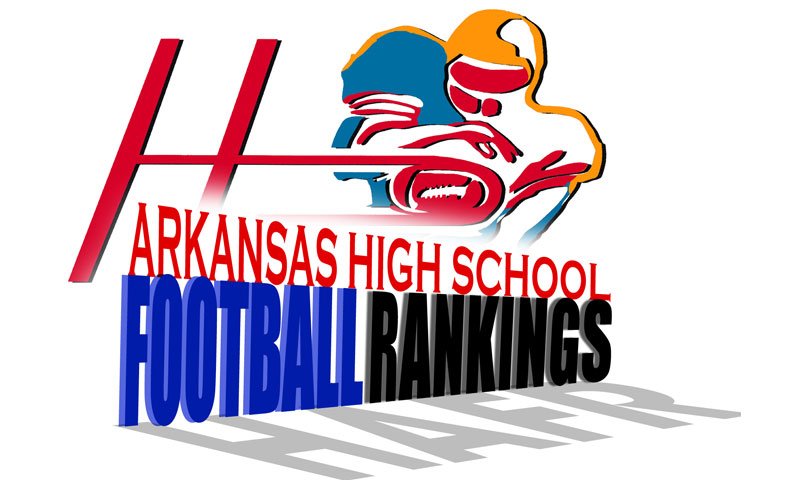 Hootens.com Rankings
Class 6A, Week 6, 2019
Copyright Hooten Publishing, Inc.

1. Greenwood (5-0)
2. Benton (2-3)
3. Jonesboro (4-1)
4. Searcy (5-0)
5. Lake Hamilton (5-0)
6. Siloam Springs (2-3)
7. Sheridan (3-2)
8. West Memphis (2-3)
9. Marion (2-3)
10. Russellville (1-4)
11. El Dorado (1-4)
12. Pine Bluff (2-3)
13. Sylvan Hills (1-4)
14. Mountain Home (0-5)
15. Jacksonville (1-4)
16. LR Hall (2-3)

HOOTENS.COM GAME OF THE WEEK
No. 11 El Dorado at No. 7 Sheridan
Sheridan has never beaten El Dorado, and the Wildcats rallied for a 31-17 victory last season. The winner stays alive for the No. 2 playoff seed and first-round bye.
El Dorado pushed top-ranked Greenwood last week, trailing 31-24 entering the fourth quarter of a 52-24 loss. The Wildcats "are the best 1-4 team I've ever seen," Sheridan coach Lance Parker says. "They're loaded with talent, especially at the skill areas." El Dorado senior running back Alex Hicks paces the team with 306 rushing yards, but only had six carries at Greenwood. Senior receiver Devunte Kidd has caught 38 passes for 459 yards and two TDs this season, exploding for 11 receptions for 174 yards and a score at Greenwood. Seniors Quentin Frazier (67 tackles, including 11 for losses) and Camerius Rucks (45 stops) pace the Wildcat defense.
Sheridan's three wins equal the amount of the previous three seasons combined. The Yellowjackets controlled the line of scrimmage in last week's 42-20 win at Russellville, rushing for 466 yards and six TDs. Junior Peyton Edwards' 199 rushing yards and three TDs sparked the Sheridan attack. Three QBs have seen action this year, but sophomore Konnor Canterbury threw both passes at Russellville. Sheridan made massive gains the past two off-seasons in the weight room and that fortifies a defense that allows just 21 points per game this fall.

LAST WEEK
Hootens.com last week correctly picked six out of eight games (75 percent) of games involving Class 6A teams. For the season, Hootens.com has correctly picked 48 out of 61 games (79 percent) of games involving Class 6A teams.

WEEK 6 PREDICTIONS (favored teams in CAPS followed by point spread)
6A EAST
JONESBORO (20) at Pine Bluff: Jonesboro punted Pine Bluff 29-12 last fall. Pine Bluff senior QB Tyler Foots accounted for four TDs in last week's 48-20 win at Mountain Home, including TD passes of 48 and 44 yards to senior Xavier Turner. Jonesboro junior QB Cross Jumper logged three scores in last week's 51-14 win at Jacksonville. The Jonesboro defense has logged 16 sacks this season. 
MOUNTAIN HOME (1) at Jacksonville: Jacksonville escaped Mountain Home 22-15 a year ago and the loser of this game likely misses the playoffs. Jacksonville surrendered 396 yards in last week's 51-14 loss to Jonesboro and the Titans trailed 28-6 at halftime. Mountain Home junior fullback Gage Hershberger ran for TDs of 29 and 2 yards and junior Tatem Beshears added a 15-yard score in last week's 48-20 loss to Pine Bluff. 
SEARCY (14) at Marion: Searcy beat Marion 37-23 last season. Marion rallied last week at Sylvan Hills for a 24-20 win after trailing 10-0 in the first quarter. The Patriots clinched the win by stuffing two Sylvan Hills fourth-quarter drives that penetrated Marion's 5-yard line. Searcy steamrolled West Memphis last week on homecoming, winning 54-21 and racking up 502 yards. Searcy senior QB Bryce Dixon completed 23 of 33 passes for 329 yards and five TDs against West Memphis. 
Sylvan Hills at WEST MEMPHIS (6): West Memphis slipped Sylvan Hills 34-10 in 2018. Sylvan Hills surged last week to leads of 10-0 and 20-17 in a 24-20 loss to Marion. Jessie Watson and Emil McCoy ran well for the Bears. West Memphis committed five turnovers in last week's 54-21 loss at Searcy, and the Lions converted three into TDs.

6A WEST
El Dorado at SHERIDAN (2): See Hootens.com Game of the Week. 
LR Hall at BENTON (33): Benton downed Hall 49-0 last October. Senior Dontevious Patterson and Braelon Adams scored last week for Hall in a 42-12 loss at Lake Hamilton. Benton stuffed the potential game-tying two-point conversion in a 28-26 victory last week at Siloam Springs. Benton junior QB Garrett Brown fired two TD passes in the win. 
Siloam Springs at GREENWOOD (28): Greenwood smashed Siloam Springs 42-7 last season. Siloam Springs dropped a tight 28-26 decision last week to Benton when Camden Collins ran 4 yards for a TD and returned an interception 12 yards for another score. Senior QB Taylor Pool also scored twice. Greenwood dominated the fourth quarter in last week's 52-24 win over El Dorado, keyed by Jayden Martin's 58-yard fumble return for a TD. Greenwood senior QB Jace Presley passed for 369 yards and four TDs. Senior Eli Martin (43 tackles) and junior Jordan Hanna (36 stops, four for losses) pace the Greenwood defense. 
Russellville at LAKE HAMILTON (14): Russellville ripped Lake Hamilton 28-14 last season. Russellville junior QB Brayden Whitford passed for 226 yards and two TDs in last week's 42-20 loss to Sheridan, but the Cyclones surrendered 8.5 yards per carry (466 rushing yards). Lake Hamilton is 5-0 for the first time since 2007. Lake Hamilton ran for 313 yards (8.2 YPC) and six scores in last week's 42-12 win over LR Hall. Sophomores Owen Miller and Tevin Woodley ran for 166 and 133 yards, respectively.