Class 7A Week 6 Rankings, Notes & Picks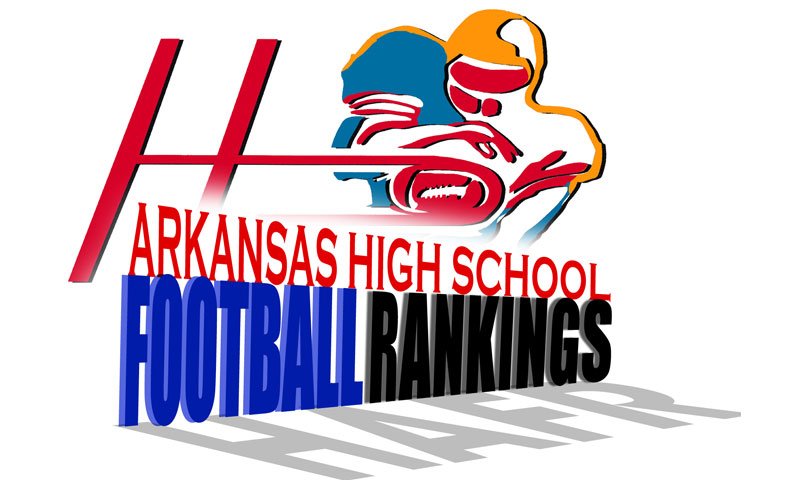 Hootens.com Rankings
Class 7A, Week 6, 2019
Copyright Hooten Publishing, Inc.

1. Bryant (5-0)
2. Bentonville (5-0)
3. North LR (3-2)
4. Har-Ber (3-2)
5. Conway (3-2)
6. Bentonville West (3-2)
7. LR Central (4-1)
8. FS Northside (2-3)
9. Fayetteville (2-3)
10. Van Buren (3-2)
11. LR Catholic (3-2)
12. Cabot (4-1)
13. Springdale (3-2)
14. FS Southside (1-4)
15. Rogers (0-5)
16. Heritage (0-5)

HOOTENS.COM GAME OF THE WEEK
No. 9 Fayetteville at No. 10 Van Buren
Winner likely secures home-field advantage in the first round of the playoffs. Upstart Van Buren's junior-tandem of QB Gary Phillips (1,053 yards passing) and WR/CB Jaiden Henry (23 catches for 301 yards) has the Pointers in the Top 10. Right tackle Doug Giron (6-2, 235), another junior, has not allowed a sack this season. But Van Buren trailed 38-7 by halftime and gave up 267 yards passing last week at No. 2 ranked Bentonville. Fayetteville tosses it much better than Bentonville so this is a bad matchup for the Van Buren. In fact, the Purple Dogs pass (250 yards per game) for more than three times as many yards as they rush (82 yards weekly). Expect plenty of points as Fayetteville also tries to shore up its new defensive scheme.

LAST WEEK
Hootens.com correctly predicted 7 of 8 winners in Class 7A games. For the season, hootens.com has correctly predicted 43 of 51 winners (84 percent) in Class 7A.

7A CENTRAL
Cabot at CONWAY (7): Conway led at North LR 7-0 at halftime (watch highlights HERE) last week before losing 17-7. Senior linebacker Reed Hughes leads the Wampus Cats with 71 tackles (14.2 per game). Cabot rebounded from its 28-26 loss to LR Catholic by blanking FS Southside 12-0 last Friday. Cabot allows just 17.8 points weekly but faces more explosive opponents the second half of the season.
NORTH LR (29) at FS Southside: North LR returned three key players from suspension to beat Conway 17-7 last week. North LR all-state RB Brandon Thomas (hyperextended knee and burned knee) is "hopeful" to play this week, Coach Jamie Mitchell says. FS Southside has scored two TDs or less in three games this season, including a 12-0 loss last week at Cabot.
FS NORTHSIDE (7) at LR Catholic: FS Northside missed electrifying QB Dreyden Norwood and bullish playmaker Jackson King due to injuries in last week's 42-35 loss to LR Central. Both are expected back this week. LR Catholic's rangy senior receivers Nathan Johnson (6-5, 190; 4.0 GPA) and Robert Bavon (6-3, 170) have combined for 31 catches for 427 yards and five TDs, but the Rocket offense did not score in last week's 56-7 loss at Bryant.
BRYANT (35) at LR Central: LR Central flying high with a 4-1 record after winning last week at FS Northside 42-35. LR Central plays harder for longer this season but hasn't battled an opponent as strong and deep as top-ranked Bryant. Bryant junior QB Austin Ledbetter has passed for close to 1,400 yards despite sitting out the second half of most games. Ledbetter has just one completion after halftime this season, Coach Buck James says.

7A WEST
FAYETTEVILLE (3) at Van Buren: Game of the Week.
Heritage at BENTONVILLE (35): Bentonville led Van Buren 38-7 by halftime last week. The Tigers travel to Fayetteville next Friday. Heritage has lost 48 of its past 50 games.
Springdale at HAR-BER (36): Har-Ber outscores opponents 47-27 weekly with 497 yards per game (297 passing). Senior QB Blaise Wittschen has completed 63 percent of his passes for 1,432 yards and 17 TDs with just 4 INTs. Senior Hunter Wood catches 7 passes weekly for 126 yards while classmate Jay Burns rushes for 139 yards (8.3 per carry). Har-Ber looks to avenge last year's 43-42 loss at Springdale and has plenty of players and motivation to get it.
BENTONVILLE WEST (35) at Rogers: Rogers shifted assistant coaching responsibilities this week. The winless Mounties are losing by an 58-19 margin. West is one of the more athletic teams in the 7A-West but employees several players on both offense and defense. The Wolverines play host to Har-Ber next Friday likely for at least the No. 2 playoff seed and first-round bye.