RECRUITING: Ashdown at Malvern loaded with recruits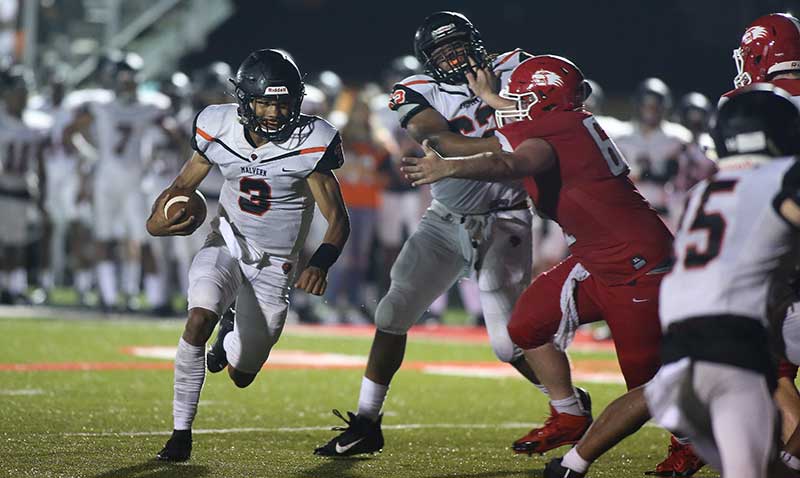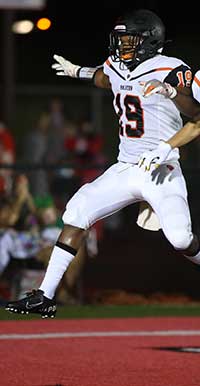 There is more than one showdown this week in the 7-4A.
While No. 1 Joe T. Robinson at No. 4 Nashville rightfully garners statewide headlines, No. 12 Ashdown at No. 19 Malvern features a pair of conference unbeatens and a field cluttered with college prospects.
Malvern has beaten Bauxite and Harmony Grove Haskell the past two weeks by a combined 78-7, and the Leopards' two losses this fall are to Class 6A Lake Hamilton and Class 5A Hot Springs Lakeside.
"With all the craziness of this season, it's a great feeling to have two conference wins," Malvern coach J.D. Plumlee says.
The fast start coincides with the progression of sophomore quarterback Cedric Simmons (6-1 170). When Plumlee was hired Winter 2019, he sought out Simmons and his family. Simmons (#3 in Justin Manning photo above) quarterbacked the junior high as an eighth grader "and was a man among boys," the coach says. "I sat down with him and his grandpa and told him I thought he needed to move to the varsity. He wasn't going to be challenged in junior high and  playing varsity as a freshman would help his development, and in the long run, make him a better player."
Simmons started every game last season, running for 921 yards and eight touchdowns, while passing for 621 yards and four TDs. Malvern coaches expected a major jump from Simmons this fall, but his passing accuracy has surprised Plumlee.
The savvy sophomore (4.0 GPA) has completed 69 of 99 passes (70 percent) for 921 yards and eight TDs. He threw five interceptions in the opening two games but none since. Simmons also paces Malvern's balanced rushing attack with 304 yards and four TDs.
"He's a Division I guy," Plumlee says. "He has all the credentials. I think his recruiting will explode this summer after he goes to camps. I expect he can add 10 pounds of muscle every year in high school." 
Kansas has evaluated Simmons over the past year, along with every in-state Division II school.
Simmons isn't Malvern's lone potential college athlete. Senior receiver/cornerback Malique Reliford (6-2, 185) owns four D2 offers, including Henderson State and Ouachita Baptist, while FCS member Austin Peay amped its recruiting pitch to Reliford (#19 in Justin Manning photo) over the past two months.
Reliford, starting on offense for the first time this fall, averages almost 10 yards per carry. He has eight receptions for 67 yards and a TD. At cornerback, he has collected 25 tackles. The athletic Reliford (4.5 speed) works as Wildcat QB in some sets and plays on every special team.
Senior running back Jacobe Hart (6-0, 180) "is our workhorse," Plumlee says. Hart shifts to QB in some sets, returns kicks, starts at safety and bumps to outside linebacker. Hart has carried 30 times this year for 163 yards and three TDs. He averages 7 yards per reception and 25 yards per kickoff return. Hart has recorded 26 tackles and one interception on defense. He owns multiple college baseball offers, but Plumlee believes he can play college football.
Senior defensive ends Easton West (6-3, 220) and Tre'sean Moorman (6-1, 210) could develop into D2 prospects, the coach says.
West earned all-conference honors last season and improved his strength during a productive summer. He has logged 29 tackles, two sacks and four QB hurries this fall.
Moorman, an All-7-4A middle linebacker last season, "is a playmaker," Plumlee says. Moorman fills out the stat sheet in most games (26 tackles, nine tackles for loss, one sack, seven QB pressures and a pair of forced fumbles this year).
Ashdown matches Malvern's glut of college talent. Four Ashdown alumni start on DI teams, and another plays DI baseball. This year's roster might equal that talent level.
Ashdown senior Jacolby Williams (6-0, 180) owns 4.5 speed and offers from Austin Peay, Arkansas Tech, Ouachita Baptist and Southern Arkansas. Williams starts at receiver, cornerback and is regarded as one of the state's top kick returners. He has returned two kickoffs, three punts and two fumbles for TDs this fall. "He's an explosive play waiting to happen," Ashdown coach Matt Richardson says.
Senior noseguard Vincent Jones (5-10, 250) "is the best player in the conference, maybe the best in Class 4A," Richardson says. Jones has emerged as the team leader, while recording double-digit tackles in four games. Henderson State offered him a scholarship, and the coach expects multiple D2s to offer over the next two months.
Sophomore tight end Shamar Easter (6-5, 205) could emerge as the state's top prospect in two years. Easter already owns offers from Arkansas, Kansas and New Mexico. "He's a difference-maker," Richardson says.
Easter, who ranks the No. 8 overall prospect and No. 1 tight end for the 2023 class by multiple recruiting services, has at least one TD catch in every game this fall. Richardson predicts Easter, and at least five of his classmates, will be DI players. "Our talent level is unreal," the coach says. "People are going to be hearing a lot from these guys over the next few years."