Class 2A Week 7 Rankings, Notes & Picks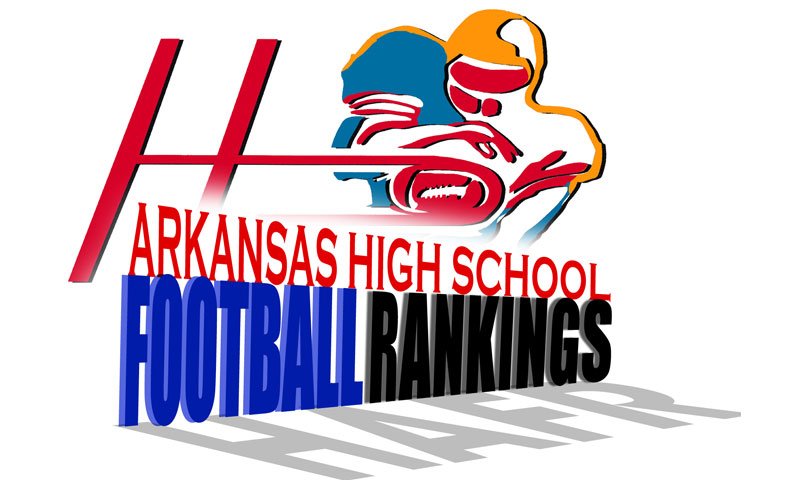 hootens.com Rankings
Class 2A, Week 7, 2018
Copyright Hooten Publishing, Inc.
1. Foreman (6-0)
2. Mount Ida (6-0)
3. Junction City (3-2)
4. Hazen (5-0)
5. Conway Christian (4-2)
6. Hampton (3-2)
7. Fordyce (4-2)
8. Earle (5-1)
9. Salem (4-1) 
10. Gurdon (5-1)
11. Des Arc (3-3)
12. Mineral Springs (4-2)
13. Magnet Cove (3-3)
14. Quitman (5-1)
15. Mountainburg (4-1)
16. England (2-4)
17. Bearden (2-3)
18. Poyen (4-2)
19. Magazine (3-2)
20. E. Poinsett County (5-1)
21. Cross County (2-4)
22. Hector (4-2)
23. Mountain Pine (3-3)
24. Bigelow (3-3)
25. Parkers Chapel (1-4)
26. McCrory (4-2)
27. Marked Tree (1-5)
28. Lavaca (3-3)
29. Murfreesboro (2-4)
30. Hackett (2-3)
31. Carlisle (1-4-1)
32. Clarendon (2-3)
33. Lafayette County (1-5)
34. Rector (2-3)
35. Strong (0-6)
36. Brinkley (1-5)
37. W. Yell County (2-4)
38. Marianna (1-4)
39. Cutter M. Star (1-5)
40. Spring Hill (1-4)
41. Dierks (0-6)
42. J.C. Westside (1-5)
43. Midland (0-6)
44. Marvell (0-6)

HOOTENS.COM GAME OF THE WEEK
No. 2 Mount Ida at No. 1 Foreman
This is (likely) the 7-2A title game and a rematch of the 2017 state championship won by Foreman 24-21. Mount Ida won this matchup 36-7 in the 2017 regular season. Two run-oriented offenses and stingy defenses should keep the scores low and the game short Friday night at Foreman's Memorial Stadium, known by locals as "The Swamp." Senior quarterbacks Cade Jackson and Kyren Batey trigger Mount Ida's Veer and Foreman's Flexbone, respectively, routinely churning out more than 300 rushing yards that would be even more if starters played longer in blowout victories. Both teams boast defensive fronts that many larger schools would covet. Foreman sophomore DE Chris Haywood (12 TFL) garners DI recruiting attention, but senior DE Davin Cross (12 TFL) and tackle Jeremy Jones (eight TFL) have excelled. Foreman has held each of its past five opponents to zero points and less than 100 yards. Mount Ida senior tackle Oscar Pinedo (37 tackles, 11 TFL) and senior end Ethan Winkley (38 tackles, 13 TFL) anchor a front that frees senior linebackers Jonathan Lagrange (49 tackles, six TFL) and Drew Allen (50 tackles) to pace MI in tackles.

TV LAND
Hooten's Arkansas Football airs at 10:30 Saturday mornings on KATV (ABC Little Rock) Ch. 7, previewing the Razorbacks and their opponent.

LAST WEEK
Hootens.com correctly picked 20 of 22 games (91 percent) played last week. Hootens.com has picked 138 of 169 (82 percent) for the season. 

WEEK 7 PREDICTIONS (favored team in CAPS followed by point spread)
3-2A
McCrory at E. POINSETT COUNTY (6): League-leading EPC managed just 157 yards (153 rushing) last week, but it forced three turnovers to get past rival Marked Tree 20-12. EPC junior Rayshon Gates carried 22 times for 95 yards and two TDs. McCrory, with a 1-2 record in league play, drove inside the Cross County 10-yard line twice but could not score in a 12-point loss. Senior ATH T.J. Alford (ankle), who missed the past two weeks, remains questionable.
SALEM (21) at Marked Tree: No. 9 Salem and senior RB Jordan Turner (1,317 yards) are running roughshod through the 3-2A. Turner torched Midland last week for 238 yards and five TDs. Junior Peyton Barker added 157 yards and a TD on 11 carries. MT out-gained EPC, 211 to 157 yards last week but lost by eight points.
CROSS COUNTY (6) at Rector: Already matching last season's win total (two), Rector has a shot at reaching the postseason for the first time since 2000. Cross County eyes its fourth conference crown in the past five years with a monster line opening running and passing lanes for senior QB Hunter Like. Like completed four of five passes for 100 yards and a TD last week vs. McCrory and rushed 20 times for 115 yards and three TDs in the 26-14 win. CC's line includes senior guard Eli Hill (6-2, 250), junior guard Jordan Cummings (5-10, 300), junior center Trace Davis (5-6, 305), senior tackle Caleb McCammon (6-4, 275), and sophomore tackle Mathew Newby (6-5, 340).
MIDLAND is open.

4-2A
Hector at HACKETT (2): Both teams have lost at Magazine, and both need a win to stay in contention for a league title. Hackett, which was idle last week, is as healthy as it has been since early this season. Hector could not keep up with Magazine a week ago, managing 300 yards while giving up 454 in an 18-point loss. Hackett senior QB Brady Hester has accounted for 1,008 of Hackett's 1,588 total yards this fall.
MAGAZINE (8) at Lavaca: Magazine took advantage of five Hector fumbles last week, recovering one in the second quarter at its 3-yard line. The Rattlers then drove 97 yards to take a commanding 18-7 lead en route to a 39-21 victory, ending a three-game losing skid in the series. Magazine amassed 454 yards with junior Caleb Hyatt (5-11, 200) rushing for 195 yards and two TDs. Lavaca counters with senior RB Tyler Armstead (605 yards, 10 TDs), LB Trevon Moore (63 tackles, five TFL, two FF, two FR) and junior LB Tucker Marshall (eight TFL and three sacks).
Western Yell at MOUNTAINBURG (27): Mountainburg stays atop the league standings. Sophomore dual-threat QB Ethan Gregory has passed for 402 yards and rushed for 404 yards. Senior Austin Taylor has rushed for 490 yards and nine TDs.
J.C. Westside at STRONG (12): Strong junior QB/S Derrion Davis, an all-state basketball player, makes plays on both sides of the ball. Strength of schedule favors winless Strong.  

5-2A
CONWAY CHRISTIAN (19) at Quitman: Quitman showed great endurance last week, clawing back from a 28-point deficit vs. Magnet Cove to get within six points before losing 60-41. Quitman's defense gets no breather this week vs. No. 5 Conway Christian, which buried England by halftime 50-14 and shut out the Lions in the second half. Conway Christian QB Jacob Wood completed six of 13 for 225 yards and three TDs, while running for another 131 yards and four TDs. Senior Jack Stapleton led CC with six tackles.
Bigelow at POYEN (28): Bigelow tries to halt a three-game losing skid that started Week 4 with a heartbreaking (19-16) loss to Quitman. Sophomore Brandon Sanchez leads Poyen in rushing (549 yards, eight TDs) and receiving (554 yards, four TDs). Poyen senior QB Jacob Farmer has passed for 1,363 yards and 16 TDs with three INTs.
MAGNET COVE (15) at Mountain Pine: No. 13 Magnet Cove jumped Quitman 41-13 at halftime last week and held on for a 60-41 win with senior Eli Dawson rushing 25 times for 232 yards and two TDs. Junior Jaryd McJunkins (back) played for the first time this season, recording two TD receptions (19 and 65 yards) and an interception. Junior QB Tyler Hodges has triggered Magnet Cove's new-found passing game, completing four of six last week for 131 yards and three TDs. MC did not complete a TD pass in 2017.
Cutter M. Star at ENGLAND (38): England rushed for just 39 yards last week in a 50-14 loss at Conway Christian, but junior QB Mason Brazeal completed 25 of 40 passes for 327 yards and two TDs. England should reach the end zone often this week against a Cutter Morning Star defense that just allowed 505 yards and 42 points to Poyen.

6-2A
Marianna at CARLISLE (33): Homecoming at Carlisle, which  wins its second straight after scoring 52 points in the first quarter last week and rolling to a 66-12 win over Marvell.
Brinkley at DES ARC (35): No. 11 Des Arc held explosive Hazen in check most of the night but could not generate enough big plays of its own, averaging 3.4 yards per rush, to off-set two turnovers. Junior LB Will Kearby leads Des Arc in tackles (60) as he did in an all-conference sophomore season.
Marvell at EARLE (56): Speedy senior QB Tavarius Thomas (5-5, 165) fuels No. 8 Earle behind a physical line. Earle has bludgeoned 6-2A have-nots the past three weeks by a combined 202-6. Marvell fumbled three straight kickoffs last week and trailed Carlisle 52-0 after the first quarter.
Clarendon at HAZEN (32): No. 4 Hazen big-played Des Arc last week in a 22-6 win with junior Ay'Jon Green recording nine tackles and an INT, and junior Rasheed Mills diving for a 37-yard reception that set up a 1-yard TD. Classmate Tarrall Penn bolted 57 yards for a TD and collected eight tackles. All-state senior LB Cade Perry racked up 16 stops.

7-2A
Mount Ida at FOREMAN (2): See hootens.com Game of the Week.
Dierks at LAFAYETTE COUNTY (10): LC netted 39 yards on 29 snaps last week in a 49-0 loss to top-ranked Foreman. Two weeks ago, Foreman limited Dierks to minus-19 total yards in a 56-0 blowout.
MINERAL SPRINGS (35) at Murfreesboro: Murfreesboro simply does not own the horses to run with Mineral's speedy skill players. Murfreesboro netted 130 yards and committed four turnovers last week in a 62-6 loss to Gurdon.
GURDON (45) at Spring Hill: Gurdon continues to improve weekly and should claim the league's third playoff seed at the very least. It scored TDs on eight of nine possessions and rushed for 357 yards last week in a 62-6 rout of Murfreesboro. Gurdon sophomore RB Jameson Threadgill carried nine times for 123 yards and three TDs.

8-2A
Bearden at JUNCTION CITY (16): JC was idle last week, while Bearden got past Parkers Chapel 28-23. Junction City toppled Camden Harmony Grove 52-50 Week 0, and a week later Harmony Grove took down Bearden 22-14. Team speed advantage goes to Junction City, featuring leading rusher and dangerous return man Jakiron Cook (607 rushing yards, seven TDs) and receiver Kevontae Haynes (238 yards, two TDs). JC has nine defenders with double-digit tackle totals, led by junior Kyle Kidwell (31 tackles, six TFL).
FORDYCE (13) at Parkers Chapel: No. 7 Fordyce took down Class 3A Barton 15-14 last week when sophomore playmaker Jaheim Brown completed TD passes of 63 and 7 yards. Brown has completed 51 percent of his passes this fall for 820 yards and 11 TDs with five INTs. Fordyce has nine speedy defenders with double-digit tackle totals, led by senior LB Wanya Morris (52 tackles, six TFL). PC turned in its best performance in a month last week, a 28-23 loss to Bearden. PC outgained Bearden, passing for 263 yards and three TDs,  but it turned the ball over on downs and threw an interception on Bearden's side of the field.
J.C. Westside at STRONG (12): Strong junior QB/S Derrion Davis, an all-state basketball player, makes plays on both sides of the ball. Strength of schedule favors winless Strong.
HAMPTON is open.