Class 3A Week 7 Rankings, Notes & Picks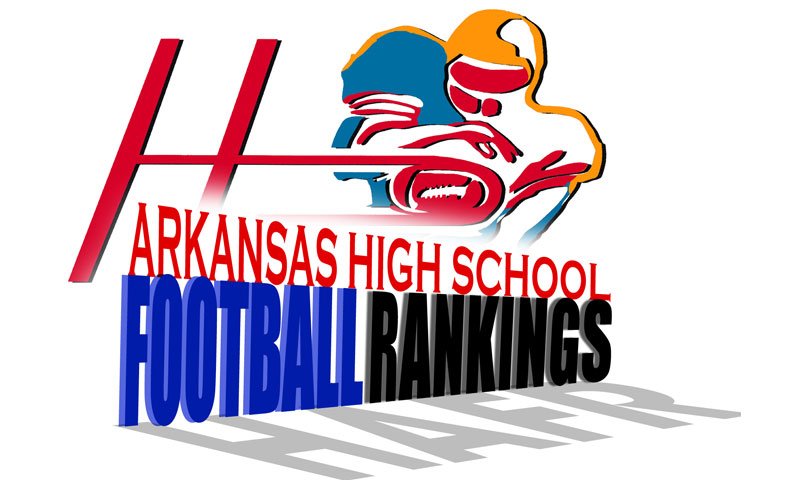 Hootens.com Rankings
Class 3A, Week 7, 2018
Copyright Hooten Publishing, Inc.
1. Booneville (6-0)
2. Smackover (5-1)
3. Clinton (6-0)
4. Prescott (5-1)
5. Newport (5-1)
6. Glen Rose (5-1)
7. Osceola (4-2)
8. Mayflower (5-1)
9. Rison (7-0)
10. Atkins (6-0)
11. Harding Academy (4-2)
12. C. Harmony Grove (5-1)
13. Mansfield (6-0)
14. Lamar (6-0)
15. Hoxie (3-3)
16. Walnut Ridge (4-2) 
17. McGehee (3-3)
18. Charleston (3-3)
19. Melbourne (4-2) 
20. Danville (3-3)
21. Piggott (4-2)
22. Barton (3-2)
23. Centerpoint (4-2)
24. Greenland (3-3)
25. Harrisburg (3-3)
26. Baptist Prep (3-2-1)
27. Jessieville (3-3) 
28. Fouke (2-4)
29. Palestine-Wheatley (3-2) 
30. Cedarville (2-4)
31. Lake Village (3-3)
32. Dollarway (1-5)
33. Perryville (1-5)
34. Manila (2-4) 
35. Horatio (2-4)
36. Mountain View (1-4)
37. Yellville-Summit (1-5)
38. Bismarck (1-5)
39. Marshall (1-5)
40. Drew Central (0-5)
41. West Fork (0-6)
42. Genoa Central (1-5)
43. Corning (0-6)
44. Paris (0-6)
45. Two Rivers (0-6) 
46. Cedar Ridge (1-4)
47. Rose Bud (0-3)

HOOTENS.COM GAME OF THE WEEK
No. 13 Mansfield at No. 1 Booneville
This game between 6-0 teams likely decides the 1-3A title and home-field advantage until the quarterfinals. Mansfield and Booneville boast the second- and third-best scoring defenses in the 1-3A, respectively.  Mansfield, which has not qualified for the playoffs since 2011, has outscored opponents 206-72. The Red Tigers have not claimed a league title since 2008. Mansfield snapped a seven-game losing streak to Charleston last week with a 22-10 victory, deflecting five passes and recording two tackles for loss. Mansfield's six wins are its most since going 10-3 in 2010. Junior quarterback Ethan Stovall completes 61 percent of his passes for 1,036 yards and 13 touchdowns with just two interceptions. Senior Zac Woolbright paces the ground game with 268 rushing yards and two TDs. Junior Layton Howard has caught 22 passes for 244 yards and three TDs, while junior Jaicy Griffin (17.9 yards per reception) and junior Tyler Holmes (22.5 YPR) stretch the field with big-play ability. Senior Max Lovelace ranks second on the defense with 34 tackles while sophomore Randall Claude has pinned ball-carriers 33 times.  Top-ranked Booneville has outscored foes 254-94, gashing Greenland last week 62-34 by racking up 526 yards on 44 plays (12 yards per play). Rugged senior fullback Carson Ray rushed 12 times for 144 and four TDs. Michael Hesson earned 12 totes for 106 yards and two scores. Andrew Roberson scooted seven times for 105 yards and a score. Junior QB Evan Schlinker completed six of seven passes for 131 yards and two TDs. It was the third 60-point game under Coach Scott Hyatt (106-33 at Booneville). Senior defensive lineman Noah Reyes is among the most disruptive players in Class 3A. 

TV LAND
Hooten's Arkansas Football airs 10:30 a.m. Saturdays on KATV (ABC Little Rock) Channel 7, covering the Razorbacks, high school teams and players to watch.

MISSING IN ACTION
6-3A member Episcopal plays 8-man club football this fall, while 2-3A schools Cedar Ridge and Rose Bud finish 2018 playing junior varsity schedules.

LAST WEEK
Hootens.com correctly predicted 22 of 24 winners (92 percent) of games involving Class 3A schools. Hootens.com has correctly picked 157 of 184 winners (85 percent) of games involving Class 3A schools for the season.

WEEK 7 PREDICTIONS (favored team in CAPS followed by point spread)
1-3A
Mansfield at BOONEVILLE (9): See Hootens.com Game of the Week.
Paris at CHARLESTON (14): Paris is 0-6 for the first time since finishing 0-10 in 2003. Charleston has alternated wins and losses this year, and it has lost three regular-season games for just the third time since 1995. Charleston committed three turnovers last week in a 22-10 loss at Mansfield and its 277 yards were the second-fewest its recorded this year. 
West Fork at CEDARVILLE (12): Loser likely misses playoffs. West Fork's best chance at snapping its 22-game losing streak is next week when it plays host to Paris. Cedarville rushed for more than 400 yards last week in a 53-28 victory at Paris. Dylan Murray completed three of four passes for 87 yards and a TD. 
Greenland at LAMAR (10): Greenland rolled up 324 yards last week in a 28-point loss to Booneville. Senior QB Levi Vaughn completed nine of 18 passes for 125 yards and two TDs. Greenland erased a 21-point second-quarter deficit to get within Booneville 34-27 at halftime. Lamar has scored 41 points the past two weeks and is 6-0 for the first time since 2015. Lamar's 41-6 win last week at West Fork was Coach Josh Jones' 52nd since 2012, the most in school history. The Warriors finish at Mansfield and play host to Booneville and Charleston.

2-3A
Yellville-Summit at CLINTON (35): Yellville-Summit got two scores from Eli Cagle in a 41-20 loss last week at Class 2A Rector, and the Panthers likely need to beat Marshall or Mountain View to make the playoffs. Clinton's homecoming game last week with Cedar Ridge was cancelled. The Yellow Jackets travel next week to play Class 2A Strong at LR Christian. Clinton received a 13-0 forfeit from Cedar Ridge but the Rose Bud game was cancelled. 
Melbourne at HARDING ACADEMY (3): Winner likely earns the No. 2 playoff seed. Teams are a combined 8-4 overall and 4-2 in league play (both losses to Clinton). Melbourne recorded its first shutout in program history (launched in 2012) last week in a 53-0 win at Marshall. The Bearkatz, who led 46-0 at halftime, got two TDs apiece from Noah McSpadden, Bryan Worsham and Gabe Lawrence. Eli Harrell also scored. Harding Academy won at Mountain View 49-12 behind senior QB Davis Morgan's five TD passes. Morgan connected on 16 of 18 passes for 323 yards and did not throw an interception for the third straight game. Harding receiver Jimmy Citty caught two passes for 101 yards and two scores. 
Marshall at MOUNTAIN VIEW (12): Important game for playoff seeding purposes as teams each own one league win. Marshall managed just 51 yards last week in a 53-point loss at Melbourne. Mountain View allowed 453 yards in last week's 37-point loss to Harding Academy. 

3-3A
Corning at WALNUT RIDGE (10): Corning likely needs a win to remain in playoff contention. The Bobcats have not made the postseason since 2014. Corning rolled up 257 yards last week in a 51-20 loss to Hoxie, including TD runs from Nikoda Amiker (70 yards) and Rylee Grubb (29 and 8 yards). Walnut Ridge junior QB Andrew Brewer accounted for three scores, including the game-winning 20-yard pass to Cade Burris with less than two minutes left in a 35-34 win.
OSCEOLA (14) at Harrisburg: Harrisburg likely needs a win to qualify for the playoffs for the first time since 2011. The Hornets allowed 590 yards last week at Newport in a 63-28 defeat. Osceola led 45-0 at Manila in the third quarter of a 51-8 victory. The Seminoles rolled up 536 yards, converted all five third and fourth downs and forced three turnovers. 
HOXIE (8) at Piggott: Big game for playoff positioning. Piggott (2-1 in league play) needs a win to remain in the hunt for the conference title. Piggott senior Gunner Shaw rushed for 151 yards and two TDs last week and returned a kickoff 85 yards for a score in a one-point loss at Walnut Ridge. Classmate Dyllan Bellers logged 13 tackles. Hoxie (1-2 in 3-3A) crushed Corning and has already played conference favorites Newport and Osceola. Hoxie forced three Corning turnovers and amassed 360 yards in a 31-point win at Corning.
Manila at NEWPORT (24): Manila likely needs a win to remain in playoff contention. The Lions picked up 10 first downs and got a 4-yard TD pass from senior QB Layne Sims last week in a 43-point loss. Newport led Harrisburg 49-19 at halftime in a 63-28 victory. Exciting sophomore running back Tharon Davis zipped for 205 yards and two TDs, and junior 'back Monquell Cox recorded 90 yards and a score. Senior QB Cash Forrester completed 14 of 17 passes for 216 yards and four TDs and ran for two short scores. Senior linebacker Julius Pruitt logged 10 tackles for the fourth time this year against Harrisburg. 

4-3A
ATKINS (1) at Danville: Key game for playoff seeding. Danville likely won't win a conference title for the first time since 2014 after two league losses. Danville trailed at Glen Rose last week just 13-7 at halftime, but the Beavers scored 21 unanswered points to pull away. Danville senior QB Preston Donnell passed for 141 yards and fired a TD to classmate Dalton Reagan. Senior running back Quentin Tolbert ran for 49 yards and a score. This begins a decisive stretch for Atkins, which plays host to Mayflower next week and travels to Glen Rose Week 9. Atkins junior QB Eli Robertson accounted for six TDs (five passing) in last week's 42-13 win against Jessieville. Kennon Martin caught two TD passes.
MAYFLOWER (27) at Baptist Prep: Baptist Prep is 2-1 in league play and owns key tiebreakers over Jessieville and Perryville. A Week 9 win at Two Rivers solidifies a playoff berth for Baptist Prep, which forced five turnovers in a 13-6 win last week at Perryville. Gage Hall connected with Robert Lewis for the game-winning TD. Mayflower remains in the hunt for a second straight league title but the Eagles likely settle for the No. 2 playoff seed after a Week 5 loss at Glen Rose. Mayflower tanked Two Rivers 46-0 last week, the Eagles' first shutout out since 2017. Senior playmaker Keon Simmons returned the opening kickoff 80 yards for a TD and later added a 47-yard TD run. Classmate Dylan Burnett added scoring sprints of 47 and 43 yards. 
GLEN ROSE (24) at Jessieville: Jessieville likely needs to upset one of the top teams in the 4-3A to make the playoffs. The Lions scratched out 252 yards last week against the stingy Atkins defense but lost 42-13. Glen Rose, which beat league contenders Mayflower and Danville the past two weeks, allowed just 3.1 YPC on 38 carries to Danville, part of a 20-point homecoming win. Glen Rose forced three turnovers, including an interception by senior Brayson Efird. Senior running back Jay'Shawn Cox darted for 158 yards and two TDs. 
PERRYVILLE (3) at Two Rivers: Winner stays alive in playoff hunt. Two Rivers has lost 32 straight games dating to 2015 and has not scored a point since Week 2. Perryville has lost five straight but last week trailed just 7-6 until late in the fourth quarter. Perryville junior Reid Standridge racked up 13 stops, and senior Dyllan Collier made 11.

5-3A
HORATIO (6) at Bismarck: Loser likely misses playoffs. Bismarck, losers of five straight and 13 of the past 14, scored a season-low 14 points last week in a 20-point loss at Fouke. Bismarck ran for just 1.3 yards per carry. Horatio has lost four of five games, including three shutouts. Horatio does own a league win over Genoa Central. 
Centerpoint at C. HARMONY GROVE (17): Centerpoint, winner of four of five games, recorded its first shutout since 2016 in a 14-point win at Genoa Central. Harmony Grove is 3-0 in league play ahead of showdowns Weeks 9 and 10 with Prescott and at Smackover, respectively. The Hornets have won five straight, including consecutive shutouts. Harmony Grove allowed just 124 yards last week at Horatio, including minus-2 yards passing. 
Fouke at SMACKOVER (24): Teams opened their season in the Arkansas Blue Cross and Blue Shield Kickoff Classic at Southern Arkansas University. Fouke snapped a four-game losing skid last week with a 34-14 win against Bismarck. Junior QB Hunter Lansdell completed 17 passes for 191 yards and three TDs. Five receivers caught Lansdell passes. Smackover erased a 14-0 second-quarter deficit in a 21-20 win at Prescott to remain unbeaten in league play. Senior running back Greg Turner scored twice (12 and 28 yards), and senior QB Roshard Boone fired a 37-yard TD pass to Jaqueze Modica to pace Smackover. The Buckaroos have not won a league title since 2015. 
Genoa Central at PRESCOTT (21): A Genoa loss makes it difficult for the Dragons to earn their first playoff berth. Genoa has not scored in two games and has been shut out three times in 2018. Smackover snapped Prescott's 20-game home winning streak last week in a 21-20 win. Prescott got TD runs from Ryan Johnson (15 and 13 yards) and Alex George (45 yards). 

6-3A
MCGEHEE (3) at Barton: Schools have captured a combined 15 state titles. A McGehee win keeps the Owls in the mix for a No. 2 playoff seed. A Barton win keeps the Bears unbeaten in 6-3A action ahead of an October 26 game against Rison. Class 2A Fordyce ruined Barton's homecoming last week, 15-14. Barton got TDs from Kavein Davis and Jarquez Washington. McGehee has won three of four games after a 36-14 win at Dollarway, when McGehee surrendered no points after halftime. Dewayne Railey scored two TDs for McGehee. 
DOLLARWAY (2) at Drew Central: Loser likely misses playoffs. Drew Central has not qualified for the playoffs since bringing back varsity football in time for the 2008 season. The Pirates have lost 12 straight games. Dollarway and McGehee were tied at halftime last week, but Dollarway committed two turnovers and did not score after halftime in a 22-point loss. Senior QB Terrance Brown tossed TD passes to Jercorian Dickson and Da'Vion Brown against McGehee. 
Palestine-Wheatley at LAKE VILLAGE (6): Loser likely misses playoffs. League opponents have outscored Palestine-Wheatley 112-6 through two weeks. Palestine-Wheatley rolled up 125 yards and six first downs in the first quarter last week at Rison, but just 35 yards and two first downs afterward. Senior running back Garrett Wilson ran for 53 yards and added a 16-yard reception. Lake Village hunts its second playoff appearance in three years after downing Drew Central 39-22. It was Lake Village's first league road win since 2016. 
McClellan JV at RISON (1): This game was scheduled when Episcopal elected to play 8-man football this fall. Rison gave Coach Clay Totty his 200th career win last week when it shut out Palestine-Wheatley 54-0. Rison racked up 428 total yards (371 rushing). Jamarien Frye (123 yards) and Malik Chavis (128 yards) eclipsed the 100-yard plateau. Five of Rison's seven TD runs spanned 30 yards or more.