Class 5A Week 7 Rankings, Notes & Picks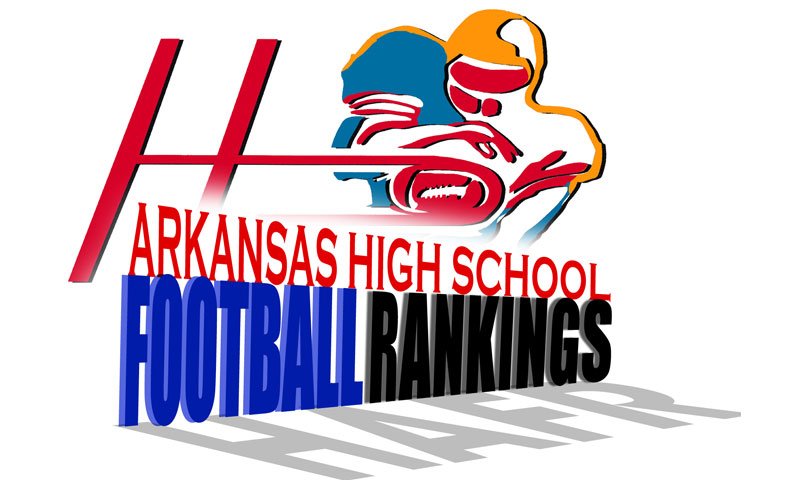 Hootens.com Rankings
Class 5A, Week 7, 2018
Copyright Hooten Publishing, Inc. 
1. Pulaski Academy (5-1)
2. LR Christian (5-1)
3. Texarkana (5-1)
4. LR McClellan (6-0)
5. Harrison (6-0)
6. Blytheville (4-2)    
7. Nettleton (5-1)
8. LR Parkview (3-3)
9. Alma (3-3)
10. Morrilton (2-4)
11. Greenbrier (4-2)
12. White Hall (4-1)
13. Wynne (3-3)
14. Camden Fairview (3-3)
15. Valley View (4-2)
16. HS Lakeside (2-4)
17. Forrest City (3-3)
18. Farmington (3-3)
19. Maumelle (3-3)
20. Vilonia (2-4)
21. Beebe (2-4)
22. Batesville (1-5)
23. Magnolia (3-3)
24. Watson Chapel (1-3-1)
25. Greene County Tech (2-4)
26. Clarksville (2-4)
27. Huntsville (2-4)
28. Hot Springs (1-5)
29. De Queen (1-5)
30. Hope (1-5)
31. Paragould (0-6)
32. LR Fair (1-5)

HOOTENS.COM GAME OF THE WEEK
No. 4 LR McClellan at No. 3 Texarkana
The winner likely gets the conference title, and more importantly draw on the opposite side of the bracket than four-time defending champion Pulaski Academy, while the loser could travel to PA in the second round.
Undefeated Little Rock Christian mashes opponents with more than 250 yards rushing weekly. Senior QB/slot receiver Xavion Morgan tallied five touchdowns in last week's 62-15 victory over Hope, the first time McClellan has thrown at least three TDs in a decade. The Lions run behind big offensive linemen: junior Kendall Woods (5-10, 270), guards Deshaun Alexander (5-10, 230) and Justin Randall (6-1, 200), and tackles Erick Jenkins (6-4, 240) and Caleb Wade (6-2, 230). The Crimson Lions have played 14 road games over the past two seasons waiting on its stadium renovations "so we aren't intimated to travel," Coach Maurice Moody says.
Texarkana stuffs the run well and converts defensive opportunities into points. Senior Cameron Collier slid to running back six weeks ago when starter Jordan Hall broke his leg. Collier ran eight times for 162 yards and two TDs in last week's 48-14 win at Hot Springs Lakeside. Collier also returned an interception for a TD. The Razorbacks have scored four defensive/special teams TDs the past three weeks.

TV SHOW
Hooten's Arkansas Football airs 10:30 a.m. Saturdays on KATV (ABC Little Rock) Channel 7, covering the Razorbacks, high school teams and players to watch.

LAST WEEK
Hootens.com correctly predicted 12 of 16 games (75 percent) last week. For the season, Hootens.com has correctly predicted 106 of 132 games (80 percent).

WEEK 7 PREDICTIONS (favored team in ALL CAPS)
5A CENTRAL
LR Parkview at LR CHRISTIAN (7): LR Christian QB Justice Hill missed the past two games (hamstring injury). The Warriors have won the previous two meetings over LR Parkview by a combined 106-33. LRC routed LR Fair 63-7 a week ago, and senior QB Justice Hill could return from his hamstring injury within the next two weeks. Junior Kendal Givens paces the Warriors in rushing "and he makes the go because he's so hard to bring down," LR Parkview coach Brad Bolding says. Parkview has won three straight games with a bruising running attack. Senior Geary Allmon has more than 800 yards this year behind veteran linemen Kaire Bey (5-10, 290), Keionte Golston (6-1, 245) and Jordan Lee (6-1, 255).
Watson Chapel at WHITE HALL (2): A battle of Jefferson County has playoff implications for each team. White Hall likely needs one more victory to secure a playoff spot, while Watson Chapel probably needs to win out after starting 5A Central action with an 0-3 record after last week's 27-point setback to LR Parkview. White Hall has won four straight games and the Bulldogs blasted Beebe 42-0 a week ago (Beebe beat Watson Chapel by 11 points Week 5). Bulldog senior Baylor Owen caught two TD passes (55- and 65-yarders).
MAUMELLE (26) at LR Fair: Maumelle led Pulaski Academy 21-20 late in the first half last week and the Hornets can pile up points in a hurry (average 40 ppg). Senior QB Tyler Maxwell missed Week 5 with an injury, but returned last week against PA, passing for 76 yards and a TD.
PULASKI ACADEMY (22) at Beebe: Beebe hasn't beaten PA in more than 20 years. The Badgers likely must win three of their final four games to make the playoffs after last week's 42-0 loss at White Hall. Beebe senior Taylor Boyce has rushed for 899 yards and eight TDs this fall. The Badgers will use Boyce and a strong running attack to milk the clock against potent PA (46 ppg).

5A EAST
Valley View at BLYTHEVILLE (7): Blytheville has won three straight games and likely wins its second league title in four years. Senior QB Jaheim Carter threw four TDs in the first half of last week's 29-point victory at Greene County Tech. Valley View's 13-point win over the Chicks last season was its first ever in the series (outscored 129-51 from 2014-2016). But Valley View trailed Wynne 28-0 in the second quarter last week and lost by 21 points.
NETTLETON (18) at Greene County Tech: Nettleton has won six of the past 10 over GCT, including two straight by 63 points. Raider QB Cade Carter threw four TD passes, including three to Terrell Rogers, in last week's mercy-rule win over Paragould. GCT rushes for 250 yards a game.
Batesville at WYNNE (3): These traditional powers have won or shared 13 of the past 16 league titles, but that might not happen this year. Batesville has won eight of the past 11 in the series, but the Pioneers are 1-5 this fall after last week's eight-point setback to Forrest City. Wynne scored a defensive TD and three on offense in the first quarter of last week's 28-7 win over Valley View.
Paragould at FORREST CITY (14): Forrest City has won nine of 10 meetings over Paragould since joining the league in 2008. Paragould averages 14 ppg. Senior Tyler Rosten raced 52 yards for the lone score last week at Nettleton. 

5A SOUTH
LR McClellan at TEXARKANA (4): Hootens.com Class 5A Game of the Week.
MAGNOLIA (9) at Hot Springs: Magnolia still has playoff hopes despite last week's 38-20 setback to Camden Fairview. The Panthers trailed by one point with three minutes left in the first half. Senior Kadyn Roach paces Magnolia's rushing attack and accounted for a pair of TDs last week. Hot Springs' 12-point win last week at De Queen was its first since Week 9 2017). Senior Damien Walker ran 26 times for 134 yards at De Queen.
De Queen at CAMDEN FAIRVIEW (24): De Queen's three-point triumph last year over the Cardinals was its first in the series. De Queen averages 11 ppg. Camden Fairview was flagged 29 times for 224 yards in last week's 18-point win at Magnolia. The Cardinals likely qualify for the playoffs with two more wins. 
HS LAKESIDE (21) at Hope: HS Lakeside has won 10 of the past 18 over Hope, including four straight (by 19 points last year, 26 points in 2016,  two points in 2015 and 21 points in 2014). The Rams scored just 14 points in last week's 34-point setback to Texarkana, after scoring 71 the previous week against Magnolia. Sophomore Issac Echols paces the rushing attack with 587 yards and four TDs. Hope senior Ni'korean Muldren has returned kickoffs for TDs the past two weeks.

5A WEST
Clarksville at ALMA (21): Alma has won three straight games and plays Harrison next week for the league title. The Airedales scored a TD and two-point conversion in the final minutes, then blocked a field goal with three seconds left to preserve a one-point win at Morrilton. Alma senior end Carston Beneux has 41 tackles this season, including 14 tackles for loss and 7.5 sacks. Clarksville won its first conference game since Week 7, 2013 last week, hurdling Huntsville by 27 points. Panther junior QB Nicholas Buckner threw three TD passes and ran for another against Huntsville.
FARMINGTON (3) at Vilonia: Farmington had four turnovers in the second half of last week's 14-point loss to Greenbrier. Farmington put up 312 yards a game, with junior Drew Sturgeon (5-10, 155) hauling in 31 passes for 411 yards and five TDs. Vilonia trailed Harrison 48-6 at halftime last week. Vilonia senior receiver Luke Berry has 18 catches this year for 276 yards and three TDs.
MORRILTON (28) at Huntsville: Morrilton must shake last week's one-point loss to Alma. Devil Dog senior QB Dylan White returned for a knee injury Week 5 against Greenbrier. He's completed 37 of 54 passes the past two weeks for 333 yards and five TDs. Huntsville has given up 157 points in its three league games.
HARRISON (16) at Greenbrier: Undefeated Huntsville outscores opponents 44-8 weekly. The Goblins led Vilonia 24-0 in the first quarter of last week's 62-6 decision. Junior Gabe Huskey had four TDs in the first half a week ago, and he's rushed for 900 yards and 14 TDs this fall. Greenbrier bolstered its playoff possibilities with last weeks 14-point win at Farmington. The Panther D held Farmington to 92 yards rushing, forced four turnovers in the second half and blocked a punt.