Class 6A Week 7 Rankings, Notes & Picks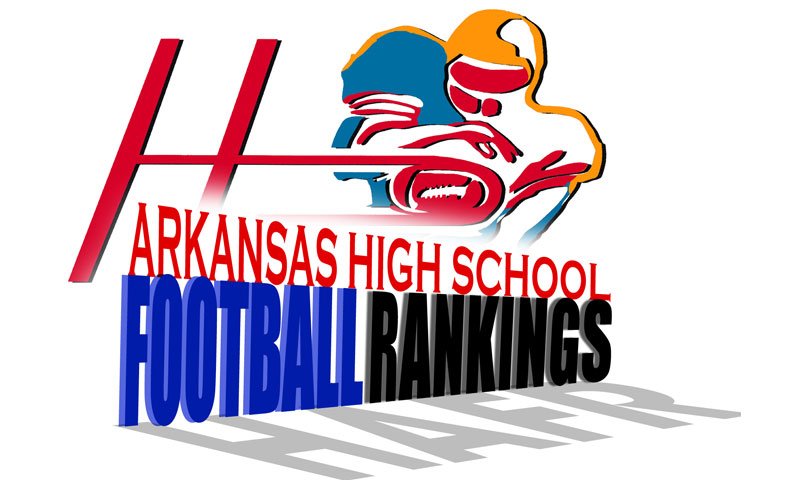 Hootens.com Rankings
Class 6A, Week 7, 2018
Copyright Hooten Publishing, Inc.
1. Greenwood (5-1)
2. Benton (5-1)
3. West Memphis (6-0)
4. Searcy (5-1)
5. Jonesboro (4-2)
6. Pine Bluff (2-3-1)
7. El Dorado (3-3)
8. Russellville (4-2)
9. Marion (4-2)
10. Lake Hamilton (4-2)
11. Siloam Springs (3-3)
12. Sylvan Hills (1-5)
13. Sheridan (1-5)
14. Jacksonville (3-3)
15. LR Hall (1-5)
16. Mountain Home (0-6)

HOOTENS.COM GAME OF THE WEEK
No. 5 Jonesboro at No. 3 West Memphis
Winner is last unbeaten team in 6A East. Teams shared the 2011 7A/6A East conference title. West Memphis has won the past two meetings, including 32-17 last year at Jonesboro. West Memphis has won two of the past three games at home.  Jonesboro's resurgence this year has been on defense. The Golden Hurricane allow 17.1 points per game in 2018, down from 32.1 a year ago. Jonesboro has recorded 38 tackles for loss (11 sacks) and forced 17 turnovers. Last week, Jonesboro beat Pine Bluff for just the second time in school history, and the defense forced five turnovers and disruptive senior lineman Kevin Pointer logged eight tackles and two sacks.  West Memphis seeks its first conference title since 2011, the last of eight consecutive league crowns. The Blue Devils have intercepted at least one pass in every game this fall and they have forced 16 total turnovers. West Memphis has the stingiest scoring defense in Class 6A (11 PPG). West Memphis slammed Sylvan Hills 34-10 last week, allowing just 28 second-half yards. Junior Owens McConnell has developed in his first year at QB, spreading the ball to playmakers Devin Olloway, Jimmy Phillips and top recruit Marcus Whitaker. Senior running back Latavian Thomas has rushed for 110 yards or more four times this season, and never fewer than 72. The defensive scheme revolves around all-state tackle Hasani Adams, who owns scholarship offers from Southeast Missouri State and most in-state D2s.

TV LAND
Hooten's Arkansas Football airs 10:30 a.m. Saturdays on KATV (ABC Little Rock) Channel 7, covering the Razorbacks, high school teams and players to watch.

LAST WEEK
Hootens.com correctly predicted seven of eight winners (88 percent) of games involving Class 6A schools. Hootens.com has correctly picked 56 of 67 winners (84 percent) of games involving Class 6A schools for the season.

WEEK 7 PREDICTIONS (favored teams in CAPS followed by point spread)
6A East
Jonesboro at WEST MEMPHIS (10): See Hootens.com Game of the Week.
SYLVAN HILLS (6) at Jacksonville: Loser likely misses playoffs. Sylvan Hills has won five straight in this series. Jacksonville downed Mountain Home last week 22-15 behind a 75-yard TD run by Isaac Johnson and a 65-yard scoring strike and an 8-yard run from Maleek Curley. The 22 points are Jacksonville's second-most this season. Sylvan Hills trailed West Memphis 13-10 into the fourth quarter, but the Bears did not score after halftime in a 34-10 defeat. Sylvan Hills got a 29-yard field goal from senior kicker Tito Mendoza and a 1-yard TD run by Nathaniel Floyd. Amad Yancy intercepted a pass. 
Mountain Home at MARION (12): It's homecoming in Marion, which has won nine straight in this series, including 41-20 last year. Mountain Home mauled Marion twice in 2006, once for a share of the 6A East title and again in the semifinals. The semifinal victory is the last playoff win for Mountain Home. Mountain Home was tied with Jacksonville last week at 15 until late in the third quarter. The Bombers start their fourth QB this season, and only six seniors remain on the roster. Senior all-state fullback Junior Williams pursues a second straight 1,000-yard season. Marion's running game has emerged with the return of junior all-league 'back Anthony Price, who rushed for 119 yards and a TD last week at Searcy in a 37-23 loss. Marion earned a 23-21 third-quarter lead at Searcy thanks to a 19-yard field goal by freshman Dylan Pieri.
PINE BLUFF (2) at Searcy: Pine Bluff has won five straight in this series, and it has eliminated Searcy from the playoffs the past two seasons. Searcy scored 16 unanswered points last week in a 14-point home win over Marion. The Lions gained 354 yards, including 254 passing and two scores by senior QB Peyton Wright. Wright connected with junior Dallas Loftis eight times for 102 yards and a TD. Jonesboro punted Pine Bluff 29-12, the Zebras' first conference loss since losing at Jonesboro in 2016 (13 straight wins). 

6A WEST
El Dorado at BENTON (3): Benton has won three of four, but El Dorado bumped Benton last year by seven points. El Dorado escaped surprising Sheridan last week, scoring the last 21 points of a 31-17 homecoming victory. Alex Hicks totaled three TDs and Keyonte Larry took off for a 65-yard TD against Sheridan. Benton outscores opponents 98-0 this year in the first quarter.  Benton logged its second shutout in three weeks in a 49-point conquest at LR Hall. The Panthers converted on four of eight third downs and scored on six of seven red-zone opportunities. Explosive sophomore running back D'Anthony Harper ran for 53 yards and a TD. Sophomore QB Garrett Brown completed 17 of 26 passes for 248 yards and TD in relief of injured QB Colen Morrow. Morrow's throwing hand is broken, and he is out this week. He will be re-evaluated next Monday. Junior Peyton Hudgins was lost for the season in Benton's benefit scrimmage game. 
Russellville at GREENWOOD (17): Greenwood has won six of seven meetings, but Russellville beat Greenwood in the 2016 Class 6A state final. A homecoming for Russellville coach Jeff Weaver, a Greenwood graduate and former assistant at the school. Russellville lashed Lake Hamilton last week 28-14. The disruptive Cyclones logged five sacks and four tackles for loss against the Wolves. Russellville recovered two fumbles, which turned into 14 points. Greenwood gave Coach Rick Jones his 300th career win in a 42-7 conquest last week. Jones is 168-24 at Greenwood (88 percent winning percentage). He was 72-32 at Broken Arrow, Okla.
Siloam Springs at LAKE HAMILTON (10): Homecoming at Lake Hamilton. Lake Hamilton has won two straight against Siloam, including 34-27 a year ago. Siloam Springs has lost two straight in league play, but the Panthers own the tiebreaker over Sheridan. Siloam can clinch a playoff spot Week 9 if it beats LR Hall. Russellville beat Lake Hamilton by 14 points last week but the Wolves had two TDs negated by penalties. Junior Malik Brewer ran 25 times for 200 yards and a TD against Russellville. Junior Braden Braughton racked up 16 tackles, and classmate Braden Qualls added 13 stops. 
LR Hall at SHERIDAN (10): Loser likely misses playoffs. LR Hall managed just 74 yards last week in a 49-point loss to Benton. The Warriors surrendered four sacks and threw three interceptions. Sheridan led 17-10 at El Dorado before a flurry of big plays sunk the 'Jackets. Sheridan managed just 197 yards against El Dorado, which has never lost to Sheridan. Senior receiver Steve Reaves has 10 receptions this year for 141 yards and a TD.