Hogs: RB Boyd, WR Burks and DB Brown questionable for Auburn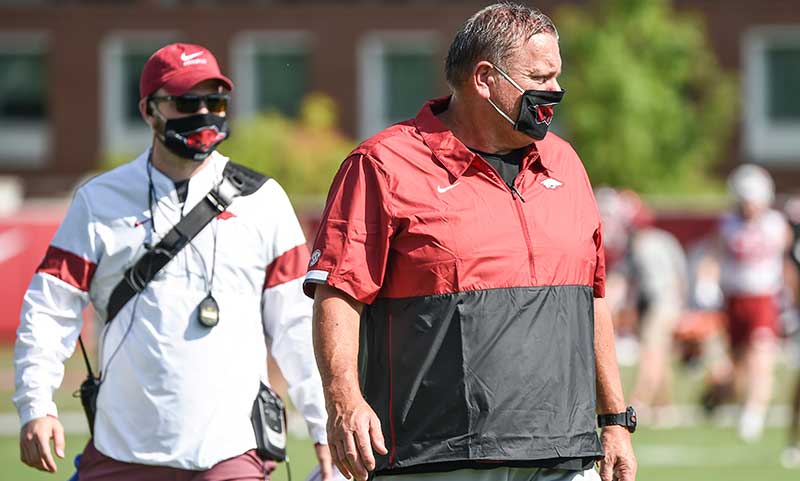 FAYETTEVILLE  - Arkansas' upset over Mississippi State last week upgraded its TV stock. Originally scheduled for the SEC Network, ESPN now will televise Saturday's 3 p.m. game between the Razorbacks (1-1) and Auburn (1-1).
Arkansas Coach Sam Pittman says standout running back Rakeem Boyd might not be ready. Boyd, starting receiver Treylon Burks and starting cornerback Montaric Brown were all injured vs. Mississippi State.
Trelon Smith, the transfer from Arizona State, filled in for Preseason All-SEC running back Boyd against Mississippi State.
"I'm very confident in Trelon and the other backs," Pittman said. "We'll have to wait and see on Rakeem. But I'm very confident (in Smith). He's a hard runner, nice blocker. I mean, the guy plays hard. More importantly, our team believes in him. So if that's the case then we'll be just fine with him."
SPIVEY AND JOHNSON
Redshirt freshman A'Montae Spivey and true freshman Dominique Johnson, (6-1, 240) are the running backs next in line.
"You have Dominique and you have Spivey," Pittman said, noting possible rain associated with Hurricane Delta could cast an effect. "I think it's going to be dictated on is it muddy? If it's a muddier game it might be better for a bigger guy, which would be Dominique. I'm not positive who we'd go with first. I'll know Saturday morning. We'll discuss it and decide. I think you'll see all three of them play, assuming Rakeem can't. And if Rakeem can then you'll probably see a couple of them."
Smith led Arkansas rushers with 14 carries for 48 yards vs. Mississippi State after Boyd netted 28 yards on 8 carries. 
For Arkansas' two games Smith leads the Razorbacks with 88 yards on 20 carries.
APPARENTLY BETTER BUT NOT DEFINITE
What about Brown and Burks?
"Mo, he's getting better," Pittman said. "And Burks, he's also improving."
Burks was injured upon catching a 10-yard pass against Mississippi State after catching 7 for 102 yards, including a 49-yard touchdown, in the 37-10 loss to  now third-ranked Georgia that Arkansas led, 10-5 midway through the third quarter.
Brown of Ashdown, considered Arkansas' best defensive back going into the season, has intercepted one pass, broken up another and made six tackles.
DE'VION DIVINE
Senior De'Vion Warren, 4 catches for 100 yards, including a long reception 52 yards and a 19-yard TD, ably filled in for Burks against Mississippi State.
"De'Vion has speed, quickness, he can separate on breaks and he's fast,." Pittman says. "In my eyes, he's a starter. Because when he's out there I'm happy he's out there. A lot of times you get someone out there and you go 'Oh man where's the starter' and that's not the case with him out there. Very, very confident in him."
THE WALK-ON EXAMPLE
Walk-on Hudson Clark filled in admirably for Brown against Mississippi State.
Clark, Pittman  said, set an example for every reserve thinking their future is stuck to the bench.
"We took out Hudson Clark at the end of practice yesterday and said, 'Hey look, this guy was ready,"  Pittman said. "He played two, two and a half quarters, he was ready to go.' We knew he just wasn't quite as good as the guy in front of him, but we knew he was capable of playing good football and he was ready mentally. He didn't pout, he didn't sulk around. He said, 'Hey man, when I get my chance, I'm going to go in there and prove that I belong on this field."
AUBURN LINEBACKER INJURED
Arkansas isn't the only team in Saturday's game fighting injuries.
Auburn star linebacker K.J. Britt is expected to be out indefinitely because of surgery to repair torn ligaments in a thumb.
"Obviously K.J. Britt in my opinion is one heck of a football player," Pittman said of projections that Britt will miss Saturday's game. "That would be very disappointing for Auburn and for us. We want their good players to play. But if not, I'm sure they have guys.  (Wesley) Steiner is his backup, so I'm sure he'll be ready to play but that's sad news. It really is because K.J. is a really good player and a really good person."