Class 3A Week 7 Rankings, Notes & Picks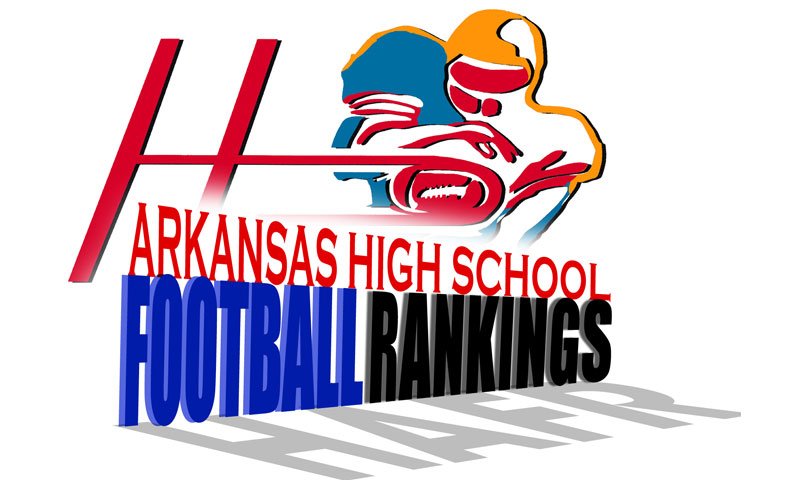 Hootens.com Rankings
Class 3A, Week 7, 2017
Copyright Hooten Publishing, Inc.

1. Prescott (6-0)
2. Junction City (6-0)
3. Charleston (6-0)
4. Clinton (6-0)
5. Rivercrest (5-1)
6. Glen Rose (5-1)
7. Mayflower (6-0)
8. Smackover (4-2)
9. Osceola (5-1)
10. Barton (5-1)
11. McGehee (4-2)
12. Melbourne (5-1)
13. Atkins (5-1)
14. Fordyce (4-2)
15. Perryville (5-1)
16. H. Grove Haskell (4-2)
17. Hoxie (3-3)
18. Piggott (4-2)
19. Bald Knob (3-3)
20. Elkins (5-1)
21. Harding Academy (3-3)
22. Newport (4-2)
23. Jessieville (3-3)
24. Fouke (3-3)
25. Centerpoint (4-2)
26. Cedar Ridge (3-3)
27. Lamar (2-4)
28. Paris (2-4)
29. Horatio (3-3)
30. Walnut Ridge (2-4)
31. Mansfield (1-5)
32. Gurdon (3-3)
33. Greenland (3-3)
34. Rose Bud (4-2)
35. Manila (2-4)
36. Episcopal (1-5)
37. Lake Village (2-4)
38. Yellville-Summit (2-4)
39. Drew Central (2-4)
40. Green Forest (2-4)
41. Marshall (0-6)
42. Mountain View (1-5)
43. Genoa Central (1-5)
44. Cedarville (2-4)
45. Bismarck (2-4)
46. Corning (0-6)
47. Marianna (0-6)
48. Two Rivers (0-6)

HOOTENS.COM GAME OF THE WEEK
No. 1 Prescott at No. 6 Glen Rose: Winner likely wins league title. These teams have won or shared the league championship every year since 2010. Prescott has won four of the past six meetings, but Glen Rose eliminated Prescott in the 2012 Class 3A semifinals. Prescott's 20-17 win last year was one of its two wins decided by 11 points or less.
Prescott has not allowed a point in 14 straight quarters, including shutouts in its first three conference games. The Curley Wolves have won 24 consecutive conference games and 21 straight overall. This is likely Prescott's last test until the state semifinals.
Glen Rose has not lost to a league opponent other than Prescott since 2014. Sophomore QB J.T. Towers made his season debut last week, completing seven of 12 passes for 58 yards and two TDs in a 51-14 win at Bismarck. Senior Jarred Rogers started the first five games at QB before moving to receiver last week and catching two TDs.

LAST WEEK
Hootens.com correctly picked 20 of 24 games (83 percent) involving Class 3A teams. For the season, hootens.com has correctly predicted 158 of 202 games (78 percent).

TV LAND
Hooten's Arkansas Football airs 10:30 a.m. Saturdays on KATV (ABC Little Rock) Ch. 7, covering the Razorbacks, high school teams and players to watch.

WEEK 7 PREDICTIONS (favored team in CAPS followed by point spread)
1-3A
CLINTON (10) at Elkins: Both 3-0 in league play. Clinton rushed for 286 yards and five TDs, both season-highs, in last week's 39-12 win over Melbourne. Elkins sprinted for a season-best 226 yards rushing and four TDs last week against Marshall. Elkins beat Clinton 28-14 last year, when they shared the 1-3A title with Mountain View. League coaches voted Clinton No. 1 and Elkins No. 2 in this year's Hooten's Arkansas Football magazine. Clinton's talented defensive line looks to disrupt Elkins' offense.
MOUNTAIN VIEW (3) at Green Forest: Mountain View stacked 406 yards (333 rushing) last week's 34-28 win over Greenland. Mountain View forced three turnovers and converted two of three fourth downs. Green Forest got TDs from Jordan Zepeda-Mahaffey and Jose Hernandez in last week's 44-21 loss at Yellville-Summit.
Marshall at GREENLAND (2): Both are 0-3 in league play and likely miss the playoffs. Greenland senior QB Austin Anderson passed for a season-high 348 yards and tied his season-high with three TDs in last week's 34-28 loss at Mountain View. Greenland should be able to outscore Marshall (18 points per game). Marshall looks to end a 14-game losing skid. The Bobcats have won twice in its past 24 conference games. Greenland outgunned Marshall last year 46-43.
Yellville-Summit at MELBOURNE (7): This could decide home-field advantage in the first round of the playoffs. Yellville-Summit has won back-to-back, beating Green Forest last Friday 44-21 on Homecoming. Yellville QB Tyler Ramey threw three TD passes to push the Panthers past Green Forest. Previously undefeated Melbourne surrendered six tackles for loss (four sacks) in last week's 39-12 at Clinton. Look for Melbourne's potent passing attack to challenge Yellville's experienced secondary (three returning starters).

2-3A
MAYFLOWER (3) at Harding Academy: Harding Academy needs a win to keep its conference title hopes alive. Harding Academy QB Davis Morgan passed for 409 yards and five TDs in last week's 45-28 win over Cedar Ridge. Three Harding receivers surpassed 100 yards. Mayflower (6-0) already owns tiebreakers over teams Bald Knob and Barton. Mayflower led Rose Bud 50-0 at halftime last Friday. 
BARTON (2) at Bald Knob: Winner likely earns No. 2 playoff seed and home playoff game. Barton recorded its second shutout of the season last week, 43-0 at Marianna. Bald Knob led Episcopal 37-0 in the third quarter last week. Barton boasts more team speed, but beefy Bald Knob is bigger and likes it physical.
Rose Bud at CEDAR RIDGE (7): Loser likely misses the playoffs. Rose Bud (down to 21 varsity players) struggled to a season-low 148 yards, and surrendered 352 rushing yards, last week at Mayflower. Cedar Ridge gains 7 yards per rush this year.
Marianna at EPISCOPAL (6): Likely the last chance for either to win a conference game. Marianna has not scored in nine quarters. Episcopal was one of nine on third downs last week, and failed to convert on three fourth-down attempts. Episcopal skill players likely make enough plays to win.

3-3A
NEWPORT (14) at Corning: Newport managed just 148 yards in a 51-12 loss last week at Piggott. Corning has lost 17 straight conference games since since mauling Manila 40-24 in 2014. Newport blanked Corning 55-0 a year ago. Look for the Greyhounds' quick defense to again stifle Corning.
RIVERCREST (17) at Walnut Ridge: Walnut Ridge's Homecoming game was ruined last week by Osceola 35-14. The ball-conscious Bobcats have committed only five turnovers this year. Rivercrest outscored Hoxie 22-7 in the fourth quarter last week in a 43-33 victory. Three Rivercrest Colts rushed for 71 yards or more. Rivercrest's big offensive line and team speed wins another one this week.
PIGGOTT (7) at Manila: Three injured two-way starters returned in Piggot's 51-12 win over Newport. The win snapped a two-game losing streak. "I think it (losses to Osceola and Rivercrest) was exactly what we needed," Coach Michael Harrell says. "It refocused and humbled us." Manila needs a win to  make its third straight playoff appearance.
Hoxie at OSCEOLA (3): Osceola allows 6.6 points in 3-3A play, but Hoxie scores 37 points against league foes. Osceola, undefeated in league play, still must play Hoxie, at Newport and at Rivercrest remain. Hoxie lost at Rivercrest last week 43-33 despite leading leading 33-28 in the fourth period. Hoxie allowed Rivercrest 327 yards (eight YPC). How Hoxie pass protects against a talented Osceola defensive line likely decides this game.

4-3A
CHARLESTON (10) at Lamar: Charleston lost two years ago at Lamar 38-20. University of Arkansas receiver commit Sean Michael Flanagan and three other two-way starters return this week for Charleston. Flanagan has missed two straight games with a shoulder injury. Charleston shut out Two Rivers 44-0 last week. Lamar couldn't overcome a 21-0 halftime deficit in last week's 29-21 loss at Perryville. Lamar enjoyed its best passing night (120 yards and two TDs) of the season at Perryville.
Paris at PERRYVILLE (10): Perryville passed for a season-best 140 yards and two TDs in last week's 29-21 win over Lamar. Paris pounded Perryville 34-6 last year, but is just 1-2 in the league this season after a 54-20 loss to Atkins last week. Perryville's big linemen carries it Friday night.
Cedarville at ATKINS (14): Cedarville forced six Mansfield turnovers in last week's 18-12 win. Cedarville running back Tate LaRue rushed for 117 yards and a TD. Atkins recorded its season-high 52 points last week against Paris. Atkins receiver Trey Davis corralled three passes for 104 yards and two TDs. Atkins' potent passing attack challenges Cedarville.
MANSFIELD (13) at Two Rivers: One will win its first conference game. Two Rivers kicked a field goal Week 3 but has yet to score a TD this season. Mansfield rushed for a season-high 180 yards in last week's 18-12 loss at Cedarville. Mansfield mauled Two Rivers 40-2 last year.

5-3A
PRESCOTT (12) at Glen Rose: See hootens.com Game of the Week.
H. GROVE HASKELL (7) at Centerpoint: H. Grove Haskell enjoyed its "best performance," in last week's 27-20 win over Jessieville, Coach Paul Calley says. Haskell rushed for a season-best 152 yards (4.9 YPC) and Jake Brooks intercepted two passes for the Cardinals. Centerpoint lost five fumbles last week and rushed for just 24 yards in a 31-14 loss at Gurdon. Centerpoint bested H. Grove Haskell 34-18 last year.
Gurdon at JESSIEVILLE (2): Playoff positioning on the line. Jessieville did not allow a sack last week for the first time all season, but commited four turnovers in last week's 27-20 loss at H. Grove Haskell. Gurdon snapped a three-game losing streak last week with a 31-14 win over Centerpoint. Jessieville downed Gurdon 47-21 last year.
Bismarck at HORATIO (3): Loser likely misses playoffs. Horatio managed just 72 yards and three first downs in last week's 41-0 loss at Prescott. Bismarck rushed for just 47 yards in last week's 51-14 loss to Glen Rose. Horatio bounced Bismarck 41-8 in 2016.

6-3A
FORDYCE (1) at Smackover: Both 3-0 in league play. Fordyce seeks its 14th straight conference win. The Redbugs have won four straight following an 0-2 start, rolling up a season-best 496 yards in last week's 38-18 win over Lake Village. Smackover allows 10 points per conference game. Smackover started at three-game losing skid last year with a 26-0 loss to Fordyce. Fordyce's improving skill players give it a slight edge.
JUNCTION CITY (31) at Lake Village: Junction City senior QB Shuvasceiaye Frazier (624 yards, 12 TDs with three INTs) has not thrown an interception the past two Fridays. JC posted its second shutout last week 50-0 over Fouke. Lake Village has totaled 26 points in consecutive losses to Smackover and Fordyce the past two weeks.
MCGEHEE (7) at Fouke: Fouke has won the past two meetings with McGehee, but is 0-3 in conference play this fall. Fouke's losses are to Smackover, Fordyce and Junction City, teams with a combined record of 14-4. Fouke  trailed 36-0 at halftime at Junction City last week. McGehee missed the playoffs last year but likely returns with a defense allowing just 241 yards and 21 points weekly. Three McGehee Rbs average 12 carries or more per week.
DREW CENTRAL (3) at Genoa Central: Neither team likely makes the playoffs. Drew Central has lost 16 straight conference games and the past six meetings with Genoa Central, including 15-14 last year. Genoa Central has thrown six interceptions but no TDs this year. Drew Central's improved strength looks to pressure Genoa Central into more turnovers.