Class 7A Week 7 Rankings, Notes & Picks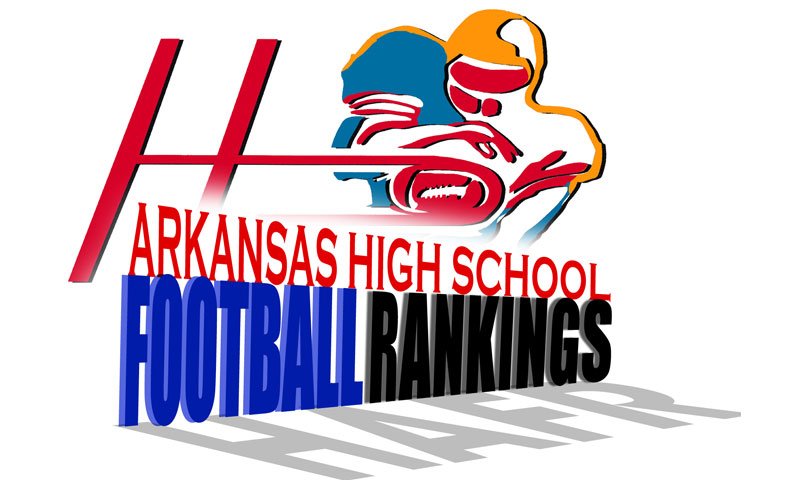 Hootens.com Rankings
Class 7A, Week 7, 2017
Copyright Hooten Publishing, Inc.
1. Bryant (6-0)
2. North Little Rock (6-0)
3. Springdale Har-Ber (5-1)
4. Bentonville (4-2)
5. Bentonville West (6-0)
6. Conway (4-2)
7. Fayetteville (2-4)
8. Springdale (4-2)
9. Cabot (4-2)
10. Little Rock Catholic (3-3)
11. Rogers (4-2)
12. Fort Smith Northside (2-4)
13. Fort Smith Southside (1-5)
14. Little Rock Central (1-5)
15. Rogers Heritage (1-5)
16. Van Buren (0-6)

GAME OF THE WEEK
No. 5 Bentonville West at No. 3 Springdale Har-Ber.
Previously-undefeated and hopping-mad Har-Ber completed two long passes for a 14-0 lead last week but committed four turnovers, including three interceptions, and allowed a 44-yard punt return in a 24-21 loss at Bentonville. Har-Ber, 240 yards passing and 150 yards rushing weekly, had outscored its previous four opponents 172-14.  Second-year program Bentonville West remains undefeated and likely plays host to at least one home playoff game next month. Juniors Will Jarrett and Jaden Jackson keep posting gaudy stats. Jarrett passed for 404 yards in last week's 45-29 win at Springdale. Jackson caught nine passes for 249 yards and three TDs and had an 88-yard kick return called back. Still, West led just 31-29 early in the fourth quarter.
TV SHOW
Hooten's Arkansas Football airs 10:30 a.m. Saturdays on KATV (ABC Little Rock) Ch. 7, covering the Razorbacks, high school teams and players to watch.
LAST WEEK
Hootens.com correctly predicted five of eight winners (63 percent) in games involving Class 7A teams. For the season, hootens.com is 49-15 (77 percent) in Class 7A.

WEEK 7 PREDICTIONS (favored team in CAPS followed by point spread)
7A CENTRAL
CONWAY (11) at FS Northside:
Conway limited Cabot to 97 yards in the first half and Jackson Freeman intercepted and returned an option pitch for a TD in last week's mercy-rule win. FS Northside rallied from a 17-0 deficit last week but couldn't overcome LR Catholic 34-28. Northside owns victories over winless Van Buren and No. 14 LR Central.
NORTH LR (14) at LR Catholic:
North LR senior QB David Chapple passed 60 yards to classmate Aaron Griffin on the first play and the Charging Wildcats led 35-0 by halftime at FS Southside last week. North LR totaled 604 yards offense with Chapple completing 10 of 12 tosses for 165 yards. North LR's Oscar Adaway, a LR Central transfer, carried 10 times for 180 yards. Catholic junior sensation Samy Johnson rushed for 150 yards in last week's 34-28 win over FS Northside.
FS Southside at BRYANT (18):
Bryant will be fine without starting QB Ren Hefley (broken collarbone on non-throwing shoulder) against a FS Southside defense that gave up 604 yards to North LR last week and 54 points two weeks ago at Conway.
CABOT (4) at LR Central
: LR Central beat Heritage 35-12 in the season opener but has allowed 38 points per game in five consecutive losses. Cabot coming off a mercy-rule loss at Conway where it allowed 366 yards offense, including 5.8 yards per rush.
7A WEST

Bentonville West at HAR-BER (14):
See Game of the Week.
FAYETTEVILLE (16) at Rogers Heritage:
Fayetteville ended a four-game losing skid with a season-high 580 yards (489 passing) in last week's 52-14 win over Rogers. The Purple Dogs pass for 314 yards but rush for just 93 yards weekly. Fayetteville's defense has 16 sacks and averages one interception weekly. Heritage got its first win last week when senior Dylan Qualls' two-point run in OT beat Van Buren 29-28.
Springdale at BENTONVILLE (10):
Springdale trailed at undefeated Bentonville West by just two points with 10 minutes remaining last week but allowed 404 yards passing, including a 44-yard TD with 3:30 left in the game. Bentonville benefited from four Har-Ber turnovers last week to upset the then top-ranked team. The Tigers are plus-7 in turnovers in league play.
ROGERS (4) at Van Buren:
Van Buren remains winless after giving up a 2-point run in OT last week at Heritage. Van Buren totaled 60 yards more offense than Heritage and 5 more first downs but committed 10 penalties for 100 yards. Van Buren standout RB Walter Green carried 25 times for 194 yards last Friday. Rogers beat Heritage 43-33 two weeks ago despite allowing 353 yards (7.8 YPC) rushing.