RECRUITING: Vilonia's talent maturing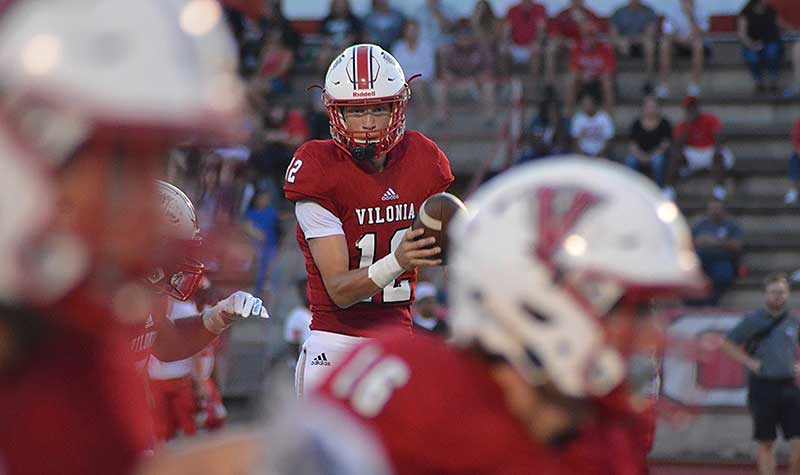 By BARRY GROOMES
Vilonia plays its most hyped home game Friday night since the 2003 Eagles clipped Crossett 21-0 in the 2003 semifinals.
Vilonia (3-2), winner of three straight games, plays host to Class 5A No. 2 and undefeated Harrison.
"We're telling our players this is for the (5A West) conference championship," second-year Vilonia coach Todd Langrell says. "Of course, we've got a lot of important games left, but this is a major step for us."
Vilonia, with more than 20 seniors, lost the opener at Little Rock Christian 56-20 and the next week to Maumelle 49-19. Those teams are a combined 10-0.
Sophomore quarterback Austin Myers (6-3, 170) started the opener, "and it was baptism by fire," Langrell says. "Little Rock Christian is very good, and they do things differently on defense. They came at him from everywhere. He had someone in his face on every play."
Myers (#12 in photo above) completed five of 17 passes for 11 yards with two interceptions against LR Christian. Since, he's played like a different QB, completing 38 of 64 passes over the past month for 610 yards and five touchdowns with one interception.
Two weeks ago, Myers played his best varsity game to date, burning Alma's defense by completing 11 of 13 passes for 191 yards and a pair of TDs. He's connected on 24 of 35 passes (69 percent) over the past three weeks.
Myers should develop into a college prospect over the next two seasons. "He's accurate and getting better every game," Langrell says.
Senior Tyler Moran (6-2, 180) could emerge as Vilonia's top recruit this season. Moran didn't play as a sophomore and missed the final month of last season after spraining his ACL Week 7 when grabbing a TD pass at Farmington. "People don't know much about him, but I think they will by the end of the year," the coach says.
Moran has 27 of Vilonia's 42 receptions this season for 488 yards. He's caught all five of the TD passes. The athletic Moran averages 4 yards per carry on jet sweeps. He starts at point guard for the basketball team and finished second in 300-meter hurdles at the state track meet in May.
Ouachita Baptist University and Southern Arkansas are recruiting Moran, and Langrell believes he can gain an offer from Central Arkansas with continued success.
Draven Smith (6-1, 180) is likely Vilonia's most recognizable recruit. The senior has carried 87 times for 1,030 yards and 14 TDs this fall. He's one of two running backs in the state to top 1,000 yards before Week 6.
Smith scorched LR Christian for 252 yards and three TDs. He carried 28 times for 252 yards and a pair of TDs two weeks ago against Alma. Last week, Smith logged 21 carries (most of them in the first half) for 193 yards and three TDs against Huntsville.
Smith is scheduled to visit Arkansas Tech on Oct. 19 "and will probably get an offer then," Langrell predicts. Harding and Southern Arkansas are recruiting Smith, and more schools might inquire later this fall, "but he runs very high," the coach says. "That's the only negative. His separation is (4.4) speed. He has long legs and gets faster as he goes."
Smith might attend college on a track scholarship. He was the high point scorer at every track meet he entered last spring. He won the triple jump at the state track meet and placed at the district meet in the high jump, long jump, 100 meters, 200 meters and on team relays.
Jayden Wimberly (6-2, 235) "will play in college because he has a motor like no other," Langrell says. The senior end bench presses 320 pounds, squats almost 500 pounds "and has all the measurables," the coach says. Wimberly has 33 tackles and four sacks this fall. Most in-state D2 schools have evaluated Wimberly this fall.
Senior center Nathan Schwust (6-2, 300) started at tackle last season, and colleges are enamored by his versatility. Ouachita Baptist is recruiting Schwust (330-pound bench press, 450-pound squat).
Senior Austin Koonce (6-4, 215) offers a collegiate frame. Koonce caught 29 passes for 303 yards last year at receiver but has taken on different roles this year. "We don't have enough footballs to go around," Langrell says. Koonce rotates at H-back (five catches for 68 yards) and spends more time at safety (28 tackles, two interceptions and one fumble recovery) than last season.
Myers isn't the only sophomore who could play college football. The group went 9-1 last year in junior high, and a loss to Class 6A Searcy was its only defeat in three years.
Sophomore Colton Watson (6-1, 240) rotates at guard this season, and "there is no telling how big or strong he's going to get," the coach says. Classmate Kannon Bartlett (5-11, 170), who triple-jumped 40 feet as a freshman, plays at receiver and in the secondary (one catch for 13 yards and 10 tackles). "He's a pure athlete," Langrell says.
Sophomore Seth Kirk (5-10, 165) could develop into a college prospect in two years. Kirk quickly became a favorite of the coaching staff in junior high with his work ethic. He rotates in the backfield this season (42 carries, 360 yards and five TDs) but has excelled at safety with 38 tackles, including 12 solo stops and five tackles for loss
As colleges notice Vilonia's talent pool, a win or competitive effort this week against second-ranked Harrison might help the underrated players get more attention.
"We control everything," Langrell says. "We believe we are a top team. Now we have to prove it."