Class 4A Week 7 Rankings, Notes & Picks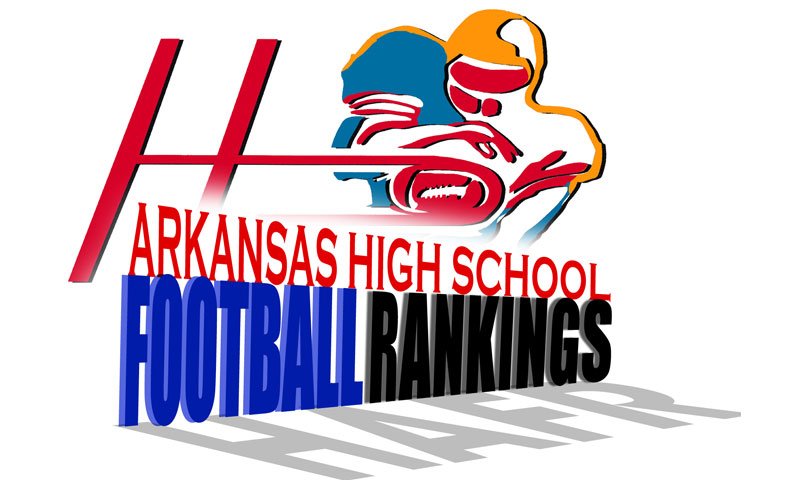 Hootens.com Class 4A Rankings
Week 7, 2022
Copyright Seventy Seven's Publishing
1. Arkadelphia (5-0)
2. Harding Academy (6-0)
3. Warren (5-1)
4. Star City (6-1)
5. Malvern (5-1)
6. Stuttgart (4-2)
7. Pocahontas (5-1)
8. Ashdown (5-1)
9. McGehee (2-2)
10. Ozark (4-2)
11. H.G. Haskell (7-0)
12. Nashville (4-2)
13. Rivercrest (3-3)
14. Lamar (5-1)
15. Elkins (5-1)
16. Lonoke (4-2)
17. Gentry (6-0)
18. Clinton (5-1)
19. Gosnell (5-1)
20. Blytheville (5-1)
21. DeWitt (5-2)
22. Trumann (3-3)
23. Bauxite (4-3)
24. Monticello (4-3)
25. Mena (3-3)
26. Pottsville (3-4)
27. Gravette (3-3)
28. Mayflower (2-4)
29. Crossett (1-5)
30. Hamburg (2-5)
31. Waldron (2-4)
32. Lincoln (3-3)
33. Bald Knob (2-4)
34. Heber Springs (2-3)
35. Jonesboro Westside (1-5)
36. Dumas (1-5)
37. CAC (1-5)
38. LR Hall (1-5)
39. Cave City (1-6)
40. Highland (1-5)
41. Helena (1-5)
42. Dover (2-4)
43. Riverview (1-6)
44. Huntsville (0-6)
45. Berryville (1-5)
46. Harrisburg (2-4)
47. Green Forest (1-5)
LAST WEEK
Hootens.com correctly predicted all 21 games. Hootens.com has correctly predicted 160 of 183 games (87 percent) this season.
WEEK 7 PREDICTIONS (favored team in ALL CAPS and highlighted in yellow)
HOOTENS.COM GAME OF THE WEEK
No. 17 Gentry at NO. 10 OZARK
This game helps determine playoff seeding, if not the 1-4A championship.
Undefeated Gentry held Green Forest to 135 yards last week on 44 plays. Junior Jared James (12 tackles) and senior DT Eduardo Galvin (8 tackles, 3 TFL, 1 FR) led the Pioneers' defense. Gentry averaged almost 8 yards per play on offense against Green Forest. Senior QB Chris Bell ran 11 times for 123 yards and 2 touchdowns, while senior Ty Hays ran for 84 yards and a TD.
Ozark has won 3 consecutive conference games by a combined 156-50. The Hillbillies ran for 367 yards in last week's 64-21 win over Lincoln. Senior RB Eli Masingale ran 11 times for 162 yards and 4 TDs, while senior QB Landon Wright ran 10 times for 139 yards and 2 TDs. Junior safety Jacob Della made 10 tackles and broke up 2 passes. Ozark's offensive line played well last week and is key this week vs. Gentry. "Their defense moves around and blitzes," Ozark Coach Jeremie Burns says.
1-4A
GRAVETTE at Berryville: Gravette, which has won 18 of the past 20 in the series, has thrust itself into playoff position with consecutive wins over Lincoln and Huntsville. Senior QB Rhett Hilger ran 16 times for 134 yards and a TD and passed for 191 yards and a TD in last week's 29-point victory at Huntsville. Senior Jaxon Galyean and junior Garrett Merworth each collected 8 tackles. Berryville Coach Bryan Hutson says his team played "awful" in last week's 56-7 loss to Elkins.
ELKINS at Green Forest: Junior Da'Shawn Chairs ran 10 times for 136 yards and 1 TD in the first half of last week's 56-7 win over Berryville, while junior QB Dizzy Dean completed 17 of 22 passes for 203 yards and 5 TDs. Jusiah Bettencourt caught 9 passes for 94 yards and 2 TDs. Green Forest trailed Gentry 41-8 in second quarter last week before losing 48-8.
Huntsville at LINCOLN: Huntsville (0-6) committed 3 turnovers in last week's 43-14 setback at Gravette. Lincoln (3-3) comes off losses to Gravette and Ozark. The Wolves trailed Ozark 51-14 at halftime last week before losing 64-21.
2-4A
Heber Springs at LONOKE: Heber Springs has won 9 of the past 16 over Lonoke. The Panthers didn't play last week, and two weeks ago lost 26-21 to Bald Knob. Senior LB Kenan Sneed paces Heber Springs' defense, while junior RB Parker Brown makes plays on offense. Lonoke focused on developing depth in last week's 34-21 victory over Cave City. LB Latrell Burnett made 19 tackles, 1 interception and threw a TD pass. It's Lonoke's homecoming, "and that's always a distraction," Coach Chris Norton says.
BALD KNOB at Riverview: Harding Academy snapped Bald Knob's two-game win streak last week 41-12. But it was 13-12 at halftime. Riverview lost to Stuttgart 35-7. The Raiders have scored a TD or less 5 times this season.
Cave City at STUTTGART: Sophomore QB/WR DeOntae Clark ran for 114 yards and completed all 8 passes for 68 yards in last week's 35-7 win over Riverview, while senior Cedric Hawkins ran 8 times for 91 yards and 3 TDs. Cave City was tied with Lonoke 21-21 with 9 minutes left last week, but ran out of steam, Coach Danny Brustrom says, in a 34-21 loss. Senior Bryce Walling ran for 150 yards, while his brother, junior Shawn Walling, scored 3 TDs.
OPEN Harding Academy
3-4A
Gosnell at BLYTHEVILLE: This is just the third game between these schools, located 4 miles apart (Blytheville won 16-14 last season). Blytheville junior RB Timothy Brown ran 10 times for 251 yards and 2 TDs, and senior QB Ladarrius Reed ran for 87 yards and 2 TDs and threw a TD pass in last week's 64-36 win over Highland. Gosnell beat Trumann 26-20 last week without top WR Cam Williams, who will return this week, Coach Lewis Earnest says. Floyd Williams ran 30 times for 156 yards and 3 TDs vs. Trumann, while senior QB Reid Shelton completed 15 of 18 passes for 196 yards and a TD. Senior Taderian Partee caught 4 passes for 113 yards, while senior LB Mason Moore racked up 21 tackles.
JONESBORO WESTSIDE at Harrisburg: Jonesboro Westside won 6 of 9 meetings between these teams between 2001-2009. The Warriors are thin on depth this year, and have lost 4 consecutive by a combined 151-35. Harrisburg trailed Pocahontas 49-7 at halftime a week ago. QB Eastin Gray passed for 2 TDs and ran for another.
Highland at RIVERCREST: Highland gave up 555 yards rushing in last week's 28-point loss to Blytheville. Rivercrest sophomore QB Cavonta Washington accounted for 390 yards (235 passing, 155 rushing) and 4 TDs in last week's 28-point triumph at Jonesboro Westside. Junior WR Michael Rainer caught 4 passes for 106 yards and 3 TDs. Michael Slayton had 17 tackles.
POCAHONTAS at Trumann: Pocahontas has won 13 of the past 17 in the series. Pocahontas senior QB Connor Baker needs 16 TDs to break Cedric Houston's state-record of 97 career rushing TDs. Baker ran 12 times for 85 yards and 3 TDs and completed 8 of 9 passes for 171 yards and 2 TDs in last week's 49-21 win over Harrisburg.
4-4A
Central Arkansas Christian at CLINTON: CAC led Pottsville 28-14 at halftime last week before losing 35-34. CAC sophomore QB Grayson Wilson completed 16 of 19 passes vs. Pottsville, while Jacob Henry ran for 3 TDs. Clinton senior QB Jobe Chalk completed 14 of 21 passes for 276 yards and 3 TDs in last week's 38-35 win over Bauxite. Yellow jackets senior WR Brody Emberton caught 9 passes for 181 yards and 2 TDs, and he threw a 75-yard TD pass to junior Zane Widener, who finished with 4 receptions for 161 yards and 2 TDs. It's the first time in more than 20 years that Clinton had 2 100-yard receivers in the same game.
Pottsville at LAMAR: Pottsville rallied from a 14-point deficit last week to down CAC 35-34 on Eli Nason's 22-yard TD pass to Colby Stephenson with 14 seconds remaining. Stephenson ran 17 times for 157 yards and 2 TDs, while Eli Adkins ran for 2 TDs. Lamar ran for 406 yards in last week's 36-21 win at Mayflower. Senior Lee Harkreader (153 yards) and senior Damien Hendrix (113 yards) both eclipsed the 100-yard mark, while junior Jarrett Dalton finished with 96 yards. Junior Will Sanderson made 14 tackles.
H.G. HASKELL at LR Hall: LR Hall beat Dover two weeks ago 28-12 for its first victory, and the Warriors were off last week. Undefeated Haskell rolled Dover 41-6 on Homecoming last week. Junior fullback Landon Matthews ran for 3 TDs in the first half. Senior OL/DL Carson Cook played well, Coach Mike Guthrie says.
Dover at MAYFLOWER: Dover won four meetings with Mayflower from 2002-2006. The Pirates (2-4) lost at Haskell last week 41-6, scoring on a TD pass on the final play. Improved Mayflower (2-4) beat CAC 33-14 two weeks ago and hung with Lamar a week ago before falling 36-21. The Eagles ran for 267 yards.
OPEN Bauxite
7-4A
Waldron at ARKADELPHIA: Arkadelphia has won its four meetings over Waldron. The undefeated Badgers get big plays on offense from senior QB Donovan Whitten, senior LaTonnieo Hughes and sophomore Kyle Reed. Whitten completed 80 of 132 passes this fall for 1,275 yards, Hughes has 15 catches for 353 yards and 8 TDs, while Reed has rushed for 224 yards and 7 TDs. Waldron has lost 3 consecutive — to Mansfield, Ashdown and Nashville by a combined 139-7.
Nashville at ASHDOWN: Nashville leads the all-time series 54-19, but Ashdown has won the past 2 by a combined 7 points, and the Panthers beat Nashville by 4 points in 2013. Nashville won 1-point games in 2017 and 2018. Nashville senior QB Sloan Perrin completed 16 of 21 passes for 208 yards in last week's 40-7 win over Mena. Sophomore Malik Matthews ran 9 times for 131 yards, while junior Tre Hopkins ran for 3 TDs. Ashdown fell to Malvern 48-21 last week, its first loss. QB Jonathan McElroy ran for 2 TDs. The Panthers fumbled on the game's first play and threw 2 interceptions.
MALVERN at Mena: Some opposing coaches in Class 4A are calling Malvern one of the top two teams in the state despite having only 6 seniors. The Leopards ambushed Ashdown 48-21 a week ago. Junior Jalen Dupree ran 33 times for 148 yards and 5 TDs, while senior QB Cedric Simmons ran 13 times for 94 yards and completed 8 of 10 passes for 152 yards and 2 TDs. Mena senior Jayden Felix finished with 100 total yards, while Jair Hernandez led the defense with 13 tackles in last week's 33-point loss at Nashville.
8-4A
MCGEHEE at Crossett: Crossett has beaten McGehee in 10 of the past 16 meetings. Crossett comes off losses to Warren and DeWitt by a combined 73-36. The Eagles trailed DeWitt 23-14 in third quarter. McGehee has lost its past two games to No. 3 Warren and No. 4 Star City. McGehee senior RB/DL Tyrique Newman, senior RB Nehemiah Barnes and senior OL/TE Kyren Esaw have played well this season, Coach Marcus Haddock says.
Helena at HAMBURG: Hamburg is 5-0 vs. Helena since the Cougars joined the league. The Lions defense played well in last week's 16-7 setback at Monticello. Helena has lost 3 conference games in a row by a combined 139-36.
Dumas at STAR CITY: Star City has won 13 of the past 21 over Dumas. Star City hammered Helena 43-8 a week ago. Senior C.J. Turner ran 6 times for 43 yards and 1 TD, while senior WR Austin Wilkerson caught 2 TDs. Senior QB Mason Taylor passed for 101 yards, and he returned an interception 22 yards for a TD.
DeWitt at WARREN: Warren has never lost a conference game to DeWitt, which clinched a playoff berth with last week's 32-22 win over Crossett. Senior Carl Hudson racked up 7 tackles, including 4 TFL and 2 sacks. Senior LB Jayden Vanhouten recorded 10 tackles and 2 interceptions. Warren recorded its first shutout of the season last week, downing Dumas 35-0. Senior LB Delfino Rivera recorded 6 tackles on defense. Senior Maddox Lassiter ran for a TD, threw 2 TD passes and intercepted a pass on defense.
OPEN Monticello