Class 3A Week 7 Rankings, Notes & Picks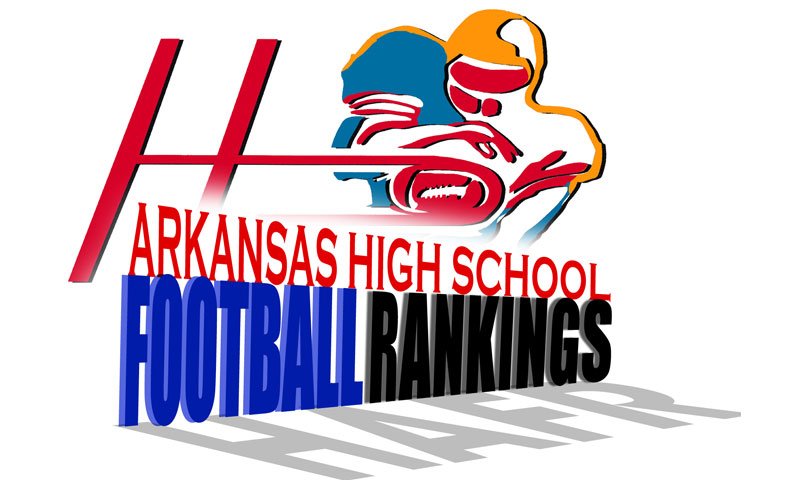 HOOTENS.COM RANKINGS
Class 3A, Week 7, 2021
Copyright Hooten Publishing, Inc.
1. Prescott (6-0)
2. McGehee (6-0)
3. Booneville (6-1)
4. Harding Academy (5-2)
5. Centerpoint (5-1)
6. Osceola (4-1)
7. Charleston (6-0)
8. Paris (6-0)
9. Hoxie (6-0)
10. C. Harmony Grove (3-3)
11. Rison (5-1)
12. Mountain View (5-2)
13. Newport (3-3)
14. Melbourne (4-2)
15. Glen Rose (4-1)
16. Hackett (5-1)
17. Perryville (5-1)
18. Riverview (4-3)
19. Jessieville (3-2)
20. Genoa Central (2-4)
21. Cedarville (4-2)
22. Bismarck (4-3)
23. Atkins (4-2)
24. Baptist Prep (4-2)
25. Manila (5-1)
26. Salem (4-2)
27. Walnut Ridge (3-3)
28. West Fork (2-4)
29. Harrisburg (2-4)
30. Lavaca (3-3)
31. Dollarway (2-3)
32. Smackover (2-4)
33. Lincoln (2-4)
34. Greenland (2-3)
35. Fouke (2-4)
36. Mansfield (1-4)
37. Horatio (3-3)
38. Barton (1-4)
39. Lake Village (2-4)
40. Piggott (0-6)
41. Corning (1-5)
42. Mayflower (0-5)
43. Danville (0-6)
44. Drew Central (0-6)
45. Palestine-Wheatley (0-5)
46. Two Rivers (0-6)
GAME OF THE WEEK
No 11 Rison at No. 2 McGehee
This is for first place in the 6-3A. Rison (5-1, 3-0) sophomore QB Owen Morrison completed three passes with two touchdowns of 31 and 51 yards to sophomore receiver  ZaKyler Walker in last week's 63-26 rout of Smackover. Junior RB Isaac Gray rushed 24 times for 201 yards and four TDs. Sophomore RB Treyvione Wainwright scored Rison's final TD on a 31-yard run. Second-ranked McGehee (6-0, 3-0) handed Camden Harmony Grove its first league loss, 36-12. McGehee senior QB Sam Polite completed three passes and rushed for 74 yards and a TD. Senior WR A.J. Jordan caught all three of those passes for three TDs. Senior HB Jody Easter rushed for 92 yards and a TD.
Watch extended highlights of McGehee's 47-22 win over Dewitt earlier this year.  Watch extended highlights of McGehee's 36-12 win over Camden Harmony Grove earlier this year. Watch extended highlights of Rison's 20-16 loss to Fordyce earlier this year. Watch extended highlights of Rison's 42-3 win over Hamburg earlier this year.
LAST WEEK
Hootens.com correctly picked 18 of 23 games (78 percent) involving Class 3A teams. It is 157 of 195 for the season (80 percent).
WEEK 7 PREDICTIONS (favored team in CAPS followed by point spread)
1-3A
CHARLESTON (7) at Hackett: Charleston junior QB Brandon Scott completed 17 of 22 passes last week for 169 yards and two TDs in 46-0 win over Mansfield. Scott also rushed for 58 yards and a TD on four carries. Junior WR Bryton Ketter caught three passes for 26 yards, kicked a 52-yard field goal, converted four PAT kicks, and kicked three touchbacks. Hackett may have a QB controversy. Senior Ethan Slavens struggled early and was replaced by sophomore Cole Ketchum, who led Hackett to a 22-12 win over Cedarville.
CEDARVILLE (6) at West Fork: Senior RB Darryl Kattich rushed for 145 yards on 19 carries in Cedarville's 22-12 loss to Hackett. Senior FB Hayden Partain scored both of Cedarville's TDs, with 53- and 17-yard scoring runs. West Fork surprised Lavaca last week 41-20. West Fork and Cedarville series tied 4-4.  Watch extended highlights of Cedarville's 42-14 win over Mansfield earlier this year.
Lavaca at GREENLAND (10): Lavaca lost last week to West Fork 41-20. Lavaca and Greenland are 3-3 overall, 1-2 in conference with the loser in danger of not reaching the playoffs. Greenland, knocked off by Lincoln 32-14, is healthy but young. Junior QB Max Meredith has completed  37 of 107 passes for 657 yards and three TDs. Junior RB Tucker Meadors has scored twice while running for 276 yards. A year ago, Greenland defeated Lavaca 35-7.
LINCOLN (10) at Mansfield: Lincoln senior DB Kyler Calvin got beat on a pass but chased down the receiver, stripped the ball at the goal line, and recovered in the end zone last week in a 32-14 win over Greenland. Senior QB Drew Moore completed 18 of 31 passes for 269 yards and two TDs for Lincoln. Calvin contributed three receptions for 141 yards and two TDs. Mansfield lost to unbeaten Charleston last week, 46-0. Lincoln routed Mansfield last year 52-6.  Watch extended highlights of Mansfield's 42-14 loss to Cedarville earlier this year.  
2-3A
Salem at NEWPORT (14): Salem returns to 2-3A action after beating Class 2A East Poinsett County 35-22. Salem sophomore RB Elijah Romine rushed for 168 yards and a TD, while contributing 10 tackles on defense. Junior QB Dakota Jackson leads Salem this season with 530 passing yards and six TDs. Senior FB/DT Jacob Earl paces Salem with 449 rushing yards and five TDs. Junior TE/MLB Layten Birmingham has logged a team-high 34 tackles. Newport trailed Mountain View 20-0 in the first half of a 26-8 loss. Senior RB Jammariel Balentine scored Newport's TD on a 4-yard run. A year ago, Newport won at Salem 51-14.
Riverview at MELBOURNE (14): Riverview is banged up after 38-7 setback to Harding Academy. Junior FS Robert Lee and senior TE Emmanuel Castaneda were injured against Harding. Riverview HC Chris Keylon reports junior OL Andrew Donnell is back and playing well. Melbourne was open last week. Melbourne junior QB Trey Wren has passed for 881 yards and nine TDs, while running for 526 yards and nine TDs. Junior WR/MLB Carter Bray is Wren's favorite target with 26 receptions for 500 yards and four TDs. A year ago, Melbourne beat Riverview 42-12. 
HARDING ACADEMY and MOUNTAIN VIEW are open.
3-3A
Harrisburg at OSCEOLA (21): Senior QB Samuel Moore passed for 195 yards and a TD last week in Harrisburg's 30-24 loss to Manila. Junior LB Jace Heeb led the defense with 12 tackles. Osceola was open last week after Palestine-Wheatley forfeited with several players quarantined or hurt. Osceola (4-1, 3-0) has not played in three weeks.
Piggott at HOXIE (24): Piggott remains winless after losing last week to Walnut Ridge 20-14. Unbeaten Hoxie led Corning 35-0 in the second quarter and coasted to a 35-0 victory. Hoxie senior QB Cade Forrester completed five of seven passes for 79 yards and TD, while running 92 yards and TD on four carries. Sophomore FB/LB Ethan Dulaney led the defense with seven tackles. Hoxie won at Piggott last season 54-28.
Watch extended highlights of Hoxie's 46-28 win over Cave City earlier this year. 
WALNUT RIDGE (6) at Corning: Junior QB Kai Watson rushed for more than 100 yards last week in leading Walnut Ridge past Piggott 20-14. Junior QB-WR/DB Walker Ward contributed a TD catch, rushing TD and an interception. Corning was shut out last Friday by Hoxie 35-0. Corning managed two first downs. Senior FB/LB Rhett Eddington led Corning with eight tackles. 
MANILA (20) at Palestine-Wheatley: Manila ran 9:27 off the clock on its winning fourth-quarter drive to beat Harrisburg 30-24. Senior TB Kurt Overton rushed for 133 yards and a TD on eight carries. Senior FB Peyton McQueen ran for 94 yards and a TD. Senior QB Tanner Miller connected on six of 10 passes for 100 yards and TD. Junior MLB Brian Neal II led Manila with 10 tackles, and senior DB Dustin Clark intercepted a pass on the game's final play. P-W remains winless after forfeiting to Osceola.
4-3A
Baptist Prep at BOONEVILLE (21): Baptist Prep lost last week to Paris 24-14 despite holding Paris under 100 yards rushing. BP senior QB Tyler Hesley completed 20 of 30 passes for 204 yards and two TDs. Senior WR/DB Owen Throneberry led BP with 10 tackles. Booneville retained a share of first place in the league standings by blasting Mayflower 49-14. Booneville has allowed 998 yards all season, with Timpson, Texas, accounting for 410 of those yards. Booneville piled up 475 rushing yards at Mayflower. Senior QB Randon Ray led with 108 yards and a TD on five carries. Senior RB Rocky Ross scored twice and rushed for 61 yards. Junior RB Trace Hall gained 99 yards and scored twice. Watch extended highlights of Booneville's 49-14 win last Friday at Mayflower. Watch extended highlights of Baptist Prep's 31-24 OT win over McCrory earlier this year.
Atkins at PARIS (14): Atkins senior QB Zach Berkemeyer completed 20 of 30 passes last week for 345 yards in a  50-30 victory over Danville. Senior WR Devin Roberts caught 11 passes for 195 yards and three TDs. Senior LB Wyatt Coffman led the defense with 10 tackles. Paris defense held Baptist Prep to 12 rushing yards in a  24-14 victory. Senior LB Nate Henderson led Paris defense with 11 tackles. Senior QB Chase Watts completed 12 of 17 passes for 121 yards and a TD for Paris. Senior RB/S Duke Walker rushed for 122 yards and TD on 13 carries. Junior kicker James Yang kicked a 37-yard FG and all three extra points.
Mayflower at PERRYVILLE (21): Junior TB Jaden Robinson and QB Noah Gailey accounted for most of Mayflower's yards last week in 49-14 loss to Booneville. Gailey passed for 155 yards, with 69 of those yards going to Robinson, who also accumulated 125 yards on kickoff returns. Perryville sophomore RB Gatlin Peoples rushed for 162 yards and four TDs in a 60-7 rout of Two Rivers. Peoples also returned a kickoff 86 yards for a TD. Senior RB Crete Tippen saw his first action in three weeks because of injury, gaining 66 yards and scoring. Perryville still missing senior OL Garrett Farnam and sophomore RB Luke Underwood because of injuries. Watch extended highlight's of Mayflower's 49-14 loss to Booneville last Friday.
DANVILLE (12) at Two Rivers: Only 14 players suited up for Danville in a 50-30 loss to Atkins. Danville senior QB Lawson Wilkins rushed for 219 yards and passed for 132 with four total TDs. Senior WR Aiden Hilton caught four passes for 64 yards and a TD. Both teams looking for first win of season. Two Rivers hasn't won since August 2019 and owns a 23-game losing streak. It lost to Perryville last week 60-7. 
5-3A
PRESCOTT (30) at Genoa Central: No. 1 Prescott rallied from 35-12 deficit in the third quarter last week to beat Centerpoint 50-41. Junior RB Jaylen Hopson rushed for 223 yards and four TDs on 29 carries for Prescott. Genoa lost a big conference game to Jessieville 28-25. Genoa senior RB Ryan Braden rushed for 152 yards, while senior QB Trent Bearden ran for 141 yards and threw three TD passes. Sophomore SB/LB Clayton Bush caught two TD passes.
Watch extended highlights of Prescott's 56-6 win over Newport earlier this year. Watch extended highlights of Prescott's 50-41 win over Centerpoint earlier this year. Fouke at GLEN ROSE (21): Fouke rallied from an early 12-0 deficit last week to beat Horatio 29-28. Fouke senior QB Kye Monroe passed for 238 yards and four TDs. Glen Rose sophomore RB Heath Balance ran for 193 yards in a 35-7 win over Bismarck.
Jessieville at CENTERPOINT (7): Jessieville won a thriller over Genoa Central last Friday, 28-25. No news on the status of Centerpoint senior QB Josh Lawson who was injured last week in 50-41 loss to No. 1 Prescott. Lawson completed 10 of 14 passes for 157 yards and a TD when carried off the field with 3:29 left in third quarter and No. 6 Centerpoint leading 35-12. He was replaced by senior WB/QB/CB Dillon Fox, who scored three TDs and rushed for 67 yards. Fox completed four of six passes for 22 yards. Junior RB Jace Clark led Centerpoint with 96 rushing yards on 20 carries. Centerpoint has won seven of past 13 vs. Jessieville.
Watch extended highlights of Centerpoint's 50-41 loss to Prescott earlier this year. Bismarck at HORATIO (1): Injuries are piling up in Bismarck after a 35-7 setback last week to Glen Rose. Junior QB Ian Smith went down in the third quarter and did not return for Bismarck, which was already missing six starters. Horatio lost a 29-28 nail-biter to Fouke. Horatio gained nearly 500 yards (403 on the ground). Senior RB/LB Alex Ramirez led Horatio ground game with 175 yards and TD, while junior RB Kevin Quiroz contributed 117 yards and two TDs. Ramirez contributed 12 tackles and two sacks on defense. Junior DB Jace Hankins recorded nine tackles with an interception.
6-3A
Rison at MCGEHEE (7): See Game of the Week.
C. HARMONY GROVE (14) at Lake Village: Lake Village sophomore RB Aquavious Dunbar rushed for 128 yards and two TDs last week in 45-22 win over Drew Central. Senior WR Delonte Armour scored twice with 110 yards receiving. No. 2 McGehee big-played C. Harmony Grove (36-12) with three passes resulting in three TDs.
Watch extended highlights of Camden Harmony Grove's 22-20 loss to Fordyce earlier this year. Watch extended highlights of Camden Harmony Grove's 36-12 loss to McGehee earlier this year. DOLLARWAY (2) at Drew Central: Dollarway coach Martese Henry was elated with the defensive effort in a 24-6 win over Barton. Senior LB/RB Kenyon Carr led Dollarway with five sacks, and 72 yards rushing on nine carries. Senior RB Davion James ran for 91 yards and two TDs. Senior QB Briveon Sample completed 10 of 14 passes for 203 yards and scored twice on runs. Drew Central is 0-6 after losing to Lake Village 45-22. A year ago, Dollarway defeated Drew Central 30-14.
Barton at SMACKOVER (3): Barton coach Spencer Adams says junior QB/CB Javarion Porter and sophomore WR/CB Aiden Liston played well last week in a 24-6 loss to Dollarway. Smackover senior QB Brandon Lockhart completed eight of 19 passes for 237 yards in a 63-26 loss tp Rison. He also contributed an interception on defense. Junior WR Dkylan Hildreth caught five passes for 176 yards and three TDs. Smackover won at Barton last year 14-12.