Class 6A Week 7 Rankings, Notes & Picks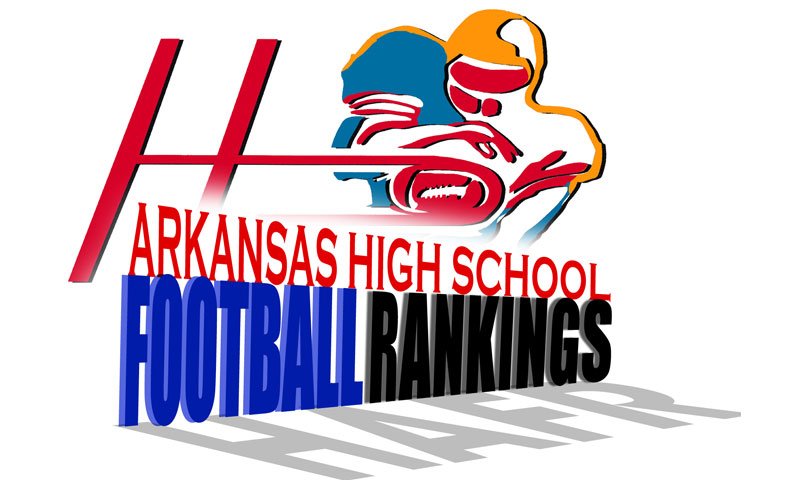 Hooten's Arkansas Football Rankings

Class 6A, Week 7, 2021

Copyright Hooten Publishing, Inc.


1. Lake Hamilton (6-0)

2. Benton (5-1)

3. Greenwood (4-2)

4. LR Parkview (3-3)

5. Jonesboro (4-2)

6. El Dorado (4-2)

7. Sylvan Hills (5-1)

8. Russellville (3-3)

9. Marion (3-3)

10. Mountain Home (2-4)

11. Searcy (3-3)

12. Siloam Springs (1-5)

13. Van Buren (4-2)

14. Pine Bluff (1-4)

15. West Memphis (1-5)

16. Sheridan (2-4)


GAME OF THE WEEK

No. 9 Marion at No. 6 El Dorado.
These two and Searcy are tied for third in the East. El Dorado senior QB Sharmon Rester (5-10, 190) completes 66 percent of his tosses and likely eclipses 3,000 passing yards before the playoffs. Wildcat junior RB Shadarious Plummer gains 7.8 yards per carry with 485 yards this season. Marion senior Columbus London starred as a lockdown corner last Friday while classmate Cam Anderson rushed for 227 yards and two touchdowns in a 37-25 win over Searcy. El Dorado's speed likely slows Marion this week.
Watch extended highlights of El Dorado's 40-36 win over Camden Fairview earlier this year.
LAST WEEK


hootens.com correctly predicted 6 of 8 winners (75 percent) in games involving Class 6A teams. For the season, hootens.com is 57-13 (81 percent) in Class 6A.



WEEK 7 PREDICTIONS (favored team in ALL CAPS)


6A EAST

Marion at EL DORADO (7): Game of the Week.
West Memphis at JONESBORO (35): Jonesboro senior QB Rykar Acebo completes 68 percent of his passes, totaling 1,158 yards this season with 17 TDs and just four interceptions. Acebo (4.3 GPA and 30 ACT) is the First Community Bank Scholar Athlete of the Week. West Memphis rides a 6-game losing streak, looks to winnable games with Sheridan and Pine Bluff the next two weeks.
Watch extended highlights of West Memphis's 35-13 loss to Wynne earlier this year.
Watch extended highlights of Jonesboro's 47-27 loss to Cabot earlier this year.

Sheridan at SYLVAN HILLS (25): Sylvan Hills (5-1) has won its three conference games by 15 points or less, including last week's 35-21 victory at No. 15 ranked West Memphis. Sheridan's four losses this season are by a combined 176-20.
Watch extended highlights of Sylvan Hills 31-21 loss to Maumelle earlier this year.
SEARCY (10) at Pine Bluff: Searcy allowed a safety and failed to score twice inside the redzone in last week's 12-point loss at Marion. Searcy completed just 18 of 42 passes with two interceptions at Marion, but standout junior RB Dede Johnson rushed for 211 yards and two scores.
Watch extended highlights of Searcys 38-20 loss to LR Christian earlier this year. 


6A WEST
BENTON (9) at Mountain Home: Benton must avoid a letdown after rallying from a fourth-quarter 23-17 deficit to beat ultra-talented LR Parkview 30-23 last Friday. It was Benton's first game to not end with a sportsmanship-rule running clock. The Panthers are currently tied with Lake Hamilton atop the league. Mountain Home traveled and torched Van Buren 42-15 last Friday, forcing four turnovers, piling up 407 yards and holding the Pointers to minus-31 yards rushing. Mountain Home senior safety Anthony Mojica (6-0, 180) returned an interception 40 yards at Van Buren. Look for Benton's skill-position players to make too many plays for the gritty Bombers.
Watch extended highlights of Bentons 66-29 win over Siloam Springs earlier this year.
GREENWOOD (14) at Russellville: Russellville's stemming and stunting defense won't bother Greenwood like it did Lake Hamilton. Russellville led Lake Hamilton's homecoming 26-20 in the third quarter last Friday before losing by 10. Greenwood starting QB Hunter Houston (6-1, 180) returned from injury last week, completing 17-of-27 passes for 200 yards in a 54-17 win over Siloam Springs.
Watch extended highlights of Russellville's 40-28 loss to Vilonia earlier this year.

Watch extended highlights of Greenwood's 48-28 loss to LR Parkview earlier this year.
Van Buren at LR PARKVIEW (37): Devastated by injuries, Van Buren got mauled by Mountain Home 42-15 last week. The Pointers top two QBs, two starting WRs and a starting OL remain sidelined. Van Buren committed four turnovers, rushed for minus-31 yards, completed 16 of 46 passes with eight drops last week. Parkview got a safety followed by a 73-yard kick return from freshman Monterio Elston and led in the second half last week at Benton but failed to score on three trips to the redzone in a 30-23 loss.
Watch extended highlights of LR Parkview's 47-0 win over LR Southwest earlier this year. 
Watch
extended highlights of LR Parkview's 48-28 win over Greenwood earlier this year.
LAKE HAMILTON (21) at Siloam Springs: Undefeated Lake Hamilton trailed on homecoming night to Russellville 26-21 in the third quarter last week before winning by 10 (and ending the game in the redzone). Junior Justin Crutchmer (5-11, 170; 4.6 speed), the fastest Wolf, returned from injury to spark the fourth-quarter rally. Lake Hamilton rushes for 85 percent of its offense, passing for just 52.6 yards weekly. Siloam Springs, winless in league play, has allowed 120 points the past two weeks.
Watch extended highlights of Lake Hamilton's 35-12 win over Malvern earlier this year.
Watch extended highlights of Siloam Springs 66-29 loss to Benton earlier this year.