HOGS do O line shuffle; Notes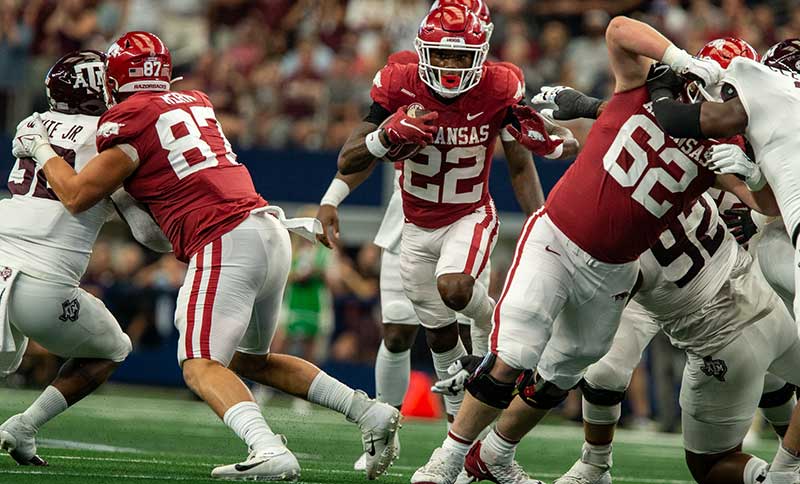 FAYETTEVILLE -  An injured finger that required surgery will sideline Arkansas senior right tackle Dalton Wagner, Arkansas coach Sam Pittman said Monday,
Wagner traveled last week to Oxford, Miss., but did not play in the Razorbacks' 52-51 loss to Ole Miss.
"The bottom line is that it went out on him, and they couldn't get it back in place," Pittman said Monday. "He had surgery on that finger this morning. And so his status is not going to be available for awhile."
CLARY CONTRIBUTES
Ty Clary, the Arkansas offensive line's senior handyman used at center, guard and tackle this season, started at right tackle against Ole Miss. Clary seems set to start Saturday's 11 a.m. SEC homecoming game against Auburn. CBS plans to televise the game.
"I was really proud of Ty Clary out at tackle," Pittman said. "He played the entire game out there at right tackle."
A fifth-year senior from Fayetteville, Clary had started 36 games at center or guard, but against Ole Mss he started at tackle for the first time.
"Ty is a veteran," Pittman said. "He's started a lot of games. Going into the game, I wasn't one bit concerned about right tackle, because Clary has been practicing it during the week for several weeks. The good-on-good reps, Ty was getting."
LATHAM, LIMMER AND LUKE
Though Clary was moved from guard to tackle, starting third-year sophomore guards Brady Latham and Beaux Limmer felt some pressure last week about keeping their starting jobs.
Discouraged about the lack of physicality after a 37-0 loss at Georgia, Pittman publicly projected possibilities of heavier guards Ty'Kieast Crawford (6-5, 350) and 6-5, 330-pound redshirt freshman Jalen St. John to play some at guard after moving both last week from reserve offensive tackles.
Pittman and offensive line coach Cody Kennedy ultimately stayed with Latham and Limmer. They played their parts in Arkansas amassing 676 yards total offense and 51 points against Ole Miss.
"I thought they played well," Pittman said. "I think a lot of times when you think you're going to lose your job, you go back to playing how you earned that job. I think they did. I thought they had a good game."
Upon moving St. John and Crawford to guard, and Pittman said he'll keep them there because he likes their heft inside, Pittman last week moved reserve guard Luke Jones (6-5, 310) to reserve left tackle.
"I think he can be another tackle for us," Pittman said. "I think Luke Jones looked really good last week at tackle."
ONUS ON THE D
While last week's onus was on the offense after getting shut out at Georgia, the atonement pressure exerts on the defense this week post Ole Miss. The Rebels accumulated 611 yards total offense and 52 points on Arkansas.
"There will be some corrections and changes and what our schematics could be," Pittman said. "There were a lot of problems we have to get fixed. One of them was tackling. We couldn't get (Ole Miss quarterback Matt) Corral on the ground, and our secondary support was poor. Therefore, that's why you saw a lot of B-gap runs go to the house. We couldn't get the edge. We let the edge go a lot on defense, and we blew several coverages."
Some things couldn't be helped, like premier safety Jalen Catalon in vain trying to intercept a pass handicapped by the cast protecting his broken hand.
"It's a little hard for him," Pittman said. "I believe he would have without a cast on, but all those things happen."
FOUR FRONT
Defensive coordinator Barry Odom employing a three-man front and drop eight back worked wonders in huge triumphs over Texas and Texas A&M but got pounded on the run by Georgia and exploited everywhere by Ole Miss.
Does Pittman says Arkansas owns the D-line depth to incorporate more four-man fronts, practiced extensively in the spring and preseason and most employed in the season opening victory over Rice.
"I think we do. That's something Coach [Odom] and I have talked about," Pittman said. "I'm not going to sit here and say what we're going to do and what we're not going to do. But to answer your question we do have enough D-linemen we feel like, that we could rotate in a four-man line."
MORNING IN LR
The Razorbacks' final non-conference game, Oct. 23 against the University of Arkansas-Pine Bluff at War Memorial Stadium in Little Rock, will kick off at 11 a.m. and be televised by the SEC Network.
It marks the Razorbacks' fourth consecutive 11 a.m. kickoff.