HOGS: Jefferson cleared to return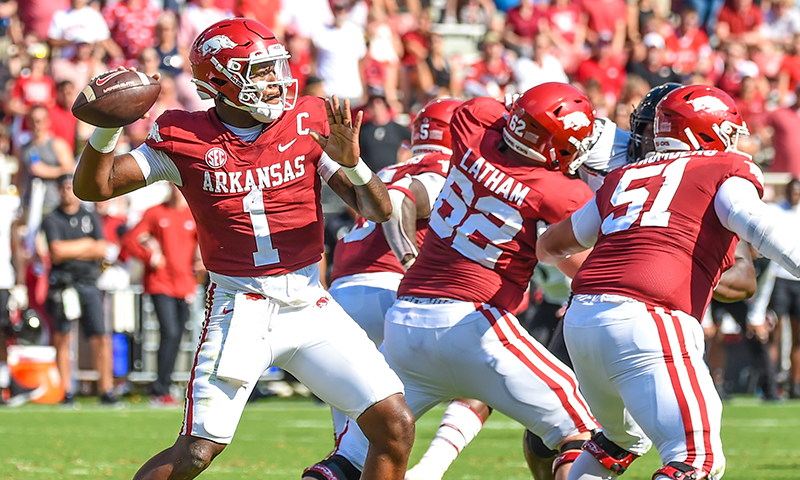 FAYETTEVILLE — Arkansas head Coach Sam Pittman said Monday that junior quarterback KJ Jefferson is fully cleared to play and will return to the field as the Razorbacks' starter for Saturday's nonconference matchup with the BYU Cougars in Provo, Utah.
Jefferson (1,096 pass yards, 312 rush yards, 13 TDs) sat out last Saturday's 40-17 loss to Mississippi State after taking a hit to the head in Arkansas' Oct. 1 loss to Alabama in Fayetteville.
Jefferson watched from the sideline as redshirt senior Cade Fortin (2-6, 8 yards) got the start but was replaced by redshirt sophomore Malik Hornsby.
Hornsby completed 8 of 17 passes for 234 yards and 1 touchdown while rushing 8 times for 114 yards against the Bulldogs.
"I think there was a big weight lifted off his back with the way that he performed," Pittman said of Hornsby. "I think he validated what he thought of himself as a quarterback."
Hornsby was used sparingly at wide receiver and running back during Arkansas' first four games, rushing 5 times for 21 yards and catching 2 passes for 8 yards.
Pittman said Hornsby will stick to being a quarterback as he now returns to the backup role.
 "We were forcing him into needs at wide receiver and we took him away from quarterback and I don't feel like that helped him at practice," Pittman said. "Now, I think he can become what we all think he can be at quarterback if we just leave him there. I gave him that choice and that's what he chose and honestly, I'm glad he made that choice."
Overcoming Slow Starts
Arkansas has fallen behind 21-0 in each of its past two games — a 49-26 loss to Alabama on Oct. 1 in Fayetteville and last Saturday's 40-17 loss to Mississippi State in Starkville.
Pittman said he might make some fundamental changes.
"It might be us taking the ball in the coin toss," Pittman said. "We're such a defer team because I like having the ball coming out of the third quarter. Bottom line is we have to do a better job offensively on having our opening drives be solid and concrete. Defensively we just have to make plays."
BYU has outscored its opponents 92-82 in the first half of games this season, but the Cougars (4-2) have averaged 10.8 first-half points in their past five games after scoring 38 in their season opener against South Florida.
BYU comes into Saturday's matchup after a 28-20 loss to Notre Dame in South Bend, Ind.
The Cougars own a 26-20 overtime victory over the Baylor Bears and return 18 of 22 starters from last season.
"I know the team is excited to play a really good team," Pittman said. "Coach Sitake [BYU head coach] has done a really good job with the team, and they play extremely hard. They have a really good quarterback, a good offensive line, receivers that can win one-on-one catches and I really like their linebackers on defense."
This game will be played at Lavell Edwards Stadium, which sits at 4,649 feet above sea level, a change in elevation of more than 3,000 feet from Fayetteville.
"For us we're going to hydrate as much as possible," Pittman said. "We're also going to watch our kids who have the sickle cell trait closely. After that, we're just going to go play the game."
Kickoff is scheduled for 2:30 p.m. Central on ESPN.
Old Starter Returns
The Razorbacks have made a change at punter, turning to last year's starter Reid Bauer in place of freshman Max Fletcher (6-5, 178; Melbourne, Australia).
Bauer took over after a 25-yard first-quarter punt by Fletcher, and Bauer averaged 46.3 yards on 3 attempts in Arkansas' 40-17 loss to Mississippi State.
To date, the Razorbacks average 33.4 yards per punt, ranking them last in SEC and No. 125 in the FBS.
"We've started Max [Fletcher] and there's nothing wrong with Max," Pittman said. "Max is a good punter but had difficulty with the first punt and we knew if that was the case Reid [Bauer] would go in there because Reid did a nice job for us last year. So, we'll stay with Reid as long as he's doing a nice job."
Bauer played in all 13 games last season for the Razorbacks and averaged 43.3 yards on 58 punts as well as having 14 punts travel more than 50 yards.