Class 3A Week 7 Rankings, Notes & Picks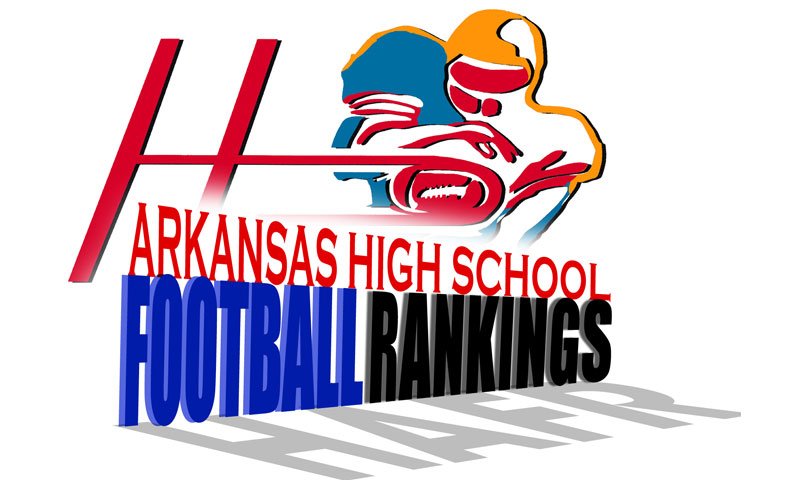 Hootens.com Rankings
Class 3A, Week 7, 2020
Copyright Hooten Publishing, Inc.

1. Harding Academy (4-1)
2. Prescott (4-0)
3. Rison (4-1)
4. Hoxie (6-0)
5. McGehee (5-0)
6. Booneville (5-1)
7. Newport (7-0)
8. Glen Rose (5-1)
9. C. Harmony Grove (3-3)
10. Osceola (2-2)
11. Melbourne (4-1)
12. Charleston (4-2)
13. Centerpoint (4-2)
14. Cedarville (5-1)
15. Atkins (5-1)
16. Paris (6-0)
17. Perryville (4-2)
18. Harrisburg (3-2)
19. Salem (4-2)
20. Greenland (4-2)
21. Piggott (4-2)
22. Hackett (3-1)
23. Jessieville (4-2)
24. Mountain View (4-3)
25. Dollarway (1-4)
26. West Fork (4-2)
27. Lincoln (3-3)
28. Genoa Central (3-3)
29. Walnut Ridge (1-4)
30. Corning (3-2)
31. Mayflower (1-5)
32. Palestine-Wheatley (2-3)
33. Drew Central (1-3)
34. Bismarck (1-5)
35. Lake Village (1-4)
36. Danville (0-4)
37. Fouke (1-2)
38. Mansfield (1-5)
39. Baptist Prep (2-4)
40. Riverview (0-5)
41. Smackover (0-4)
42. Barton (0-6)
43. Manila (1-4)
44. Lavaca (0-4)
45. Two Rivers (0-5)
46. Horatio (0-5)

HOOTENS.COM GAME OF THE WEEK
No. 5 McGehee at No. 3 Rison
Rison beat McGehee the past two seasons by a combined 60-14, including 30-0 in 2019. This game boasts two of the top defenses in Class 3A. McGehee surrenders just 6.2 points per game, the top scoring defense in Class 3A. Rison allows just 9.2 PPG and has allowed just 18 points during the Wildcats' four-game winning streak.
McGehee's quick defense allows less than 70 yards per week. The Owls last week surrendered just 12 yards in their 28-6 victory over Camden Harmony Grove. McGehee stoned Harmony Grove on the ground, allowing minus-53 rushing and one first down. Junior Jody Easter ran for a pair of TDs against Harmony Grove, while Caleb Woodson and Marcus Rose also scored. McGehee rushed for 197 yards against Harmony Grove. McGehee lines up in more offensive formations than past years with the evolution of senior QB Jordan Owens and look for six 'backs (Easter, Woodson, Rose, Sam Polite, Aiden Bailey and Elijah White) to earn carries at Rison.
Rison responded to its Week 0 loss to defending Class 2A state champion Fordyce by outscoring opponents by a combined 181-18 (average of 45-4 weekly) in four straight wins. Rison surrendered just 72 yards (minus-4 rushing) and forced four turnovers in last week's 54-6 win at Smackover. Rison scored on nine of 10 possessions at Smackover. Senior Shaquan Reeves returned an interception 75 yards for a TD on the final play of the first half and Reeves rushed for 97 yards and three TDs on offense. Branden Barnett added 65 rushing yards and sophomore Avery Hopson bolted for 63 yards. Senior QB Cole Keese completed one pass, a 7-yard TD toss to Jerrel Marshall, at Smackover.

LAST WEEK
Hootens.com correctly predicted 20 of 21 games (95 percent) of games involving Class 3A schools. For the season, hootens.com correctly predicted 147 of 181 games (82 percent) of games involving Class 3A schools.

WEEK 7 PREDICTIONS (favored team in CAPS followed by point spread)
1-3A
West Fork at CEDARVILLE (12): West Fork scored a season-high 55 points in a 28-point victory last week against Lavaca. The West Fork Flexbone rushes for more than 180 yards per week. Cedarville slipped Hackett 28-2 a week ago as three 'backs ran for 100 yards or more. Junior running back Darryl Kattich ran for 227 yards, fullback Hayden Partain finished with 106 yards and a TD and Kelin Mitchell bolted for 137 yards and a score. Read more on Cedarville HERE.
Hackett at CHARLESTON (10): Hackett surrendered more than 300 rushing yards in last week's 28-20 loss. Charleston scored the final 28 points last week in a 42-7 win at Mansfield. Charleston surrendered only 118 yards to Mansfield. Sophomore QB Brandon Scott impresses onlookers with a strong, accurate throwing arm.
GREENLAND (21) at Lavaca: Lavaca scored a season-high 27 points a week ago in a 28-point loss at West Fork. Greenland outgained Lincoln 381-303 but had to score late in the fourth quarter to secure a 36-35 victory. Greenland senior QB Gabe Wilson completed 16 of 22 passes for 236 yards and two TDs against Lincoln. Greenland sophomore Seth Center topped the tackle chart with 10 stops.
Mansfield at LINCOLN (13): Mansfield trailed Charleston just 14-7 in the second quarter of a 42-7 loss a week ago. Codi Chick ran 73 yards for a TD against Charleston. Lincoln led Greenland 35-28 late in the fourth quarter last week before surrendering a 32-yard TD pass and two-point conversion in a 36-35 loss. Lincoln rolled up 303 yards against Greenland.

2-3A
MELBOURNE (28) at Riverview: Class 2A Earle outgained Riverview 322-245 in last week's 28-22 home loss. Riverview led 22-16 in the fourth quarter and each team committed three turnovers. Melbourne fashioned a 42-6 halftime lead two weeks ago in a 41-22 homecoming victory over Salem. Eli Harrell caught two TD passes against Salem and returned a punt 65 yards for another score.
NEWPORT (19) at Salem: Salem scored the final 34 points of last week's 42-6 victory over Class 2A East Poinsett County. The Greyhounds intercepted two passes in the end zone, including one returned 100 yards for a TD by senior Darius Brown. The Newport defense has allowed 99 yards with 10 sacks,  four first downs and no points over the past two weeks. The Greyhounds led Mountain View 27-0 last week at halftime of a 42-0 victory. Junior Eli Alcorn and sophomore Isiah Kendall caught two TD passes apiece from sophomore QB Dejai Marshall (205 passing yards and four scores) against Mountain View.
Harding Academy and Mountain View are open. Watch Harding Academy scholar athlete Caden Sipe HERE.

3-3A
CORNING (1) at Walnut Ridge: Piggott walloped Walnut Ridge 60-28 a week ago as the Bobcats surrendered three TDs of 40 yards or more. Kai Watson and Cole Manning each scored two TDs against Piggott. Corning rolled up 368 yards (315 rushing) and forced two turnovers in last week's 44-18 win at Manila. Corning running backs ran for TDs of 45, 20 and 64 yards. Corning linebacker Jake Gutierrez anchors the Bobcat defense.
HOXIE (14) at Piggott: Piggott averages 44 points per week in three games under interim coach Don Simmons, including a pair of 60-point outings. Piggott senior QB Tanner Dixon fired a 56-yard TD pass to Logan Ralph, who also ran 40 yards for a score and senior tailback Michael Parker ran 14 and 6 yards for TDs in 60-28 win over Walnut Ridge. Hoxie boasts the most dynamic backfield in the state with senior brothers Daylon and ShunDerrick Powell. Hoxie's game last week against Corning was canceled due to covid-19 protocols but the Mustangs routed Palestine-Wheatley 49-14 two weeks ago. Daylon Powell completed four of six passes against PW for 130 yards and three TDs while ShunDerrick Powell carried six times for 143 yards and three scores. Senior receiver Stefan Coleman has emerged as the top target, averaging almost 19 yards per reception. Senior center Zayne Alls anchors the Hoxie offensive line.
PALESTINE-WHEATLEY (1) at Manila: Manila rushed for minus-7 yards in last week's 17-2 loss at Harrisburg. The Lion defense forced four turnovers and logged a safety. Manila led 2-0 in the first quarter and trailed just 14-2 at halftime. Palestine-Wheatley was idle last week after its game against Osceola was canceled. The Patriots racked up 222 yards two weeks ago in a 49-14 loss at Hoxie. Senior QB Bryce Hobson directs the PW offensive attack.
Osceola at RIVERCREST (13): This heated rivalry between next-door neighbors resumes after a one-year hiatus. The game was agreed to on Wednesday morning. Harrisburg canceled on Osceola; Highland canceled on Rivercrest. No. 10 Osceola's game last week against Palestine-Wheatley was canceled due to covid-19 protocols. Two weeks ago, Osceola rallied in the fourth quarter to beat Piggott 12-6. The Seminoles own ample size in the offensive line. Class 4A No. 6 and unbeaten Rivercrest averages 46 ppg.

4-3A
Paris at ATKINS (6): Paris led Baptist Prep 21-7 at halftime of last week's 57-26 victory. The Paris first-team defense allowed only 19 points. Running backs Duke Walker and Ely Fore take off for timely runs for Paris. Read much more on Paris HERE. Atkins outscored Danville 56-34 a week ago behind senior tailback Donovan Nooner's 310 rushing yards and four TDs. Atkins junior QB Zach Berkemeyer passed for 206 yards and three TDs, including a 67-yard TD pass to senior all-league receiver Kreed Stubbs.
Booneville at STIGLER, OKLA (2).: Stigler is 6-0 and averages 43 points per week. Booneville beat Mayflower 40-7 a week ago in the first meeting of the schools. Booneville senior Chance Broussard ran for 111 yards and two TDs against Mayflower. Booneville limited Mayflower to 122 yards last Friday night.
Two Rivers at DANVILLE (14): Two Rivers has lost 50 of its last 51 games and opponents outscore the Gators by a combined 232-14 this season. Two Rivers junior QB Riley Dunman triggers the Gator offense. Danville scored a season-high 34 points in a 22-point loss at Atkins. Danville junior QB Lawson Wilkins excels running the Flexbone and senior lineman Jarrett Wilkins anchors the offensive line.
PERRYVILLE (10) at Mayflower: Mayflower trailed Booneville 13-0 last week at halftime of a 40-7 defeat. The Eagles executed an 80-yard TD drive in the fourth quarter. Perryville led 26-0 last week at halftime at Two Rivers and won 40-0. Perryville rushed for 372 yards and five TDs at Two Rivers with junior Crete Tippen bolting for 219 yards and two scores. Perryville limited Two Rivers to 157 yards a week ago, only 12 rushing.
Booneville at Baptist Prep: CANCELED.

5-3A
Horatio at BISMARCK (10): Horatio drags an 18-game losing streak into this game. Horatio rushed for 43 yards on 35 carries (1.2 yards per carry) in last week's 26-7 loss to Fouke. Horatio was tied 7-7 in the second quarter and trailed just 15-7 at halftime against Fouke. Bismarck led Glen Rose 7-0 in the first quarter of last week's 49-14 defeat when Braden Efird returned the opening kickoff 76 yards for a TD. Bismarck surrendered 427 balanced (226 passing and 201 rushing) yards to Glen Rose.
CENTERPOINT (6) at Jessieville: Jessieville rallied from a 24-21 halftime deficit last week for a 48-32 win at Genoa Central. Junior QB Carson Hair accounted for five TDs at Genoa. Matthew Huff Dexton Hilton added scores for Jessieville. Centerpoint battled Prescott last week in a 42-20 homecoming loss. The Centerpoint defense returned a fumble for a TD in the first quarter. Centerpoint junior Garrett Alexander anchors both lines and could develop into a college prospect.
Genoa Central at PRESCOTT (28): Genoa Central led Jessieville 24-21 last week at halftime before losing 48-32. Genoa junior lineman Dalton Moore nimbly pulls and blocks on the second level. Prescott outgained Centerpoint 427-271 in last week's 42-20 victory. Prescott senior QB Jacobi Nolen completed 15 of 19 passes for 246 yards and three TDs at Centerpoint, covering 69 and 70 yards two two scoring strikes. Junior Jaylon Hopson carried 13 times for 118 yards and three TDs. All-league senior receiver Jeff Williams snagged five passes for 103 yards and a score. Nolen (14 tackles), junior Jason Patrick, Jr. (12 stops) and sophomore Travion Dickens (10 tackles) topped the tackle chart at Centerpoint.
GLEN ROSE (24) at Fouke: Fouke outgained Horatio 324-165 in last week's 26-7 victory. The Panthers rushed for 248 yards on 29 carries (8.5 yards per carry). Glen Rose outgained Bismarck 427-165 in its 49-14 victory a week ago. The Beaver defense forced three turnovers, logged two sacks and scored a TD when Colton Hixon returned an interception 70 yards for a TD. Glen Rose senior QB Wesley Launius completed 12 of 17 passes for 226 yards and a 50-yard TD pass to Andrew Fletcher (four receptions for 97 yards) at Bismarck.

6-3A
SMACKOVER (2) at Barton: Barton enters this game on an 11-game losing streak, including 0-6 this season. The Bears surrendered 366 yards in last week's 40-12 loss at Pine Bluff Dollarway. Barton all-league playmaker Hykeem Hancock lines up at QB and receiver. Smackover made a few big plays in last week's 54-6 loss to Rison, highlighted by senior QB Austin Goodwin and sophomore receiver Dkylan Hildreth (6-4, 200). Hildreth snagged four passes for 71 yards, including a 40-yard TD reception.
Lake Village at C. HARMONY GROVE (29): CANCELED. Lake Village's game last week with Drew Central was canceled due to covid-19 protocols. Lake Village managed just 136 yards two weeks ago in a 46-13 loss to McGehee. Junior QB Miguel Green passed for 90 yards and two TDs against McGehee. Junior Delonte Armour caught five passes for 82 yards and two scores. Harmony Grove's three losses this season are to Class 2A No. 1 Fordyce, Class 3A No. 1 Harding Academy and Class 3A No. 5 McGehee. Harmony Grove trailed McGehee 7-6 last week in the second quarter but lost 28-6. HG surrendered 11 sacks and managed just 12 yards. Senior Mecca Arnold caught two Braden Brown passes for 58 yards and a TD against McGehee.
Drew Central at DOLLARWAY (24): Drew Central's game last week against Lake Village was canceled due to covid-19 protocols. DC drilled Barton 60-18 two weeks ago for the Pirates' first win. Dollarway battered Barton 40-12 last week, rushing for 281 yards and four TDs. Senior QB Travelle Lee completed four of seven passes for 85 and a TD and he ran for 89 yards and a score. Four Cardinals ran for scores against Barton. Senior Prince Okojie and juniors Briveon Sample and Kenyon Carr topped the tackle chart with 12 stops apiece.
McGehee at RISON (1): See Hootens.com Game of the Week.