Class 4A Week 7 Rankings, Notes & Picks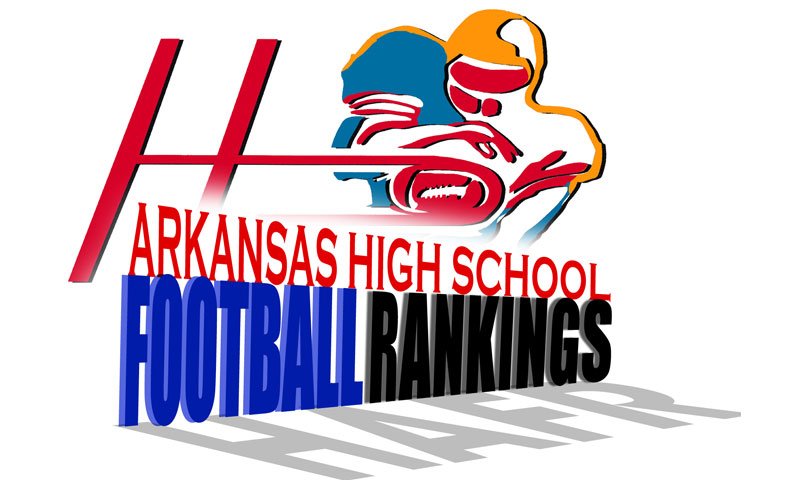 Hootens.com Rankings
Class 4A, Week 7, 2020
Copyright Hooten Publishing, Inc.

1. Nashville (4-1)
2. Shiloh Christian (5-1)
3. Joe T. Robinson (3-3)
4. Ozark (4-2)
5. Stuttgart (5-0)
6. Rivercrest (6-0)
7. Arkadelphia (3-0)
8. Warren (2-3)
9. Crossett (1-2)
10. Pocahontas (5-1)
11. Lonoke (5-1)
12. Dardanelle (3-2)
13. CAC (6-0)
14. Malvern (4-2)
15. Hamburg (3-3)
16. Prairie Grove (5-1)
17. Elkins (5-0)
18. Mena (3-3)
19. Ashdown (5-1)
20. Blytheville (3-2)
21. Monticello (4-2)
22. Gosnell (2-3)
23. Star City (2-2)
24. Lamar (4-2)
25. Jonesboro Westside (2-3)
26. Waldron (3-2)
27. Trumann (3-3)
28. Bald Knob (3-3)
29. Dumas (3-3)
30. Gentry (4-2)
31. Bauxite (2-4)
32. Fountain Lake (2-2)
33. Southside Batesville (2-4)
34. Huntsville (3-3)
35. DeWitt (2-2)
36. Mills (2-4)
37. Gravette (1-5)
38. Pottsville (2-4)
39. Clinton (0-6)
40. Cave City (1-4)
41. Heber Springs (1-5)
42. Highland (1-4)
43. H. Grove Haskell (0-6)
44. Helena (0-5)
45. Berryville (0-4)
46. Green Forest (0-7)
47. Dover (0-5)
HOOTENS.COM GAME OF THE WEEK
No. 4 Ozark at No. 18 Mena
The winner takes a step toward the 4-4A title. Mena's game with Dover was canceled last week, so the Bearcats will honor their homecoming court this week. Mena senior quarterback Max Montgomery has passed for 1,405 yards and 14 TDs this year. Senior receiver Gaven Hooper has 27 catches for 546 yards and seven TDs and "is playing at another level," Mena Coach Craig Bentley says. Senior tight end Mason Brotherton, a Kansas commit, has 28 catches for 352 yards and three TDs. Senior linebacker Cauy House (69 tackles) and end Blake Castor (32 tackles, three sacks) are defensive leaders.  Ozark was scheduled to have an open date last week, but was able to make up a previously canceled game with Dardanelle (48-13 Ozark win). The Hillbillies rush for 297 yards weekly. Senior QB Harper Faulkenberry ran 26 times for 202 yards and four TDs against Dardanelle, putting him over 2,000 career yards. Faulkenberry averages almost 8 yards per carry in 2020. Sophomore RB Eli Masingale ran for 60 yards and a TD against Dardanelle, and has scored six TDs this fall. Senior LB Keystan Durning returned an interception for a TD after senior end Jacob Larsen pressured Dardanelle's QB. Durning has 56 tackles, two interceptions and blocked one field goal this season.
LAST WEEK
Hootens.com correctly predicted 17 of 20 games (85 percent) last week. For the season, hootens.com has correctly predicted 158 of 189 games (84 percent).
WEEK 7 PREDICTIONS (favored team in ALL CAPS)
1-4A
ELKINS (35) at Green Forest: It's homecoming at winless Green Forest. The Tigers have given up at least seven TDs in every game this year. Elkins' game with Berryville last week was canceled. Elk senior QB Kain Johnson has 1,320 yards this year, despite playing in the second half of only two games this season.
Gentry at SHILOH CHRISTIAN (26): Gentry hung with Shiloh Christian last season (trailed 21-18 in the third quarter and committed five turnovers in a 31-point loss). The Pioneers beat Green Forest 35-14 a week ago. Quarterback Ty Hays completed 19 of 22 passes for 168 yards and two TDs, andran for three TDs. Will Pyburn dashed for 99 yards and two TDs. Shiloh Christian slipped past Prairie Grove 42-28 a week ago. Senior Cam Wiedemann ran 16 times for 137 yards and five TDs, while sophomore QB Eli Wisdom ran for 191 yards. 
Huntsville at PRAIRIE GROVE (14): Prairie Grove was tied with Shiloh Christian in the second half last week before losing by 14 points. Senior Cade Grant ran for a pair of TDs. Huntsville senior Justin Reynolds ran 31 yards for a TD and caught two TD passes (54- and 45-yarders) in last week's 28-26 win at Gravette. 
Gravette at Berryville: Canceled
2-4A
BALD KNOB (3) at Heber Springs: Bald Knob tallied just 123 yards in last week's 45-6 setback at Stuttgart. Heber Springs continues improves weekly, losing at Lonoke by 15 points Week 4 and hanging with CAC last week (trailed 21-14 in fourth Q). 
CAC (8) at Southside Batesville: Undefeated CAC has six wins by an average of 16 points. Junior Tyler Williams ran for 153 yards and three TDs and caught four passes for 56 yards and a TD in last week's 21-point win over Heber Springs. Southside Batesville trailed Lonoke 22-14 in the second quarter last week before losing by 32 points. Senior Isaac Smith took a screen pass 67-yards for a TD. 
STUTTGART (35) at Clinton: Stuttgart has applied the 35-point sportsmanship rule in its three conference games (won by a combined 129-14). Junior QB Pate Kleinbeck threw a pair of TD passes in last week's 45-8 decision over Bald Knob, while Merritt Coker intercepted two passes on defense, returning one to the 3-yard line to setup a TD. Junior Nick Epley played well in last week's 46-35 loss at Mills.
Mills at LONOKE (10): Lonoke junior QB Spencer Pepper broke his leg in last week's 52-21 win over Southside Batesville and will miss the rest of the season. Freshman QB Brandon Allen threw three TD passes (two to senior Anthony Parks) and ran for another filling in for Pepper against Southside. Mills sophomore Deshawn Williams caught a TD pass in last week's 11-point win over Clinton.
3-4A
Gosnell at BLYTHEVILLE (2): This is the first meeting between these schools, located just four miles apart. Gosnell senior QB Cooper Pieri played his best game of 2020 last week against Trumann, completing 19 of 24 passes for 223 yards and a pair of TDs. Junior RB Travelle Anderson returned from a knee injury to rush for 148 yards and a TD, while Brayden Burcham tallied 117 yards receiving and a TD. Blytheville gave up just 54 yards rushing last week's 30-6 win over DeWitt. Blytheville junior defensive end Tarus Crawford (6-0, 250) controls the line of scrimmage, while junior Maki Rainer (62 tackles) and sophomore Jontavion Bruin (61 tackles) clean up plays at inside linebacker.
JONESBORO WESTSIDE (14) at Cave City: Jonesboro Westside has lost consecutive games against Blytheville and Rivercrest by a combined 105-40. Senior fullback Tyler Ray paces the Warriors with 114 carries for 523 yards and five TDs and has a team-best 45 tackles. Cave City lost last week to Pocahontas 35-20 after trailing 28-0 in the third quarter. The Cavemen ran for 279 yards but turned the ball over twice.
Trumann at POCAHONTAS (11): Pocahontas sophomore Connor Baker ran for three TDs, including a 44-yarder, in last week's 15-point win over Cave City. Parks McNair and Rian King paced Trumann last week against Gosnell. McNair made eight tackles and had 65 yards receiving, while King tallied eight tackles and 86 yards receiving.
Osceola at RIVERCREST (13): This heated rivalry between next-door neighbors resumes after a one-year hiatus. The game was agreed to on Wednesday morning. Harrisburg canceled on Osceola; Highland canceled on Rivercrest. Class 3A No. 10 Osceola's game last week against Palestine-Wheatley was canceled due to covid-19 protocols. Two weeks ago, Osceola rallied in the fourth quarter to beat Piggott 12-6. The Seminoles own ample size in the offensive line. Class 4A No. 6 and unbeaten Rivercrest averages 46 ppg.
4-4A
OZARK (10) at Mena: Hootens.com Class 4A Game of the Week.
LAMAR (28) at Dover: CANCELED The Warriors average 35 points and 365 yards weekly. Senior Brady James ran for 230 yards and four TDs a week ago in a 40-21 triumph at Waldron. On defense, James recorded four tackles and knocked down a pass. Junior QB Landon Harris ran for a TD and threw a TD pass. Winless Dover canceled last week's game at Mena.
WALDRON (4) at Pottsville: After starting the season 3-0, Waldron has lost consecutive conference games to Mena and Lamar by a combined 27 points. The Bulldogs trailed Lamar 26-21 in the fourth quarter last week before losing by 19 points. Pottsville, which canceled last week's game with Dardanelle, has lost four straight games, including setbacks to Lamar and Mena by a combined 43 points.
Dardanelle is open.
7-4A
H. Grove Haskell at ARKADELPHIA (19): Arkadelphia returns to action for the first time since beating Greenbrier Week 2. Before its open date and three week quarantine, the Badgers beat three Class 5A teams by a combined 38 points. Haskell led Bauxite 21-20 in the third quarter last week before losing 39-26. The Cardinals generated 347 yards, but turned the ball over twice.
NASHVILLE (10) at Ashdown: Nashville leads the all-time series 54-17, but Ashdown usually plays tough against its rival (winning by four points in 2013 and losing by seven points in 2017 and 2018). Nashville overcame a 35-20 second-half deficit last week to beat previous No. 1 Joe T. Robinson 36-35. Senior Ty Gordon paced the Scrappers with 29 carries, 138 yards and three TDs, while classmate Keyshawn Stewart piled up 115 yards and a TD. Watch extended second-half highlights of Nashville's win over Joe T. Robinson, including post-game reaction HERE. Ashdown trailed Malvern 12-7 late in the second quarter last week before giving up a momentum-changing TD before intermission. The Panthers surrendered 32 points and 470 yards. Watch extended highlights of Ashdown's loss at Malvern HERE and read more on Ashdown HERE.
Fountain Lake at BAUXITE (1): The Miners rolled up 425 yards in last week's 13-point win over Haskell. Sophomore QB Hunter Ferrell passed for 209 yards and three TDs, and ran for another TD against Haskell, while junior Braden Arnold caught four passes for 117 yards and a pair of TDs. Senior Logan Debord added five receptions, including one TD. Fountain Lake's game last week with Arkadelphia was canceled. Junior Caleb Lacy paces the Cobras this fall with 46 carries for 420 yards and eight TDs.
Malvern at JOE T. ROBINSON (14): Malvern has won three straight games, impressing last week with a 25-point decision over Ashdown. Sophomore QB Cedric Simmons completed 21 of 27 passes for 258 yards and four TDs against Ashdown, and ran 12 times for 104 yards. Senior running backs Malique Reliford and Jacobe Hart combined for 92 yards and a TD, and each recorded four tackles on defense. Watch extended highlights and postgame reaction of Malvern's win over Ashdown HERE. Read more on Malvern HERE. Without three starters, Joe T. Robinson has lost consecutive games (at Trinity Christian, Texas and Nashville) for the first time since Week 8 and 9, 2015. Senior QB Buddy Gaston passed for 191 yards and a pair of TDs against Nashville. Senior all-state running back Hunter Smith should return this week. Watch extended second-half highlights of Joe T. Robinson's loss at Nashville, including post-game reaction HERE.
8-4A
WARREN (16) at DeWitt: Warren has never lost a conference game to DeWitt. The Lumberjacks have won two straight games this fall after starting 0-3. In last week's 40-7 victory over Dumas, Warren ran for 334 yards and attempted only two passes. Senior Tre'lon Marshall had 11 carries for 104 yards, while junior Cedric Calbert ran for 80 yards. DeWitt was warming up on the field at Crossett last Thursday when Crossett canceled. The Dragons arranged a game later that night and drove to Blytheville on Friday, losing 30-6. Junior QB Luke Smith passed for 143 yards and a TD at Blytheville, while senior Ben Hackney caught eight passes for 59 yards. Senior linebacker Logan Moss and sophomore Drake Womack paced the Dragons in tackles.
STAR CITY (1) at Dumas: Star City returns from a two-week quarantine. When last seen, the Bulldogs lost to Monticello 30-13 Week 4. Senior QB Noah Noble, sophomore tight end Mason Taylor and sophomore RB C.J. Turner were playing at a high level before the hiatus. Dumas beat Helena 42-0 Week 4, then lost to Crossett by one point but didn't handle the wet conditions in last week's 33-point setback at Warren. Senior Kylin James broke two tackles and sped 57 yards for Dumas' lone TD.
HAMBURG (17) at Helena: Winless Helena lost its three league games by a combined 119-26. The Cougars gained just 107 yards in last week's 53-6 setback at Monticello. Hamburg lost a non conference game last week to Jacksonville 46-39 after Star City canceled. Watch extended highlights of the Lions vs. Jacksonville HERE. Senior QB Brett Rice has passed for 494 yards and six TDs this season, while senior Armodd Taylor has rushed for 352 yards and seven TDs. All-state linebacker Gavin Harrod paces the D with 39 tackles, while seniors Jamal Brewer and Nick McNeil combined for five interceptions.
GREENBRIER (6) at Monticello: This non conference game was added last week when Pea Ridge canceled with Greenbrier, and Crossett canceled its game with Monticello. Monticello's defense held Helena to minus-15 yards rushing last week. Senior RB Keon Smith has a team-high 359 yards and eight TDs. Greenbrier beat Clarksville by 28 points two weeks ago and came with four points of Harrison last week. The Panthers generated 443 yards against Harrison. Senior Trey Havens (31 carries, 229 yards and three TDs) and junior Nick Huett (9 carries, 108 yards) paced the ground effort against Harrison, while sophomore Carter McElhany caught a 61-yard TD.
Monticello at Crossett: canceled.