Class 5A Week 7 Rankings, Notes & Picks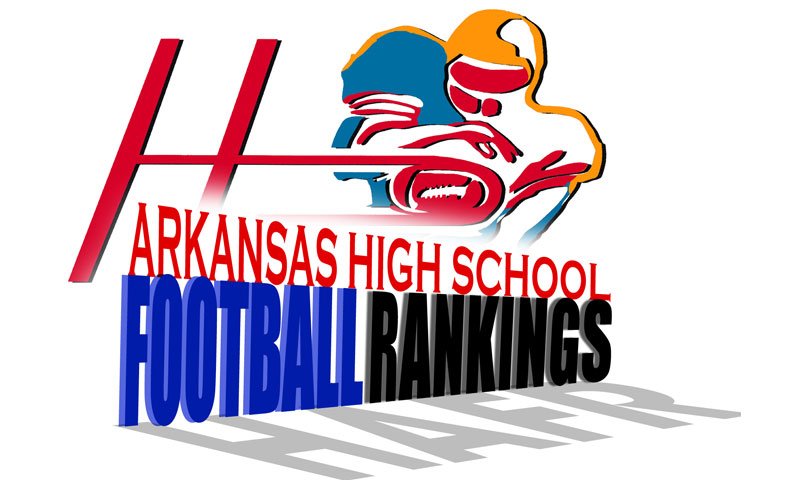 Hootens.com Rankings
Class 5A, Week 7, 2020
Copyright Hooten Publishing, Inc. 
1. Pulaski Academy (6-0)
2. LR Christian (4-1)
3. Texarkana (4-0)
4. Wynne (6-0)
5. Maumelle (2-2)
6. Harrison (5-1)
7. Morrilton (4-2)
8. Watson Chapel (4-1)
9. White Hall (3-3)
10. Magnolia (3-2)
11. HS Lakeside (3-3)
12. Vilonia (4-1)
13. Camden Fairview (3-4)
14. Batesville (4-2)
15. Hot Springs (3-2)
16. Valley View (4-2)
17. Greenbrier (2-4)
18. Greene County Tech (4-2)
19. Nettleton (3-3)
20. Farmington (2-3)
21. Jacksonville (2-4)
22. Clarksville (2-3)
23. Pea Ridge (1-4)
24. Forrest City (1-4)
25. Alma (1-5)
26. Beebe (1-3)
27. LR Hall (1-5)
28. Hope (1-4)
29. Brookland (1-5)
30. Paragould (0-6)
31. De Queen (0-6)

HOOTENS.COM GAME OF THE WEEK
No. 14 Batesville at No. 4 Wynne
These teams have combined to win or share 14 of the past 18 5A East titles. Batesville has won nine of the past 14 in the series "and regardless of record, we know they'll play us harder than anyone," Wynne coach Van Paschal says. Batesville has won its three conference games by a combined 115-18. The Pioneers led Forrest City 34-6 at halftime a week ago and applied the 35-point sportsmanship rule when quarterback Eli Livingston sprinted 26 yards for a TD early in the third quarter. Livingston finished with a pair of TD runs and completed six of 12 passes for 105 yards and a TD. Forrest City converted just two of 11 third-downs and two of five fourth-downs against the Pioneer defense. For more on Livingston click HERE.
Undefeated Wynne has won its three conference games by a combined 97-31. The Yellowjackets led Valley View 14-0 in the first quarter a week ago before easing to a 28-14 decision. Junior slotback Carl Washington paces the Yellowjackets with almost 700 yards rushing, while versatile Marterious Ross "is more than a fullback playing quarterback," Paschal says, "he can throw the ball." Senior fullback Kamryn Speed injured his knee against Valley View and will be a game-time decision. Senior Cam'Ron Holmes and his brother, junior Tre' Holmes, are Wynne's top tackles. Their cousin, sophomore Alonzo Holmes, racked up 10 stops against Valley View while filling in for injured linebacker Timmy Watson, who may not return this year from a groin injury. Cam'Ron Holmes tallied three sacks against Valley View, while junior De'Marius Maxwell intercepted two passes. Watch extended highlights Wynne's victories over Morrilton (HERE) and Brookland (HERE).

LAST WEEK
Hootens.com correctly predicted 11 of 12 games (92 percent) last week. For the season, Hootens.com has predicted 103 of 120 games (86 percent). 

WEEK 7 PREDICTIONS (favored team in ALL CAPS)
5A CENTRAL
JACKSONVILLE (10) at Beebe: Jacksonville's game with Maumelle last week was canceled, but the Titans beat Hamburg by seven points in a non conference game Thursday. Watch extended highlights of the Titans win at Hamburg HERE. Junior QB Deorius Cobbs and sophomore Darrien Bennett continue running well behind senior linemen Ryan Ready, Jacolby Warren, Keon Logan, Key'untay Leavy and junior guard Samuel Nieves. Beebe (players in quarantine) hasn't played since beating LR Hall 20-15 Week 4. Junior QB Gannon Roberts scored the winning 15-yard TD in the final minute against LR Hall.
LR Hall at LR CHRISTIAN (21): LR Hall pushed Watson Chapel (tied in the second quarter) last week before losing 25-6. LR Christian didn't play a week ago after Beebe canceled its game. Senior Corey Platt, Jr., has rushed for 256 yards and two TDs this year, while catching 16 passes for 246 yards and five TDs this year. Junior workhorse Jayvean Dyer-Jones has rushed for 421 yards and three TDs.
PULASKI ACADEMY (3) at Tyler Legacy (Texas): PA added this game Sunday afternoon due to Maumelle's cancellation. The Bruins put up 45 points and 609 yards weekly. Junior Joe Himon has 72 carries for 855 yards and seven TDs, and 29 receptions for 305 yards and a pair of TDs. Senior receiver Cooper White has 701 yards and nine TDs. Tyler Legacy, formerly known as Tyler Lee, lost to Longview last week. RB Jamarion Miller has 11 DI offers, including Arkansas, Nebraska and Texas.
Watson Chapel at WHITE HALL (1): White Hall has beaten its rival the past two seasons, but over the past two decades the series is tied 9-9-1. White Hall junior QB Matthew Martinez completed 16 of 27 passes for 237 yards and three TDs (two to junior Steven Weston) in last week's 21-point loss at Pulaski Academy. Watson Chapel led PA in the second quarter two weeks ago before losing 59-24 Week 4. Wildcat sophomore QB Jabrae Shaw has more than 1,000 yards this season, and he's accounted for 10 TDs the past two weeks. The Wildcat OL averages 300 pounds and tries to wear down opponents in the second half.
Maumelle at Pulaski Academy: Canceled

5A EAST
Batesville at WYNNE (6): Hootens.com Class 5A Game of the Week.
VALLEY VIEW (12) at Brookland: Valley View's two losses this season are to teams with a combined record of 12-0. The Blazers trailed Wynne 14-0 in the third quarter a week ago before losing 28-14. Senior Aedan Huntsman caught eight passes for 73 yards and ran five times for 38 yards and a pair of TDs. Junior Kannon Jones and sophomore Jay Morman paced the D with 10 tackles apiece, while junior outside linebacker Jaden Hamilton-Wells collected five stops and recovered a fumble, his fourth of the season. Brookland has lost five straight since beating Gosnell by four points Week 0. The Bearcats held Greene County Tech to 279 yards last week, but committed three turnovers.
Paragould at FORREST CITY (6): Forrest City has won 11 of the past 12 over Paragould since joining the conference in 2008. But both programs are struggling this year (combined record of 1-10). Senior QB Kendall Akins ran for 229 yards and a pair of TDs in last week's 30-point loss at Batesville. Paragould has scored just seven TDs this fall.
Nettleton at GREENE CO. TECH (8): Nettleton has won eight of the past 12 over GCT. Nettleton sophomore QB Cameron Scarlett completed 11 of 15 passes for 256 yards and four TDs in last week's 47-13 win over Paragould, while sophomore Jaylen Scales caught four passes for 103 yards and a TD. Improved Greene County Tech's only two losses this year are to teams with a combined record of 10-1. In its four wins, GCT has allowed only two TDs. Senior David Williams paces the Eagles with 118 carries for 702 yards and eight TDs, and has seven receptions for 59 yards.

5A SOUTH
De Queen at CAMDEN FAIRVIEW (31): Camden Fairview rallied from a 10-7 halftime deficit last week to down Magnolia 42-13. Sophomore QB Martavius Thomas tallied 254 yards and four TDs at Magnolia, while Jaden Bates caught four passes for 90 yards and two TDs. De Queen averages one TD weekly.
HS LAKESIDE (19) at Hope: HS Lakeside has won 12 of the past 20 over Hope, including six straight by an average of 23 points. HS Lakeside led Texarkana 14-7 in the third quarter last week but failed to score in the second half. Senior Isaac Echols led the Rams with 25 carries for 60 yards. Watch extended highlights of the Rams vs. Texarkana HERE. Hope didn't play last week (scheduled bye week) and lost to Hot Springs 63-42 two weeks ago. Junior QB Ammorian Dempsey has passed for 238 yards and two TDs and ran for 367 yards and four TDs this fall.
Magnolia at HOT SPRINGS (2): Magnolia, without nine starters, lost last week to Camden Fairview 42-13. The Panthers led 10-7 at halftime, but turned the ball over four times in the second half. Three starters are expected to return this week, and Coach Mark King says every starter should return from quarantine in time for the Week 8 showdown with Texarkana. Upstart Hot Springs has beaten Hope and De Queen the past two weeks by a combined 119-56. Hot Springs senior linebacker Devin Johnson racked up eight tackles in the first half of last week's 42-point win over De Queen. Junior QB Isaac Shelor passed for 277 yards and five TDs against De Queen.
Texarkana is open. Watch extended highlights of Texarkana's win last week at HS Lakeside HERE and the Hogs thrilling 28-21victory over Camden Fairview HERE.

5A WEST
Clarksville at FARMINGTON (1): Clarksville came within a TD of Vilonia Week 4 and throttled Alma by 20 points last week. Senior Chris Coleman returned an interception 40 yards for the clinching TD against Alma. The Panthers ran for 308 yards, including a 121-yard, two-TD effort against Alma. Farmington junior Caden Elsik ran for 133 yards and a TD and caught two passes for 51 yards and a TD last week at Morrilton, while junior DL Braden Bullington racked up eight tackles.
Vilonia at HARRISON (6): This could decide the conference title. Vilonia has won three straight games, but its scheduled game last week with Pea Ridge was canceled on Thursday. Junior Seth Kirk ran for 115 yards and the winning TD two weeks ago against Farmington. Harrison senior QB Cole Keylon has emerged as one of Class 5A's top playmakers. Keylon completed 15 of 21 passes for 229 yards and a TD, and ran for 142 yards and two TDs last week at Greenbrier.
GREENBRIER (6) at Monticello: This non conference game was added last week when Pea Ridge canceled with Greenbrier, and Crossett canceled its game with Monticello. Monticello's defense held Helena to minus-15 yards rushing last week. Senior RB Keon Smith has a team-high 359 yards and eight TDs. Greenbrier beat Clarksville by 28 points two weeks ago and came with four points of Harrison last week. The Panthers generated 443 yards against Harrison. Senior Trey Havens (31 carries, 229 yards and three TDs) and junior Nick Huett (9 carries, 108 yards) paced the ground effort against Harrison, while sophomore Carter McElhany caught a 61-yard TD.
Greenbrier at Pea Ridge: Canceled.
Morrilton at Alma: Canceled.