Class 6A Week 7 Rankings, Notes & Picks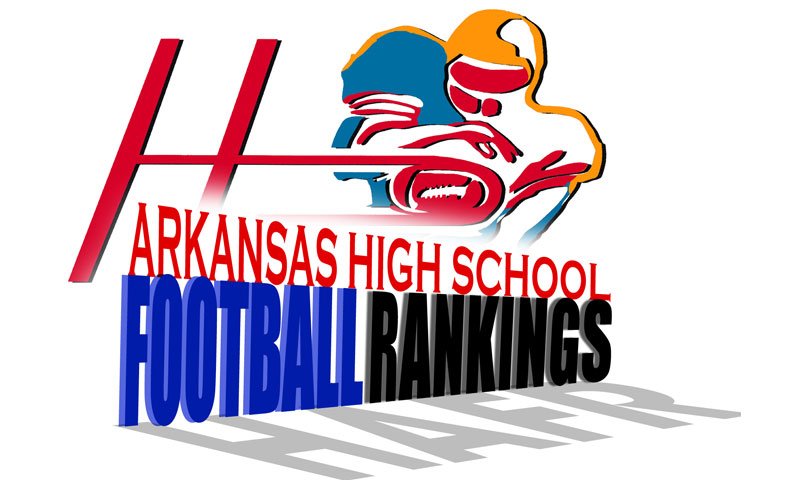 hootens.com Rankings
Class 6A, Week 7, 2020
Copyright Hooten Publishing, Inc.
1. Greenwood (6-0)
2. Benton (4-2)
3. LR Parkview (3-1)
4. Jonesboro (3-2)
5. Lake Hamilton (5-0)
6. Sylvan Hills (3-3)
7. Searcy (4-2)
8. Siloam Springs (3-3)
9. Mountain Home (3-3)
10. Van Buren (3-3)
11. West Memphis (2-4)
12. Marion (1-5)
13. Pine Bluff (1-3)
14. El Dorado (1-3)
15. Russellville (1-5)
16. Sheridan (1-5)

HOOTENS.COM GAME OF THE WEEK
No. 4 Jonesboro at No. 11 West Memphis
West Memphis has won four straight in this series, including 24-21 in 2019.
West Memphis trailed Sylvan Hills 35-0 at halftime of a 35-13 loss a week ago. West Memphis managed just 28 yards and two first downs in the first half. Running back Dennis Dallas ran 79 yards for a touchdown in the third quarter while senior Caden Smith fired an 8-yard fourth-quarter TD pass to Jaylin Shepherd.  Jonesboro outlasted pine Bluff 34-33 last Friday night behind junior Ryker Acebo's 420 yards passing and five TDs. Senior Will Barre caught seven passes for 165 yards and two TDs and classmate Connor Clark collected 10 passes for 131 yards and a score. Jack Cheatham intercepted two passes against Pine Bluff. Senior safety John Paul Pickens topped the tackle chart with 13 stops while classmate and Arkansas commit Marco Avant logged 12 tackles. Senior cornerback Brodie Williams likely draws West Memphis' top receiver.

LAST WEEK
hootens.com correctly predicted seven of eight winners (88 percent) in games involving Class 6A teams. Hootens.com correctly predicted 55 of 67 winners (83 percent) in games involving 6A teams this season.

WEEK 7 PREDICTIONS (favored teams in CAPS followed by point spread)
6A EAST
JONESBORO (1) at West Memphis: See Hootens.com Game of the Week.
El Dorado at MARION (2): El Dorado is 3-0 all time against Marion (all playoff games) including a 38-3 win in Marion in 2016. El Dorado rolled up 479 yards and never trailed in last week's 44-13 win against Sheridan. Brandon Moore ran for 110 yards and three TDs and electric sophomore Deandra Burns returned a kickoff 91 yards for a TD late in the first half. Marion outgained Searcy 309-246 last week, but committed four turnovers in a 36-14 defeat. Tajiri Ellis' second TD reception trimmed the Searcy lead to 22-14 late in the third quarter. Ellis collected eight passes for 198 yards and two scores at Searcy.
Pine Bluff at SEARCY (6): Pine Bluff recorded season-highs in yards (472) and points (33) in last week's one-point loss to Jonesboro. Pine Bluff scored the last TD against Jonesboro but failed on the potential game-winning two-point conversion. Pine Bluff lost the turnover battle 3-1. Searcy defeated Marion 36-14 last week for the eighth time in nine tries in the series. Junior Daniel Perry rushed for 176 yards and three TDs and he caught three passes for 46 yards against Marion. Searcy ran for 207 yards as a team. Junior Braden Oliver paced the defense with nine tackles. Seniors Willie Bowser, Garret Osmon and Ethan Timm each recorded sacks.
SYLVAN HILLS (31) at Sheridan: Sheridan trailed El Dorado 28-7 last week at halftime and 44-7 after three quarters in a 44-13 defeat. Junior QB Konner Canterbury totaled 175 yards and two TDs. Sylvan Hills was ultra sharp in last week's 35-13 win over West Memphis, bolting to a 35-0 halftime lead. Senior running back D.J. Smith ran for 159 yards and three TDs while Taevion Cunningham took off for a 55-yard TD run. Corey Washington connected with Shajuan Esteen for a 65-yard TD pass. 

6A WEST
Mountain Home at BENTON (13): Mountain Home snapped its 16-game conference losing streak last week with a 49-37 win over Van Buren. Senior QB Bryce McKay accounted for five TDs against Van Buren. Mountain Home outgained Van Buren 475-446. Gage Hershberger ran for 102 yards and Logen Walker caught five passes for 144 yards and two TDs. Benton registered its best win of the season last week, beating Little Rock Parkview 30-20 at War Memorial Stadium. Benton senior QB Garrett Brown passed for 176 yards and two TDs while junior tailback Casey Johnson ran for 176 yards and two scores and he caught a TD pass.
Russellville at GREENWOOD (30): Russellville is 1-5 for the second straight season and the third time since 2015. The Cyclones are 0-3 in league play but have lost to conference heavyweights Benton and Lake Hamilton by a combined eight points. Russellville senior QB Brayden Whitford completed 24 of 39 passes a week ago for 291 yards and four TDs in a 43-42 overtime loss to Lake Hamilton. Greenwood rolled up 483 yards (294 rushing and 189 passing) in last week's 49-10 victory at Siloam Springs. Senior tailback Hunter Wilkinson ran for 148 yards and two TDs after being limited early this year. It was the 10th straight Greenwood win over Siloam Springs and 15th in the last 16 meetings (lost in 2010).
Siloam Springs at LAKE HAMILTON (1): Siloam Springs rolled up 277 yards in last week's 49-10 loss to Greenwood, but trailed 28-10 at halftime. Junior QB Hunter Talley ran 7 yards for a first-quarter TD and Walter Cortez connected on a 26-yard field goal in the second quarter. Unbeaten Lake Hamilton survived Russellville's upset attempt last week, winning 43-42 in overtime. Junior Tevin Woodley ran 22 times for 276 yards and four TDs at Russellville. Junior Owen Miller bolted for 110 yards and a score and sophomore running back Kendrick Martin scored twice. The Wolves rushed for 430 yards (9.3 yards per carry) and six TDs as a team. Seniors Trent Singleton (11 tackles) and Izaiah Clenney (10 stops) topped the Lake Hamilton tackle chart.
LR PARKVIEW (8) at Van Buren: Van Buren led 24-21 at halftime last week at Mountain Home but lost 49-37. Senior QB Gary Phillips spreads the ball to a potent receiving corps, including brothers Jaiden and Chi Henry. Parkview led Benton 13-7 last week late in the second quarter and the Patriots got within 23-20 early in the fourth quarter. Parkview senior QB Landon Rogers ran for a pair of 1-yard TDs and junior James Jointer bolted 23 yards for a score against Benton.